The Complete Guide to Kitchen Tile
By Ted Ryan
Often considered the heart of a home, no room gets as much use as the kitchen. Between cooking, cleaning, entertaining, and eating kitchens get a lot of wear and tear with plenty of opportunities to get dirty. Because kitchens need to be as functional as a garage yet as beautiful as a living room, tile is an obvious choice to clad floors, walls, backsplashes, and countertops.
Tile is durable and decorative, easy to clean, and easy on the eyes. And with the array of materials, colors, shapes, and patterns available, tile can capture any design style you're going for.
Today we're walking through the most popular kitchen tile applications and how to match the design style of your home. Let's get cooking!
Backsplash Tile
The tile backsplash is the undisputed focal point of a kitchen. A backsplash is the protective barrier covering a wall behind a countertop, stovetop, sink or all three designed to make food messes and splashing water easy to clean up as well as protect your walls from impacts, liquid, smoke or steam. A backsplash can be short, extending just a few inches above the horizontal surface, can cover the gap between a counter and wall cabinets, or stretch all the way to the ceiling.
6 Things to Consider When Choosing Backsplash Tile
Best Sized Tile for Kitchen Backsplash
The best-sized tile for a kitchen backsplash depends on your personal preference but there are certain considerations that should be examined. The size tile you choose directly affects the number of grout lines, with smaller tiles requiring more grout lines. Grout, especially light-colored grout, requires more upkeeps than the tiles themselves and regular cleaning to maintain a like-new luster.
Subway Tile (3x6) is the most popular size tile for a backsplash, offering good coverage, versatility, and a classic look.
Tile Shown: Tuolumne Meadows in 3 x 6 // Design: Ellen Nystrom Design // Image: Liz Daly
Pro tip: A paste of baking soda and water is a natural and effective way to keep your grout looking like new:
Mix the sodium bicarbonate with water to create a thick paste. Scrub the paste into the grout with an old toothbrush.

Fill a spray bottle with white vinegar and spray on the applied paste and wait for the chemical reaction to complete.

Continue scrubbing until grout appears clean.

Wipe away the paste and vinegar with a wet towel.
Kitchen Wall Tile
Kitchen wall tile follows most of the same principles as a kitchen backsplash. A full wall of tile will simply offer more coverage, more protection, and more opportunities for a memorable design. Often times kitchen wall tile is an extension of the backsplash, continuing past counters and cabinets.
Tile Shown: Basalt in 2 x 8 // Design: jennifer jorgensen // Image: 2nd Truth Photography
When choosing kitchen wall tile, consider the space you're covering. Will the tile be interrupted by windows or doorways? Will the wall tile match a floor tile and do you wish to meet and of these transitions with trim? How many walls are you hoping to tile and will the color of tile match the color of untiled walls or offer a contrasting design.
Tile Shown: Basalt in 2 x 8 // Design: jennifer jorgensen // Image: 2nd Truth Photography



Tile Shown: Basalt in 2 x 8 // Design: jennifer jorgensen // Image: 2nd Truth Photography
The shape and pattern of tile you choose can also affect the appearance of the room. Rectangular tiles arranged horizontally can make a space look wider while the same tile arranged vertically can give a room the illusion of height.
Straight set tiles convey uniformity while offset tiles, especially brick tile, have a historic quality. Herringbone is a common decorative pattern that turns walls into works of art.

Brick Shown: Klamath
7 Herringbone Kitchen Tile Idea

Kitchen Floor Tile
While the backsplash sees its share of clean-ups, the kitchen floor is where things really get messy. Picking a kitchen floor tile should incorporate your lifestyle as much as aesthetic preferences.
Tile Shown: Antique 8" Hexagon // Design: Anthony Roxas Architecture // Image: María del Río
If you dine out more often than not and use your kitchen for occasional entertainment, you can get away with a light-colored tile. But if you spend a lot of time cooking for your family and your kitchen sees a lot of foot traffic, a darker tile (and darker grout) may conceal the realities of life in between deep cleans better.
Brick Shown: Cascade // Design: Sarah Sherman Samuel
Foot traffic also plays into the finish you choose. Gloss tile is perfectly suitable for kitchen floors and offers a clean semi-reflective finish many homeowners love. However, if you're concerned about potential slipping, especially if there are children or older parents in your home, a matte glaze may give you extra peace of mind.
As of January 1, 2022, all of Fireclay's matte glazes will have a DCOF (Dynamic Coefficient of Friction) value above .42 and are rated for wet areas where slip-resistance is required.
How to Choose Your Floor Tile
Tile Countertops
Once a hallmark of kitchen design in the 1970s and 80s, tile countertops are making a big comeback. Between a return to the aesthetics of a bygone era mixed with the multitude of new tile varieties available today, durable tile offers a lot of range for countertops.
Tile can also be more affordable compared to other counter surfaces like natural stone.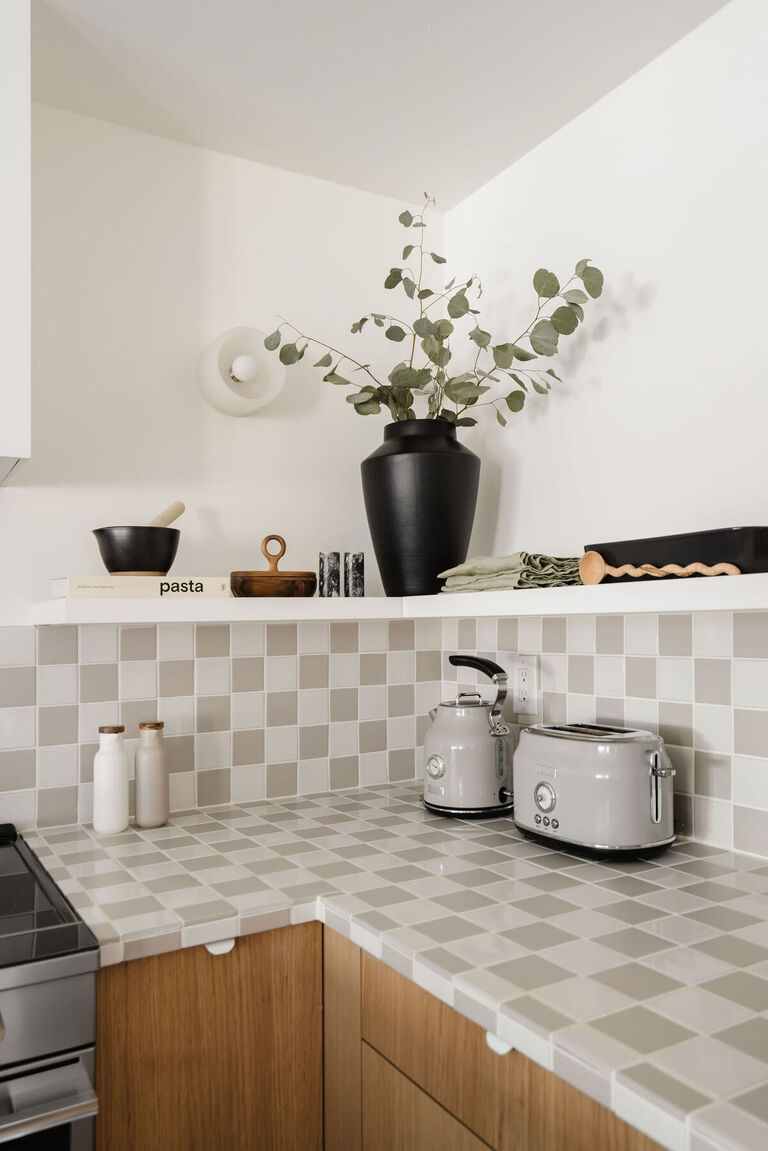 Tile Shown: Tusk & Dolomite 3x3 Sheeted // Design: Autumn Hachey, TWENTY-TWO TWELVE, Stay Here Image: Michelle Johnson
Once again, the biggest thing to think about if you're considering tile for your counters is not the tile but the grout in between. Grout can harbor bacteria, so for surfaces where you'll be preparing food, it's best to choose a larger tile with fewer grout lines, and potentially a rectified tile that fits more snugly together to keep grout lines as narrow as possible.
Tile Countertops: Everything You Need to Know
Grout for Kitchen Countertops
Tile Shown: Nickel in 4 x 4 // Design: Ware Malcomb, Common Grounds // Image: Haley Hill Photography
There are a few choices for grout on the market.
Epoxy: Epoxy grouts are the most durable of all grout choices because they are resistant to stains and water damage, and will hold up against harsh cleaners. Epoxy grout is a great choice where moisture and food will be present, making them an even better choice for tile countertops. Epoxy grout is the most expensive grout option, however, it doesn't need a sealer, which will save time and money in the long run.
Non-Sanded: Non-sanded grout is a cement-based grout used for smaller grout joints with spacing between 1/16th and 1/8th of an inch. For rectified tile, this is your best option.
Sanded: Sanded grout is a cement-based grout where sand is literally added to the mix. Sanded grout is most suitable in installations with grout lines wider than 1/8th of an inch, so if you need a larger grout line and aren't using an epoxy grout this would be your option, however, this grout type might require more maintenance than the others.
Grout 101: Everything you Need to Know About Making the Right Grout Choice
Kitchen Island Tile
A kitchen island is where a kitchen design, and people, come together. Tile adds a distinct look to draw attention to this stylish centerpiece. Match your island tile to the rest of your kitchen, choose a different shape in the same color as tile elsewhere to harmonize with the overall design, or contrast color schemes with a different color or a handpainted tile.
Tiled Kitchen Islands, 3 Ways
Kitchen Tile Styles
Now that we've covered the basics, check out a few of our favorite kitchen designs to find inspiration no matter what style of home you have.
Handpainted Shown: Kasbah Trellis in Custom Motif // Design + Image: Darling, Magazine
Tile Shown: Pivot in Custom motif, Tumbleweed in 2x8 // Design + Image: Dani Nagel
Tile Shown: Tidewater in 3 x 9, Maze in Custom Motif // Design: Ashley Christensen, TVL // Image: Jess Blackwell
Brick Shown: San Gabriel // Design: Anthony Roxas Architecture // Image: María del Río
Tile Shown: Halite in 3" Triangle // Design: Project M Plus, Oh Joy // Image: Bethany Nauert

Tile Shown: Daffodil in Hexite // Design: Method Homes // Image: Alex Farrell
Tile Shown: White Wash in Kite // Design: Ideaspace A&D // Image: Raquel Langworthy
Handpainted Shown: Lugo in Cool Motif // Design: JL Interior Design // Image: Thomas Kuoh
Brick Shown: Klamath

Tile Shown: Ogee Drop in Magnolia // Design + Image: Caitlin Shoemaker
Brick Shown: Columbia Plateau // Design: Foreground Design // Image: Anthony White
Brick Shown: San Gabriel // Design: Jessica Davis // Image: Emily Followill Photography

Tile Shown: Mini Star & Cross in Slate Blue, White Wash 3 x 6 // Design: Sabrina Alfin Interiors, Darcy Tsung // Image: Dean Biriyini
Tile Shown: Star and Cross Mini in Flagstone, Alameda in Neutral Motif // Image: Claire Thomas

Tile Shown: Kasbah Trellis in Neutral Motif // Design: Mokume Design Studio // Image: Christopher Stark


Tile Shown: Ogee in Oyster Shell

Tile Shown: Antique 6" Hexagon, White Mountains // Design: RT Design Studio // Image: Open Homes Photography
Tile Shown: Hunter Green in 2 x 8 // Design: Camp Kuch // Image: Haley Ritcher
Tile Shown: Calcite in 4 x 4, Antique 8" Hexagon
Glass Shown: Egret Matte in 2 x 4 // Design: Ollie Pop Design // Image: Belu Photography, Ollie Pop Design


Tile Shown: Calcite in Scalene Triangle, Calcite in 3 x 12 // Design: Homestead Kitchens
Tile Shown: Winter Mountain in Neutral Motif // Installer: Lynn K. Leonidas // Image: Sunset Magazine
Tile Shown: White Wash in 4x4 // Design: Mandy Lozano, Neil Kelly // Image: Netra Nei
Have more questions about kitchens or an idea you want to work on? Link up with a personal Design Assistant for free design services!