Tile by Style: A New Era for Victorian Kitchen Tile
By Blair Hagensen
When it comes to kitchen design, the Victorian era's timeless elegance continues to captivate homeowners today. While the demands of modern kitchens may have evolved, the allure of a Victorian-style kitchen remains irresistible–and the strategic use of tile brings the authentic charm of a Victorian kitchen into the heart of your home.
Brick: Wind River | Design: Brett Dampier Design | Image: Adam Potts Photography | Installer: North Coast Design Build
From intricate designs to timeless patterns, learn how tile can create a kitchen that seamlessly blends old-world charm with modern functionality.
What Are the Characteristics of A Victorian Kitchen?
This style draws inspiration from the Victorian period, known for its ornate and elegant design, so it makes sense that those same characteristics transferred into the kitchen with intricate details and rich materials.
Tile: 2x6, 3x6, 6x5 London Fog (for a similar look, try Overcast) | Design: Vaught Frye Larson Aronson Architects | Image: James Maynard
Victorian kitchens often showcase decorative moldings, carved woodwork, and elaborate cabinetry. The color palette leans toward darker hues such as deep blues, greens, and rich browns, creating a cozy and formal atmosphere.
Tiles are commonplace as both backsplashes and flooring, and other traditional elements include antique chandeliers, brass accents, and stained glass windows.
Embrace Victorian Aesthetics with Handpainted Tile
One of the defining features of a Victorian kitchen is its attention to intricate details, and the artisan patterns of our Handpainted Tile allow you to capture the authentic essence and captivating beauty of a Victorian kitchen.
Tile: 3x12 Calcite, Uni Mountain custom motif | Design: Jennifer Morrison, Morrison Design House | Image: Jeff Roberts Imaging | Installer: RF Tile
Whether as a stunning floor covering or a decorative backsplash, Handpainted Tile evokes the opulence of Victorian homes, transporting you back to a bygone era. Go for a full counter-to-ceiling installation if you love a good dramatic effect, like this stunning kitchen by Claire Thomas.
Tile: Alameda custom motif, Mini Star & Cross and 1x6 Flagstone | Design + Image: Claire Thomas
Alternatively, you can include a Handpainted Tile focal point in your backsplash to add some Victorian flavor to your kitchen. We love how the custom colorway of the Sintra Tile below flows beautifully with our soft green Elk Brick surrounding it.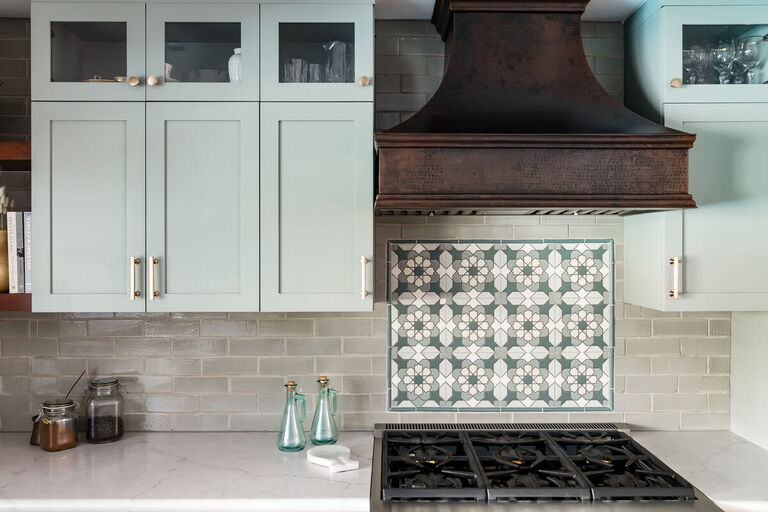 Brick: Elk, Tile: Sintra custom motif | Design: MP James | Image: Charlotte Lea
Consider Open Shelving & Display Hutches with Tile
In Victorian kitchens, open shelving and glass-paned hutches played a prominent role, allowing for both practical storage and elegant display. To add a touch of Victorian charm to your space, use tiles as a backdrop for showcasing cherished chinaware or heirloom pieces.
The open shelves in this gorgeous kitchen are cleverly hung in front of a Handpainted Tile wall, allowing the intricate pattern to shine even with pieces displayed in front of it.
Tile: Winter Mountain custom motif | Image: Sunset Magazine | Installer: Lynn K. Leonidas
Victorian kitchens often featured ornate and beautifully crafted cabinetry–like the Hoosier cabinet, a classic piece of Victorian kitchen furniture that blends storage, workspace, and functionality. Combining period-inspired kitchen cabinets with tiles that complement their design will create a cohesive Victorian-style kitchen.
Tile: 2x8 Tempest | Design: Aimee Lagos | Image: Paul Kirkeby Photography
The lovely kitchen below demonstrates how to incorporate blocks of open shelving alongside closed cabinetry. An attached rolling ladder adds to the charm while allowing easy access to the higher storage areas.
Tile: 4x4 Dolomite | Design: Thea Home Inc., Stephanie Hanes | Image: Matt Armendariz | Installer: Lyons Development
Blend Tradition with Modernity
Not sure you want to commit to an authentic Victorian kitchen? Incorporating Victorian-inspired design into your traditional kitchen is easily achievable, and tile provides a versatile medium for achieving this harmony.
For example, this kitchen used a traditional Victorian color, Evergreen, in a playful Star & Cross shape paired with a modern chandelier–ultimately creating a kitchen that pays homage to the Victorian era without sacrificing the practicality demanded by modern lifestyles.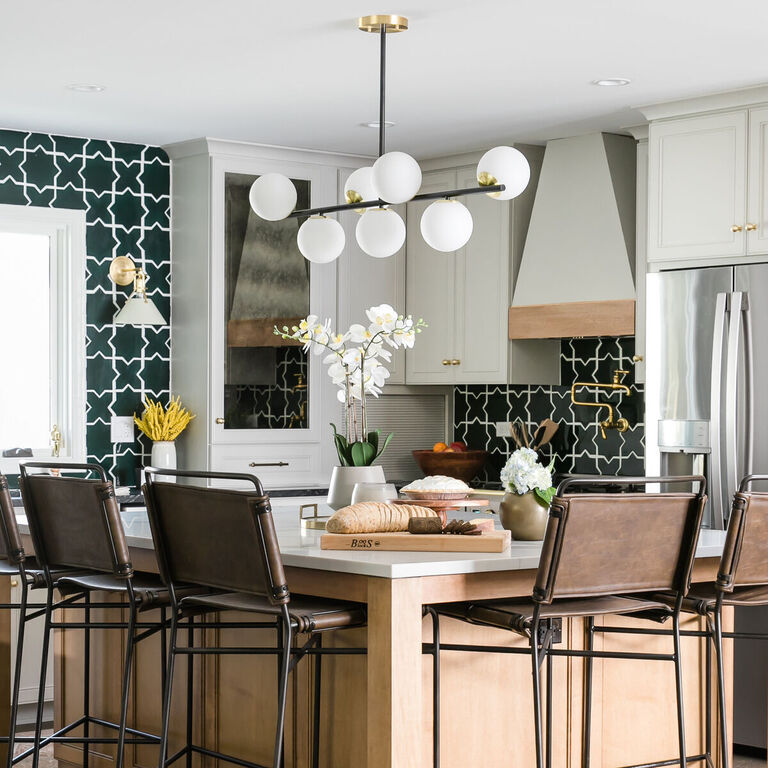 Tile: Star & Cross Evergreen | Design: Megmade | Image: Erin Konrath Photography
The homeowner of this Victorian Seattle home modernized her kitchen while paying homage to the original design style with period-appropriate white square tile that pops in the abundant natural light.
Tile: 4x4 White Wash | Design: Mandy Lozano, Neil Kelly | Image: Netra Nei
Floor tiles are a beautiful–and durable–way to incorporate Victorian charm in your kitchen. We love how Noble + Proper's kitchenette below uses black, white, and green tiles to create a unique, elevated checkerboard floor.
Tile: 8x8 Feldspar, Basalt, Hunter Green | Design: Jenny Siegwart | Image: Handsome Salt | Installer: Noble + Proper
More Victorian-Inspired Kitchen Tile
A backsplash of glossy beige Milky Way Tile echoes the glass-paned cabinets above by reflecting light into this stunning kitchen, effortlessly marrying Victorian aesthetics with modern kitchen design. Wood floors, layered pendants, and a rolling ladder round out the airy space.
Tile: 3x3 Milky Way | Image: Sunset Magazine | Installer: Lynn K. Leonidas
Create your own Victorian kitchen garden with dainty floral wallpaper like this Noble + Proper space, complete with a neutral backsplash and bold red and white tile floor.
Tile: 4x4 Ivory, 8x8 Vintage Leather | Design: Handsome Salt | Image: Jenny Siegwart
Soothing green tile in a classic offset pattern adds a touch of sophistication and serves as a striking focal point in the kitchen below, complementing the stained glass detail around the range hood.
Tile: 3x9 Rosemary | Design: Next Stage Design | Image: Scott DuBose
In Shavonda Gardner's kitchen, a wall of earthy Sierra Nevada Brick serves as an elevated backdrop to her display of copper pots and pans while rusty Adirondack Brick on the floor shines in a parquet pattern.
Brick: Sierra Nevada, Adirondack | Design + Image: Shavonda Gardner
A gorgeous example of modern sensibilities with Victorian-inspired design, the space below melds soft neutral tile walls with powder blue cabinets, brass hardware, and a large farmhouse kitchen sink for a look that's as functional as it is beautiful.
Tile: 2x8 Shell (for a similar look, try Milky Way) | Design + Image: Erin Kestenbaum
Ready to infuse your kitchen with the enchanting spirit of the Victorian era? Start by bringing home free samples to find your perfect palette.