Tile by Style: 5 Ways to Rock a Moroccan Kitchen
The rich colors, flowing lines, and ornate patterns of Morocco's design style are a feast for the eyes, and if you've ever wondered how to bring that feast into your own kitchen you aren't alone: Moroccan style translates beautifully into kitchens. In fact, spicing up your kitchen with Moroccan flavor may be easier than you think.
Whether your style is traditional, modern, or somewhere in between, there's a way to incorporate Moroccan design. Cozy up with a glass of mint tea as we show you five ways you can work Moroccan style into your kitchen.

Tile Shown: Mini Star & Cross in Ivory, Handpainted Madrid in Neutral Motif // Design + Image: Tracy West
1. Tile, Tile, Tile
The perfect spot to showcase your unique design eye, Moroccan-inspired tile can be incorporated into almost any space in your kitchen. Common areas include floors, walls, and countertops, but the most popular place to install tile is as a backsplash, functioning as both an artful statement piece and a durable backdrop for the occasional splatter from a night of food prep (bonus points if you're cooking delicious Moroccan cuisine).
Have a handpainted Moroccan tile you absolutely love? Tile all the way up your wall to achieve an authentic, showstopping look. The kitchen below accents its handpainted tile with a border of Moroccan-inspired Star and Cross Tile.
Tile Shown: Handpainted Alameda in custom colorway, 1x6 Sheeted and Mini Star & Cross in Flagstone // Design + Image: Claire Thomas
Moroccan style doesn't have to be all about color. A well-placed Handpainted Kasbah Trellis backsplash adds a graphic pop above the stainless steel oven in this bright kitchen.
Pro tip: Kasbah Trellis is often available in our Quick Ship Shop, but this best-seller doesn't say in stock for long! Check if it's available here.
Tile Shown: Kasbah Trellis // Image: Lindsay Lee Brown // Installer: Scout Design
These soft pink Star and Cross tiles bring just the right amount of flair to this otherwise simple kitchen. A woven lamp shade and wood elements help to tie the Moroccan inspiration together.
Tile Shown: Star & Cross in Dawn // Design + Image: Ashley Petrone // Installer: Joie Inn
2. Incorporate Nature
Natural stone, stucco, and textural wood are all elements of Moroccan style that can be brought into the kitchen through architectural aspects or decor. If you're lucky enough to have a lush outdoor area near your kitchen, treat it like your own Moroccan riad! No outdoor area, no problem–create a mini-riad experience indoors with houseplants.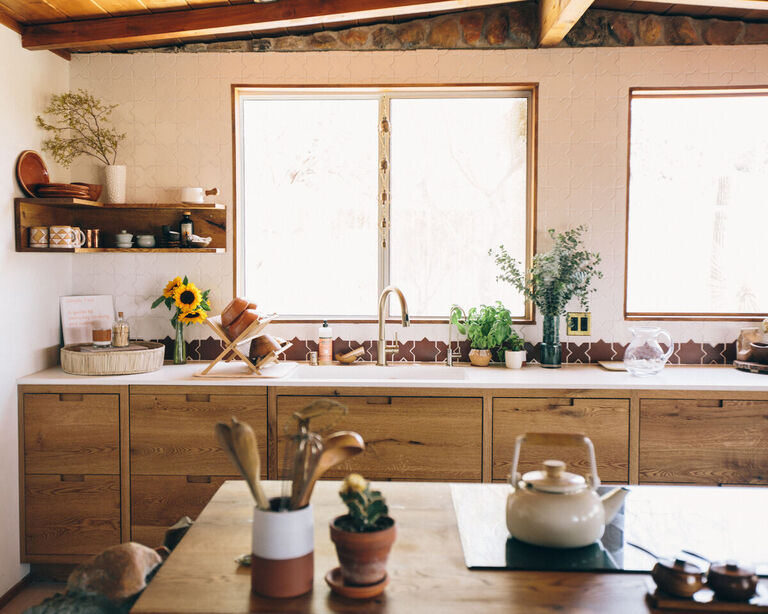 Tile Shown: Mini Star & Cross in Tusk and Antique // Design + Image: Sara and Rich Combs
The exposed stone and wood beams in the warm kitchen above beautifully complement the matte, two-toned Star and Cross Tile backsplash, while the kitchen below features a large window showcasing a lush courtyard that adds as much modern Moroccan flair as the Ogee Drop tile backsplash.
Tile Shown: Ogee Drop in White Wash // Image: Shooting LA // Installer: AIH Development
3. Embrace Bold Color
While earthy neutrals are an integral part of a Moroccan-style palette, rich color is just as important–so if you love color, don't be afraid to show it off. Channel Morocco's neighboring ocean and dramatic desert skies with tantalizing teals, golden yellows, and more. The result will be an unforgettable one.
Tile Shown: Paseo in Amalfi Coast // Design: Faith Blakeney // Image: Justina Blakeney
Pull up a rattan stool and enjoy some traditional Moroccan food as you soak in the desert-sunset-inspired tile backsplash in the kitchen below.
Tile Shown: 2x8 in Dust Storm // Design + Image: Anita Yokota
In this loft kitchen, high-contrast colors combine in geometric Handpainted Tile to add a Moroccan twist amidst the modern black cabinetry.
Tile Shown: Old Cairo in Warm Motif // Design: Cattaneo Studios // Image: Jacqueline Marque
Watch us hand-glaze Old Cairo Tile in our California factory!
4. Add in Accent Rugs
While many aspects of this design style are long-lasting, textiles, particularly accent rugs, can help to add a colorful Moroccan feel in an otherwise neutral kitchen and can easily be swapped out down the road.
Tile Shown: Star & Cross in White Wash // Image: Ellis Creek Photography // Installer: Archetype
Alternatively, turn up the bold color on the walls and balance it out with neutral rugs on the floor like in the kitchen below.
Tile Shown: Ogee Drop in Seedling // Image: Michele Lee Willson // Installer: Yumi Interiors
5. Architectural Elements
Rounded, fluid lines are a hallmark of Moroccon design that will stand the test of time in any space. Enjoy beautiful design for years to come by adding architectural arches or rounded lines into your kitchen through entryway arches, arched stove hoods, niches, and more–be as creative as you want!
Tile Shown: 3x3 Sheeted in Dawn, Star & Cross in Adobe // Design + Image: Claire Thomas // Installer: Casa Cabin
The kitchenette above proves you don't need much space to incorporate beautiful lines, as the tiled countertop gives way to a softly rounded corner. Below, an arched entryway and mirroring pantry door provide architectural eye candy in a wall of gorgeous green tile.
Tile Shown: Star & Cross in Evergreen // Design: Rebecca Gibbs Design, Gibbs Design Build // Image: No Bad Things
Sample Moroccan Style:


Ready to rock Moroccan style in your kitchen? Our design consultants can help bring your unique vision to life with free design services. Fill out our simple form to be connected with your personal consultant today!