Tiled Kitchen Islands, 3 Ways
When you think of tile in the kitchen, backsplashes and floors are probably the first areas to come to mind–but don't underestimate the power of a well-designed tiled island. The island is often the focal point of your kitchen, so what better way to highlight it than with a standout tile installation?
From classic elegance to attention-grabbing patterns, we've rounded up our favorite examples of the three most common tiled kitchen island ideas. Keep reading for island inspiration.
Tile: 6" Triangle Calcite | Image: Jeff Mindell | Installer: Sarah Sherman Samuel
1. Rectangle Tile
The epitome of classic tile design, rectangle tile is a versatile choice that will seamlessly fit into any design style. Whether you gravitate toward timeless subway tile, textured brick, or statement-making large-format rectangles, we've got you and your island covered with our handmade rectangles.
Kitchen design inspiration can be found anywhere, from residential spaces to restaurants to workspaces–like Hiatus Post's sophisticated peninsula island below. Stacked subway tiles in timeless Hunter Green are the star of this contemporary space, accented by built-in shelving for extra storage space.
Tile: 2x8 Hunter Green | Design: Patrick Thompson Design | Image: John D'Angelo | Installer: Hiatus Post
Speaking of accents, this kitchen beautifully demonstrates how a splash of rectangle tile can be an unexpectedly playful and functional addition to your island. This petite accent pulls in colors from the Handpainted Tile backsplash on the walls for a colorfully cohesive look.
Tile: 3x9 Tidewater, Maze custom colorway | Design: Ashley Christensen, TVL | Image: Jess Blackwell
This basement lounge is ready to get the party started with the help of its tile-clad bar. Wrapped in our 3x9 Mustard Seed tile, this standout peninsula island adds the perfect retro-tinged vibe to the playful area while the larger-format tile size shows off the understated matte finish on this gold-with-a-hint-of-green glaze.
Tile: 3x9 Mustard Seed | Design: Re: Design Architects | Image: Conor Harrigan
We know, we know–rectangles can be squares, but squares can't be rectangles. However, we couldn't resist including this gorgeously gridded island on the list. It's a beautiful example of how fully tiling the island from counter to sides can create a modern statement piece especially when paired with a matching backsplash.
Tile: 4x4 Nickel | Design: Ware Malcomb, Common Grounds | Image: Haley Hill Photography | Installer: Common Grounds
If you have room for outdoor entertaining, consider adding an island–it's a great spot for guests to gather, plus an excuse to use your favorite Fireclay Tile. The rustic textured finish and hand-applied glaze of our Glazed Thin Brick add a distinctive architectural element to this elegant outdoor kitchen.
Brick: Lewis Range | Design: J Armstrong Design | Image: Brittany Anne Jarman
Love rectangles, but want a smaller-scale tile? Our sheeted tile, like the 1x4 in the kitchen below, is right up your alley. Wrapped in stacked mosaic tile, this kitchen's counter offers up a modern contrast to the sinuous lines of the backsplash tile in the same saturated teal shade.
Learn more about our handmade, pre-sheeted Mosaic Tile.
Tile: 1x4 Neptune, Wave Neptune | Design: Andria Fromm Interiors | Image: Ruby and Peach Photography
2. Patterned Tile
If you want to add a little more pizzazz to your island, consider using patterned tile. With 45+ handmade tile shapes to choose from, the pattern possibilities are endless–and an excellent way to make your space entirely your own.
Explore some of our most popular patterns here.
Triangle tiles are a crowd-pleasing shape that can be arranged in several different ways, each resulting in an eye-catching geometric installation. In the kitchen below, Handsome Salt lets the pattern speak for itself with neutral tile and contrasting grout lines anchoring the marble island centerpiece.
Please note that we do not recommend using dark grout with white tile due to staining potential. Learn more here.
Tile: 6" Triangle White Wash | Design: Handsome Salt | Image: Jenny Siegwart
The rounded island in the kitchen demo space at LA Plaza de Cultura y Artes also uses triangle tile but opted for a different pattern and more color. Glossy green is randomly interspersed with white for a playful look, while the diagonal lines of the straight-set installation cleverly pull the eye around the curved island giving the illusion of fluidity.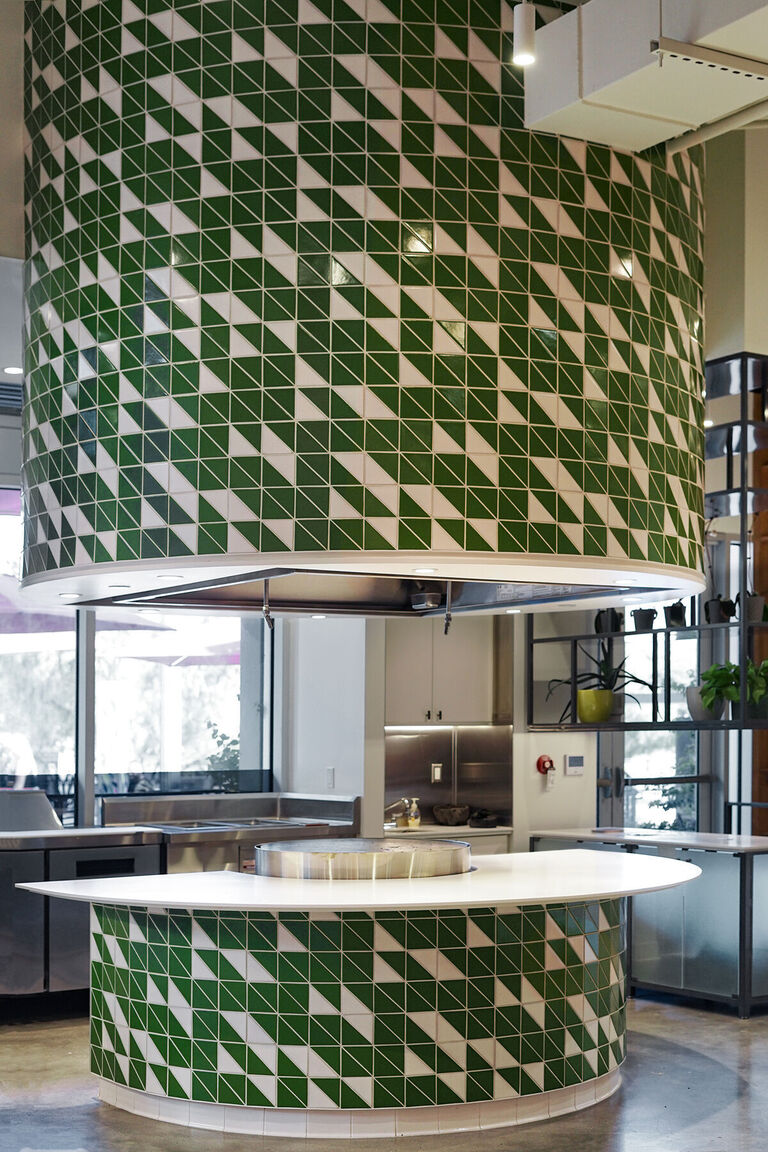 Tile: 4" Triangle Spruce Gloss, Tusk | Design: 64North | Image: Jude Garcia | Installer: LA Plaza de Cultura y Artes
This checkerboard tile breaks up the kitchen's clean lines, while a neutral gray and white color story blends well with the minimal space. To add extra continuity to your kitchen, consider taking a page out of this kitchen's book and using the same tile pattern on the island, counter, and backsplash.
Tile: 3x3 Tusk, Dolomite | Design: Autumn Hachey, TWENTY-TWO TWELVE, Stay Here | Image: Michelle Johnson
Glossy green Hexagon Tile gives the illusion of being draped over the rich walnut island like a table runner in the kitchen below. We love how unique this install is with the raw, uneven Hexagon finish on the side of the island evoking a sumptuous dripping honeycomb.
Tile: 6" Hexagon Palm Tree, Olympic Brick | Design: Silent J Design | Image: TC Peterson Photography | Installer: Damskov Construction
Our most popular Specialty Shape, Picket Tile, can be installed in a horizontal or vertical straight-set pattern or the standout braid pattern shown below. Boldly contrasted with a row of bright multicolored barstools, this island's cool blue Picket Tile in a flowing braided pattern adds an elegant touch of eclectism to the space's modern aesthetic.
Tile: Picket Crater Lake | Design: Jamie Nusser | Image: Lindsey Drewes
If you're looking for crisp, clean lines, the kitchen below has it in spades. White 6" Triangle Tile on the island inlay is installed in a straight-set pattern, creating horizontal, vertical, and diagonal lines while the neutral color and stacked pattern are echoed by the textured Brick backsplash.
Tile: 6" Triangle Daisy, White Mountains Brick | Design: Jen Pinkston | Image: Katie Jameson
This playful cafe offers up tile island inspiration with an island-inspired twist thanks to its colorful counter and matching floor. Green, blue and white triangle tiles speak to the restaurant's Hawaiian fare while dually functioning as a divider.
Tile: 6" Triangle Clover, Turquoise, Ivory | Image: Bethany Nauert | Installer: DUST & Co.
3. Handpainted Tile
Handpainted Tile brings a distinctive artisanal look to your kitchen island thanks to the unique touch on every single tile. Each piece is meticulously painted to order by skilled artisans in our California Tile Factory using time-honored techniques going back hundreds of years.

Available in a wide range of designs and colors, you'll be sure to find a Handpainted Tile pattern that you love whether your style is traditional, modern, eclectic, or entirely your own.
Take the inviting kitchen below–the traditional design and color scheme are accentuated by classic Jardin Fretwork tile on the island in a soothing grey and white colorway, adding visual interest that subtly echoes the sinuous lines of the Ogee Drop backsplash.
Tile: Jardin Fretwork custom colorway and Ogee Drop Daisy, White Wash | Design: Susan Hall Studio | Image: Emily Minton Redfield
Industrial meets artisanal in Brightmark Energy's headquarters, featuring a spacious concrete-topped island decorated with blue and green Handpainted Aerial Tile. The circular design brings a softness to the space while the yellow barstools add a contrasting pop of color.
Tile: Aerial Cool Motif | Design: Arcsine | Image: Patricia Chang | Installer: Brightmark
This kitchen's subtly geometric handpainted tile feels retro and contemporary at the same time as it wraps around the counter, beautifully harmonizing with the mint green subway tile backsplash.
Tile: River Rock Green Motif, 3x6 Sea Glass | Design: Emily Vallely | Image: Madison Kim-Poppen
Take the first step toward your new island with up to five free color samples. Want some expert help? Fill out our simple form for free design assistance–our friendly tile experts can bring your ideas to life at any point from inspiration to installation.