Complete Guide to Mosaic Tiles
By Kali
They may be small, but mosaics certainly pack a punch. Available in both ceramic and glass tile, we offer 10 timeless ceramic shapes and 6 glass, a total of 26 standard patterns, and over 120 standard colors (plus custom options), you can create a unique installation for projects of all sizes and layouts.

Mosaic Tile Sizes
Whether you're looking for a subtle design element or an eye-catching focal point, we have a mosaic tile that works for you. Our ceramic mosaic sizes are 1x1, 1x4, 1x6, 2x2, 2x4, 3x3, 2" Hexagons, 3" Hexagons, 3" triangles, and Small Diamonds.
Our glass mosaic tile sizes are 1x1, 1x2, 1x4, 2x2, 2x4, and 3x3.
Foolproof Face Taping
All of our mosaic tiles come pre-sheeted with a clear face tape that ships in sheets that are approximately 1SF each for easy installation.
When a clear sheet of plastic film is applied to the face of the mosaic tiles, the back of the tile adheres 100% to thin set, with better grit, making it suitable for wet and submerged installations like pools.
The transparent film allows the installer to see the position, colors, and alignment of tiles making installation even easier.
The plastic covering also protects the surface of your tile from scratches during installation. This is particularly important when using glass tile.
Prefer your mosaic tiles loose? Just let us know!
Mosaic Tile Patterns
We offer a total of 26 sheeted mosaic patterns to choose from. 25 of those are available in ceramic and 16 are available in glass. Each sheet is approximately 1SF. Some patterns are as small as 0.89SF and some are as large as 1.09.
We won't go through them all here but details of each can be in our Price Guide and your Design Consultant will be sure to help you accurately calculate your exact project specifications.
All of our patterns are designed and mounted with a 3/16" grout joint.
Let's take a look at some of our favorite projects featuring our most popular mosaic patterns.

Ceramic Mosaic Patterns
1x1 Straight Stack
Tile: Desert Bloom 1x1 // Design & Image: Mango Street
Our smallest size makes for stunning installs like this midcentury bathroom decorated in our vibrant Desert Bloom glaze. The pink tile and grid of white grout offer intricate visual interest in the limited space of the narrow powder room.
2x2 Straight Stack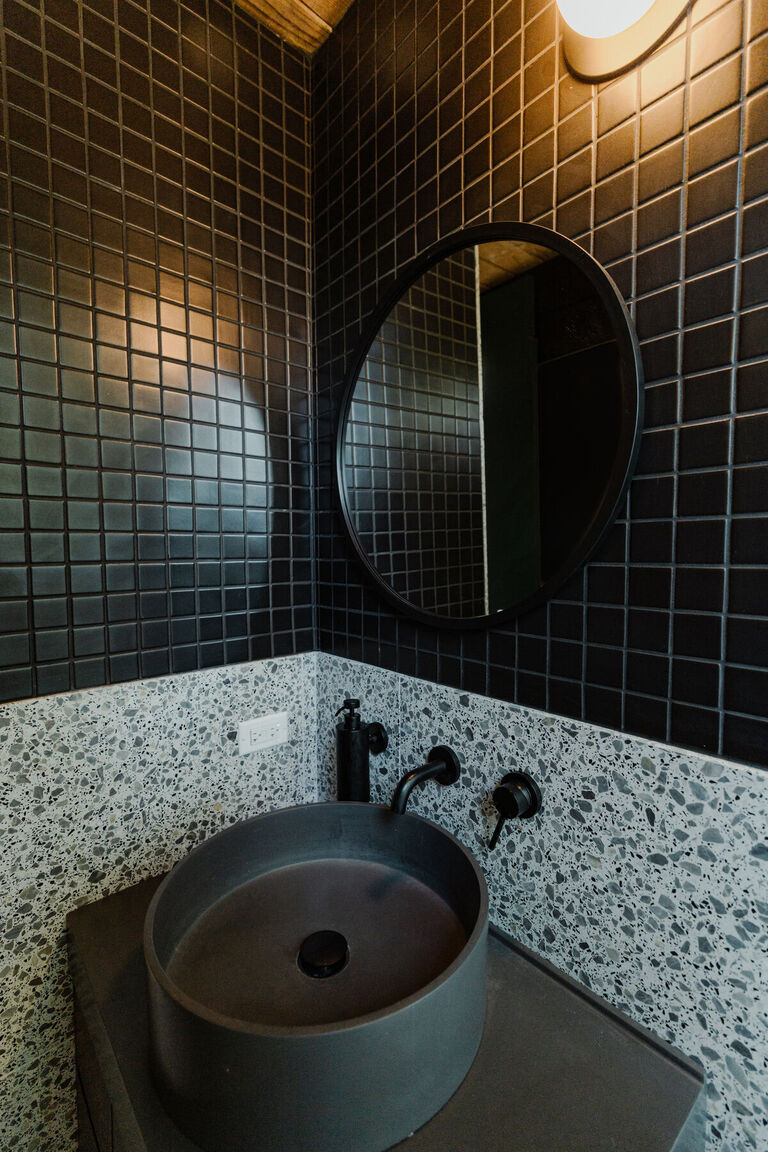 Tile: Basalt 2x2 // Design & Image: Mango Street
The slightly larger sibling to the 1x1, the 2x2 in a straight stacked pattern takes a similar tack offering orderly lines and intricate detail. Here you'll find matte black tile with a matching grout that shows of the texture of the pattern as opposed to the contrast of tile and grout.
Tile: Peabody 2x2 // Design & Image: Working Holiday Studio
Here again, you'll find an orderly design of complementary tile and grout, this time in a muted green tile and grey grout, that ushers in a calm and relaxing vibe to the environment.
3x3 Straight Stack
Stepping up to the straight stacked 3x3, you find this pattern has more in common with the field tile 4x4 than the tiny 1x1 and 2x2. This sheeted pattern is great at covering larger spaces and is easy to clean since each square foot contains fewer grout lines than the two smaller sizes.
Tile: Evening Glow 3x3, Kelp 3x3, Hunter Green 3x3 // Design & Image: Claire Thomas
3x3s are an excellent format for featuring a multi-color pattern like this pink and green plaid featured on this kitchen's backsplash and floor tiles.
Tile: Calcite 3x3, White Wash 3x3, Frost 3x3 // Design: Joy Street Design // Image: Sen Creative

Another trio of colors can be found on this mosaic tile backsplash, this time in a blend of varying shades of white in a scattered design.
1x4 Straight Stack
Onto the rectangles and we begin with the compact 1x4. These narrow beauties can be hung both horizontally and vertically, each giving a distinct look to your installation.
Tile: Basalt 1x4, White Wash 1x4 // Design: Aerial Design and Build // Image: Angela Dominguez
A vertical installation will give your space an additional impression of height, perfect for a floor-to-ceiling shower wall like you see here.
Tile: Tempest 1x4 // Design: Ann Mason
A horizontal orientation will stretch the look of your install lengthwise which is well suited on this wide multi-plane bathroom backsplash which frames two mirrors and a window.
1x6 Straight Stack
Tile: Milky Way 1x6 // Design: Tamar Barnoon // Image: Laure Joliet
Similar to the 1x4 above, 1x6 tiles are elongated for an even more elegant look. 1x6 tiles in a straight stack pattern draw slim bands of long lines that are perfect for minimalist designs, especially when styled in a neutral glaze like this Japandi bathroom.
2x4 Half-Offset
Tile: Tusk 2x4, Halite 2x4 // Design & Image: Project M Plus
Another pattern that lives in the grey space between mosaic and field tile is the 2x4. Featuring the same 1:2 ratio of the classic 3x6 subway tile, 2x4s are super versatile. Sticking with the original design of subway tile, 2x4 in a half-offset pattern offers a picturesque traditional look.
2x4 Straight Stack
Tile: Rosemary 2x4 // Design: Claire Zinnecker, Hunt Architecture // Image: Leonid Furmansky
Moving in a more modern direction, 2x4s in a straight stack pattern serves up a stout vibe of uniformity.

2" Hexagon
Next up is the tiny 2" hexagon. Equally at home in a busy cafe as a private bathroom, our smallest hexagon provides a classic look with myriad possibilities.
Tile: Halite 2" Hexagon, Falcon Matte 3x6 // Design & Image: Theron Humphrey
Styled in a single color with contrasting grout gives a space a uniform yet intriguing look.
Hexagons are also an excellent choice for patterns, from bold florals to delicate decorations.
3" Hexagon
Tile: Lapis 3" Hexagon
Our 3" Hexagon shares a lot of similarities as its 2" counterpart but you'll find they can cover more ground with fewer grout lines making them an appealing choice for high-traffic floors like this elegant blue bathroom.
Small Diamond Escher
You can certainly have a lot of fun with our small diamond. This shape can be set in a number of patterns that fit right in with the geometric tile trend that shows no sign of slowing.
One of the most popular and creative patterns of small diamonds we offer is Escher pattern, a 3-dimensional rendition named for the iconic artist.
Tile: Daisy Small Diamond // Design: Jen Pinkston // Image: Katie Jameson
The Escher pattern looks great in a single color and contrasting grout.
Or utilize multiple colors to enhance the optical illusion even more.
Small Diamond On Point
Tile: Navy Blue Small Diamond // Design: Chelsea Sachs Design // Image: Meghan Bob
For a sharp look, try diamonds on point, a pattern that draws clean diagonal lines across surfaces for a style reminiscent of straight stacked squares with a little extra character.
Small Diamond Stitch
Tile: White Wash Small Diamond, Seedling Small Diamond, Bora Bora Small Diamond // Design: // Image: Rachel Sommovilla
Another artistic pattern that put small diamonds to work is the stitch. Similar to a chevron, stitch gives installs a directional flow that's well suited for a sporadic pairing of multiple glaze colors.
3" Triangle Quadrant

Tile: Red Rock 3" Triangle, Red Rock 2x8 // Design & Image: Dawn Stringer
Finally, time for triangles. These simple three-sided shapes are great at creating clever patterns that make even more shapes, not least among them being the quadrant pattern.
In this example, the right angles of four triangles all face each other, essentially creating 6x6" squares (plus a bit for grout). This makes for a fun repeating pattern of crossed squares whose centers catch your eye with a bold dot made by the intersecting grout line.

3" Triangle On Point
Tile: Halite 3" Triangle // Design: Project M Plus, Oh Joy // Image: Bethany Nauert
The 3" Triangle On Point pattern places the triangles side by side against their 45 degree angles with one facing up, the next facing down and so forth. The hypotanuse sides are set horizontally.
Glass Mosaic Patterns
1x1 Straight Stack
Tile: Rosy Finch Matte 1x1 // Design: Ginny Macdonald // Image: Jessica Bordner, Sara Tramp
Like its ceramic counterpart, a 1x1 Straight Stack pattern is undeniably modern and glass just adds even more modern attitude. We love the way the pink tile walls encrust this adorable jewel box bathroom.
3x3 Straight Stack
Tile: Carolina Wren Matte 3x3, Rosy Finch Matte 3x3 // Design: Samantha Klein // Image: Marj Cruz
Pools and glass tile are a perfect match and with face-taped sheets, installation couldn't be more straightforward for these submerged projects. Choose a solid color or a creative pattern like this impeccable pink checkerboard.
2x4 Offset
Tile: Egret Matte 2x4 // Design: Ollie Pop Design // Image: Belu Photography
The traditional subway tile design gets a contemporary makeover with matte glass. This kitchen features the classic offset pattern and 1:2 subway tile ratio, but the soft matte glass adds a refreshingly striking dimension.
Pinwheel
Tile: Condor Matte 1x1, Egret Matte 1x2, Overcast 3x6
Now for a pattern exclusive to glass mosaic tile, the Pinwheel pattern features a 1x1 glass tile surrounded by four overlapping 1x2 tiles. Choose a solid color or style it with a contrasting pinwheel and dot motif like this spacious bathroom.

Loving any of these featured colors? Order color samples online now. Need some help? Or have questions about starting a mosaics project of your own? Simply call, chat, or fill out our
Design Assistance Form and one of our talented Design Consultants will get back to you shortly.