Tile By Style: Tiling Your Modern Rustic Kitchen
By Blair Hagensen
From the countryside to the big city, Modern Rustic style has emerged as a look that echoes authenticity–and it fits perfectly into the kitchen. The unlikely marriage of heavy rustic and sleek modern styles certifiably works in the most utilitarian space of the house.
Rugged, improvisational, and inspired by nature, Rustic style originated in the early 19th century as homesteaders in the US hastily constructed homes with the natural material available in their immediate surroundings–the quintessential log cabin life. Today's rustic style generally has a more modern edge, but its characteristics of warm and weathered interiors have echoed through the decades and can be introduced to even the sleekest of spaces with tile or brick. Keep reading to find out how!
Learn more about the characteristics of Rustic Design.
Brick Shown: Olympic, Tile Shown: 6x12 in Gypsum // Design: Studio McGee // Image: Monica Wang Photography
Crafting A Modern Rustic Color Palette
Rustic style's truth to materials is also revealed in its color palette, allowing the natural finish of wood and stone to shine through. Dominated by warm browns, neutrals, and mossy greens, it becomes a reflection of the outdoor environment. However, it's easy to lighten the look with whitewashed finishes and lighter neutrals to create an airier modern atmosphere.
Brick Shown: San Gabriel // Design: Jessica Davis // Image: Emily Followill Photography
You can imagine how easily brick can become a part of the equation, and our textured Glazed Thin Brick makes the perfect accent wall or backsplash in a modern rustic space. In fact, our rustic favorites are all Brick and include color samples in Black Hills, White Mountains, Columbia Plateau, Lewis Range, Sierra Nevada, Adirondack, Mojave, and Green Mountains. Sample them all here.
Even better? As part of Fireclay's commitment to protecting and honoring our planet, we donate 1% of all Brick sales to National Parks Conservation Association.
Use Brick For Texture In A Modern Rustic Kitchen
Exposed brick is right at home in Rustic design, and is an excellent way to add rustic touches to a modern kitchen. Texture plays an important role in adding dimension, especially since the color palette is so simple, and our Glazed Thin Brick provides that tactile weathered feel a rustic modern space craves. Plus we have over 35 colors to choose from, so you can find the perfect palette for your space.
Reclaimed wood is a common characteristic of rustic kitchen design, and it coordinates beautifully with a brick backsplash as the inspiring kitchen below demonstrates. Clean lines, exposed beams, open shelving and natural materials are typical kitchen features in a modern rustic space, while stainless steel appliances add additional modern touches.
Brick Shown: White Mountains // Design: Mokume Design Studio // Image: Christopher Stark
Your kitchen doesn't have to abide by strict interior design ideals to give it the welcoming, lived-in feel of a modern rustic space. The showstopping kitchen below uses a combination of straight-set brick on the wall, parquet-patterned brick on the floor, and tons of hanging copper pans to create a memorable modern-rustic-cottage feel. Plus, with that vintage oven, there's so much to love about this kitchen.
Brick Shown: Sierra Nevada, Adirondack // Design + Image: Shavonda Gardner
Rustic is often thought of as a heavy design style, but this kitchen turns that idea on its head. Light and airy colors, dainty trinkets, and white granite countertops set a soothing scene while a barely-green brick backsplash adds a textural, organic-inspired rustic touch. Doesn't this seem like an ideal cooking space?
Brick Shown: Elk // Design + Image: Claire Thomas
While you typically see offset or straight-set tile in Modern Rustic kitchens, you're absolutely not required to steer clear of other patterns and shapes. Case in point: the brick herringbone backsplash in the kitchen below coordinates beautifully with the butcher block countertop and natural wood beams for a result that's undeniably rustic-inspired.
Brick Shown: Klamath // Design + Image: Emily Starr Alfano
Much like Craftsman style. Rustic architecture is all about truth to materials and being one with nature. Simple and straightforward, it prizes function over form and asks for little ornamentation. Exposed wood beams and rafters frame open and airy layouts, lending the space a cozy yet expansive atmosphere while fireplaces add an element of nostalgia, harkening back to a time that predated electricity and modern amenities.
Brick Shown: Great Smoky // Design: Design Harmony // Image: Holland Photography
That said, modern rustic design can be fun too! The kitchen below showcases a playful Brick backsplash in a mountain-inspired pattern that brings the streamlined layout into sharp focus. Plus, the addition of wood in the brick contributes to the rustic feel.
Brick Shown: Lewis Range, Bitterroot, Allegheny // Design + Image: Erin Williamson Design

This stunning kitchen has a modern traditional feel, but is made rustic thanks to the light green brick backsplash. We love how the brick looks next to the ivory cabinets and black granite countertop.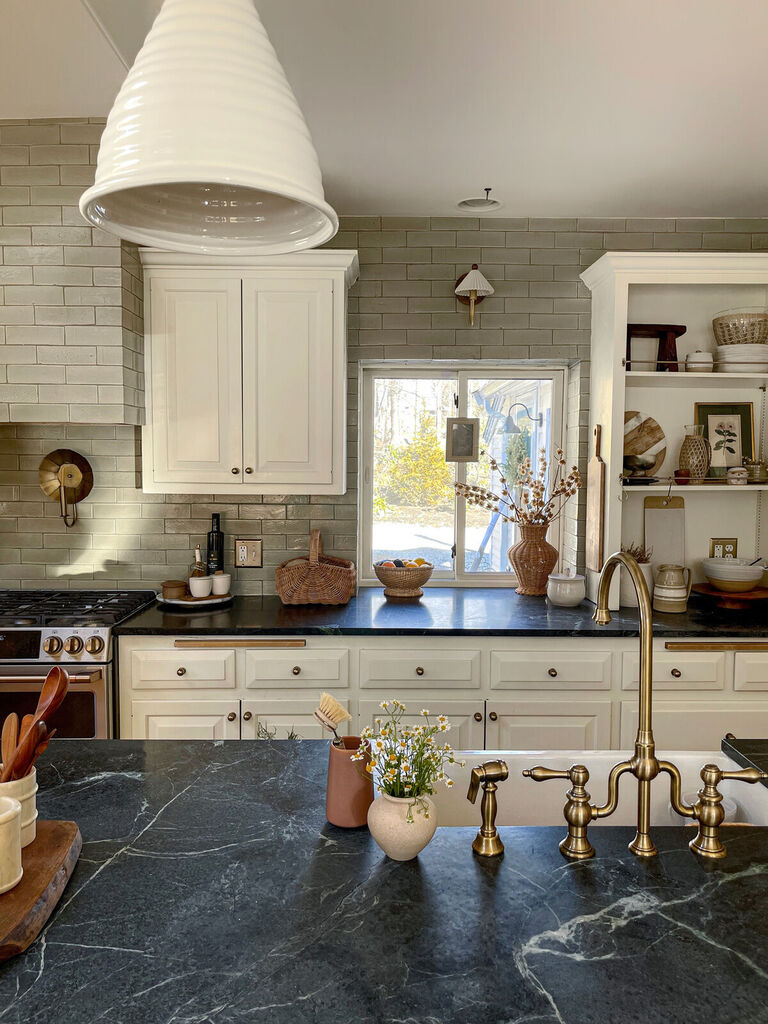 Brick Shown: Elk // Design + Image: Emily Starr Alfano

Elevate A Modern Rustic Kitchen With Tile
Tile is the perfect way to bridge the gap between past and present. Prized for its durability and versatility, tile can lend your kitchen a Rustic look while adding brightness in contrast to darker wood and stone finishes–or it can play into the heaviness of rustic design with darker colors if you'd prefer to make a dramatic statement.
Many kitchens that would be described as Modern Rustic have done away with upper cabinets, allowing the homeowners' pots, pans, dishes and trinkets to become a part of the color story through open shelving. We love how the kitchen below showcases a sandy-colored tile backsplash in a lyrical shape behind its open shelves, giving rustic style a dose of whimsy.
Tile Shown: Ogee Drop in Magnolia // Design + Image: Caitlin Shoemaker
Speaking of whimsy, this Claire Thomas's cabin kitchen features a standout backsplash of Handpainted Tile that creates a colorful focal point in the open space. Flanked by modern white subway tile, this artful display seamlessly coordinates with the open shelving, wood countertop, and matching wood floor.
Tile Shown: 3x9 in Daisy, Handpainted Harvest in custom colorway // Design: Claire Thomas // Image: Stephanie Todaro Photography
Even if you aren't located in the middle of the woods like the beautifully appointed log cabin below, your home can certainly look the part. Reclaimed woods bring a worn and weathered character to Rustic interiors and can be found as rafters, flooring, and in furniture–or all of the above. And while whites and neutrals often dominate more modern kitchens, black also lends itself to a Modern Rustic space. You can see below how the countertop of matte black tile anchors this airy, wood-filled kitchen.
Tile Shown: 2x8 in Basalt // Design: Lawless Design
If you're concerned about the heaviness of rustic style being a bit overbearing, you can always lighten the mood with a cool accent wall like the light green tile backsplash below. Open shelving helps to keep the space feel open and casual while the exposed beams, wood-clad island, and wooden stools create a rustic feel in this charming kitchen.
Tile Shown: 3x6 in Rosemary // Design: Freestyle Architects of Crested Butte
If you love the rustic look but still want to keep it airy and light, a wall of tile in white could be just the thing to expand your space and bring all the elements together with a bright modern rustic result. In the kitchen below, a wall and island inlay of reclaimed wood provide rustic elements that are balanced out with a white tile backsplash, black pendant lights, concrete floor, and sleek cabinetry.
Tile Shown: 6x6 in Daisy // Design: Ann Edgerton // Image: Andrea Calo
You can see how wooden cabinets, stone walls, and specialty tile shapes all work together for a modern rustic feel in the kitchen below. Stone and granite are lasting and natural materials that can elevate your space's style, and we love the raw look of the stone here. The other standout feature is the two-toned Star and Cross Tile backsplash which adds an unexpected, but warmly welcomed, touch to the space.
Tile Shown: Mini Star & Cross in Tusk and Antique // Design + Image: Sara and Rich Combs
Want to preview modern rustic style in your kitchen? Order up to 5 free samples to find the tile or brick that will bring your modern cabin dreams to life.