Ceramic vs. Glass Tile in the Kitchen, Which is Best For You?
By Pearl
In today's world of renovation, the kitchen backsplash has been the focal point for creativity and expression. Unlike floors and countertops, backsplashes don't have to endure much more than the occasional splatter from the stovetop or bump from the toaster. This means you don't have to consider as many variables when it comes to choosing tile for your backsplash, giving you a lot more flexibility and creative license when choosing a design.
Pros of Ceramic Tile in the Kitchen
A Classic Look: A beloved material for thousands of years, Ceramic Tile is a timeless choice that will never go out of style.

Price: Our Ceramic Tile is an affordable backsplash solution that still gives you the ability to customize and design according to your style. Starting at just $10/SqFt (for our Essentials Collection), it can cover a larger area at a fraction of the price of Glass.

Design Possibilities: With 100+ colors and 40+ sizes and shapes to choose from, our Ceramic Tile offers a lot of room for creativity that isn't possible with other types of tile.

Handpainted Options: Our artisanal Handpainted Tile is available exclusively on our Recycled Clay Body, and is a beautiful and robust option either as a focal point or a full backsplash.

Durability: Naturally water and heat-resistant, Ceramic Tile is prized for its durability. When maintained correctly, it's easy to clean in the face of water, hot grease, and cleaning solution.

Ease of Installation: Although we will always recommend hiring a professional to install your tile for best results, Ceramic Tile is very DIY-friendly if you're up to the task. Just make sure you do plenty of research and are prepared with the right tools.

Matching Trim: If your backsplash transitions into the wall or is turning a corner, we offer trim options in every style and color for a seamless installation.

Sustainable: Our Ceramic Tile is responsibly made from locally sourced materials and is handcrafted in our Aromas, CA and Spokane, WA factories.
Cons of Ceramic Tile in the Kitchen
Perfectly Imperfect: Due to the handmade nature of our Ceramic Tile, the product is not modular and our glazes feature differing levels of color variation. We've noted the degree of color variation on a scale of V1 (low) to V4 (high). Many customers love the artisanal look this creates, but you should keep it into consideration when envisioning your installation.

Labor Cost: Even though it's feasible to install tile on your own, we recommend hiring a professional, especially if the design features an intricate pattern. This will increase the cost of your installation, so make sure you factor it into your budget.
Sample Our Bestselling Ceramic Tile Colors
Bring home up to five free color samples of our Original Ceramic and Natural Press Ceramic Tile.
Tusk
Rosemary
Azurite Gloss
Salton Sea
Antique
Mustard Seed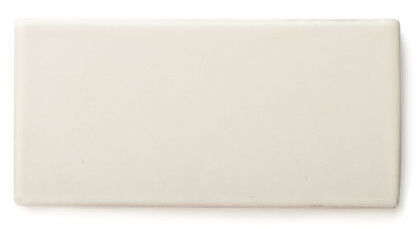 Feldspar
Bone Black Satin
Sap Green Satin
Pros of Glass Tile in the Kitchen
Modern Appeal: Aesthetically, Glass Tile offers a fresh, contemporary look that feels clean and modern and adds an unmatched radiance to your space.

Deep & Dazzling: Glass reflects light, which can visually expand a space–making it a great design solution for smaller kitchens. It's also translucent, so unlike any other surface material, the beautiful color you picked out will show all the way through the tile, providing an additional sense of depth and dimension.

Stunning Colors: Our thoughtfully designed palette offers 24 gorgeous colors from neutral to vibrant, each available in both a gloss and a matte finish. Glass is available in 12 versatile sizes, including mosaics.

Easy to Clean: Glass is less porous than Ceramic Tile. It's easy to clean and will easily stand up to stovetop splatters.

Waterproof: Splashes and spills are no problem for Glass Tile. It's impervious to water and will not stain.

USA-Made: All of our Glass Tile is proudly and carefully made in our Spokane, WA factory.

No Trim Needed: During the manufacturing process, the edges of the glass melt during firing, resulting in a slightly rounded edge (we call it pillowing) that creates a lovely natural finish during installation with no trim necessary.

Consistent Color: If you're not crazy about color variation, all of our Glass Tile colors are ranked as V1, meaning this is the most uniform color consistency we offer across all of our product lines.
Cons of Glass Tile in the Kitchen
Cost: When it comes to tile, Glass can veer on the more expensive side. Our glass tile starts at $35/SqFt, while Ceramic Tile starts at $10/SqFt. If you find that a Glass Tile exceeds your budget but there's one that you absolutely love, consider incorporating it into your design as an accent to bump down the overall price.

Upkeep: Although it's water-resistant and easy to clean, its translucent surface will make grease spots and marks more prominent. Regular maintenance will keep your glass looking its best.

Labor Cost: You'll need to hire a professional installer to install your glass tile, which is another expense to consider when choosing a glass tile backsplash.
Sample Our Bestselling Glass Tile Colors
Bring home up to five free color samples from our gorgeous Glass Tile palette.
Egret Gloss
Rosy Finch Matte
Flycatcher Matte
Sparrow Gloss
Falcon Matte
Carolina Wren Gloss
Great Blue Heron Matte
Get Free Design Assistance
Whether you have further questions about ceramic vs. glass or you're ready to jump into a project, our tile experts are here to help with our signature free design assistance. Fill out the simple form below and we'll be in touch shortly.