Everything we make is handmade just for you. This custom, handmade quality is often reflected in the beautiful variation of color that exists within each tile. Variation is something that occurs naturally in ceramics; different glazes react differently with various materials, kiln temperatures, and locations within the kiln while in the firing process.


Tile: Cardamom Chaine Homme, Cardamom 3x9, Cardamom 1x4 // Design: Design 4 Corners // Image: Nader Essa
What is Color Variation?
We rate the color variation, whether it be Brick, Glass, or Ceramic Tile, from a level of one to four. V1 is the least amount of variation and V4 has the most noticeable amount. You can find out which variation level a color falls under by exploring its individual color page on our website.
We love our higher-variation colors, but understand that they are not for everyone. We have plenty of lower-variation colors to choose from too. These levels are important to take note of when you are sampling colors and making an order--as we always want you to be thrilled with the outcome of your project.
Below we will show you examples of color variation so that you can get a better sense of what material and variation level is right for you and your project!
V1
V1 glazes feature the least amount of color variation. All of our Glass colors and a few colors of our Brick fall into this category as well. V1 glazes are a great choice when uniformity is key to a design. Even with V1 glazes, you can still expect other qualities that separate handmade tile from mass-produced tile like texture, crazing, finish, and slight size variation.
Tile: Cascade Brick // Design & Image: Sarah Sherman Samuel

Tile: Blue Heron Matte 2x12 // Design: Andrea Dabene // Image: Alex Strohl
If you'd like a little variation in your glass tile installation, you can play with sheen! All of our glass tile colors are available in matte and gloss finishes; you can see how the combination of the two sheens look in the bathroom below:
Tile: Barn Swallow Matte 3x12, Barn Swallow Gloss 3x12 // Design: Andrea Dabene // Image: Alex Strohl
V2
V2 glazes feature slightly noticeable color variation. Glazes in this range will display subtle differences but still maintain a broadly uniform appearance.
Tile: White Wash 4x4 // Design: Mandy Lozano, Neil Kelly // Image: Netra Nei
Gypsum, one of our matte glazes, is listed as V2, where there is only a small amount of color variation. The matching grout enhances the consistency of the glaze in the overall design.
Tile: Gypsum 2" Hexagon // Design & Image: Jennifer Chong
The small nature of mosaic tiles can accentuate the appearance of variation but you'll notice that this V2 glaze still delivers a consistent color range throughout the installation.
Tile: Desert Bloom 1x1 // Design & Image: Mango Street

V3
V3 is where you are going to start seeing noticeable variation. We encourage you to talk with your Design Consultant about getting multiple samples of a higher variation color so that you can see its full range.
Tile: Tiki Blue 3x6 // Design: Lily Spindle Design // Image: Michele Thomas
V3 glazes strike a balance between consistent and eye-catching. These glazes offer the sought-after variation of handmade tile with a bit more design control than a high variation V4.
Tile: Dust Storm 2x8 // Design & Image: Anita Yokota
The kitchen below features one of our most popular brick colors, White Mountains, which is rated a V3. Brick inherently displays high variation due to it's rough texture.
Tile Shown: White Mountains // Design + image: The Fresh Exchange
V4
V4 is where things really get dramatic. High variation glazes is one of the top reasons designers seek out Fireclay Tile and for good reason. There is an undeniable charm to a handmade tile that naturally exudes the centuries old art of ceramics.
Antique is a popular glaze that has a copper hue to it. The high variation mimics the look of pennies in a wishing well.
Tile: Antique 8" Hexagon
It's incredible how one glaze can create such an intricate pattern across an installation simply because of the natural conditions of firing ceramics. The amount of variation seen below however, even with a V4 glaze, is not guaranteed.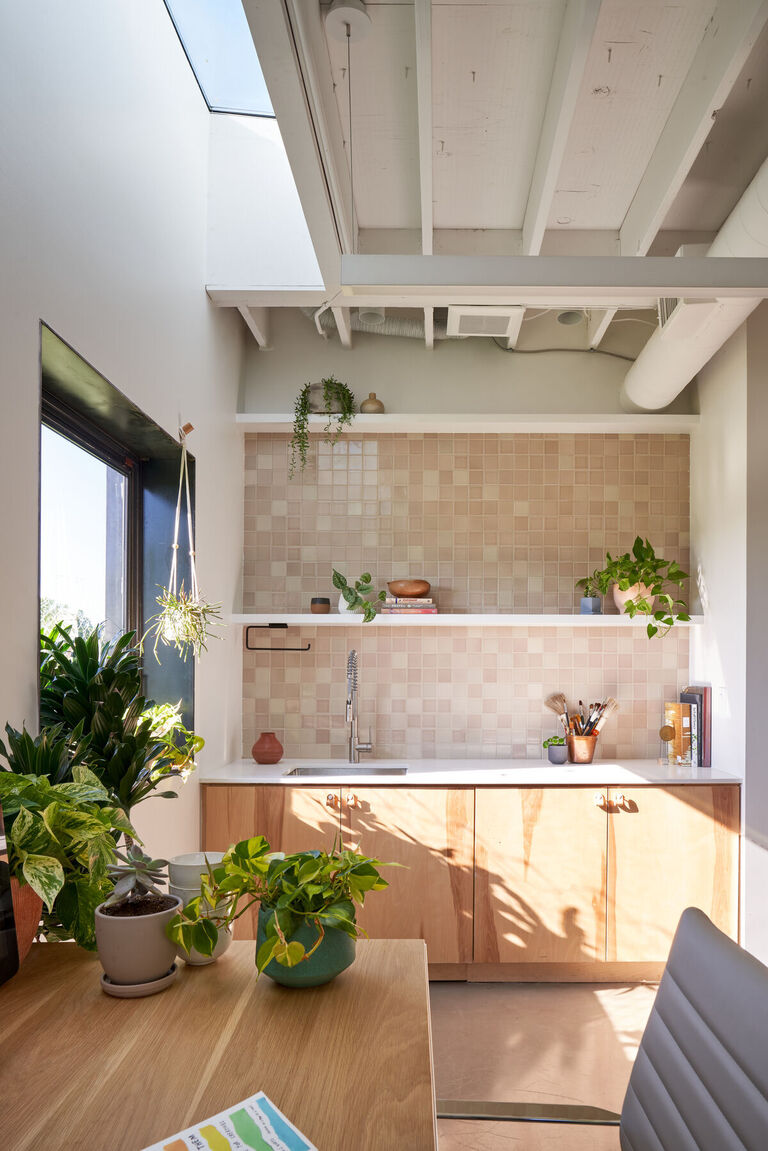 Tile: Sand Dune 3x3 // Design: Claire Zinnecker // Image: Leonid Furmansky, Son of Rand
High variation glazes are a recipe for truly one-of-a-kind designs. As a designer or homeowner, it's important to be present for installation, or at least a dry lay, since the design process will go beyond choosing color and pattern and extend into where each tile is placed.
Tile: Aegean Sea 2x8 // Design: Broad Oak Construction // Image: Gillian Walsworth
Low variation brick glazes have higher viscosity while high variation brick glazes have lower viscosity, therefore showing more of the brick's natural surface.

Brick Shown: Allegheny // Design: Young America Creative // Image: Lauren Edith Andersen
Things to Consiser Ordering Tile with Color Variation
Variation cannot be controlled and can vary from batch to batch. This should influence how one goes about sampling and purchasing tile.
As stated above, especially when considering a V3 or V4 glaze, request multiple samples so you are sure you're happy with all the potential shades within a range and not just one
Always include 20% overage in your order so you're sure to have enough tile to complete your project as add-ons can't be guaranteed to match your original order
Upon delivery shuffle the tile and always execute a dry lay before any permanent installation. During this step you can decide how you'd like to arrange the varied tiles, either in a scattered look or in a more gradient arrangement
If V4 isn't enough variation for your tastes, you can always order multiple complementary colors to take the range of shades even further
Do you have more questions about color variation? Would you like a few samples of a higher variation color? Simply call, chat, or fill out our Design Assistance Form and one of our talented Design Consultants will get back to you shortly.