Tile School: Choosing Fireplace Tiles
It's getting chilly outside and we're finding ourselves wanting to cozy up to a nice warm fire. We thought we'd take a cue from the changing season, and talk about one of our favorite topics: fireplace tiles! A great fireplace will give your space an inviting appeal, plus fireplace tiles are the perfect way to create an eye-catching focal point.
Once you've decided to tile your fireplace, you may be wondering which of our products are suitable, and where exactly on a fireplace can they be installed. Below we'll address all of the questions you may have, providing you with all the information you need before placing your order.
Tile color shown: Foggy Morning with Black Patine; Image: Malcolm Fearon
Which Fireclay products can be use on a fireplace surround?
All of them! Tile , Brick, and Handpainted! One of the great things about tile is that it's not a flammable material; so all of our products can handle extremely high temperatures. This means you can choose any product to create any style.
Tile color shown: Foggy Morning with Black Patine; Image: Malcolm Fearon
Where exactly on a fireplace can our tile be installed?
There are two components to a fireplace, the surround and the actual firebox. The surround is the exterior facade of the fireplace. This is where you can install any of our product lines because while the product will experience heat, the flame will never actually touch the tile.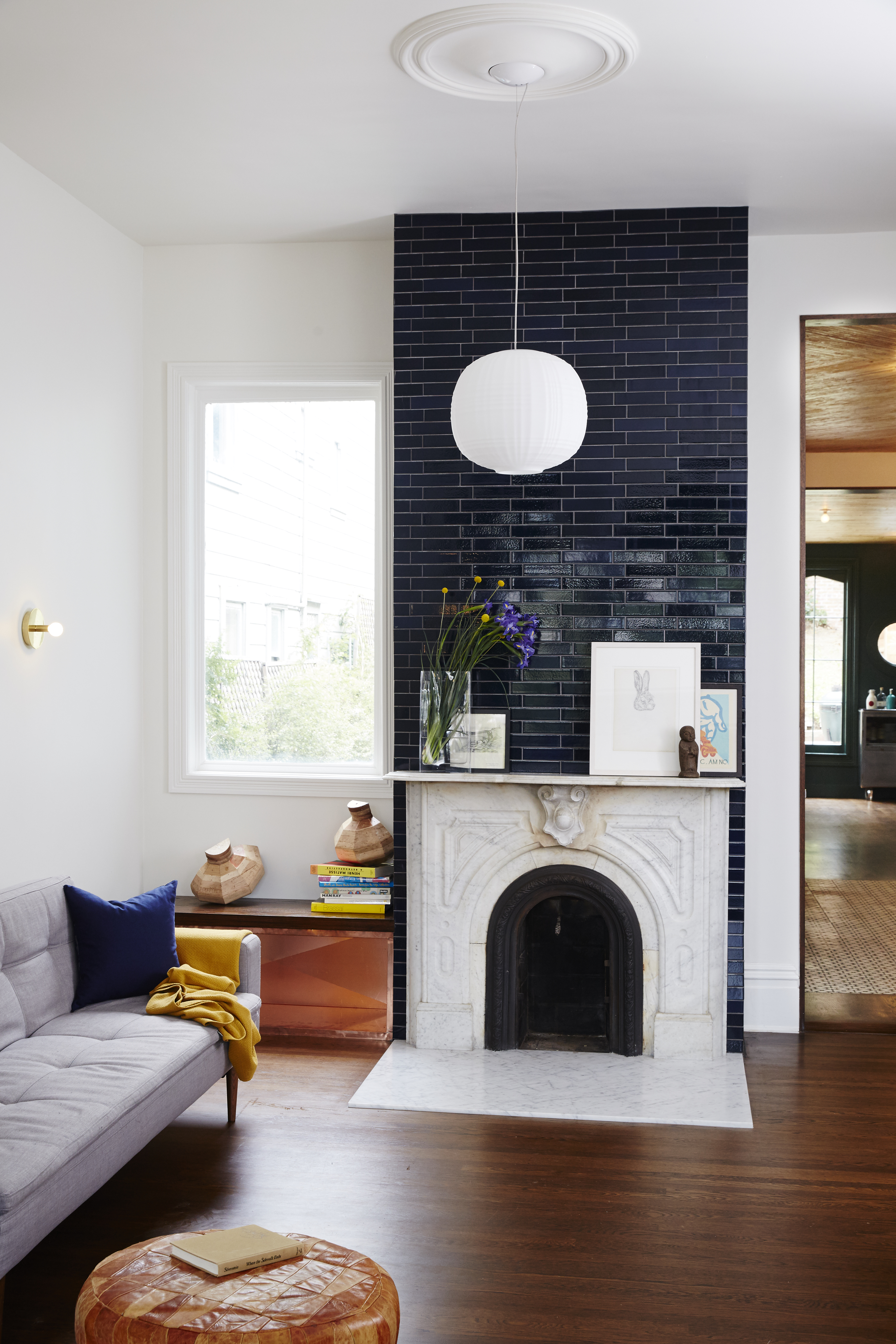 Tile Shown: 2x8s in Navy Blue; Design: Studio Muir
The second part of a fireplace is the firebox, this is the inside of the of the fireplace, that touches the actual flame. Even though all of our product lines are strong enough to hold up to the heat of a fire, the thin set used to install tile is not. When exposed to this kind of heat, the setting material used will melt and eventually burn off causing your tile to become displaced. This is why we never recommend using our product on the inside of a fireplace.
Tile shown: Rosemary
Tile Shown: 6" Triangles in Gypsum, Halite and Pyrite; Image: Aubrie Pick; Design: Andrea Faucett & Lynn K. Leonidas

What about the fireplace floor?
Our product can be installed on the fireplace floor as long as it is outside of the hearth, our tile cannot be used on the floor inside of the hearth, for the same reason listed above.
Tile shown: Cerulean
Why can regular brick be used inside a fireplace hearth but not our Glazed Thin Brick?
Standard brick material is much thicker than our Glazed Thin Brick, which makes it a more durable product within a fireplace. A thicker brick will hold itself in place, while or Thin Brick will not. Even though Brick can't be used on the inside of a Fireplace, it looks great on the surround!
Brick Shown: White Mountains; Design: Kristen Peña
Need a little more help deciding which product to use for your fireplace surround? Simply call, chat, or fill out our Design Assistance Form and one of our talented Design Consultants will get back to you shortly.
Shop the Story