55 Fireplace Tile Ideas From Classic to Contemporary
Fire has always been a part of the human experience and it's something we've held onto as we've advanced into an era of modern creature comforts that heat and entertain us at the press of a button. What has changed in contemporary times is there are now more choices of fireplaces and tile designs to decorate them than ever before.
From brick tile, ceramic tile, specialty shapes, and hand-painted tile, get cozy as we show off 55 of our favorite fireplace tile ideas.

Brick Tile Fireplace Ideas

Brick is the material many first think of when envisioning a fireplace. It's a classic look but today designers have far more options than standard red brick. Glazed Thin Brick are real brick, only thinner and glazed with the same colors you'd find on ceramic tiles. Unlike painted brick, glazed brick allows you to still control the color and look of your grout lines and features a cleaner look overall.

Glazed Thin Brick is also more affordable and efficient. Glazed Thin Brick is substantially lighter than traditional glazed brick, resulting in potentially an 85% cost and emissions reduction.
1. Artisinal Simplicity
Glazed Thin Brick also features the same attractive variation of handmade tile, like this straightforward gas fireplace framed in a range of white.
Tile Shown: White Mountains Brick // Design & Image: Cottage & Sea
2. Scaled Up Offset
Same color, same half offset pattern, this fireplace features a distinctly different personality thanks to the floor to ceiling scale and the glaze's color variation. Luminous white grout helps accentuate the almost grey look of this glaze.

Tile Shown: White Mountains Brick // Design: K Interiors
3. White and Tight
Variation doesn't just come from color. Length, width and thickness can all vary slightly, giving Glazed Thin Brick an artisan quality. This fireplace accentuates the range of variation with a super tight grout joint.

Tile Shown: Lewis Range Brick // Design: Amanda Jane Jones // Image: Stoffer Photography
4. A Touch of Texture
The variation of a hearth made from Glazed Thin Brick gives this smooth cement fireplace just the right amount of texture and character. And with an average break strength of 626 lbf, this hearth will stand up to years of footsteps and split kindling.
Tile Shown: Olympic Brick // Design: Silk and Willow // Image: Shellie Pomeroy
5. Luminous Luxury
Brick typically has a rough industrial or rustic quality but with a veneer of white glaze, Thin Brick can adapt to any setting like this luxurious white living room.
Tile Shown: White Mountains Brick // Design: Meagan Cooperman, ADJ Interiors // Image: Alise O'Brien Photography
6. Long Lines
Contemporary fireplaces come in all shapes and sizes and this one is no exception. Instead of brick scaling a chimney vertically, this fireplace hides the chimney behind the wall and instead draws long horizontal lines across the room.
Tile Shown: White Mountains Brick // Design & Image: Ramsey McDaniel
7. Elevated Design
This white brick fireplace starts not at the floor but elevated above it, resting on a bench with seating available on either side.
Tile Shown: Olympic Brick // Design & Image: Claire Thomas
8. Rough and Rustic
The stone fireplace might be the earliest adaptation of the structure and its ancient quality goes perfectly with the primitive allure of fire. This stone fireplace gets a minor update with a hearth of grey Glazed Thin Brick that plays off the natural variation of the stone above.
Tile Shown: Absaroka Brick // Design: High Street Homes // Image: Dan Swindel
9. Blend With Black
Set among walls of saturated green paint, this fireplace features bold black brick to add an anchor to the room of dark tones.
Tile Shown: Bitterroot Brick // Design: Jen Pinkston // Image: Katie Jameson
10. Minimalist Contrast
By contrast, the black brick of this fireplace is a focused focal point in a bright white minimalist living room.
Tile Shown: Black Hills Brick // Design: Kim Wolfe Homes // Image: Becky Kimball
11. Fire Island
Set in a similar living room, this fireplace gets 360 degrees of appreciation with an island design placed in the center of the room for a bold look even from behind.
Tile Shown: Black Hills Brick // Design: Brasstacks // Image: Erin Hassett
12. Contemporary Centerpiece
Placed on a pedestal in a sea of turquoise brick, this modern black brick fireplace combines classic materials with contemporary design, echoing the idea behind the great room it finds itself in.
Tile Shown: Black Hills Brick, San Gabriel Brick // Design: Design Bitches // Image: Yoshihiro Makino
13. Midcentury Lines
This midcentury marvel shows off its clean lines with glossy red brick and bright white grout lines. Standing in the center of the room, the multi-tiered chimney and off-center firebox mean visual appeal from every angle.
Tile Shown: Columbia Plateau Brick // Design & Image: Claire Thomas

14. Sky(light)'s the Limit
Another midcentury design, this gas fireplace surrounded by bookshelves features a wide column of turquoise glazed brick reaching up through the sunny skylight, setting the scene for the perfect reading spot.
Tile Shown: San Gabriel Brick // Design: Atelier Ma // Image: Margaret Austin
15. Natural Beauty
Climbing up through the vaulted ceiling this wood burning fireplace is built with white brick and a natural beige colored grout, mimicking the look of the marble hearth.
Tile Shown: Olympic Brick // Design & Image: Caitlyn Shoemaker
16. Glossy Greens
Floor to ceiling, wall to wall, this fireplace has an impressive footprint. Enhanced by the glossy glazed brick in a soft green shade with noticeable variation, the flame is just a small part of this shining focal point.
Tile Shown: Elk Brick // Design: Tyler Karu Design + Interiors // Image: Erin Little
17. Pop of Blue
Set inside an original Eichler, this home is filled with big windows and bright white walls, making this fireplace of bold blue bricks the perfect pop of color to complement the midcentury aesthetic.
Tile Shown: Aleutian Brick // Design: Destination Eichler // Image: Christopher Dibble
18. Floating Flames
With a wide marble hearth and a herringbone firebox, this brick fireplace appears to float over the flame giving the thin brick a weightless look.
Tile Shown: Appalachian Brick // Design & Image: Leslie Murchie
19. Two-Tones
When high variation glaze isn't enough, choose two similar colors like this gas fireplace that uses two shades of earthy brick for a speckled stone-like effect.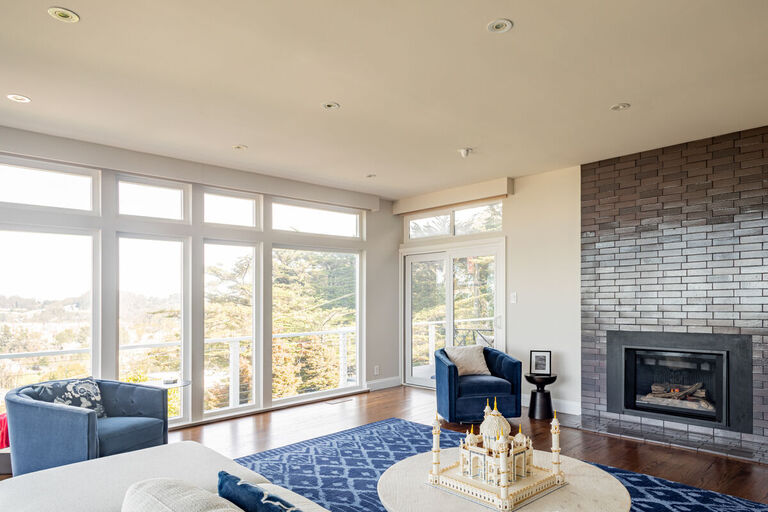 Tile Shown: Rocky Mountains Brick, Brooks Brick // Design: Megan Low // Image: Melati Citrawireja
20. Cozy Color
One of the best parts of a fireplace is curling up in front of its cozy warmth so it makes sense to use a color of brick tile that creates a warm and inviting living space (with decor to match) even when there isn't a fire ablaze inside.
Tile Shown: Columbia Plateau Brick // Design: Monaca Brown Design Co. // Image: Lauren Moore
Ceramic Tile Fireplace Ideas
Ceramic tile takes a classic fireplace to the next level. Smoother than brick with more shapes and colors to choose from, ceramic tile is a true chameleon, able to adapt to any design style from classic to contemporary.
21. Traditionally Tiled
This traditional fireplace features some of the hallmarks of a classic brick fireplace, like wide brick-sized tiles, an offset pattern and a wrought-iron inlay. But the smooth, saturated navy blue colorway and the complementary ceramic architectural molding really move the needle on the overall design.
Tile Shown: Navy Blue 3x9 // Design & Image: Shane Strickman
22. Shape Shifter
Framed by stunning woodwork, this clover-colored tile is a perfect choice to pair with the dark stained hardwood. But look closer and notice the assorted sizes of tile fitting together with a handmade quality, a design detail that shows off the overall craftsmanship of the fireplace.
Tile Shown: Clover 4x4 & 2x4 Sheeted // Design & Image: Brasstracks KC
23. Craftsman Values
Speaking of craftsmanship, Craftsman homes are famously known for their use of wood, tile and fireplaces, so it makes sense that this living room would feature a fireplace that uses handmade tile and trim that's elegantly noticeable without detracting from the turned columns and decorative mantle.
Tile Shown: Salton Sea 2x6 & 3x3 Sheeted, Frost 1x6 Sheeted & Round Liner // Design: TVL Creative // Image: Jess Blackwell Photography
24. Supporting Surround
Playing another supporting role, the warm white ceramic tile adds a finishing touch to the molded fireplace surround in a stark white living room.

Tile Shown: Feldspar 2x6 // Design: HIR A+D // Image: Kevin Scott, Willie Cole, Hannah Robertson
25. Instant Patina
Renovation doesn't have to erase the history of a space. This fireplace retains its charm with grey tile finished with patine, accentuating the crackled details of ceramic glaze with the luster of age.
Tile Shown: Mist 2x6 // Image: Malcolm Fearon
26. Subtle Subway
The subway tile treatment marries the pattern of the brick firebox and the color of the surrounding cabinets in one harmonious design detail.
Tile Shown: Calcite 2x6 // Design: Anja Michals Design
27. Straight Up Scandi
With an earthy green color reflective of a boreal forest and a modern pattern of straight-set tiles, this fireplace fits right in with a Scandinavian living room, not to mention a Scandinavian winter.
Tile Shown: Tempest 2x8 // Design & Image: Nina Saxena
28. Sheen That Shines
Taking straight set ceramic tile in a more contemporary direction, these square tan tiles feature an incredible sheen that makes the tiles come alive, a point that's punctuated by the playful disco ball mirror and sconces that adorn it.
Tile Shown: Cardamom 4x4 // Design & Image: Julieta Alvarez Interior
29. Rustic Squares
A mosaic of squares decorates this rustic living room. Not just the sheeted ceramic tile with beautiful variation, but the firebox itself has a unique square symmetry to it. A reclaimed wood mantle rounds out the rough and ready vibe of this mountain lodge.
Tile Shown: Amalfi Coast 3x3 Sheeted // Design: Joan Ffolliott
30. Intriguing Offset
The most common offset pattern for rectangular tiles is the 1/2 offset, straight down the middle, but this fireplace makes things a little more interesting with a 1/4 offset pattern giving an intriguing dimension to the deep blue tile.
Tile Shown: Navy Blue 2x8 // Design: Studio Muir
Specialty Tile Fireplace Ideas
Specialty ceramic tile unleashes creative potential with an enormous variety of shapes to choose from. Combine that with over 100 color choices and the combinations are virtually limitless.
31. Pink Perfection
Star and Cross tile in a soft pink glaze is a stunner and fits right in with the warm tones of this living room. Pink tile is having a major resurgence and this fireplace makes a strong argument that it's not just for kitchens and bathrooms.

Tile Shown: Dawn Mini Star & Cross // Design & Image: Antonia Renteria
32. Creative Curves
This New Traditional living room combines comfort and creativity with an Ogee Drop tile in a Moroccan pattern that curls bright white grout lines throughout the neutral-colored glaze.
Tile Shown: Shetland Wool Ogee Drop // Design: Collected Studio // Image: SEN Creative
33. 45 Degree Fire
While the flame in your fireplace can reach up to 1000 degrees Fahrenheit, it's all about the 45-degree angles on this clean white fireplace that features a surround and hearth of handsome 6" triangles.
Tile Shown: Frost 6" Triangle // Design: Gina Rachelle Design // Image: Max Maloney
34. Pattern Play
Taking the triangle in a more contemporary direction, this narrow 3-sided gas fireplace builds a greyscale pattern with 3 shades of light to dark glaze.
Tile Shown: Gypsum, Pyrite and Halite 6" Triangle // Image: Aubrie Pick
35. Lines On Point
There's no shortage of detail in this open concept great room. From the brick backsplash to the cascading hexagon island tile, this fireplace decorated with elongated triangles is impressive even on its own with the grout lines drawing on point diamonds across the surround.
Tile Shown: Tempest Scalene Triangle, Palm Tree 6" Hexagon, Olympic Brick // Design: Silent J Design // Image: TC Peterson Photography
Hand Painted Tile Fireplace Ideas
For a truly one-of-a-kind fireplace, hand-painted tile turns a fireplace into unique works of art. Each tile is painted by hand by a skilled artist with their own distinct signatures and can be combined in an endless variety of artwork.
36. Customizable Configurations
This bold stone fireplace gets a Bauhaus-inspired hearth with hand-painted tile in a pattern of black and white geometric shapes. Configurations can be preplanned or arranged onsite for complete customization.
Tile Shown: Dot Dash in Charcoal Motif // Design: Rae Rockwell // Image: S. Cole Kiburz
37. Vintage Vibes
Nothing says retro cabin like a Malm fireplace. This legendary freestanding design sits on a colorful hearth of custom hand-painted tile that sets the stage for an evening around the fire.
Tile Shown: Harvest in Custom Motif // Design: Claire Thomas // Image: Stephanie Todaro Photography
38. Old World Warmth
Old-world design abounds in this Tudor-inspired bedroom with touches of Old California. Classic Cuerda Seca tiles, a technique used since the 10th century, set the tone for a cozy night in.
Tile Shown: Malta in Warm Motif // Design: Pritzkat & Johnson Architects, Christine Vroom Interiors // Image: Shane O'Donnell
39. Understated Style
Hand-painted tile can be just as impactful in a single color, as evidenced by this Moroccan-inspired tile in an all-white colorway with a contrasting black dry line. A wax dry line is screen printed to the tile before painting to contain the glaze and create this vivid pattern.
Tile Shown: Kasbah Trellis in Neutral Motif // Design: Oak & Ivy Collection // Image: Liz Rodriguez

40. Monochrome Moroccan
Taking the idea of the fireplace above to an even more intricate level of detail, this fireplace surround features hand-painted tile in a Moroccan pattern in a monochromatic colorway that both blends into the white living room and stands out with its geometric patterns.
Tile Shown: Sintra in Neutral Motif // Design: JL Interior Design // Image: Kuoh Photography
41. Farmhouse Foliage
A pattern of ginkgo leaves lends itself well to this farmhouse fireplace in a room full of organic allure. The green colorway matches perfectly with the sage green paint of the surround and molding.
Tile Shown: Ginkgo in Green Motif // Design: The Misfit House // Image: Kristin Karch
42. Eye Catching Impact
Competing with a view like this, a striking fireplace design is a must to bring the focal point back indoors. This Pacific Northwest Modern fireplace uses two patterns of polka dots to lure the eye to the center of the room and flowing lines to allow your gaze to fall to the mountains beyond.
Tile Shown: Dot Dash 7 in Charcoal Motif, Roundabout 2 & 4 in Gesso Motif
43. Starburst Surround
The starburst was a key design in the midcentury era. Like the vintage clock above it, this fireplace uses hand-painted Starburst tile surrounding the gas insert to set the midcentury mood.
Tile Shown: Starburst in Neutral Motif // Design & Image: Destination Eichler
44. Transitional Timelessness
Transitional design, known for its warm beige tones and bridging the gap between traditional and contemporary, is at the heart of this fireplace with a custom neutral colorway applied to an old-world pattern that comes across refreshingly new.
Tile Shown: Sanxenxo in Custom Motif // Design & Image: Anita Yokota
45. Rings of Fire
A pattern of overlapping rings, hand painted in a custom blue colorway, rounds out this beautiful fireplace with an arched wrought iron firebox.

Tile Shown: Jardin Fretwork in Cool Motif // Design: Rudy Winston Design // Image: Janis Nicolay

Faux Firebox Tile Ideas
A non-functioning fireplace is still prime for fireplace tile ideas. In fact, since ceramic tile is not rated for working fireboxes, you can tile the inside of a faux fireplace and because there isn't a flame to admire, a unique design is all the more important.

46. Victorian Verisimilitude
This Victorian fireplace might not hold a flame but it definitely works as a focal point with a herringbone pattern of soft pink ceramic tile.

Tile Shown: Dawn 2x6 // Design: Mallory Fletchall // Image: Reserve Home
47. Herringbone Hearth
An old stone fireplace this impressive gets put back in service as a showpiece in this living room with an offset pattern of neutral tile in the firebox and a matching herringbone pattern across the hearth.
Tile Shown: Tumbleweed 2x6 // Design & Image: Nicole Wright

48. Coastal Charm
An old fireplace is reimagined as an alcove for an efficient wood stove in this coastal home. Blue herringbone tile brings home the seaside bona fides.
Tile Shown: Adriatic Sea 2x8 // Design: Bright Bazaar
49. Back in Black
This moody black marble fireplace gets a herringbone backdrop of black tile that's a dapper addition to this decommissioned fireplace.
Tile Shown: Black Hills Brick // Design: SVK Interior Design // Image: Suzanna Scott Photography

50. Sea Change
This wood stove alcove gets a wavy accent with specialty wave tile in two colorways to create a decorative pattern that also cleverly conceals occasional ash and soot.
Tile Shown: Magnetite & Flagstone Wave // Design: David Benners Architecture // Image: Nathan Schroder Photography
51. Kitchen Comeback
There once was a time when you were more likely to find a fireplace in the kitchen of a home than the living room. From a design perspective, as well as for daily life, you may find a fireplace far more appealing in the heart of the home, the kitchen, than in a room where you spend less time.
Tile Shown: White Wash 3x6

52. Bold Boho
With eclectic furniture and rare finds from around the world, there's no shortage of eye candy in this living room. But it's all about the mural of handpainted tile framing out this fireplace.
Tile Shown: Desert Bloom in 8 x 8, Ember in 8 x 8, Mandarin in 8 x 8, Tomato Red in 8 x 8, Fallow in White Motif, Grange in White Motif // Design: Noz Design // Image: David Patterson Photography
53. To the Max
This living room sets the standard for maximalist design with no shortage of color, pattern, shape and texture. The fireplace of handpainted tile in a custom black and yellow colorway draws on the design elements of the room while standing out as a true showpiece.
Tile Shown: Pivot in Custom Motif // Design & Image: Dani Nagel

Outdoor Fireplace Tile Ideas
Fireplaces aren't just for the indoors. A patio fireplace is like having a classic backyard fire pit but with the design principles you lovingly put into your home.
54. Fire Al Fresco
This patio fireplace is dressed in black brick overlaid with a cut metal hexagon pattern that not only combines shapes but also traditional and futuristic design.
Tile Shown: Black Hills Brick // Design: TIffany Brooks Interiors
55. Stars Under Stars
Enjoy starry nights even under a cloudy sky with this gas outdoor fireplace decorated in white Star and Cross tile and flanked by pink brick walls.
Tile Shown: Daisy Star & Cross, Saguaro Brick // Design: BEX Studios // Image: Brittany Anne Jarman
Ready to start your fireplace design? Get in touch with our Design Consultants for free personalized design assistance including sampling, estimating, renderings and ordering.