Tile School: Glazed Thin Brick 101
Durable, versatile, and timeless, our Glazed Thin Brick can work its magic in a variety of styles and spaces. Plus, when you choose brick, you do good. As part of Fireclay Tile's commitment to protecting and honoring our planet, we're donating 1% of all Brick sales to National Parks Conservation Association.
From selecting trim to avoiding add-ons, this blog dives deep into everything we think you should know about our Glazed Thin Brick.

What it's made of
Our Glazed Thin Brick comes in one standard size of 2.5" wide x 8" long, but is simply thinner than your standard brick, as you can see below:
Brick fresh from glazing; you can see here that our brick is the same rusty red color as a typical brick.
Our Thin Glazed Brick is 1/2" thick and is made right here in California!
Where Brick Can Be Installed
Brick can be installed nearly anywhere. From your kitchen to your bathroom to your fireplace, it will fit right in. It's also very well suited for commercial spaces and has been used many a time in restaurants, retail spaces, and grocery stores.
Brick Shown: White Mountains // Design: Claudio Martonffy Design & Natalie Kittner
The only limitation you have with brick is that because it's made of more porous materials, our Brick cannot be installed in steam showers, shower pans, or pools. We also do not recommend it for commercial flooring but is acceptable for residential flooring applications.
Brick Shown: White Mountains // Image: GE Appliances / Power Creative
Available in 35 lead-free glazes, you can have your pick between soft neutrals or more saturated hues:
Brick Shown: Great Smoky // Design: Design Harmony // Image: Holland Photography
Use our Glazed Thin Brick as you would field tile. Its classic size and textured finish make it an ideal choice for an array of design styles: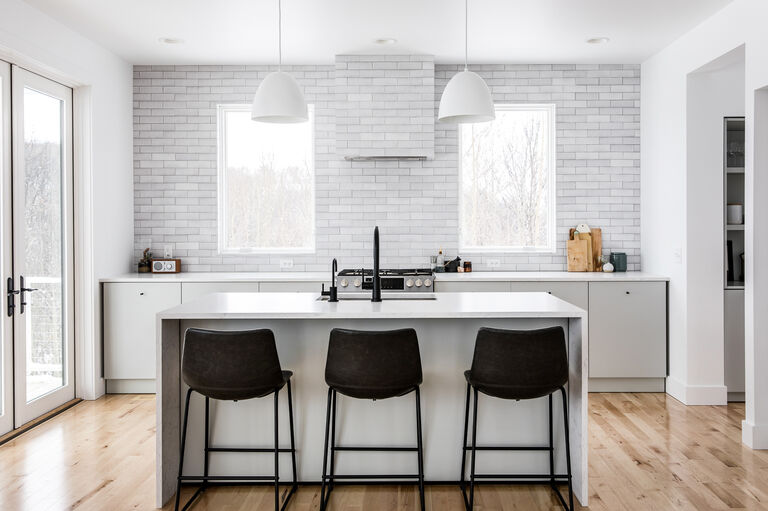 Brick Shown: White Mountains // Design & Image: The Fresh Exchange
We think brick on the floor pairs quite nicely with a ceramic tile backsplash:
Brick Shown: White Mountains // Image: GE Appliances / Power Creative
While we cannot recommend our Brick for steam showers or shower floors, it can absolutely be used for bathroom wall application (and on the floor outside the shower pan):
Brick Shown: Appalachian // Design: Anja Michals
For more information about our brick, check out our Brick Specifications Sheet.
Thinking about Brick in your bathroom? Jump over to our complete guide to bathroom tile.
Our Brick can be used as a decorative finish on exterior facades, as you can see from this San Francisco apartment building below:
Brick Shown: Bitterroot blended with other custom colors created for the project // Design: David Baker Architects
Pro Tip: Exterior suitability is based on geographic location and factors unique to your application. Check with your Design Consultant if your application is suitable for Glazed Thin Brick.
Not set up with a Design Consultant yet? It's free! Click here to get connected.
Trimming your Brick
Like your brick color samples, the edges of the brick will not come finished in your order unless specified. The only trim option we currently offer with our Glazed Thin Brick is a glazed edge-- either on the long, 8" side of the brick, or the short. 2.5" side:
Brick Shown: Lewis Range with Short Side Edge Glaze (note how the long edge of the brick is left raw and unfinished)
Long and short edge glaze will be sold by the Linear Foot and quantities should include overage (see below for more info on ordering overage).
Brick Shown: White Mountains with Short Side Edge Glaze window trim // Design & Image: The Fresh Exchange
Also, keep in mind that we have 90" degree Brick corner pieces if you need to turn a corner in your project:

Brick Shown: A 90 Degree Corner Piece // Size Specs: 2.5" W x 8" L x 1/2" T with a 3-9/16" return
We can also make "Flat Corners" where the flat 2.5 x 8" brick is glazed on it's long AND short edge. Please make sure to specify if you need the right corner glazed or the left corner edge glaze. Orientation does matter!

Brick Shown: Glazed Edge Flat Corner in Lewis Range
Both the Flat Corners and 90 Degree Angle Corners will be sold by the piece and quantities should include overage (we recommend 15-20%).
Grout Space Matters
It's brick industry standard to include a 3/8" grout space in the number of brick pieces there are per square foot. At the recommended 3/8" install grout space, there are 6.12 pieces Fireclay Glazed Thin Brick/square foot.
If you decide to install your bricks with a tighter grout space after purchase, you will run short on material.
Keep in mind the tighter you choose to install your bricks, the more noticeable the size variation of the handmade bricks will be. For example, compare this fireplace surround with larger grout spacing:
Brick Shown: White Mountains // Design: K Interiors
To this fireplace surround with much tighter grout spacing:
Brick Shown: Lewis Range // Design: Amanda Jane Jones // Image: Stoffer Photography
Grout space is important as it alleviates stress on the brick material— especially if your home is still settling.
Ordering Overage
It's also very important to purchase overage or attic stock to avoid the risk of running out of handmade material during your install. Based on your intended grout space, here are the overage amounts we recommend:
- 3/8" grout joint (Fireclay recommended, industry standard) - order at least 10% overage
- 1/4" grout joint - order at least 16% overage
- 3/16" grout joint - order at least 20% overage (we don't recommend installing tighter than this)
Your trim quantities should also include overage. We recommend holding onto whatever overage is leftover from your install for attic stock.
How Brick Can Be Installed
Just because you have chosen Brick doesn't mean you're now limited to the classic, horizontal offset pattern (though look how great it looks!):
Brick Shown: Olympic // Design: K Interiors
We love Designer Jon De La Cruz's fresh take on the traditional offset:
Brick Shown: Front Range in the House Beautiful Kitchen of the Year // Design: Jon De La Cruz // Image: House Beautiful
Or Sarah Sherman Samuels' pop of pattern with this herringbone floor lay:
Brick Shown: Cascade // Design: Sarah Sherman Samuel
For more intricate patterns like herringbone, we recommend ordering an additional 5% on top of your overage quantities.
Brick Shown: Lewis Range // Design: Lyndsay Siegel // Image: Oxford Boone
A straight set pattern always adds a touch of modernity to any space (either set horizontally or vertically):
Brick Shown: White Mountains // Design: Jen Pinkston // Image: Katie Jameson
Learn more about installing Glazed Thin Brick by reading our Brick Installation Guide.
Interested in using brick for your project? Order color samples online now. Need some help? Simply call, chat, or fill out our Design Assistance Form and one of our talented Design Consultants will get back to you shortly.
Shop the Story