Maker Spotlight: Lustre Estudio
By Lindsey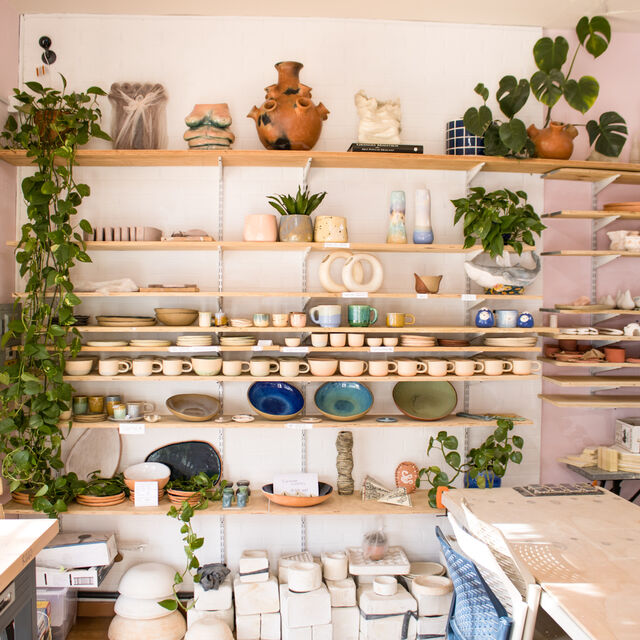 Ceramics is personal, and each piece is influenced by the lived experiences of the artists who shape them. For Hispanic Heritage Month, we took a virtual trip down to Baja to visit the Tijuana ceramic studio, Lustre Estudio where we met up with Co-Creator and Creative Director Annie Alarcon. We connected over our commonalities as ceramicists and learned how her life inspires what she does each day.
From Annie, "Lustre Estudio is a creative space in which the following converge: the love for ceramic processes, the connection with the earth, and the responsible use of its resources, in order to promote an appreciation for ceramics." Keep reading for our full interview with Annie!
All photos courtesy of Lustre Estudio
Meet Annie Alarcon, Co-Creator and Creative Director of Lustre!


Fireclay Tile (FCT): Tell us about Lustre — Where are you based? What inspired you to create your studio?
Annie Alarcon (AA): Lustre is a small ceramic studio located in Tijuana, Mexico. We got the place in January 2020 and had the dream to open our doors in April 2020 which was impossible due to Covid. We found a way to stay active during covid with Ceramic decoration kits at home and online classes.

During my travels, I've lived some beautiful experiences which inspired my desire to create a space where people could come learn, have fun, relax or find a potential new career. When I met my business partners (Bego Cuesta and Vere Murillo) who shared my passion for ceramics, we knew we had to do it.

FCT: Being based in Mexico, how do you know of Fireclay Tile?
AA: I found Fireclay tile through Instagram-- I am one of their "groupies!"
I used to be a social compliance auditor, so when I found Fireclay Factory Fridays I got super excited watching behind the scenes of the manufacturing process. Fireclay combines my love for factories and the clay process. Through the Fireclay social media tours, I realized that Fireclay is a business that cares about its employees' safety and well-being. Later I found that Fireclay is very mindful about sustainability and supports this in several ways (like being certified B Corp and Climate Neutral Certified). Fireclay is not only an inspiration for creating beautiful tile work but also an example of a business that takes care of the people that make it work. Also, Fireclay's Glaze Chemist, Abby is a huge inspiration on our glaze-making front!


FCT: We love your work. What is your approach to your ceramic art?
AA: At our studio, we encourage the creation of diverse and unique creative voices. We want to create a ceramic community that can create and experiment with different types of materials, clays, glazes, and building techniques.

We are trying to bring teachers with opposite philosophies to teach at our studio so we can have interesting learning experiences. This is how we're striving to foster a more diverse art.

FCT: Creating at Lustre looks so special. What do you find the most joy in?
AA: At Lustre, we really love what we do, and we try to show it through everything we make. We are committed to promoting the knowledge of ceramics and sharing it as much as possible, so people can deeply appreciate this art.

We find the most joy in sharing this knowledge with our community, and in creating beautiful objects that can be close to you in your everyday rituals.

FCT: How do you believe your heritage and culture influence your designs?
AA: As a studio, we have explored the different artisanal building and decoration techniques from different regions of Mexico. Mexican clay work is so diverse and abundant that we have drawn inspiration from many indigenous groups to bring this kind of clay work into modern-day design through our stoneware work.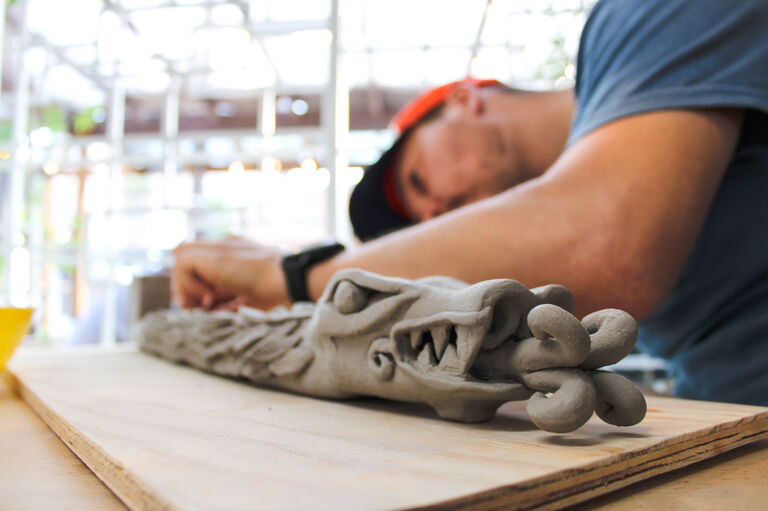 FCT: What do you love about being a Mexico-based Maker?
AA: Being a Mexican studio located in a border city, we have a unique approach. We love that Tijuana has built its own identity, which is a little bit different than that of traditional Mexico. We live in a city where we have a unique freedom to express ourselves and where we can reinterpret the way we portray our culture.

FCT: In the US, Sept-October is Hispanic Heritage Month. How can people best support and elevate the voices of the Latinx community? Are there helpful resources that you wouldn't mind sharing?
AA: Given today's social climate, I think that many businesses and organizations are looking to create environments that are more equitable and inclusive, which I think is awesome! I think it all starts within businesses and organizations. If leaders could model behaviors that align with ideals of diversity, equity, and inclusion, and if they could create workplaces where employees feel psychologically safe, we'll see great progress in elevating the voices of not just the Latinx communities but those of other minorities as well.

In my virtual tour of the Fireclay Factory, I noticed a diverse and happy workforce with a strong Latinx presence, which was beautiful to see. It's also encouraging to see such a strong presence of women leadership at your highest positions. When it comes to Hispanic Heritage Month, businesses could celebrate their Latinx employees through gatherings where their cultural heritage is celebrated through their music, decorations, and home-cooked meals. Doing collaboration projects with Latinx-owned businesses is also a great way to elevate our voices.

Thanks so much to Annie and everyone at Lustre Estudio for opening your space to us and sharing our deep passion for ceramics. Learn more about Lustre on their Instagram and follow along on our blog for more stories celebrating the Latinx perspective and its contributions to our culture.