25 Interior Design Tips to Make Your Next Project A Success
We know–jumping into a project as big and impactful as tile design can be intimidating. If you've got visions of flawless Architectural Digest-style designs in your head but need some guidance from the pros before you get started, we've got you covered.
We've put together a list of 25 need-to-know tips from today's top interior designers that will have you going into your next tile installation with confidence.
1. Measure Twice, Cut Once
Better to be safe than sorry, especially when ordering tile. As Sarah Sherman Samuel puts it, "Measure twice then have someone else measure and then add 15-20% overage and THEN order."
Tile: 1x1 in Akoya and Halite, 6x6 in Akoya // Design: Sarah Sherman Samuel // Image: Joseph Bradshaw
2. Think of Spaces Holistically
Claire Thomas is a born storyteller, and her designs always stand out thanks to her unique and vibrant voice–so it's no surprise that one of the tips she lives by is to think of spaces as a whole, to ensure your story is expressed to its fullest potential.
"Define the context before designing the space," Claire advises, "meaning, don't focus too much on loving individual things that may not work or harmonize the story you're trying to tell."
Tile: Harvest in custom colorway // Design: Claire Thomas // Image: Stephanie Todaro Photography
3. Know Your Materials
"Make sure you understand your handmade tile's potential color variation scale and other inherent characteristics," our own Senior Design Consultant Tiffannie White advises with this especially important tip when you're working with handmade tile like Fireclay.
"Be sure to ask your Fireclay Tile Design Consultant about our crazing (aka crackle) levels and variations in color or size. Even your grout color choice can be a topic of discussion to make sure your design is appropriate with the tile you are selecting."
Tile: Mini Star & Cross in Tusk, Starburst in custom colorway // Image: Rustic White Photography // Installer: In Honor of Design
4. Find Balance
Karen Nepacena, founder of Destination Eichler, imparts this wisdom: "If you go bold on one element on the space, for example, a real showstopper kitchen backsplash, then balance the other materials and elements so that they aren't competing for attention."
Karen demonstrated this principle in the living room below, ensuring that the beautiful brick fireplace is the star of the show by keeping the walls devoid of competing paint colors and the pieces of furniture sleek and complementary but neutral.
Brick: Aleutian // Design: Destination Eichler // Image: Christopher Dibble
5. Space Planning is Essential to A Successful Design
Carmeon Hamilton explains, "Space planning is the most important step in the design process. If it doesn't function, no one will care how beautiful it is. Be thoughtful and intentional about how a space should function by sketching or making lists, and then let that guide the rest of the decisions on the space."
Tile: Chaine Homme in Halite // Design: Nubi Interiors // Image: Camille Leigh
6. Make the Focal Point Something You Love
"If you're feeling stuck with what direction to take a room, pick something you love (a rug, a piece of art, a vase, etc.) and make it a focal and reference point for the rest of the space," suggests Will Taylor of Bright Bazaar. "Let that item be a jumping-off point for the colors, patterns, textures, materials, etc. you decide to layer in across the room."
We love this tip because it's universally approachable–any of us, professional interior designer or not, can take the first step with this advice!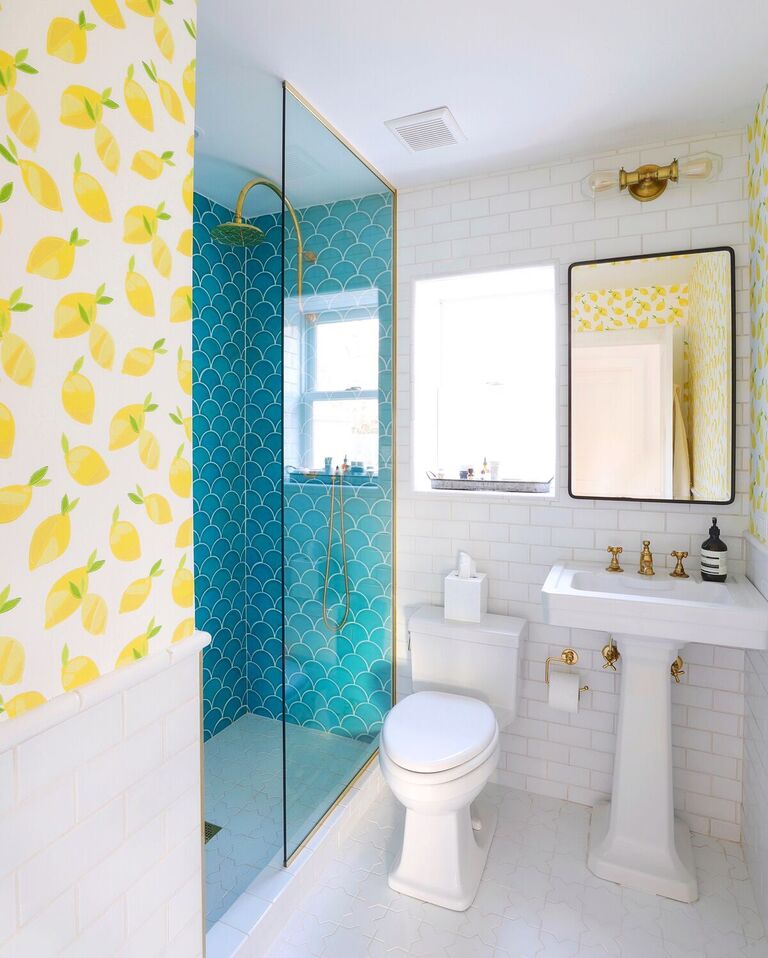 Tile: Ogee Drop in Naples Blue, Mini Star & Cross in White Wash, 3x6 in White Wash // Design: Bright Bazaar
7. Don't Go Too Basic
"It can be easy to think you want the most neutral tile for future resale value or so that everybody will like it, and then you end up with the same white tile that you've seen in a million other bathrooms," says Joy Cho of Oh Joy!
"Pick something YOU like but that also brings you out of your comfort zone if you always tend to choose the same things. If you're working on a reno, now is the time to choose something you'll absolutely love."
Tile: 4x4 Glass Tile in Egret, Dove, Sparrow, Snowy Owl, Rosy Finch, and Lark Gloss, and 4x4 in Daisy // Design: Oh Joy, Project M Plus // Image: Bethany Nauert // Installer: Boswell
8. Take The Time to Invest in Pieces You Love
"Unless life demands it, don't try to design a space in a very short time," advises Clara Jung of Banner Day Interiors. "It's worthwhile to slowly collect and design as you live in a space."
Clara recommends investing in long-lasting pieces like sofas, dining tables, or, ahem, handmade tile to make your space not only beautiful but also functional.
Tile: Ginkgo in Neutral Motif // Design + Image: Banner Day Interiors
9. Trust Your First Instinct
When Andrea Dabene was designing her modern retreat The Nooq in Whitefish, MT, she learned to go with her gut–with absolutely stunning results, including no less than four Glass Tile bathrooms.
Andrea noted, "If there is something you really like, stick to it. I changed my mind on so many things and always ended up with what I liked first. It will save you time and money!"
Tile: 2x12 in Falcon Matte // Design: Andrea Dabene // Image: Alex Strohl
10. Color Isn't the Only Way to Create Interest
"I love decorating with a neutral palette because it forces me to employ other elements in the design toolbox," says designer Anne Sage. "Incorporating a range of textures, finishes, and patterns into a space while keeping the color palette quiet makes for a room that's richly layered and full of personality."
From the handpainted tile floor to the unique coffee table to the eye-catching walls, this neutral, unforgettable living room designed by Anne speaks to the power of this wisdom.
Tile: Aerial in White Motif // Design: Anne Sage // Image: Echo and Earl
11. Include Something Local
"The biggest talking pieces in a lot of our designs are from local makers," the Brownstone Boys share. "It will make your design more interesting and connected to the place you are."
On a completely related note, did we mention that every single Fireclay Tile is made in the USA?
Tile: 1x6 in Spruce Gloss // Design: Brownstone Boys // Image: Carbon Stories
12. Hire The Best Installer Money Can Buy
Tile installation isn't something you want to get at a bargain basement price. Designer Ginny Macdonald explains, "I've seen tile installed really poorly and in some expensive houses and it's because the client (not one of ours) wanted to cut costs. This area is not where you want to cut costs."
Tile: 1x1 in Rosy Finch Matte // Design: Ginny Macdonald, Styling by CJ Sandgren // Image: Jessica Bordner, Sara Tramp
13. Be Practical With The Needs of Your Space
Designer Joy Cho asks, "Is it an area that gets lots of water? Is it a space you'd walk on with your shoes? Think about what colors and textures hold up best in the situation your surface will be in."
"For example, I would not choose a light-colored cement or matte tile on a surface that people walk with their shoes on. It will get dirty fast, and you'll be annoyed having to always keep it looking clean. Instead, choose a color that might hide the dust better and save the lighter colors for a wall or floor where you only walk with bare feet where dirt isn't touching them as often."
Tile: 3" Triangle in Halite // Design: Oh Joy, Project M Plus // Image: Bethany Nauert
14. Design For Yourself
If you've found something you're head over heels for but are afraid it won't stand the test of time, Jen Pinkston's advice is for you.
"If you love it now, it doesn't matter that it's trendy or your taste may change," Jen says. "Better to want to update it in 10 years than to spend the next decade living in a space that isn't reflective of your own point of view and personality because you didn't want to take a risk."
Tile: 2x8 in Mesa, Painted Sky, and Adobe // Design: Jen Pinkston // Image: Katie Jameson
15. Maximize Natural Light
"Maximize natural light in any way you can," recommends Elena of This House 5000. "This could include adding skylights to a room, or a window-paned door." Elena did both in her gorgeous kitchen remodel, and the natural light makes the black and white Handpainted Tile floor pop even more.
Tile: Fallow in custom colorway // Design + Image: Elena Lohse // Installer: This House 5000
16. Don't Forget the Trim Pieces
Kelly Finley of Joy Street Design is here to remind you not to overlook the finishing touches.
"The finished work is the most important part of the job so don't forget how everything needs to be finished," Kelly says. "The trim pieces or metal edging will help bring the entire look together."
Tile: 2x8 in Nautical and Flagstone // Design + Image: Joy Street Design
17. It's Okay to be On A Budget
"Splurge on the focal point or most important aspect of the space and find ways to save in others," designer Jen Pinkston advises. "In our kitchen, we splurged on floating rip-sawn oak shelves and the beautiful glazed brick backsplash but saved by using paint-grade cabinetry."
Tile: Brick in White Mountains, 6" Triangle in Daisy // Design: Jen Pinkston // Image: Katie Jameson
18. Don't Be Afraid of Color
"Create a space that you never want to leave," urges Sara Simon of Handsome Salt.
Whether that means using bold colors that make you smile every time you look at them in your living spaces or painting walls to perfectly match your tile in an eclectic bathroom inspired by a beloved family member, Sara's all for it.
Tile: 2x8 in Desert Bloom and Limon // Design: Handsome Salt // Image: Jenny Siegwart // Installer: Noble and Proper
19. It Might Take Time to Adjust to Your New Look
Noz Nozawa, no stranger to bold looks, says: "If you go bold with a paint color or tile that you knew you were going to love but then are shocked by it when it comes to life, give yourself like a week to live with it! Our brains are wired to resist dramatic change, so sometimes a bold move needs a few days to settle in before you realize it was actually an amazing decision after all!"
Tile: 8x8 in Desert Bloom, Ember, Mandarin, and Tomato Red, Fallow and Grange in custom colorways // Design: Noz Design // Image: David Patterson Photography
20. Good Lighting is Key
"It doesn't matter how beautifully decorated a room is," says Will Taylor of Bright Bazaar. "If the lighting is bad (hello stark, cold white light, I'm looking at you!) then the space just won't feel relaxing or inviting. Bringing lighting down low is a great way to make a room feel warmer and cozier."
Tile: 2x8 in Adriatic Sea // Design: Bright Bazaar
21. Have A Clear Vision When Mixing Patterns
Founder of The Jungalow, interior designer, and boho-modern home decorator extraordinaire Justina Blakeney knows a thing or two about pattern mixing.
"To avoid designing a room that looks too busy, I like to pick one surface (walls, for example) that have low contrast, and then the other surface (floors, for example) that have high contrast," Justina reveals. "Balancing patterns that stand out more with patterns that read more as an all-over can help create a rich, layered look that doesn't veer into the over-the-top busy sphere."
Tile: 2x8 in Tidewater, Elephant Star in custom colorway // Design + Image: Justina Blakeney
22. Find Unexpected Ways to Use Things
"Backsplash and bathroom floors are great and make sense, but find unique, yet practical ways to use other materials," suggests Claire Thomas.
Whether that's using tile in a sunny color scheme to create a one-of-a-kind patio with built-in bench, as Claire did below, using Glazed Thin Brick to add texture to an accent wall, adorning your flea market side tables in tile, or something entirely different, indulge your creative side to make something that's entirely you.
Tile: 4x8 in Sunflower and Sorbet // Design + Image: Claire Thomas
23. Don't Forget the Importance of Grout
"It can completely change the look of the tile, and therefore the whole space," says Ginny Macdonald. "Have your contractor do samples or at the very least provide grout chips."
Whether you go with a tonal or a contrasting grout, keep in mind that we don't recommend using dark pigmented grout with white tiles–it can lead to staining.
Tile: 3x9 in Tempest // Design: Ginny Macdonald, Styling by CJ Sandgren // Image: Jessica Bordner, Sara Tramp
24. Have A Surprise Element
"Whether it's bold pattern in wallpaper or an unusual color accent, it's these special details that can really make a space shine," says midcentury modern expert Karen Nepacena of Destination Eichler.
Tile: Small Diamond in White Wash, Akoya, Dolomite, and Chartreuse // Design + Image: Destination Eichler

25. And Finally, Time & Patience Are Your Best Friend
"So often I've seen clients make purchases that they end up regretting and returning, simply because they thought they needed to check all the boxes on their shopping list right away," Anne Sage explains.
"The truth is that many of a house's quirks and use patterns won't reveal themselves until you've lived in it for a while. And while the design is about making a home that looks great, it's also about making a home you're comfortable living in. It's an evolution, and it can't be rushed!"
Tile: 1x6 in Sand Dune, 6x12 in Adobe, 6" Hexagon in Ivory and Dawn // Design: Anne Sage // Image: Monica Wang
Get more expert tile advice about everything from sampling, renderings, and step-by-step support through every part of your project by filling out our simple design assistance form.