Checkered tile is something we're all familiar with. This classic choice generally conjurs images of black and white square tiles (which looks great), but there are plenty ways to take a fresh spin on this tried and true pattern. Whether you try it in a unique color pairing or a geometric shape, you'll end up with a timeless installation.
We're sharing some of our favorite ways to play with checkering below. Want more inspiration? Head to our Pinterest Board.
Keeping it Classic with Squares
We've said a few times this year that we think square tiles are making a comeback and the checkered look is right in line with our prediction.
Perfect for flooring, you can soften the boldness of black and white square tiles by accenting with lighter hues.
Image: Insideout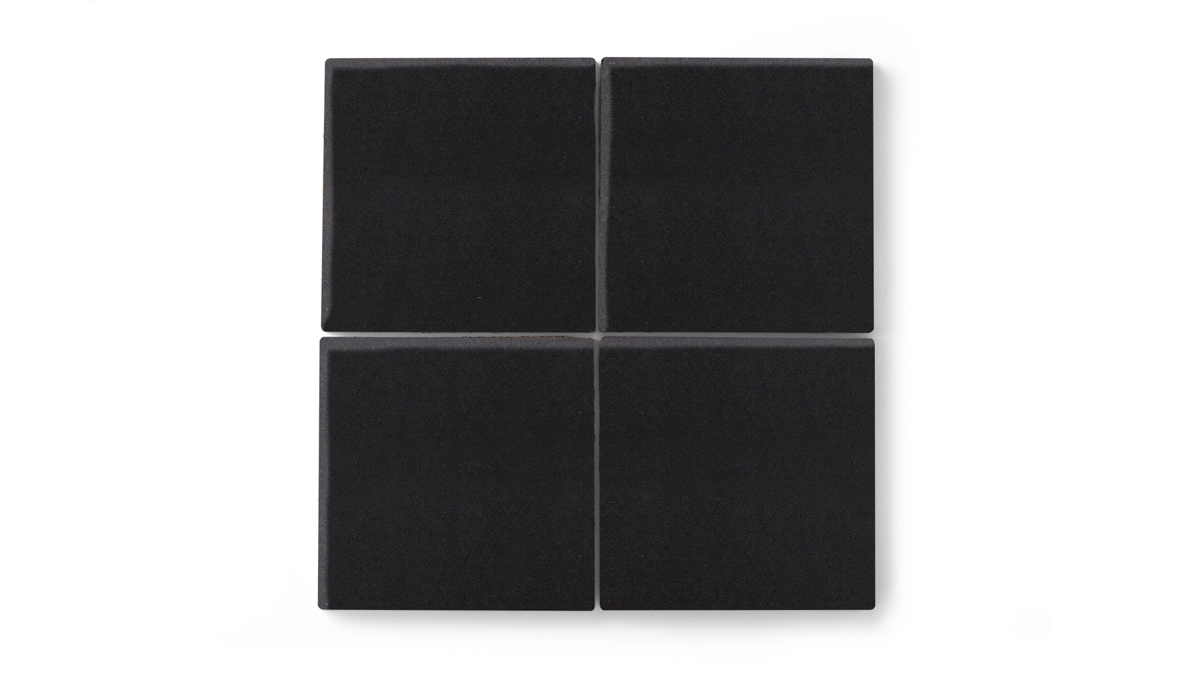 Tile Shown: 6x6 Squares in Basalt.
Go tiny with checkered tile mosaics in 1x1s or 2x2s. We love the look of them in this kitchen, but this would also be ideal for a powder room or showerpan floor.
Image: MyDomaine
Tile Shown: 1x1 mosaic tiles in White Wash. Pair this white with Basalt for a checkered pattern.
Mix up the classic black and white pairing by choosing tiles in lighter shades:
Image: Mrsblandings
Try Triangles
Literally half a square, triangles do the checkered pattern trend so well.
Image: Team Woodnote; Tile Shown: 6" Triangles in Basalt and Calcite.
Create a checkered look with triangle tile on your backsplash. You can keep them in an organized pattern like they have down below:
Or considered checkering your tiles in a more randomized pattern. We love the idea of using Tusk and Navy Blue in place of the classic bright white and black.
Tile Shown: 4" Triangles in Frost and Navy Blue.
Shape Up
Hexagons are another shape you're likely to see in the checkered pattern, but you're not limited to this shape. You can use any of our specialty shapes to create an impactful installation.
Use our 6" Hexagons in a trio of neutrals for a softer checkered look like the commercial installation below:
Tile Shown: 6" Hexagons in Rainy Day.
Small Hexagons in a checkered pattern are a classic choice for the bathroom floor:
Image: Apartment Therapy
Make it mosaics with our 2" Hexagons:
Tile Shown: 2" Hexagons in White Gloss; pair them with a contrasting shade of your choice, it doesn't have to be black.
Handpainted
Some of our handpainted patterns can give that checkered vibe if you choose a neutral motif or play with our COLOR-IT Tool.
Tile Shown: Jardin Fretwork in Neutral Motif.
Do you like any of of the featured colors? Order color samples online now. Need some help? Simply call, chat, or fill out our Design Assistance Form and one of our talented Design Consultants will get back to you shortly.
Shop the Story