How to Design the Perfect Hexagon Tile Bathroom Floor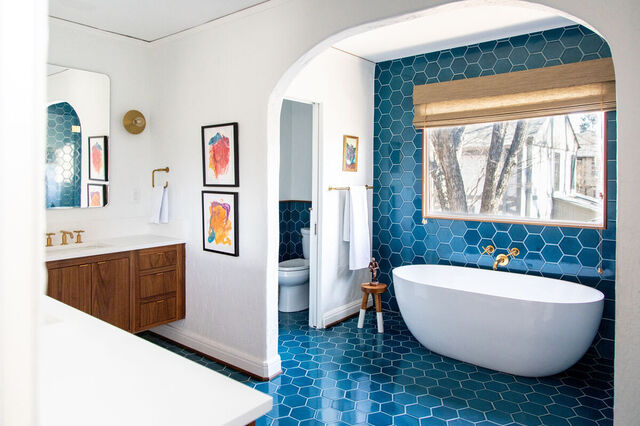 Hexagons are an easy and classic choice for the bathroom floor. This nature-inspired, geometric shape offers your space an on-trend, yet timeless interior design element, with endless opportunities for personalization. With so many tiles, ideas, and design decisions to make we know it can be a little overwhelming to figure out which style of hexagon floor is best for your bathroom.
So, we've put together some helpful tips and advice to make the decision process easier–plus pulled together some of our favorite bathrooms with hexagon tile floors to spark inspiration.
Tile Shown: 6" Hexagon in Ivory and Dawn, 1x6 in Sand Dune, 6x12 in Adobe // Design: Anne Sage // Image: Monica Wang
Keep in mind that we offer free design assistance! If you have a hexagonal vision, our tile experts can help you bring it to life with support every step of the way, from samples to cost estimates to renderings. Learn more about design assistance here.

Choosing the Right Hexagon Tile Size
Choosing a hexagon tile size is the first step in the design process. If you like a more traditional look, stick with a 2", 3", or 4" size. The smaller hexagons will create a mosaic aesthetic found in traditional, classic, and midcentury bathroom designs. These sizes are ideal for creating tile motifs, such as floral or ombre patterns. It's also important to note that smaller hexagon sizes provide greater slip resistance due to an increase in grout lines, so we recommend smaller hex sizes for shower pans.

Tile Shown: 2" Hexagon and 6" Hexagon in Rosemary // Design + Image: Danielle & Ely Franko

If you prefer a more contemporary aesthetic, or simply want fewer grout lines, 6", 8", or 12" are great options. 8" and 12" especially are on-trend sizes that offer maximum coverage underfoot while highlighting the sophistication of this shape. 6" is an extremely popular tile size for hexagon floor tile, bathrooms and beyond, benefiting from the Goldilocks effect of not-too-small and not-too-big. Plus, it seamlessly blends into any design style.
Consider Maintenance
Although smaller tile sizes provide greater slip resistance, you should take into consideration that increased grout lines will require more maintenance. If the idea of lots of grout lines to clean makes you nervous, you can always choose a larger hexagon size. Another tip? Consider using a neutral or dark grout line, which will help hide stains, to keep your floors looking their best.
Choosing Your Hexagon Tile Color
This is where the fun begins! With over 100 hand-mixed glaze colors to choose from, you can go anywhere from white to bright depending on your taste and aesthetic. If you've chosen a smaller size and are looking for a purely classic look, you can't go wrong with a solid shade of white especially paired with a grey grout. As mentioned above, the smaller sizes are perfect for creating tile motifs that can incorporate a blend of colors.
Want to create a mosaic? We can help find the perfect pattern and colors with free design assistance.
Tile Shown: 6" Hexagon in Sorbet // Design: Hudson & Sterling // Image: Stylish Detroit
If you've chosen a larger hex size, opting for a solid hue will create a handsome foundation that you can integrate into any design style. Above, you can see how Detroit Prep chose a sunny shade of 6" Hexagon with a matte finish to infuse joy into their school. Our matte glazes are slip-resistant with DCOF value above .42, making them an excellent choice for splash-prone areas–like bathrooms!
2" Hexagon Tile Floor Inspiration
If you tear your eyes away from the mermaid-magical shower, the front half of this bathroom designed by the Brownstone Boys is classic perfection thanks to walls of white subway tile and a stunning 2" hexagon mosaic tile floor in the same timeless hue.
Tile Shown: 2" Hexagon in White Wash, 3x6 in White Wash, Ogee Drop in Adriatic Sea, Caribbean, Crater Lake, Lake Tahoe, Moonshine // Design: The Brownstone Boys // Image: Nick Glimenakis
Custom 2" mosaic bathroom floor hexagon tile adds richness and classic character to this bathroom by Bright Bazaar. We love how the navy blue floral pattern plays off the cerulean wall tile, resembling a classic penny tile floor as it continues into the shower.
Tile Shown: 2" Hexagon in White Wash and Navy Blue, 3x6 in Adriatic Sea // Design: Bright Bazaar
3" Hexagon Tile Floor Inspiration
We love how the earthy 3" hexagon tile bathroom floor in LaTonya Yvette's Mae House is interspersed with pops of lighter green for a playful effect that captures your attention along with your imagination.
Tile Shown: 3" Hexagon in Clover and Eucalyptus, 4x4 in Sea Glass // Design: LaTonya Yvette // Image: Nina Barry // Installer: Dziewa Construction
Love this house? Check out another bathroom in the Mae House, featuring 6" Hexagon Tile. Since our tile is stronger than porcelain tile, it's an excellent foundation for clawfoot tubs like LaTonya's!
Speaking of playful, the gradient effect of the 3" hexagon tile in this shower creates an unforgettable floor feature. Inspired by the rugged coastline of California, the ombre color palette hits all of the Golden State's best features from ocean to forest to natural stone.
Tile Shown: 3" Hexagon in Gypsum, Salton Sea, Morning Thaw, Dusty Blue, Nautical, Cyclone, Carbon // Design: Tom McElroy Architecture // Image: Rachel Styer
4" Hexagon Tile Floor Inspiration
4" Hexagons are a great choice for florals on the floor, and the sky's the limit for color palette. The bathroom below uses an unexpected yet classic combination of soft green, white, and evergreen to create a verdant foundation.
Tile Shown: 4" Hexagon in Oyster Shell, White Wash, Evergreen // Design: Caroline Myers Interior Design // Image: Thomas Kuoh
If you're a fan of our signature color variation, 4" is a beautiful size to show it off as the bathroom designed by Claire Thomas below demonstrates. Our Antique glaze has the highest level of variation that we offer, offering an attractive organic feel that grounds this modern traditional space.
Tile Shown: 4" Hexagon in Antique, 4x4 in Rosemary // Design + Image: Claire Thomas
Black and white and classic all over, this bathroom floor by Victoria Ford is terrifically timeless. 4" white hexagon tile framed by white grout creates a subtly honeycombed canvas in which the black floral motifs beautifully stand out.
Tile Shown: 4" Hexagon in Calcite and Basalt, 3x6 in Dusty Blue // Design: Victoria Ford // Image: Marcus Ford
6" Hexagon Tile Floor Inspiration
Our 6" Hexagon is a popular choice for bathrooms, as the versatile size easily fits into any design style from modern to traditional. Below, the blue 6" hexagonal tile cascades down the bathroom wall and across the floor, imbuing the coastal cool space with a handsome waterfall effect and creating the perfect perch for an inviting soaking tub.
Tile Shown: 6" in Adriatic Sea // Design: Wellrooted LLC // Image: Mallory Shelton
For a spacious spa-like vibe, consider a seamless transition from the main floor to the shower floor. This modern bathroom's floor and wall tile has a soothing color palette of sage green and sandy beige, with the hexagon floor tiles leading you right into the walk-in shower.
Tile Shown: 6" Hexagon in Sand Dune // Design + Image: Elana Jadallah
The kids' bathroom below uses 6" Hexagon in Sea Glass for a kid-friendly pop of color that still feels elevated–plus, the color and size of the hexagon tiles are reminiscent of stepping stones, perfect for little feet and imaginations.
Tile Shown: 6" Hexagon in Sea Glass, 3x6 in French Linen // Design + Image: The Fresh Exchange
8" Hexagon Tile Floor Inspiration
Black is an excellent choice for bathroom floors as the dark color helps camouflage dirt. In the bathroom below the large black hexagons are framed by white grout that calls attention to the 8" shape while coordinating with the rest of the bright space. Notice how the shower pan features smaller hex sizes in the same shade to provide better grip.
Tile Shown: 8" Hexagon and 3" Hexagon in Basalt, 2x8 in Calcite // Design: Hygge & West
A neutral hexagon floor can act as a cohesive bridge between design elements in different spaces, as evidenced in the bathroom below. The shower clad with rich blue tile is complemented by the understated yet oversize 8" hexagon tile floor, which then smoothly meets the wood floors extending through the kitchen into the living room. We love how the stain on the wood floor looks next to the warm, creamy glaze on the tile.
Tile Shown: 8" Hexagon in Feldspar, 4x4 in Adriatic Sea // Design: Studio 42 Design // Image: Kelley Bedoloto
Ready to get started on your hexagon bathroom floor? Bring home free color samples today to find your perfect shade. Not sure where to start? Fill out this simple form for free design assistance and our friendly tile experts will be in touch to help you every step of the way with sampling, cost estimates, photo-realistic renderings, and more.