Tile School: How to Choose a Contrasting Grout Color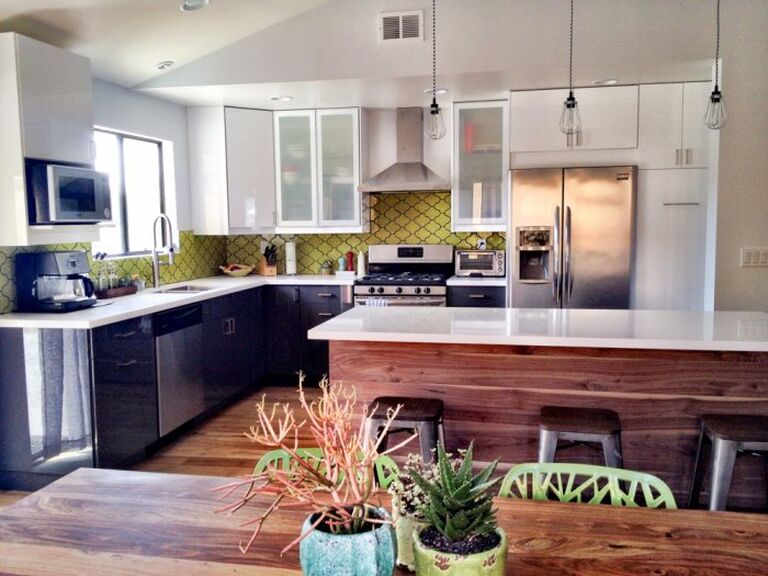 Tile shown: Paseo in Chartreuse
If you're looking to create a focal point with your tile installation, a contrasting grout line is the easiest way to make a statement. A contrasting grout joint has two major benefits–the contrast between your tile and your grout color will put emphasis on the overall pattern of your tile installation, and the grout line will create a unique design feature that adds character to your space.
A dark grout joint is the perfect way to add contrast against a white tile color. The dark grout adds warmth to the crisp white tile, while adding a sense of dimension and texture the tile might not be able to achieve on its own. Dark grout is also much easier to keep clean, hiding any unsightly stains and imperfections.
Tile shown: Ogee Drop in White Wash; Design: AIH Development; Image: Shooting LA
When installing a dark grout and a light tile color always remember the grout may stain your tile, especially if you choose a high crackle glaze. With this type of installation you must use a sealer on your tile to protect your glaze, and/or use a grout release during installation. A grout release is applied to the tile before adding the grout to prevent any staining. After the tile is installed and grouting is complete the grout release is wiped off during clean up. Before installation you'll want to test a few coats of grout release to see what treatment is necessary. One coat may not be a perfect remedy and that often times two or three coats may be necessary to ensure the grout doesn't stain your tile. You can read more about grout release here.

If a dark grout line is a little too dramatic for your taste, go the opposite direction and choose a bright white grout to contrast against a darker tile color.
Tile shown: 1 x 6 in Martinique; Image: Malcolm Fearon Photography
A white grout with a dark tile color creates the same effect, highlighting the overall pattern of the tile layout, and creating unique, graphic appeal. We love how the white grout against this deep gray tile below exaggerates the straight set layout, making the pattern pop.
Ready to get started on your tile project? Order free samples now. Need help choosing a contrasting grout? Simply call, chat, or fill out our Design Assistance Form and one of our talented Design Consultants will get back to you shortly.