The Top 9 Interior Design Trends For 2023
If you're wondering what's in store for 2023, we've got one word for you: self-expression. From endlessly customizable works of art to the prettiest use of your tiniest rooms, to earth-friendly design elements and more, we're counting down the 9 top interior design trends for 2023 with the Fireclay Forecast.
Keep reading for the full list!
Tile: 2x8 in Sand Dune // Design: Antonio Matres // Image: Sean Litchfield // Installer: Dino Koljenovic

Ready to set a new tone for the new year? We've gathered the most up-and-coming colors of 2023, including soft shades that soothe you and saturated colors full of drama–click here to sample them all.
9. Art Deco, Refreshed
What goes around comes around, especially with iconic design, and we foresee the grandeur of Art Deco making a comeback. But don't expect extravagant scenes lifted straight from The Great Gatsby. 2023's version of Art Deco has a decidedly modern feel, with softer colors and a touch of whimsy thanks to architectural details and unexpected tile choices.
This bathroom by Emily Vallely-Pertzborn is the perfect example of refreshed Art Deco, with mint green softening the black-and-white color palette and geometric patterns galore.
Tile: Large Diamond in Seedling, Tusk, Basalt, 4x4 in Tusk // Design: Emily Vallely // Image: Madison Kim-Poppen
Designer Lauren Bradshaw framed this bath with a gorgeous pointed arch but softened the dramatic architecture with the warm earthy color of our Sand Dune Tile.
Tile: 2x6 and 4x4 in Sand Dune, Brick in Olympic // Design: Lauren Bradshaw Design // Image: Joseph Bradshaw // Installer: Dan Company
This space has all the characteristics of Art Deco but in powder blue. If you weren't sure about a soft blue and gold color combination, visionary Claire Thomas's powder room design will convince you.
Tile: 2x8 and 3x3 in Mist, 3x3 in Cardamom // Design + Image: Claire Thomas
8. Vertical Lines
Symmetry has always been and will always be in style for the simple fact that it soothes the human brain, and we predict a rise in vertically stacked tile installations this coming year. The vertical lines in these installs add height, so they're a great choice for small spaces as well as a modern touch.
In this eclectic kitchen, the Brownstone Boys mimicked the vertical lines in the natural wood accent piece with stacked Basalt Tile to create a backsplash with memorable dimension.
Tile: 2x8 in Basalt // Design: Brownstone Boys // Image: Nick Glimenakis
Step inside a neutral sanctuary, fully clad with vertically stacked Sand Dune Tile that infuses this modern space with warmth–even in the window casing!
Tile: 2x8 in Sand Dune // Design: Antonio Matres // Image: Sean Litchfield // Installer: Dino Koljenovic
Nobody does California cool like Sarah Sherman Samuel, evident in this perfectly restrained kitchen backsplash full of clean lines featured on her Magnolia show Inspired Interiors.
Tile: 2x8 in Feldspar // Design: Sarah Sherman Samuel // Image: Nicole Franzen
7. Jewel Box Rooms
Small spaces like powder rooms, home offices, and even laundry rooms offer an opportunity to go bold with color, pattern, or both. As we collectively seek out new ways to express ourselves and indulge our senses, more designers and homeowners are turning these kinds of rooms into an immersive experience–and we're here for it.
Take this laundry room, bursting with color thanks to a coordinating paint and Glass Tile color block installation wrapping along the walls.
Tile: 4x4 in Oriole Matte, Rosy Finch Matte, Falcon Matte, and Carolina Wren Matte // Design: SOKO DAI // Image: Tramp Studio
The Brownstone Boys took the jewel box idea and focused it on one particular spot in this bathroom–step through the archway into a blue ombre scalloped tile shower that's pure mermaid magic.
Tile: Ogee Drop in Adriatic Sea, Caribbean, Crater Lake, Lake Tahoe, Moonshine, 2" Hexagon and 3x6 in White Wash // Design: The Brownstone Boys // Image: Nick Glimenakis
Designed with eternal summer in mind, LaTonya Yvette made this petite bathroom in the Mae House shine with glossy yellow Glass Tile across the floor and wainscoting.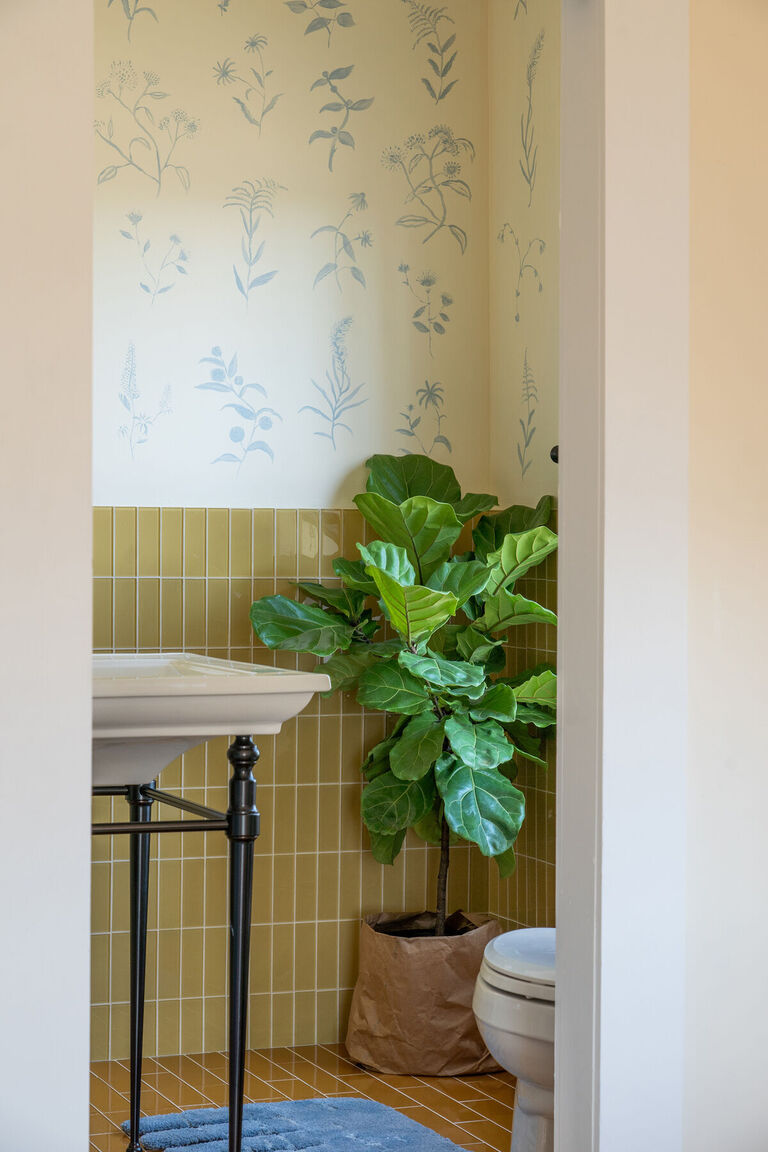 Tile: 2x6 in Oriole Gloss, 3x12 in Falcon Gloss // Design: LaTonya Yvette // Image: Nina Barry // Installer: Dziewa Construction
6. Spaces That Tell A Story
Whether you're drawn to period pieces, sweeping Westerns, or film noir, why not let your home be subtly inspired by the aesthetics in the stories you love? Incorporate a mix of finishes and vintage home decor to keep your design storytelling firmly on the sophisticated side.
Pink tile wainscoting, vintage touches, and a checkerboard floor with a twist—thanks to our minty Handpainted Squiggle Tile—paint a cinematic picture in this bathroom by Kim Wolfe.
Tile: 4x4 in Tumbleweed, 4x4 Squiggle in Plein Aire // Design: Kim Wolfe // Image: Joseph Bradshaw
Jean Stoffer strived to make her north porch "as British as possible" with an amalgamation of wood pieces of furniture and a greyscale checkerboard floor bordered by Handpainted Tile.
Tile: 6x6 in Iron Ore and Pyrite, Chicago in Grey Motif, 1x6 and 3x9 in Basalt // Design: Jean Stoffer Design // Image: Stoffer Photography Interiors
The Dorothy Draper-inspired bridal suite in Emily Vallely-Pertzborn's Foxcroft Estate is midcentury perfection thanks to a lively color palette of pink, black, and white.
Tile: 6x6 Squiggle in Charcoal Motif // Design: Foxcroft Estate // Image: Madison Kim-Poppen
5. A Painterly Palette
Tap into your artistic side for this trend that sees any white wall as an unfinished canvas. Think elegant, rich colors layered with texture, as gratifying as a perfectly blended watercolor, boldly displayed throughout your home.
This Boston bathroom is a perfect example, boasting a saturated color story from the glossy teal tile in the shower to the coordinating painted walls.
Tile: 2x8 in Caspian Sea // Design: Arazi Levine Design // Image: Joyelle West
Shavonda Gardner used a dynamic palette with two shades of Glazed Thin Brick and a showstopping oven to take her dreamy cottage kitchen to the next level, while also expertly demonstrating Pantone's 2023 color of the year, Viva Magenta.
Brick: Adirondack and Sierra Nevada // Design + Image: Shavonda Gardner
The energetic color combination in a classic checkerboard pattern makes shower time an even more invigorating experience in this coastal Maine cabin.
Tile: 8x8 in Carbon and Antique // Design: Lawless Design // Image: Joyelle West, Lawless Design
4. Sustainably Sourced
In a world full of planned obsolescence and cheap imported goods, sustainability is more important than ever–and something consumers are seeking out in droves, by shopping secondhand, supporting local businesses, and expecting transparency from the brands they support.
Transparency is something we take seriously here at Fireclay (read our 2021 Impact Report here). Our tile is designed to last, sustainably produced using recycled natural materials in our two American factories, and as a Certified B Corp, we make it our business to do good.
We love how the Brownstone Boys paired our handmade tile in a clever pattern across the floor with the original window casing and wood in this Brooklyn brownstone renovation.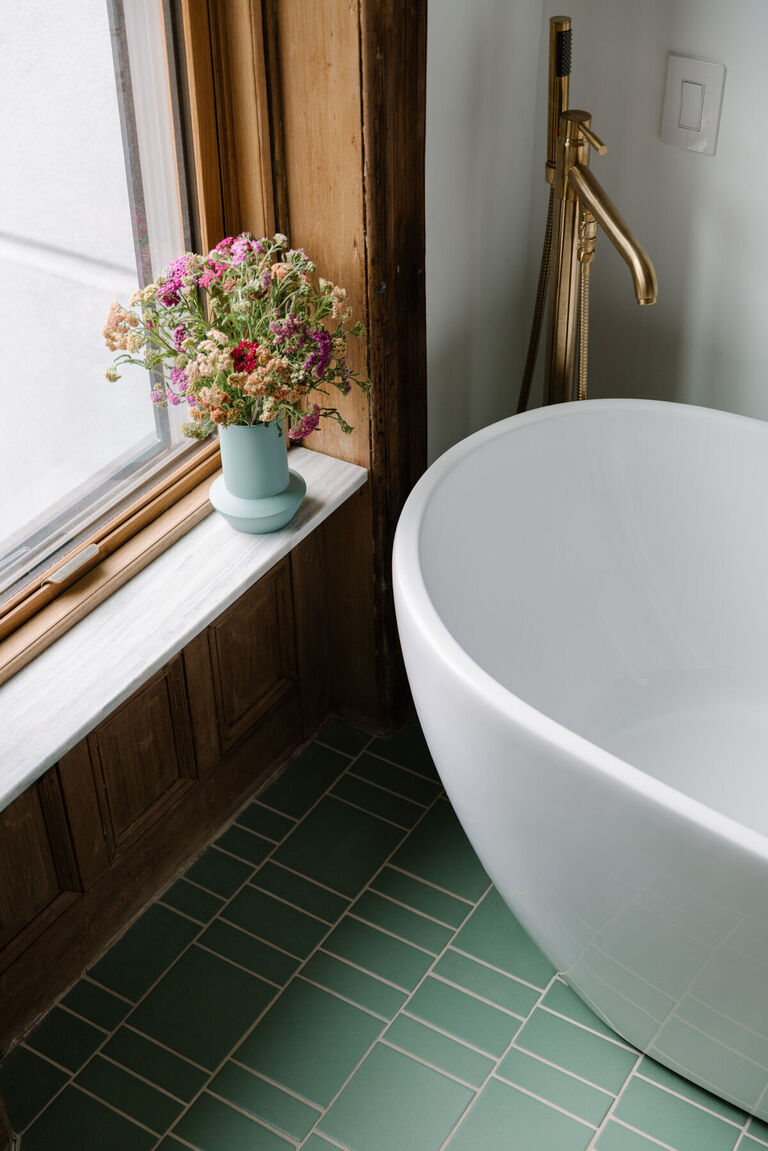 Tile: 2x6, 3x6, and 6x6 in Clover // Design: Brownstone Boys // Image: Nick Glimenakis
It only makes sense that renewable energy company Brightmark uses sustainable Handpainted Tile in their San Francisco headquarters.
Tile: Aerial in Cool Motif // Design: Arcsine // Image: Patricia Chang // Installer: Brightmark
With so many gorgeous USA-made products, shopping locally looks as good as it feels. Just look at SIN Ceramics' Brooklyn HQ!
Brick: Elk // Design + Image: SIN
3. Restrained Reds
Incorporate rusty opulence into your home like a beautifully aged wine with vintage reds and burnt oranges. The understated sophistication of vintage red tile adds instant depth to any space–it's no wonder we're getting so many requests for this color.
Deep red in the shower paired with a white floor creates a timeless palette with a modern twist thanks to the vertically stacked tile installation.
Tile: 3x12 in Pheasant Matte, 3x12 in Halite // Design + Image: Chase Daniel
Foxcroft Estate's kitchen oozes nostalgia with help from a midcentury-inspired checkerboard floor of Vintage Leather and Daisy Tile.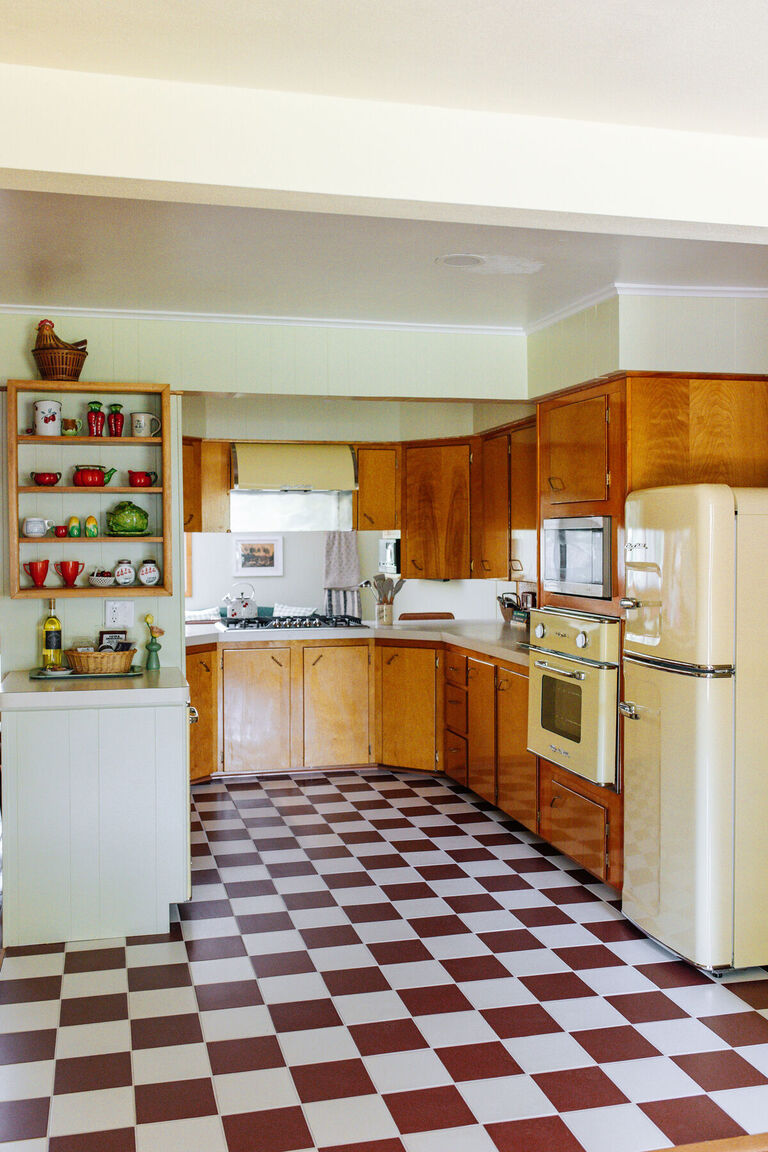 Tile: 8x8 in Vintage Leather and Daisy // Design: Emily Vallely // Image: Madison Kim-Poppen
We love how playful and unique this kitchen is. Walls of cheerful Mini Star & Cross Tile in Red Rock are sprinkled with black Basalt for an unexpected pop.
Tile: Mini Star & Cross in Red Rock and Basalt // Design: Lottie Fowler // Image: Becca Lea Photo Interiors
2. The Enduring Checkerboard
This timeless tile pattern finds itself at home in an array of design styles, whether underfoot or at eye level. A lasting trend, we don't see checkerboard going away anytime soon–did you notice how many spaces in this post feature this pattern in some form? Here are a few more to demonstrate its versatility.
This alpine condo tones down checkerboard with muted earth tones, creating a memorable and perfectly on-trend tile countertop in the process.
Tile: 3x3 in Tusk and Dolomite // Design: Autumn Hachey, TWENTY-TWO TWELVE, Stay Here // Image: Michelle Johnson
From the large-scale checks to the rosy hues of the glass tile to the ultra-inviting sun shelf, we couldn't love this pink checkerboard pool more.
Tile: 3x3 in Carolina Wren Matte and Rosy Finch Matte // Design: Samantha Klein // Image: Marj Cruz
LaTonya Yvette designed the Mae House's well-appointed and approachable kitchen around the red and white 12x12 Ceramic Tile checkerboard floor.
Tile: 12x12 in Feldspar and Red Rock, 4x4 in Hunter Green // Design: LaTonya Yvette // Image: Nina Barry // Installer: Dziewa Construction
1. Make it Mosaic
It's the little things...Endlessly customizable, mosaic tile is an ideal vehicle for self-expression–and we predict you'll be seeing a lot more of these mini masterpieces in 2023. Our tiniest handmade tile creates dimension and texture in your space that will endure for years to come.
Mango Street Lab renovated this gorgeous midcentury powder room with melon pink 1x1 Mosaic Tile that's bursting with vibrancy.
Tile: 1x1 in Desert Bloom // Design + Image: Mango Street

Mosaic transcends styles, fitting seamlessly into everything from Art Deco to Scandinavian as demonstrated by this Scandi-inspired kitchen with a creamy Sheeted Tile backsplash.
Tile: 3x3 in Milky Way // Design: Barrett Prendergast // Image: Sara Ligorria-Tramp
Want classic elegance? You've got all that and more in Vanessa Carlton's showstopping black and white mosaic bathroom designed by Sarah Sherman Samuel.
Tile: 1x1 in Akoya and Halite, 6x6 in Akoya // Design: Sarah Sherman Samuel // Image: Joseph Bradshaw
See how we make Mosaic Tile in our Aromas, CA factory!
Ready for a new look in the new year? Bring home up to 5 free color samples to find the perfect palette for your space, and bring your vision to life with our free design assistance.