The Salted Pig Restaurant
By Lindsey
Featuring our glazed thin Brick in San Gabriel, The Salted Pig is a trendy gastropub found in the heart of Riverside, California's bustling downtown neighborhood. We had the chance to chat with the founders of Project M Plus, the firm behind its warm and approachable interior. Their passion for creating creative and holistic spaces while reducing their environmental impact keeps us inspired. Keep reading for our full interview and learn more about The Salted Pig and the folks behind it.
Meet Project M Plus!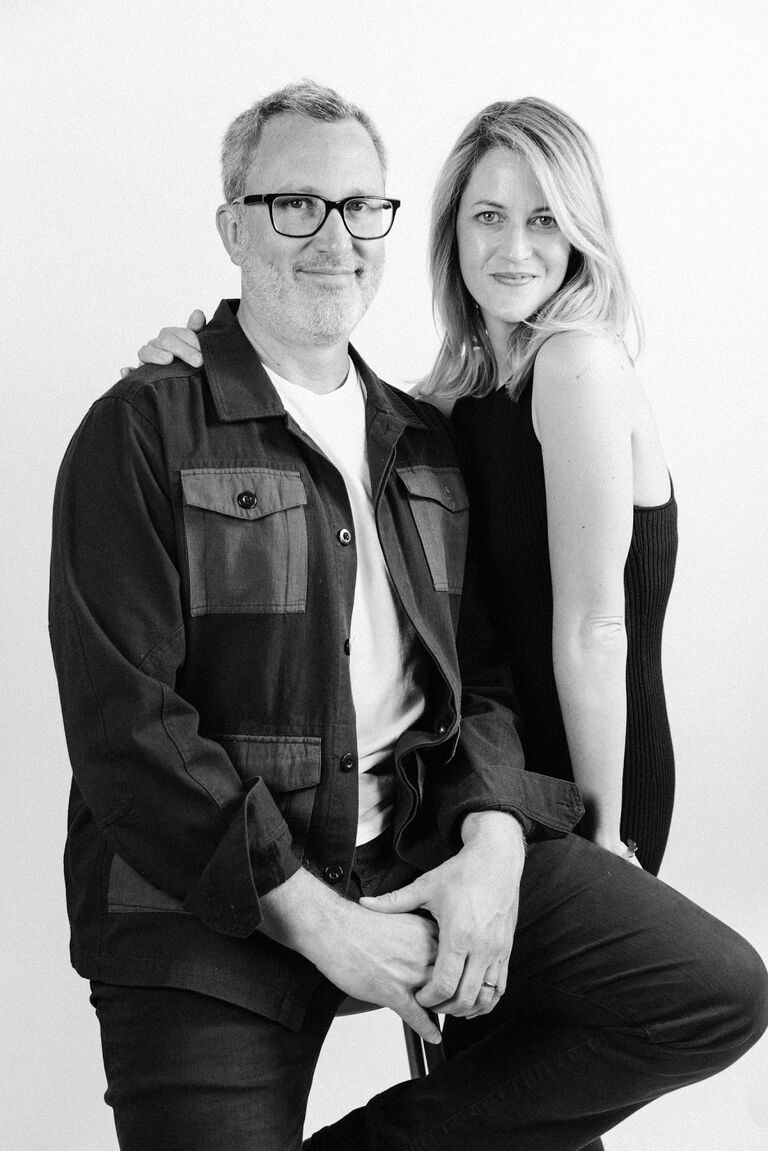 Project M Plus Creative Director, Cleo Murnane and Architecture Director, McShane Murnane

Tell us more about your firm, Project M Plus...
Project M Plus is an LA based award-winning, multidisciplinary interior design, architecture and design studio. After helping hundreds of clients grow with our integrated suite of creative services, our goal is unwavering – to create indelible experiences that spark creativity and conversation. For each project, our studio forms agile teams of architects, interior designers, graphic designers, and writers to take on projects ranging from logos to high-rises. For more information please visit Project M Plus' website or follow @projectmplus on Instagram.
Where are you based?
Silver Lake - Los Angeles, CA
How did you hear about Fireclay Tile?
We've used Fireclay for years. Our first big commercial project was Jayde's Market in Bel Air, completed in 2018. Read more about the Jayde's Market project, here!
Tile Shown: Scalene Triangles in Daisy // Design + Photos: Project M Plus

What did you enjoy most about your Jayde's Market project with our tile?
We worked with Fireclay to create a customized color and the Fireclay team was amazing. When we asked for multiple rounds of samples to find the perfect shade and tone, they were so helpful and patient with us!
Tile shown: 2x8s in a custom green (for a look like this, try Evergreen!)

What are your favorite Fireclay products?
San Gabriel Glazed Thin Brick, 3" Triangles (used in Joy Cho of Oh Joy's upcoming project), sheeted 1x6's (excited to use these to wrap curved areas).
Brick Shown: San Gabriel
Why do you love tile?
We love tile's durability for commercial projects. Tile adds color and pattern in residential projects as well.
Give us one design tip or tool you couldn't live without?
Use the architectural style of the space as a starting point. If there is no architectural style -- find one and go in that direction.
Fun fact about yourselves that others might not know?
We bought a piece of land, built a house from the ground up, and learned that our home is a never-ending design project - it's still a work in progress!
About The Salted Pig
Project Name: Salted Pig
Client: Ronaldo Fierro
Installation: Boswell Construction
Location: Riverside, California
Address: 3750 Main Street, Riverside, CA 92501
Completion: November 2019
Brick Shown: San Gabriel
Size: 3,400 SqFt (1200 SqFt of Fireclay Tile)
Design + Photography: Project M Plus
How did you get involved in this project?
Our client, Ronaldo Fierro of Fierro Foods, saw our work and approached us.
How involved were your clients in the design/build process?
They were so cool and collaborative. We felt trust and alignment from the very beginning so a respectful relationship was established from the onset. The Salted Pig design process was truly seamless.
What's important to you when designing commercial spaces?
When designing commercial spaces like The Salted Pig, there is a delicate balance of creating warm and approachable spaces, while at the same time managing function, code, and durability.
Tell us more about the space-- Is there any story behind the project that you would like to share?
The Salted Pig occupies the retail area of a new building, and while we were delivered a "white-box' space, the Art Deco facade was deemed historic and thus maintained, lending a certain charm and character. The old building was a long-standing hardware store so it's nice that The Salted Pig is now connected to the larger history and story of Riverside, California.
What type of look or aesthetic were you going for?
Elevated Public House with some paired down Art Deco moments
How did you come up with your color scheme and design?
We really wanted to bring the natural beauty of the surrounding environment inside, where we could cultivate a sense of place and coziness. The warm red and pink tones stimulate the appetite and the senses while the cool sage tones create balance and contrast.
What was your inspiration for choosing the tile color and pattern?
We were inspired by the building's Art Deco geometric facade and muted desert landscape.
I love that all the Thin Brick colors are named after mountain ranges. It's no mistake that we chose San Gabriel for this project. Also, there is a feel-good factor as Fireclay donates 1% of all Brick sales to National Parks Conservation Association.

How does sustainability impact your design and material choices?
We try to specify natural materials as much as possible (wood, stone, leather, etc) over plastic, synthetic materials.
We find inspiration from all over the world -- so many beautiful things from Australia and also tiles from Italy. When I need fresh ideas I can always find a new vendor or material on Archi Products but in the end, we try to specify similar materials that are locally manufactured to minimize the environmental impact and reduce the carbon footprint of each project as much as possible.
What Fireclay products are you dying to use in future projects?
We went to Japan last summer and were so struck by the prevailing use of exterior tiles. Looking forward to a project where we can create tile patterns and textures on the face of buildings and homes.
Brick Shown: Black Hills // Design: MacCracken Architects // Photo: Rien Van Rijthoven
Love The Salted Pig's design and want to see more? Visit Project M Plus' website or follow @projectmplus on Instagram. Inspired by The Salted Pig? Order color samples online now. Working on a commercial project or restaurant? Contact us!
Shop the Story