50 Swoon-Worthy Neutral Kitchens
If classic white, earthy ecru, and soft greige make your heart flutter, you've come to the right place. Neutrals in the kitchen are a look that transcends time and design trends and will keep your kitchen looking fresh for decades to come–which is why neutrals are consistently our top-selling tile colors year after year.
Want to find the perfect neutral tile for your kitchen? We've got you covered. From free samples to free design assistance, Fireclay is here to help wherever you are in your journey. We've even curated a sample pack of our favorite neutral glazes, so you can preview your new backsplash in the comfort of your home.
Get inspired for your next project with this roundup of 50 absolutely gorgeous neutral kitchens–and don't forget, if you fall in love with a look, our friendly tile experts would be happy to bring it to life with our signature free design assistance. Keep scrolling for inspiration!
1. A Stellar Neutral Space
This beautifully approachable kitchen boasts endless interest thanks to the walls adorned with warm white Star and Cross Tile framed by tonal grout.
Tile: Star & Cross in Calcite | Design: The True House | Image: Mino Pro Media Group, LLC
2. Transitional Neutrality
A backsplash of vertical straight set 3x6 Subway Tile in warm white Tusk juxtaposes modern and vintage, culminating in an elegant transitional kitchen design.
Tile: 3x6 in Tusk | Design: Alessia Zanchi Loffredo, Redesign Home | Image: Ryan McDonald
3. Warm & Cozy Ogee
A creamy warm backsplash of sinuous Ogee Drop tile in this Washington state kitchen complements rustic cabinets and open shelves.
Tile: Ogee Drop in Magnolia | Design + Image: Caitlin Shoemaker
4. Sintra Spectacular
Artisan-made Handpainted Tile in a light grey and white palette stands out with a subtle floral pattern in this bright kitchen.
Tile: Sintra in Neutral Motif | Design: Maggie Cruz Design + Home | Image: Vanessa Diaz
5. A Classic Color Palette
This Brooklyn kitchen's cozy stove nook features gorgeous wood cabinets below a tiled backsplash of square tiles in creamy Magnolia hung in a timeless offset pattern.
Tile: 4x4 in Magnolia | Design: Home on Woodbine | Image: Teddy Wolf
6. Herringbone Brick
With white marble countertops and white brick laid in a herringbone pattern across the walls, this kitchen beautifully demonstrates how to add visual interest to an all-white color story.
Brick: White Mountains | Design: Anita Yokota | Image: Sara Ligorria-Tramp
7. What Scandi Dreams Are Made Of
Hygge abounds in this neutral Scandinavian-style kitchen thanks to a soothing backsplash of Mosaic Tile in warm white Tusk above light wood cabinets.
Tile: 1x6 in Tusk | Design + Image: Sarah Jura
8. A Blended Backsplash
The subtle blend of gloss and matte glass tile finishes will make you do a double take in this contemporary kitchen.
Tile: 4x12 in Sparrow Matte and Sparrow Gloss | Design: Megan Warren | Image: Kathryn MacDonald
9. Gorgeous in Grey
Hexite Tile in glossy French Linen creates a greyscale geometric moment with a counter-to-ceiling installation in this otherwise minimalist space.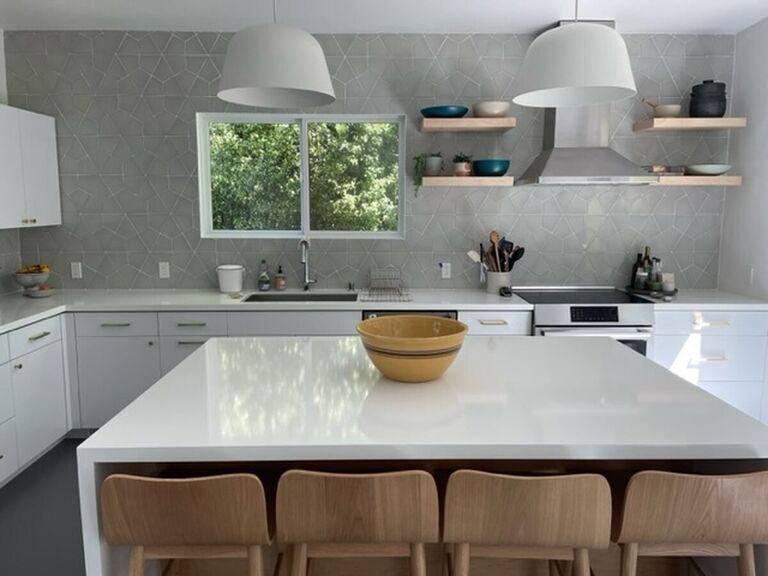 Tile: Hexite in French Linen | Design + Image: Anne Sillcocks | Installer: PROF TILE Edwin David Guzman, Antonini Construction, Rob Antonini
10. A Column of Kasbah
Fan-favorite Kasbah Trellis in an eye-catching black and white colorway gives this fresh white kitchen a playful splash of global flair.
Tile: Kasbah Trellis in Neutral Motif | Design: Mokume Design Studio | Image: Christopher Stark
11. Clean Cottage Kitchen
A blended white backsplash bridges this cottage-inspired kitchen's classic cabinetry with our Glazed Thin Brick's textured, hand-glazed finish.
Brick: White Mountains | Design: Benni Amadi Interiors | Image: Lauren Edith
12. Neutral Eclectic
With a warm white tile backsplash and handpainted half-moon floor tile, this charming galley kitchen proves that neutral colors can pull off eclectic style with ease and elegance.
Tile: 2x6 in Feldspar, Fallow in White Motif | Design + Image: Reserve Home
13. The White Picket Backsplash
A unique take on the classic white tile backsplash, this farmhouse kitchen traded in the white picket fence for a White Wash Picket backsplash.
Tile: Picket in White Wash | Design + Image: Courtney Fairchild
14. Minimalist Meets Remarkable Detail
Playing off natural materials like stone and wood throughout the kitchen, Handpainted Uni Mountain Tile binds the eye together for a backsplash that's a work of art.
Tile: Uni Mountain in White Motif | Design: Banner Day Interiors | Image: Suzanna Scott
15. Brick Goes Vertical
This contemporary kitchen needed a standout backsplash to truly shine, and vertical white brick accentuated by contrasting grout more than answered the call.
Brick: Olympic | Design: Annabode + Co | Image: Brandon Lopez
16. A Glowing Glass Backsplash
Arranged in serenely stacked squares, this white glass tile kitchen backsplash subtly glows in the natural light pouring in from the kitchen's large windows.
Tile: 4x4 in Egret Matte | Design: Victoria Ninette Interiors | Image: Victoria Ninette
17. Retro Inspiration
This one-of-a-kind backsplash, created from the Handpainted Block Shop x Fireclay collection, was inspired by retro refrigerator coils.
Tile: Roundabout 2, Roundabout 4 in Gesso Motif | Design + Image: GLAM Studio
18. Warmth with Grey
Grey tile has never looked cooler paired with rich warm wood cabinetry and leather-topped bar stools.
Tile: 2x6 in French Linen | Design: Sanabria and Co., Old City Design Studio | Image: Stacy Zarin Goldberg | Installer: Sestak Remodeling
19. Elegant French Country
Beige brick brings character and charm to this California kitchen, accented with a stunning marble slab and range hood.
Brick: Wind River | Design: Brett Dampier Design | Image: Adam Potts Photography | Installer: North Coast Design Build
20. Contemporary Brick
Brick's white matte glaze and characteristic texture make a sophisticated backdrop in this crisp kitchen.
Brick: White Mountains | Design: Cameron Getter Design | Image: Kieran Reeves Photography
21. Soothing Green & White
Is green a neutral? This gorgeous kitchen certainly makes a compelling case for it, as muted green cabinetry pairs perfectly with a classic square white tile backsplash.
Tile: 4x4 in White Wash | Design: Caitlin Flemming | Image: Stephanie Russo
22. Architectural Interest
Tucked into a gorgeous architectural nook, glossy white tile in a herringbone pattern brings craftsmanship and beauty to this bright kitchen.
Tile: 2x8 in White Wash | Design + Installer: Delaware River Cabinet Co. | Image: Craig Donaldson
23. A Clean, Creamy Grid
Filled with the neutrals of nature, this Scandinavian-inspired kitchen features ample natural light, blonde wood, and a plethora of houseplants spilling over the beige Mosaic Tile backsplash.
Tile: 3x3 in Milky Way | Design: Barrett Prendergast | Image: Sara Ligorria-Tramp
24. Modern Meets Historic
Textured white brick bridges the gap between modern and historic in this kitchen that opted for a classic vertical straight-set backsplash pattern.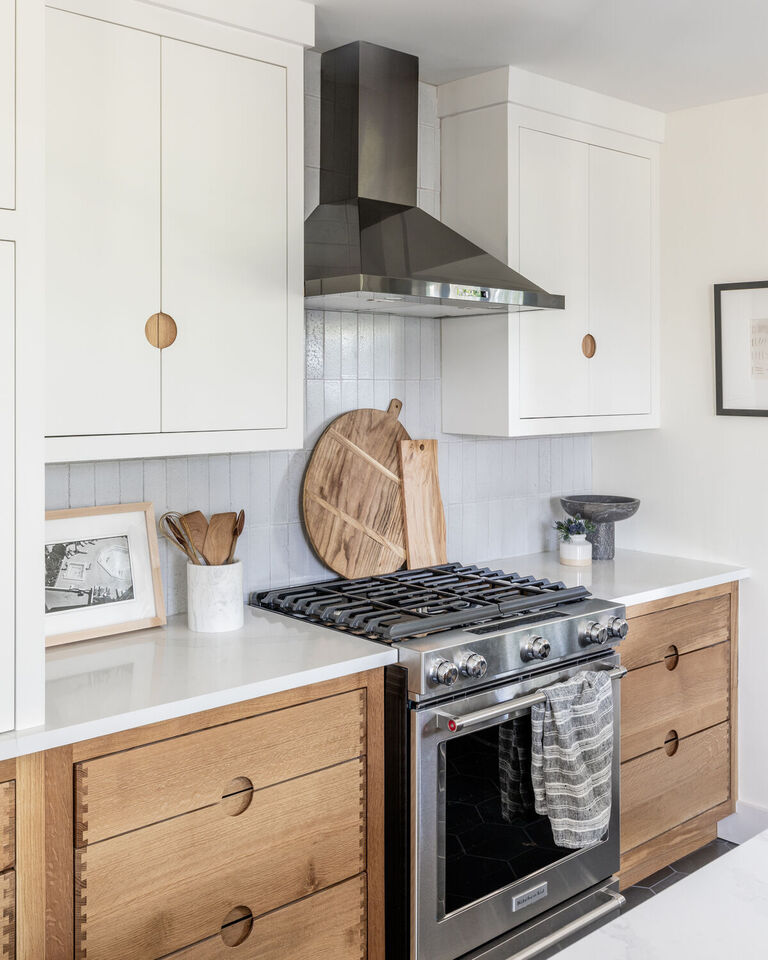 Brick: White Mountains | Design: Lauren Bradshaw Design | Image: Joseph Bradshaw
25. An Earthy Chef's Kitchen
Warm earth tones from the classic square tile backsplash to the plethora of cabinets make this an inspiring and functional space for chef Gaby Dalkin of What's Gaby Cooking.
Tile: 4x4 in Dolomite | Design: Thea Home Inc., Stephanie Hanes | Image: Matt Armendariz | Installer: Lyons Development
26. Grey Steals the Show
Nestled between two-toned cabinets, the cloudy grey tile backsplash steals the show thanks to its contrasting white grout outline and vertical-offset pattern.
Tile: 2x8 in Mist | Image: Rea Creative | Installer: Avex Kitchen Design and Installation
27. A Sunny Pop
This inviting space benefits from the warmth of wood accents and the stunning Handpainted Tile backsplash with subtle pops of mellow yellow.
Tile: Denver in Yellow Motif | Design: Bonnie Wu Design | Image: Leslie Murchie Cascino
Take a behind-the-scenes look at how we make our signature Handpainted Tile in California.
28. White Herringbone Does It Again
Beautifully showcasing our cool white Daisy glaze's handcrafted color variation, this herringbone backsplash lends textured nuance to this bright white kitchen.
Tile: 2x6 in Daisy | Image: Michele Lee Willson Photography | Installer: Senalee Kapelevich
29. Craftsman Warmth
Step inside a dream craftsman kitchen complete with warm wood accents, exposed ceiling beams, and a matte white backsplash that gives the inviting space a contemporary edge.
Tile: Scalene Triangle and 3x12 in Calcite | Design: Homestead Kitchens
30. A Storied Retreat
Romantic vibes abound in this timeless kitchen featuring a glossy beige backsplash, soothing grey cabinets, and a functioning ladder to pluck hard-to-reach cookbooks.
Tile: 3x3 in Milky Way | Image: Sunset Magazine | Installer: Lynn K. Leonidas
31. Modern Rustic
This brightly lit space demonstrates how a sleek modern space benefits from just a touch of rustic. Dark wood cabinets, a white herringbone backsplash, and an unpainted shiplap island accent are pulled together cohesively under the soaring ceiling.
Tile: 2x6 in White Wash | Image: Roehner + Ryan | Installer: The Ranch Mine
32. Mesmerizing Midcentury
In between sleek walnut cabinets, this midcentury modern kitchen's white backsplash features Small Diamond Tile in an optically alluring Escher pattern.
Tile: Small Diamond in White Wash | Image: Bethany Nauert | Installer: Anne Vartanian
33. White on White on White
From the pristine backsplash to the monochrome kitchen island down to the coordinating floorboards, this space pulls off Scandinavian-inspired minimalism exquisitely.
Tile: 3x9 in Calcite | Design: Chango & co | Image: Judy Pak, Sarah Elliott
34. Artful Dimension
The geometric lines and soothing natural colorway of the Handpainted Tile backsplash are the perfect complements to the two-toned midcentury modern cabinets in this Eichler home.
Tile: River Rock in Neutral Motif | Installer: Amie Neff - Capable Design
35. Classic Modern
This effortlessly elegant kitchen gives classic design a refreshing update with a grey herringbone backsplash that stretches from the countertop to above the window.
Tile: 2x6 in Mist | Design: TRG Home Concepts | Image: Courtney Apple Photography
36. An Airy Galley Kitchen
Open shelving, a light color palette, and white Small Diamond Tile with light grout give this galley kitchen a bright, modern disposition.
Tile: Small Diamond in White Wash | Design: Caitlin Flemming | Image: Jacqueline Pilar
37. Heart of the Chaine Homme
This modern kitchen gets a dash of retro-inspired flair thanks to its counter-to-ceiling backsplash of white interlocking Chaine Homme Tile.
Tile: Chaine Homme in Daisy | Design: Variegated Green | Image: Erica Deitchman | Installer: Wise Builders
38. Beautiful in Brick
Anchored by a counter-to-ceiling white brick backsplash, this bright kitchen's rustic details blend beautifully with its soothing grey-green cabinets and sleek white countertops.
Brick: Lewis Range | Design + Image: Tiffany Weiss Interior Design
39. Starry Neutrals
This open-concept kitchen transports its residents to a soothingly celestial dimension with a dreamy neutral blend of Mini Star & Cross Tiles.
Tile: Mini Star & Cross in Calcite, White Wash, Tusk, Ivory, Milky Way, and Feldspar | Design: Measured Architecture | Image: Ema Peter | Installer: Powers Construction
40. Bright White Brick
Textured white brick beautifully complements the barely-blue cabinets in this timeless kitchen filled with natural light.
Brick: Olympic | Design: Tinge Floral | Image: Kate Osborne
41. A Handpainted Focal Point
A lacy fretwork of black and white Handpainted Tile gives this spacious neutral kitchen a graphic splash of pattern.
Tile: Padma in Black + White Motif, 3x6 in French Linen | Design: Karen Tsay | Image: David Tsay
42. Craftsman Glows with Glass
The craftsman touches in this well-appointed kitchen are anchored by a glowing glass tile backsplash.
Tile: Egret Matte | Design: Ollie Pop Design | Image: Belu Photography, Ollie Pop Design
43. Neutral Color Variation
Our warm, earthy Sand Dune tile's high color variation is on full display in this kitchenette backsplash, made all the more mesmerizing in the sun's glow.
Tile: 3x3 in Sand Dune | Design: Claire Zinnecker | Image: Leonid Furmansky, Son of Rand
44. Classic Details
With marble countertops and a timeless white hexagon backsplash, this traditional kitchen transcends trends.
Tile: 4" Hexagon in White Wash | Design: Jessica Sparks | Image: Kim Lindsey Photography
45. Petite Perfection
Warm white cabinets and a sleek peninsula open up this small kitchen, while the interlocking tile backsplash maximizes square footage with an understated H-shaped pattern.
Tile: Chaine Homme in Tusk | Design: Mokume Design Studio | Image: Christopher Stark
46. Industrial Inspiration
Rough-hewn textures and industrial-inspired details pair beautifully with this kitchen's white brick backsplash
Brick: White Mountains | Design: Mokume Design Studio | Image: Christopher Stark
47. Enduring Design
This timeless kitchen features enduring design trends including a white herringbone tile backsplash, soothing grey cabinets, and eye-catching pendant lights.
Tile: 2x6 in Tusk | Design: Cathie Hong Interiors | Image: Christy Quiambao
48. A Sunlit Space
Matte white tile provides a stunning canvas for warm afternoon light in this contemporary Chicago kitchen.
Tile: 2x8 in Calcite | Design: Danielle Beaulieu AIA, - lieu | Image: Aimée Mazzenga
49. Brownstone Beauty
White tile set in a herringbone pattern and outlined in contrasting grey grout highlights the hues of grey throughout this classic brownstone kitchen.
Tile: 2x8 in White Wash | Design: Brownstone Boys | Image: Brownstone Boys, Bridget Badore
50. Checkered Charm
A grey and white checkered countertop and backsplash give this modern kitchen a look that's both timeless and right on-trend.
Tile: 3x3 in Tusk and Dolomite | Design: Autumn Hachey, TWENTY-TWO TWELVE, Stay Here | Image: Michelle Johnson
Loving these spaces? Take the first step toward warmth and timelessness in your kitchen by bringing home five free samples of your favorite handmade neutral tile.