Project Spotlight: SIN HQ
All images courtesy of SIN
When Virginia Sin's company, SIN Ceramics, moved into its Brooklyn corner unit in May 2021 it was a white box with ample natural light and unlimited potential–the perfect blank canvas for someone as creative as Virginia to make her own.
Now that her vision has come to life, we sat down with Virginia to talk about SIN's HQ build-out and why tile was the most beautiful and practical option for this space. Keep reading for the full interview!

Meet Virginia!

Image: Sharon Radisch
Can you tell me a bit about yourself and your brand?
Hi! I'm Virginia Sin! CEO, Creative Director, and Founder here at SIN. SIN is a Brooklyn-based ceramics home goods brand.
We love that your mission is all about creating a joyful home and putting the "fun" in "functional". What inspired this ethos and how does it manifest in your business?
During my formative years, my home environment was not always the brightest. Because of those experiences, it has shaped my passion to spread warmth and happiness to homes across the world by adding playful beauty and function to everything we create here at SIN.
Can you tell me about your HQ + Factory? Have you always worked out of this location?
We moved into our space, in May of 2021. It started off as a white box and it's taken us 10 months to complete the build-out. I first fell in love with the space because it is a corner unit with gorgeous natural light, at 3600 sq ft. I wanted to make sure the light would flood into the space even after putting up walls to separate our multi-purpose space.
We have our Fabrication, Finishing, and Operations departments here as well as a common area for us to gather, meet and enjoy lunch together every day. In this space, we were also able to create a kitchenette and an enclosed office for me. After the completion of the build-out, we acquired a second space just next door for our Fulfillment department. We design, manufacture, and fulfill all under one roof in the Brooklyn Navy Yard.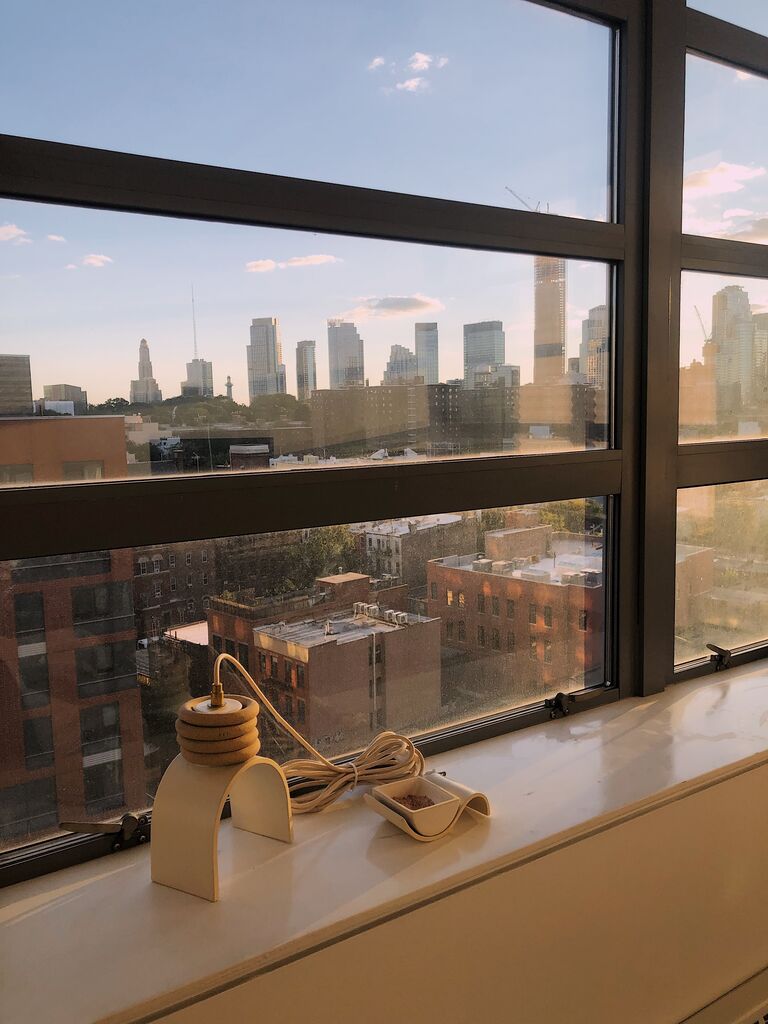 What prompted this factory update? Was it a major remodel or renovation?
Prior to this space, I was in five separate rooms within a larger artist workspace. Each room was averaging 150-200 sq ft. I originally started renting just one room and would acquire an additional room every year I grew the business. Our current space was a huge undertaking and I treated it as my first opportunity to act as an interior designer. I wanted to make sure the space had a nice flow and energy and that everyone working in the space had access to the gorgeous light.
Glass Tile Shown: currently unavailable, for a similar look choose Kingfisher Matte
What were your goals for the space?
It's not always easy to make the space functional and beautiful when you are in the business of manufacturing. And as you know, making ceramics is not exactly a clean process so my main goal was to make a space that would serve us all well but also be cozy enough so we all would enjoy the time we spent here together. Each day, we all spend a lot of hours at work, so it was important for me to make the space a beautiful environment.
How would you describe your aesthetic vision for your HQ? Was there a certain look you were going for?
It was important to me for the HQ to reflect the aesthetic of our work. Simple and beautiful. Functional and Fun. Here at SIN, we aim to bring delight into the home with our home goods. The birthplace of all our products :) reflects that! After all, this is where all the magic happens!
Brick Shown: Elk
What made you want to work with Fireclay Tile?
Fireclay Tile's company values are ones that SIN also values. Your beautiful colors and variety in tile material: Brick, Glass, and Ceramic! I love it ALL!
Tile Shown: 3x3 in Milky Way, Tuolumne Meadows, Sorbet, and Mandarin
We love how you chose an assortment of textures and colors for your space: Glazed Thin Brick in Elk for your kitchen, Glass in Flycatcher for the sink wall, and (our personal favorite) Tile in Sand Dune for your branded walls. What spoke to you about these colors and textures for these spaces?
I just love texture. We have a few walls painted in Roman Clay and we try to use as much texture in our space as possible. So adding accent tile walls in a range of textures and colors felt natural. The glass on the sink wall looks so good next to our stainless steel slop sink and black accented metal dish racks.
Glass Tile Shown: currently unavailable, for a similar look choose Kingfisher Matte
The brick on our kitchenette backsplash pairs so nicely with the piece of scrap Italian marble we sourced at our local marble yard in Brooklyn.
Brick Shown: Elk
The ceramic tile next to our ceramic wall extruders hides all the clay that splashes all over that surface. As beautiful as it is incredibly practical for a very messy process.
Tile Shown: 3x12 in Sand Dune
What's your favorite tile moment in the space?
They all serve their unique purpose and can't just choose one. I love them ALL! :)
What makes tile a good surface material in a factory setting?
A glazed tile such as the Tile in Sand Dune is perfect because you can just take a sponge and wipe the surface clean in 2 seconds.
Tile Shown: 3x12 in Sand Dune
How did the installation go? Had your installer worked with handmade tile before?
It worked out great! Our installer didn't have previous experience but we didn't encounter any hiccups. I think the hardest part was deciding on what direction to tile each wall and the appropriate grout size!
Lastly, which of our tiles would you love to use in future projects?
I think more brick! I'm such a sucker for the variation in each piece. I love the way the sheer glaze coating the earthy brick material. So timeless and textural.
Brick Shown: Olympic // Design: Sarah Sherman Samuel // IImagee: Zan Passante
If you loved SIN's use of tile, brick, and glass in their exquisite HQ, try them all out in your own space! Bring home up to 5 free samples to find the perfect tile for you.
Shop the Story