Maker Spotlight: Virginia Sin of SIN Ceramics
Spreading warmth to homes across the world is no small goal, but Virginia Sin is making it happen one ceramic piece at a time. The founder of Brooklyn-based SIN Ceramics, Virginia's passion for playful beauty is evident in every one of SIN's bold and elegant creations.
We chatted with Virginia about the importance of creating timeless products, why she used three different Fireclay materials in SIN's new HQ and the thing that she loves most about clay (hint: it's magic).
Meet Virginia, founder of SIN!
Image: Sharon Radisch
Can you tell me a bit about yourself and your brand?

Hi! I'm Virginia Sin! CEO, Creative Director, and Founder here at SIN. SIN is a Brooklyn-based ceramics home goods brand.
Image: Sharon Radisch
We love that your mission is all about creating a joyful home and putting the "fun" in "functional". What inspired this ethos and how does it manifest in your business?
During my formative years, my home environment was not always the brightest. Because of those experiences, it has shaped my passion to spread warmth and happiness to homes across the world by adding playful beauty and function to everything we create here at SIN.

Image: Sharon Radisch
Can you talk about how your background in graphic design has influenced your work in ceramics?

I studied Graphic Design with an emphasis on Advertising at the Art Center College of Design. Bauhaus teachings, exquisite craftsmanship, and the design philosophy of form follows function were ingrained in my studies there. I learned to infuse words and images with life and meaning. I honed my skills when I moved to NYC and started my career in Advertising as an Art Director, where I learned to build brands. Cut to 12+ years later, I was able to pursue my long-time dream full-time of building a brand of my very own. This path has not only informed my ceramic work but also informed my voice as I build my company.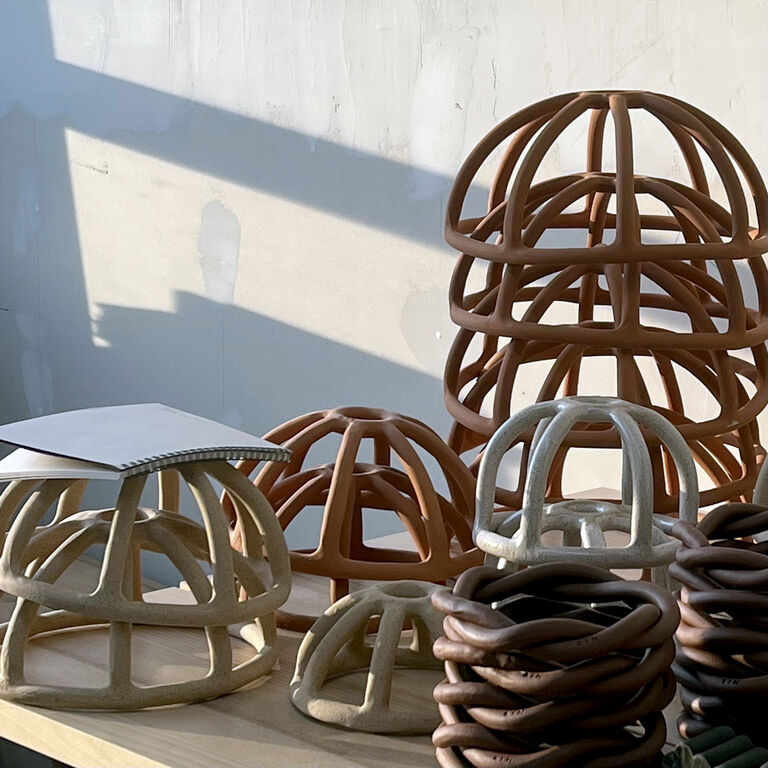 Image: Team SIN
Your designs are so bold and unique. Once you've come up with an idea for a piece, what does your process of creating look like?

Once I've come up with an idea that usually lives in my head for a few days, I like to test out my idea and sketch it out very crudely in clay. The malleable nature of clay allows me to experiment fearlessly without concerning myself with the need to commit.
Image: Team SIN
During this step of the process, I make sure I am open-minded to possibilities that might be different from what I might have originally intended. I try to let loose and let the clay lead me as I manipulate and sculpt.
What do you love most about your craft?
I love the immediacy of clay. I love how quickly you can translate an idea and form it into a functional object. It feels like magic every time!
Image: Team SIN
What is your favorite SIN product?
This changes often but currently, I am most excited about a new table lamp we hope to launch later in the year.

Image: Team SIN

What is keeping you inspired these days?
I just had a baby 2 months ago. So motherhood has been fresh on my mind and hands down the hardest thing I've ever done in life. I'm learning so much every day, and I think that always is at the root of my feeling inspired. The desire to grow and be better, to try something that is out of my comfort zone and the mental gymnastics of doing something for the first time are what keep me going!

Image: Team SIN
As a business with handmade goods, we know the challenges of balancing the time it takes to make a beautiful product with meeting demand. As a maker of handmade goods yourself, what have those challenges looked like for you? What have you learned as your business has grown?
The pressure from the demand can be tempting, but never cut corners because it will always find a way to come back to haunt you. Also when you rush the process, you can always tell in the end result. If you take the time to do it right the first time you save yourself a lot of frustration down the road.

Image: Team SIN
Image: Team SIN
How do you factor sustainability into your designs?
I like to factor sustainability into my designs at the start of the ideation phase. It's important to me to create a timeless product, because if the design can stand the test of time and the quality of the craft is also there, then it will hopefully encourage us to buy more intentionally—ultimately encourage us as end-users to buy less, but really cherish each piece we own in our home.

Brick Shown: Olympic // Design: Sarah Sherman Samuel // Image: Zan Passante

Image: Team SIN
If you could be any Fireclay Tile color, which one would you be and why?

Sea glass! Because it's understated, yet feels light and energetic.
Tile Shown: 3x6 in Sea Glass

You used our tile in your HQ – can we get a sneak peek of your space?

I wanted to use all 3 different materials Fireclay Tiles has to offer in our new HQ: Brick, glass, and ceramic. We used Brick for our kitchenette backsplash.
Brick Shown: Elk // Image: Team SIN
We used glass for our sink station which is constantly wet since glazing gets messy!.
Glass Tile Shown: 2x12 in Flycatcher Matte // Image: Team SIN
And we went with ceramic clay for our extruder wall, which is fitting since we extrude clay against this backsplash using hand-extruders. The ceramic tile allows for super easy clean-up! The grout even blends with the clay body we use.
Tile Shown: 3x12 in Sand Dune with 1x6 Finger Cove Trim // Image: Team SIN
Want to play with Fireclay in your space? Bring home free samples to find the perfect tile for you.
Shop the Story