Introducing 9 New Brick Colors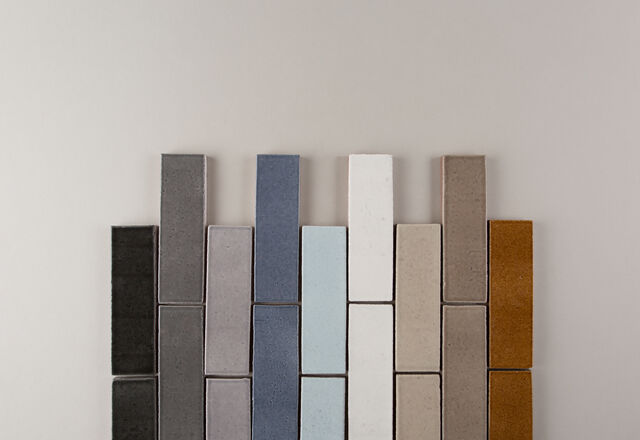 Ready for something new? We have 9 new brick colors; inspired by hues found in our solar system. We've also tried something different, "With the addition of an engobe coating under our new, translucent brick colors, we are able to highlight the brick texture in a slightly more sophisticated way. We find this creates a perfect balance between the rustic and the refined," explains our Creative Director, Jamie Chappell. Some of our most popular Recycled Clay Body colors are engobe glazes and now you can have this beautiful finish on our Glazed Thin Brick as well!
Perfect for backsplashes, bathrooms, fireplace surrounds and more, scroll down to get a closer look, as well as design inspiration. Want more? Head to our Pinterest Board dedicated to these new favorites.
Appalachian:
There's more to this blue than you think--thanks to variation, our Appalachian glaze showcases a dynamic slate hue that makes a statement all its own.
Brick Shown: Appalachian
You can treat our Glazed Thin Brick, much like you would classic subway tile. We'd love to see Appalachian installed as a tub surround in a nautical feeling bathroom like this.

Great Smoky:
Taking cues from the unique astronomical event that creates a blue, other-worldly glow, our cool Great Smoky glaze is no less mesmerizing.
Brick Shown: Great Smoky
The living space is swoon-inducing. The painted pale blue brick creates a fresh, soothing feeling. If you like this, consider using Great Smoky for a wall application.
Olympic:
This milky white glaze resonates with the same subtle beauty of the mountain range it's named after. Are you going for white tile, but wanting a more rustic look or a bit more texture? Look no further than our Olympic.
Brick Shown: Ceres
Always a classic choice, white tile just works in the kitchen. This warmer white will have a similar effect to the kitchen below:
Luna:
It may take its name after the moon, but this warm beige Brick glaze offers a surprisingly earthy and rustic allure. If you're looking for just a touch of color and warmth, Luna might be the perfect neutral for you.

Brick Shown: Luna
We love the mix of materials (that raw edge of marble, wow) in the kitchen below. If you like the tonal quality of the tile, go for Luna for your backsplash.
Stardust:
A shade or two darker than Luna, Stardust's lightly neutral glaze gives our thin brick just the right dusting of a tan for a warm and inviting ambiance.

Brick Shown: Stardust
We love how the faded brick pops against the sleek materials in the kitchen below. If a bit of constrast is what you're looking for, try pairing Stardust with modern fixtures and cabinetry.
Mars:
Much like Mars, there's more to this rustic glaze than meets the eye, thanks in part to its naturally occurring variation. If you like the look of raw brick but want to kick it up a notch, Mars is for you.
Brick Shown: Mars
There is so much to love about the bathroom below. But we're especially into that exposed brick wall...if your home doesn't have an existing one, consider bringing Mars into the mix. It would pair beautifully with both modern and rustic materials.
Mercury:
This Mercury-inspired glaze is defined by a light gray hue with cool, other-worldly undertones.

Tile Shown: Mercury
Since we love tile so much, we of course extended backsplash or just more tile in the kitchen in general...The brick below is very similar to Mercury and we really appreciate the subtle, yet catching effect it has on the space.
Image: Better Homes & Gardens
Meteorite:
While its inspiration is celestial, Meteorite offers a sophisticated slate gray that's full of urban industrial appeal.
Image: Meterorite
Brick has always made for an ideal fireplace surround material and these 9 new colors are no exception. The darker gray fireplace surround really shines against the more warm materials in the mid-century living room below. If you like this look, go for Meteorite.

Andromeda:
Cloaked with mystery, our beautifully varied Andromeda glaze is inspired by the same intriguing qualities that define its namesake.

Tile Shown: Andromeda
There is something so glamorous about a darker tiled kitchen. Andromeda would create a very similar effect to the gorgeous kitchen below:
Loving these new colors? Order color samples online now. Need some help? Simply call, chat or fill out our Design Assistance Form and one of our talented Design Consultants will get back to you shortly.
Shop the Story