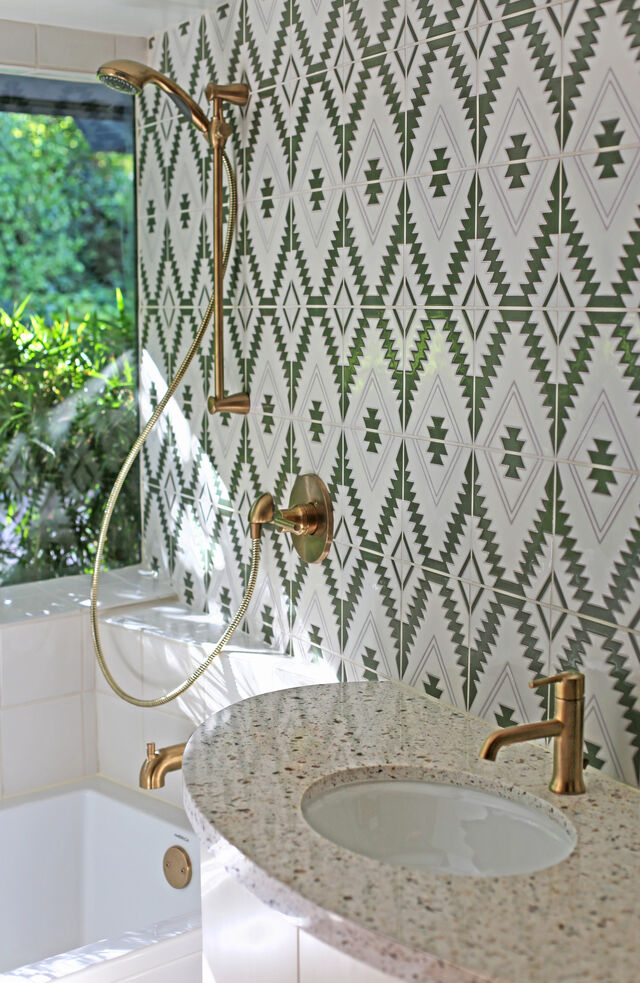 All Images: Debra Szidon
In renovating her mid-century home, interior and handbag designer Debra Szidon of Cocoon Home worked to preserve its architectural character while incorporating modern amenities and updating its decor. When she found (and fell in love) with our Old Cairo handpainted tiles, she customized the pattern to make it all her own. Her goal was to find one that would blend seamlessly with the materials that were unique to her home's 1950's construction. As you'll see, she managed to create a setting that's current, yet reflective of the home's mid-century roots, as well as her personal style. Keep scrolling to learn more about Debra and to see more of her two beautiful bathrooms decked out in Old Cairo:
Tile Shown: Debra came up with her own color story of Peabody & Tusk for her custom Old Cairo tiles.

Can you tell me about the space? What did it look like before? What did you change?
Built in 1953, our mid-century home reflects that period well, but required some modern day updates. The bathrooms closest to the bedrooms needed renovation as both were quite dark, and neither was very good for kids. Initially, I considered turning them into a single luxurious bath area but reconsidered once the family used the space more and we realized the convenience of 2 smaller ones. One bath had pink tile and a formica countertop and both had outdated faucets that were neither good looking or efficient.
This is bathroom 1 (with the pink tile):
Original concrete floors limited our options for moving things around and I was adamant in preserving the design characteristics of a mid-century home. So, I used the original layouts and cabinet designs, kept the valances, preserved as much redwood as possible and replated some of the original chrome fixtures with brass so that they would coordinate with finishes and lighting throughout the house.
Here's Bathroom 2:
What type of look or aesthetic were you going for?
Mid-century chic.
Here's Bathroom 1 now: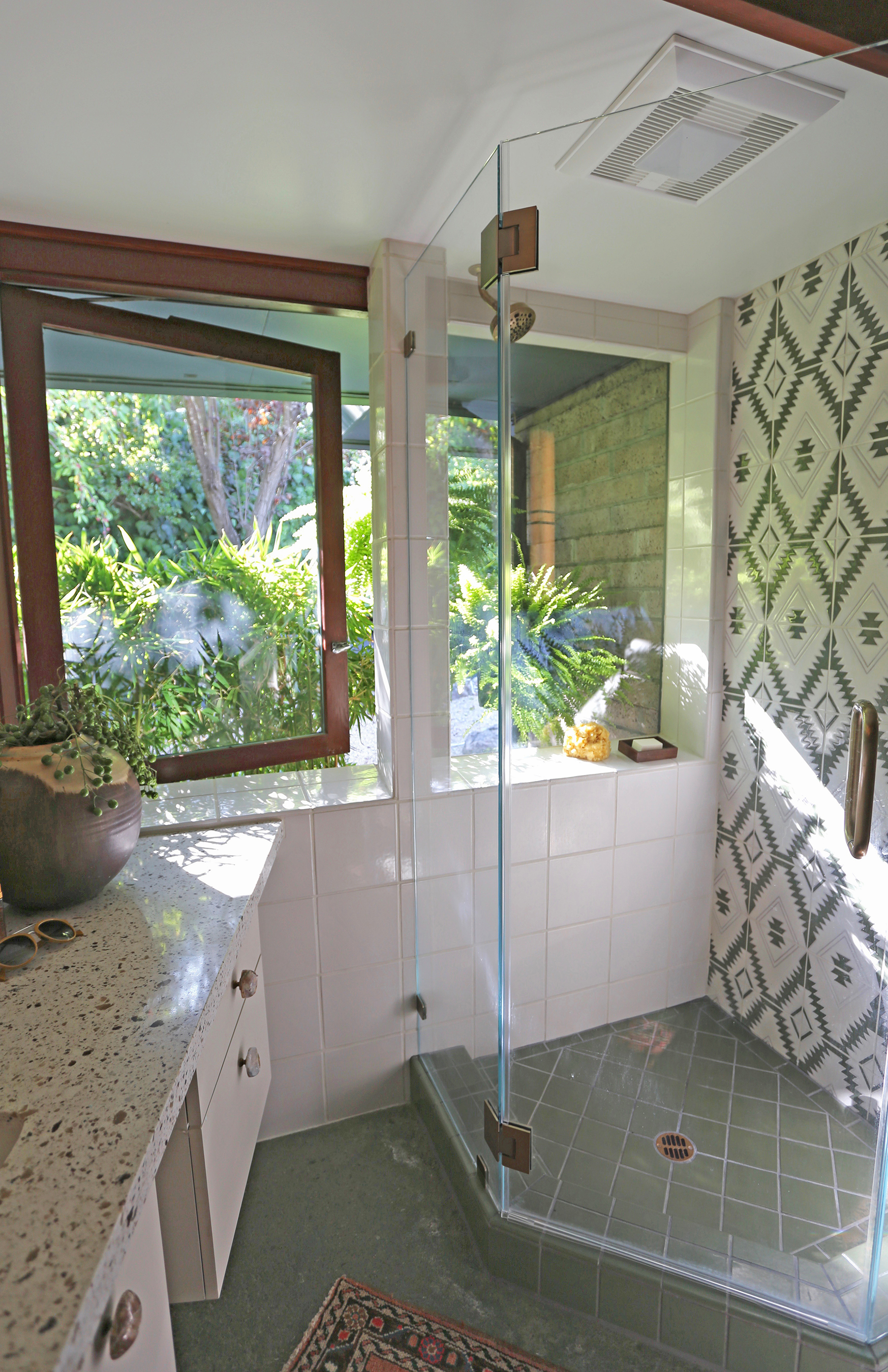 Tile Shown: Custom Old Cairo tiles create a feature wall and 8x8s in Tusk line the window and wall; 4x4s in Peabody make the shower pan.
And here's Bathroom 2:
Tile Shown: Old Cairo
Note: In case you're wondering, Debra used Deltra Trinsic in Champagne for the fixtures in both bathrooms.

How did you come up with the color scheme and design?
In choosing colors I looked to the tones in the concrete floors and brick walls throughout the house, so that there would be a sense of cohesiveness. In renovating the spaces, I paid homage to their original design as I incorporated modern amenities and details that tied in the rest of the house with already clean lines, earthy colors and gold accents. Since the bathrooms are adjacent to one another, I wanted the rooms to mirror one another.
Why did you choose your color and shapes?
While exploring tile design and color combinations for a client with the Fireclay's Color-It Tool, I came across the Old Cairo pattern and immediately fell in love with it. Knowing that our own bathroom renovation was imminent, I created a room inspiration (see below) around it. After receiving a full size sample from Fireclay, I knew it was the one! By choosing Tusk, a soft off-white, the rooms acquired the brightness they needed. With Peabody green, a close match to the concrete flooring, the baths look bigger and the bamboo planted outside the windows became part of the decor.
Image: Debra Szidon
How did the installation process go? Did you face any challenges?
Deciding to tile over the original brick was a tough decision, but one that I don't regret. It made each bathroom feel larger and reduced the amount of different materials in the spaces. Our tile installer also had some input on the process, since the spaces were small there were lots of edges and angles to accommodate around the window frames and the shower pan. The tile installer Fireclay recommended, Intelligent Tile, was excellent.
Tile Shown: 8x8 tiles in Tusk line the window; Intelligent Tile did a perfect job with cuts to turn the corner!
Tile Shown: Debra also used 8x8 tiles in Tusk for the tub in Bathroom 2; we love the way her chosen fixtures look with the tile.
Lastly, How did you hear about Fireclay?
I was driving to the SF Design Center to scout tile for a client and noticed Fireclay's lovely storefront. There was an empty parking spot, so I took it. I couldn't be happier with the turn of events.
Here's a bit more about Debra:
My style can be described as:
Free spirited and refined. A combination of an East Coast aesthetic with a West Coast vibe.
Image: Debra Szidon
My design philosophy is:
Mixing high and low, old and new. Incorporating surprise.
I got my start:
When I co-owned a home furnishings and botanicals shop named Cocoon in Boston, Massachusetts. Customers wanted their spaces to reflect the look and feel of the store so we began offering design and decorating services. I haven't stopped since.
My best design advice:
Surround yourself with things you love and allow your space to reflect who you are.
Image: Debra Szidon
I find inspiration in:
Walking a flea market with friends or taking in a good consignment shop are sources of inspiration for me as are magazines, Instagram and nature. Whether from a single bloom or an entire landscape, noticing the play of color and tone on different shapes can help pull together a palette and/or a pattern sequence for a project I am working on.
Image: Debra Szidon
Love Debra's two bathrooms? Order color samples online now! Need some help? Simply call, chat or fill out our Design Assistance Form and one of our talented Design Consultants will get back to you shortly.