Luxury Commercial Flooring Ideas with Sustainable Ceramic Tile
Our Ceramic Tile is built to last for heavy-duty projects. This clay body boasts a breaking strength of 393 pounds per foot and a scratch hardness of 6.0 mohs, making it able to stand the test of time and commercial foot traffic.
Tile Shown: Custom Wave

Our Recycled Clay Body uses recycled content and qualifies for numerous LEED points. It is made of raw materials sourced in the USA and is handcrafted at our American factories.
All of our matte glazes plus two satin glazes—Sunflower and Sorbet—feature a DCOF rating above .42, perfect for commercial applications where things can get wet.
Please note: While our other products Glazed Thin Brick and Glass can absolutely be used for wall applications in commercial spaces, we cannot recommend them for commercial floors.
Keep in mind that we do offer competitive and volume pricing for commercial projects and also have custom capabilities (with color, shape, and size). Have questions about what might be best for your project? Don't hesitate to contact us!
What is the Difference Between Residential and Commercial Flooring?
From an aesthetic perspective, there is often no discernible difference between residential and commercial flooring. What distinguishes the two are the standards commercial flooring must meet to stand up to the rigors of public use.

Commercial flooring must be durable, relatively easy to clean, and in some cases comply with sanitary or slip-resistance regulations.

Because of this unique criteria, some commercial flooring compromises much of the aesthetics found in residential floors. However, there are many commercial floors that rival the look and feel of those specified for luxury private residences.
What is the Most Common Type of Floors Found in Commercial Buildings?
Polished concrete, hardwood, carpet, and tiles including vinyl, porcelain, and ceramic are the most common commercial flooring materials. Each has its own set of benefits and drawbacks including cost, durability, and aesthetics.
Commercial Flooring Applications

Cultural Institutions
Monterey Bay Aquarium
A true testament to the durability and heirloom quality of our tile, the floor of the Monterey Bay Aquarium was installed 25 years ago and is holding strong, with roughly two million pairs of feet walking over it annually.
Tile: Custom 6x6
Retail
526 Waverley Street
Following decades of change and deterioration, this storefront was returned to its original glory with historically accurate handmade tile, winning a commercial preservation award from Palo Alto Stanford Heritage for the 1927 building's preservation and cultural significance.

Tile: Lapis & Huckleberry 4x4, Old California 10, 9 & 5, Blue Velvet Mini Star & Cross, Lapis 1x1 // Design & Image: Randolph Popp Architect
Our ceramic tile is frost-resistant but not frostproof. Please contact us if you'd like to discuss a specific exterior application.
Mokuyobi
Mokuyobi always brings the color and fun so it's no surprise they designed their flagship store in Los Angeles's Little Tokyo with a vibrant mosaic that perfectly captures their brand identity.
Tile: Ember, Sorbet, Lichen, Aegean Sea, Daisy & Tuolumne Meadows 2x2 // Design: Mokuyobi // Image: Jude Garcia
Fireclay Berkeley Showroom
We'd be remiss to not include a snapshot of our Berkeley showroom, where, including our walls of samples, customers can preview an installed example of one of our most popular tiles, Antique Hexagons, and see how they hold up under heavy foot traffic.
Tile: Antique 6" Hexagon // Design: Arcsine // Image: Loni Johnston
Depending on location and building codes, we can also do a sanded finish with our tile colors, as you can see below.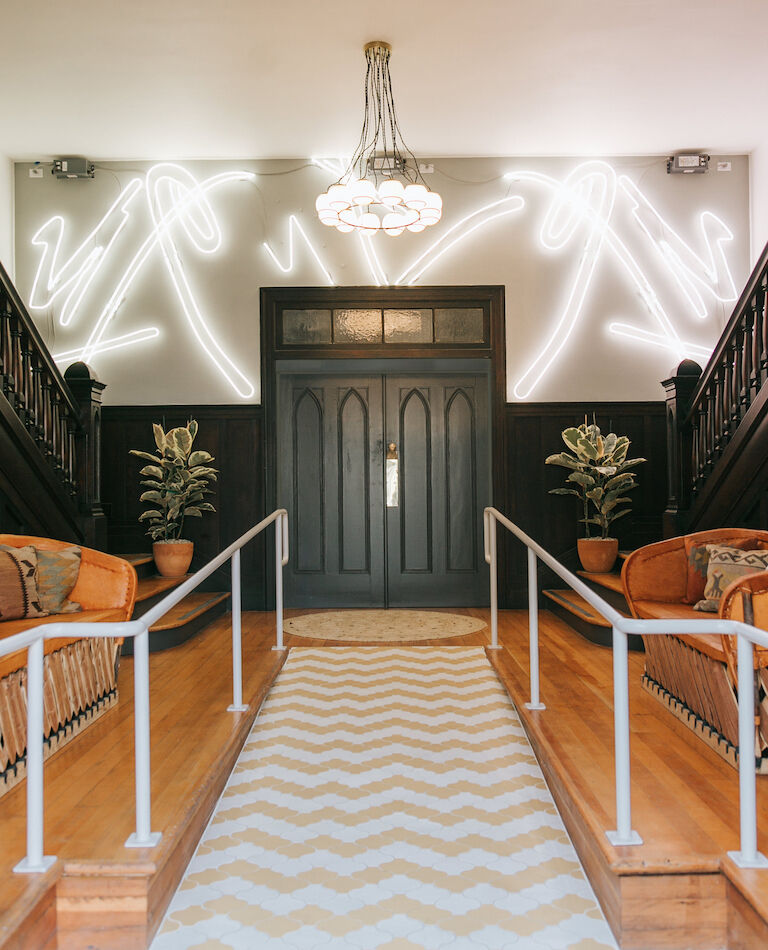 Tile Shown: Paseo in Feldspar and Sunflower // Design: Sara and Rich Combs // Image: Margaret Austin Photography
Restaurants
Myriel
St. Paul, MN restaurant Myriel occupies a historic building with exposed brick walls and other charming character details. So when Madelynn Furlong designed the interior, she specified a herringbone floor of high variation Antique tiles to complement the preserved elements.
Tile: Antique 3x12 // Design & Image: Madelynn Furlong
Also note the cove base trim, an important feature it food service settings to ensure a sanitary and aesthetically pleasing experience.
Coffee Shops
Voyager Craft Coffee
Voyager is one of a number of coffee companies redefining Americans' expectations of a cup of coffee. At the same time, their interiors redefine expectations of the coffee shop itself, specifying luxury sustainable tile in a creative pattern for guests to pass through as their order and pick up their cups.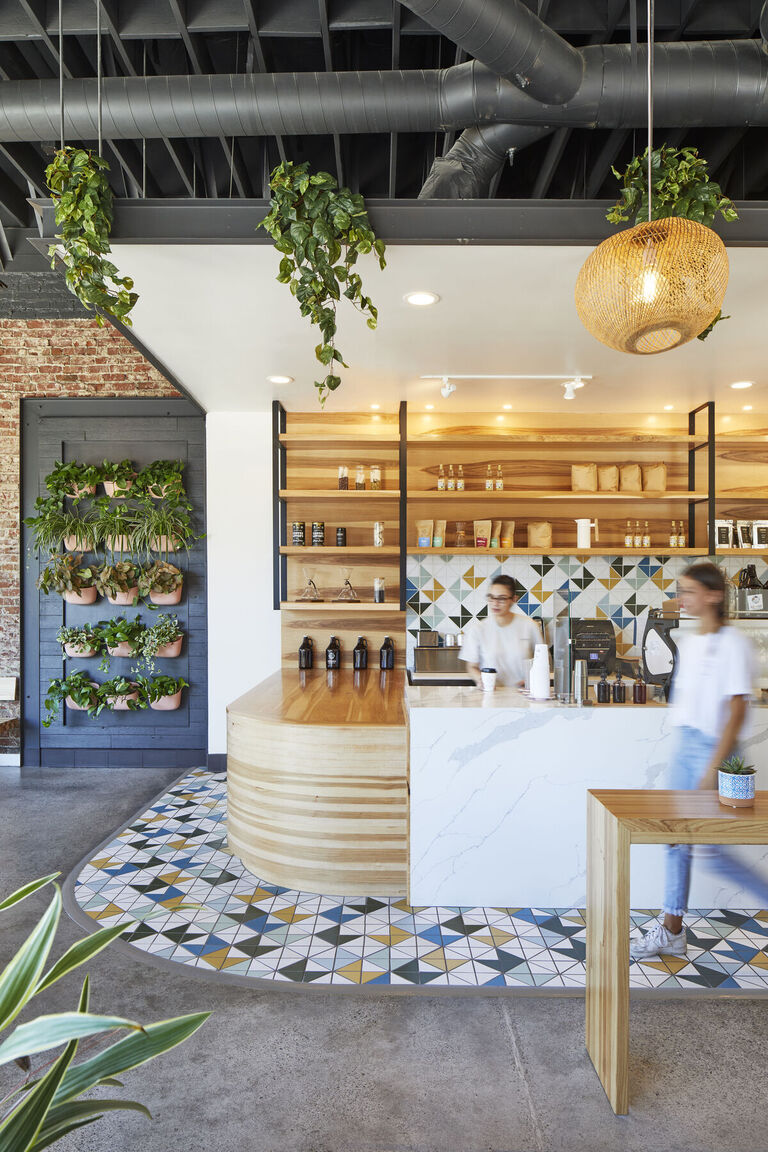 Tile: Daisy, Peacock, Morning Thaw, Sunflower, Sea Glass & Hunter Green 4" Triangle // Design: Studio Banaa // Image: Mikiko Kikuyama
Hotel
Hoopes Vineyard
What's better than a visit to a celebrated Napa vineyard? A well-appointed guestroom to retire to after an afternoon of tastings might do the trick. Each of Hoopes Vineyard's accommodations feature uniquely designed bathrooms tied together with cohesive shades of pink.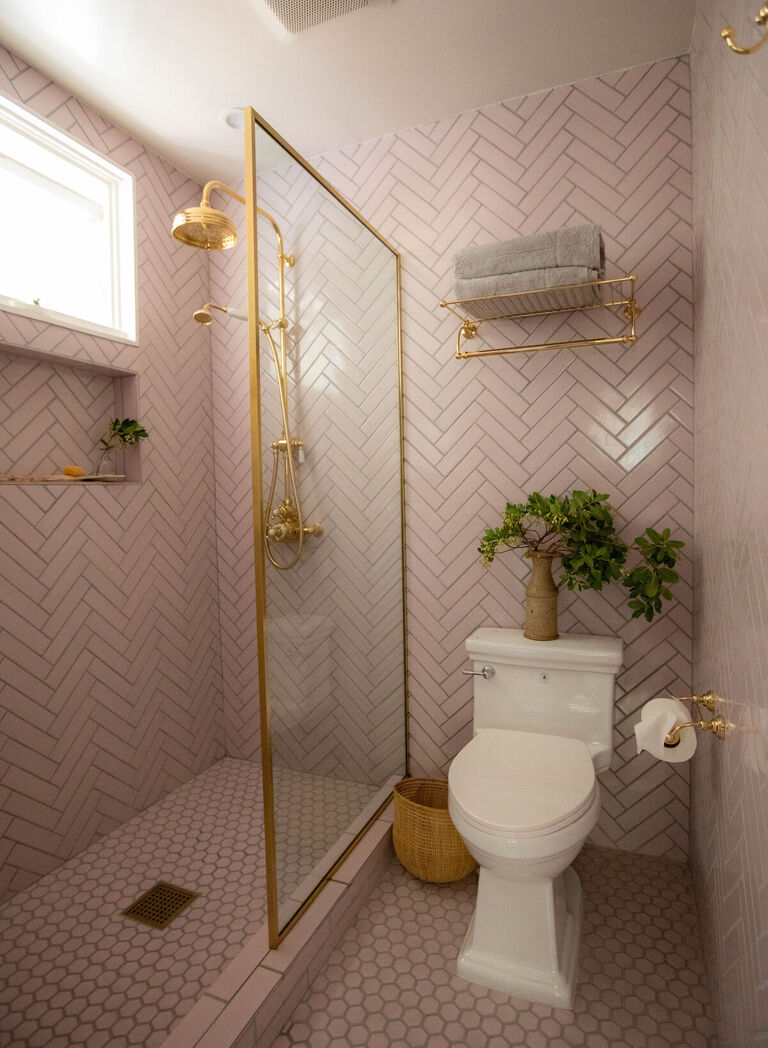 Tile: Evening Glow 2" Hexagon, Evening Glow 3x12 // Design: Erin Fetherston // Image: Elizabeth Messina
Mosaic tiles, like the hexagons above and the 1x6 tiles below, offer increased grip underfoot due to the increased number of grout lines compared to larger format tiles.
Tile: Dust Storm 1x6, Dust Storm 6x6 // Design: Erin Fetherston // Image: Elizabeth Messina
Fitness
Body Evolved
Boutique fitness space Body Evolved uses a soothing yet stimulating blend of Bora Bora tile to create a blissful bathroom for members to freshen up after an active workout.

Tile Shown: Bora Bora 2x8 and Bora Bora 4x4 // Design: Antonio Matres Studio // Image: Lisa Richov
Work Spaces
Swift Studios
The theme in workplace design is livability. Competing with a new era of work-from-home opportunities, employers are putting an emphasis on spaces that make their teams feel comfortable and inspired. Drab indoor/outdoor carpeting and less-than-lovely vinyl floors are replaced by beautiful tile that matches the values of the company.
Tile: Morning Thaw 3x12 // Design: Swift Studios x Studio Den Den // Image: Swift Studios
Schools
Detroit Prep
Fun, colorful, and full of inspiration were the requirements of Detroit charter school Detroit Prep. We delivered with inventive tile designs throughout the school including unique bathrooms specced in non-slip glazes to add safety to their ideal design.
Tile: Morning Thaw 6x12, Sea Glass 6x12, Hunter Green 3x3 // Design: Hudson & Sterling // Image: Stylish Detroit
Apartment Buildings
Broadstone Maker's
We often tile multi-unit apartment buildings as well, from the kitchen backsplashes to the bathroom floors. San Diego's Broadstone Maker's specced their communal spaces with our Glazed Thin Brick.
Tile: Bitterroot Brick // Design: Basile Studio // Image: Adrian Tiemens
Again, we do not recommend brick for commercial floors but this luxury apartment building demonstrates it can be done with breathtaking results.
Tile: Lewis Range & Bitterroot Brick // Design: Basile Studio // Image: Adrian Tiemens
Working on a commercial project and need some help? Contact us!