Design: Hudson & Sterling // Images: Stylish Detroit (unless otherwise noted)
This project is especially close to our hearts. With help from our slip-resistant Tiles, Detroit Prep students can safely enjoy their brand new building as they set out to change the world. When Detroit Prep's brand new building safely opened its doors this fall, students and staff were greeted with colorful tiles that work as hard as they do. We had the tremendous honor of helping Detroit Prep turn a 100-year-old building into a safe and beautiful place to learn through our Fireclay Gives initiative.
Read to the end to see how we're continuing to work with our friends at Detroit Prep!
Welcome to Detroit Prep!
Established in 2016, Detroit Prep's mission is to, "provide a world-class, equitable education that will give all students a foundation of academic excellence and character development while fostering a love of learning and passion for exploring and fulfilling their extraordinary potential as learners, leaders, and world-changers." Which is a mission we can definitely get behind.

"It was really important for every experience the children had in the school to be fun and colorful. The pattern of the 3rd floor bathroom was inspired by a tear sheet found with a beautiful antique green color palette which started the color scheme for the floors bathrooms. Once we played with the size of the traditional tile shapes by creating a larger tile pattern and a modern touch of color— it became something new and a piece of artwork bookending the hallway. Everything should be a conversation with design...and why can't a bathroom be?"
-Erica Harrison, Firm Principal and founder of Hudson & Sterling.
Tile Shown: 6x12 tiles in Morning Thaw and Sea Glass with 3x3 tiles in Hunter Green // Image: Kyle Smitley

First, Meet Kyle Smitley, one of the founders of Detroit Prep!
Tile Shown: 2x6 tiles in Sunflower
Can you tell me a bit about yourself and your background?
After spending some time in the business world, in 2013 I sold my company, moved to Detroit, and I started Detroit Achievement Academy in the fall of 2013. We opened with 40 kindergarteners and first graders on the northwest side of Detroit. Immediately after we opened, we were hearing from families on the other side of town wanting a similar school. So, in 2016, we opened Detroit Prep.
Let's talk about Detroit Prep! Can you tell me about the school and how it came to be?
After three exciting and successful years of slowly growing the school community of Detroit Achievement Academy, one of our founding teachers (Jen McMillan) and I decided to open Detroit Prep on the east side of the city in 2015. The school model is the same (we started small, believe hands-on and community-based learning is critical, and that character development is equally as important as academic achievement), but Detroit Prep is also actually the most diverse school in the city. Our whole community believes in the importance of diversity, and celebrating the differences between us. We learn so much from each other, and it is such a special place.

Hear from real Detroit Prep students on what their school means to them:
What's the story of your new building?
Because we began so small (40 kindergarteners and first graders), our little school was located in the basement of a church in Indian Village for our first three school years, knowing that we would eventually purchase a permanent school building of our own. On an evening walk with my cofounder in 2016, we passed an abandoned Detroit Public School building just one mile away from our little school, and knew immediately it was meant to be ours.
After a wild two years of lots of sweat and raising every penny and material donation we could, we purchased the 100 year old school building and fully renovated the space. It really has been a dream come true, and we feel so lucky to be a part of the Pingree Park neighborhood in Detroit.

Tile Shown: 2x6 tiles in Sunflower

How involved were you in the design process?
I was 1000% involved as we thought through every inch of the space. I feel really lucky to have had so many incredible designers and builders and architects and partners working on the project (Gensler, PCI One Source, and IDS to name a few), but for the two years of renovations, I was obsessed with perfecting every single detail of bringing the building back to life. We fell in love with the worn down building because of its original hardwood floors, its giant windows and light-filled stairwells, and its huge classrooms.
After purchasing the building, we learned that the school, which was built in 1914, was designed by Wirt Rowland, who worked for Albert Kahn and designed the Hill Auditorium at UofM, the GM Building in Midtown, and the Detroit News building. He even designed three of the most iconic high rises in the city, the Buhl building, the Guardian building, and the Penobscot building! We wanted to pay homage to the original design of the building, but with a modern and really intentional twist.
Inspired by the quirkiness of Wes Anderson films, I chose bright and joyful pastels, art deco lighting down the giant hallways, and a home-like feel to all of our shared spaces. We did a pretty big design pivot just a few months from our target completion date, because as the building came back to life and we learned more about its designer, the new path started to become more obvious.
Tile Shown: 4x4 tiles in Moonshine with Large Diamonds in Sorbet, Morning Thaw and Basalt
Please note: Our Large Diamonds are on our *Secret Menu*! Ask your Design Consultant or rep if you love this shape!
How did you hear about Fireclay Tile?
I've been obsessed with Fireclay for a long time; their handmade tile is really unmatched. For the entirety of the design process, I was driven by the idea of equity of beautiful spaces. Our kids, regardless of the zip code they were born in, deserve well-designed and beautiful spaces to learn in and grow in. After seeing Fireclay tile in the new Shinola Hotel downtown, I thought, "Why couldn't kids who go to school in Pingree Park experience beauty like this too?"
Our consultant, Hudson & Sterling, reached out to the Fireclay team to see if they would be interested in supporting our building project by donating some tile for one of our bathrooms. I was absolutely blown away (and cried so many happy tears) when Fireclay offered to donate the tile for every bathroom in the entire building. Partnerships like this is what made our building renovation possible, and is what has made our school home so special.
Tile Shown: Large Diamonds in Sorbet, Morning Thaw and Basalt

There are also very few companies where the more you interact with a team and CEO that you become *more* in awe of them as a company, and Fireclay is one of them. I respect and adore them more, after the project wrapped up, watching them all work on it and how they treated our project, then I did the moment I heard of their huge donation. Our entire Detroit Prep community is so grateful for the generosity of the Fireclay team!

If you have a project that could use our help, plus visit Fireclay Gives and fill out the donation form!
Below is the teachers' lounge!
Tile Shown: 6" Hexagons in Sorbet

Now meet, Erica Harrison of Hudson & Sterling! Can you tell us a bit about yourself and your firm?

Hudson and Sterling is, first and foremost, focused on people and their experiences of a space. Having worked for over a decade designing concepts for Ralph Lauren, I took my first steps away when I was asked to design a home interior in East Hampton, NY; Hudson & Sterling was born. We believe that the story of a space is just as important as the design and the objects that go into it – it all plays into the experience.

As a firm, we are never focused on a definitive style from any era. We design unselfconsciously, and our secret is to focus on things we love. We never allow ourselves to be limited by what we did last and search for the neglected and the unused. Our wish is to stimulate our spaces, raise the bar, and to create a conversation in the environment to inspire those who enter it.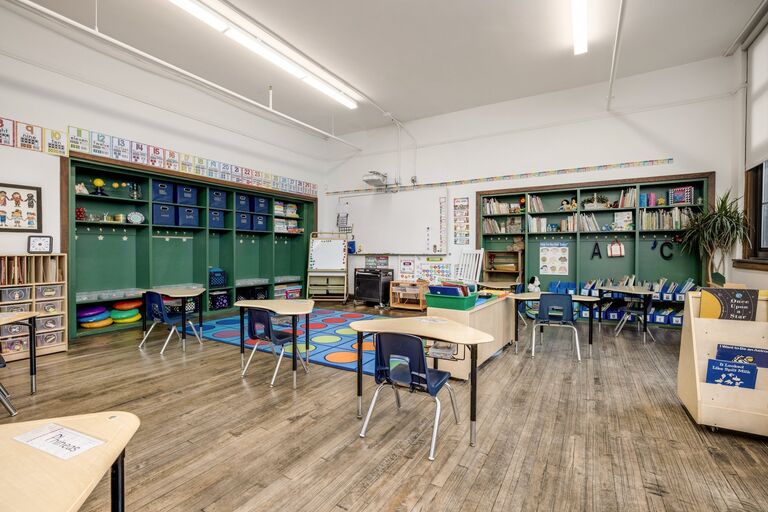 At Hudson & Sterling, we are interested in spaces and objects that people can truly use and things that genuinely have a lasting elegance. We are devoted to rebelling against common stereotypes of what it means to be "box store modern" today and are constantly evolving into making whatever space we take on come to life.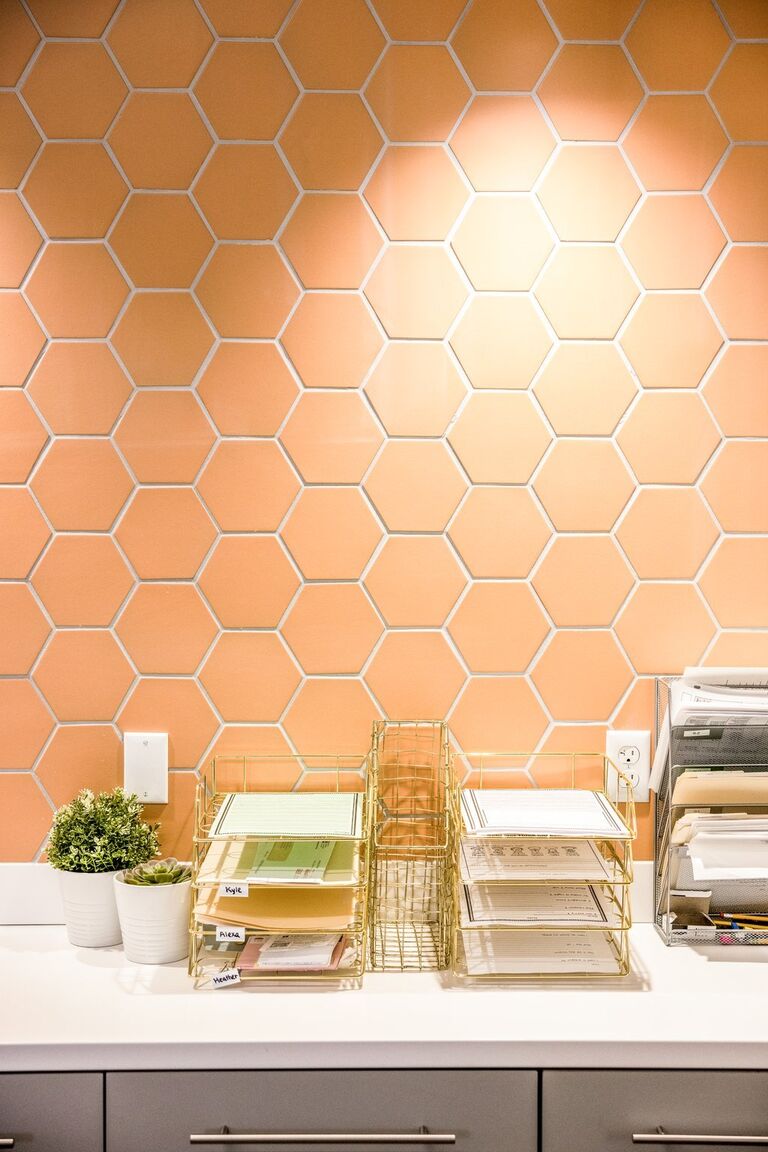 Tile Shown: 6" Hexagons in Sorbet
How did you hear about Fireclay Tile? What did you enjoy about the experience? What are your favorite products?
We were aware of Fireclay from an Industry Standard of being a company that has a playful aesthetic and a classic one as well. They really do beautiful things with color- which is so important in anything in design because it provides the mood of a room. The artistry of having the tile handmade is another reason why we love Fireclay— everything typically produced now has had the finesse removed and makes design seem Box Store. Fireclay has the heart and soul of a company that stands the test of time- being perfect for the school and an architectural structure in Detroit.
Tile Shown: 2x6 tiles in Sunflower and 4x4 tiles in Moonshine with Large Diamonds in Sorbet, Morning Thaw and Basalt

Fireclay handled every aspect of the design so smoothly and elegantly. When I originally asked Eric (owner) for the donation for the school, I was hoping that he would do 2 bathrooms at most, but was blown away when he signed up for the entire school's tile work for bathrooms.

Tile Shown: Large Diamonds in Sorbet, Morning Thaw and Basalt
Why do you love tile?
Tile is beautiful when done well. It is sturdy and the glazes on tile really can make a color pop in a room- a marrying of function and beauty.
Tile Shown: 2x6 tiles in Sunflower

How did you get involved on this project?
I was asked by the founder of the school, Kyle Smitley, to come on board to lend my expertise on the aesthetics of the building. She felt that the school needed more of a soul in regards to its aesthetics and she had a clear idea of the feeling of the building—the vision just needed to be articulated visually.
Had you ever worked on a school before? What was the experience like? Any special considerations?
This was the first school project I had ever worked on—so there was definitely more of an urge to try to push to get the most we could for the children of that school. There was more thought as well into longevity of tile with knowing hundreds of children were going to be using it every day.
Tile Shown: 2x6 tiles in Sunflower with 6" Hexagons in Sorbet

What's important to you when designing both residential and commercial spaces?
It is important when you walk into a space you don't feel like you've seen it before, you see something that sparks your eye, and it immediately creates a conversation. There needs to be a whimsy for the visitors of a space- something that makes a lasting impression on those within, but all the while is functioning.
Tile Shown: 2x6 tiles in Sunflower with 6" Hexagons in Sorbet
What type of look or aesthetic were you going for?
For the bathrooms—I wanted them to be an extension of the original concepts we had for the hallways of the school:: quirky traditional and a place kids were inspired—no matter what the space was.
Tile Shown: 2x6 tiles in Sunflower with 6" Hexagons in Sorbet

How did you come up with your color scheme and design?
I started researching various home interiors, museums, artists, art, fruit compositions....anything I saw color that inspired me. Then the color would snow ball from there. If you play with variations or color and then size of something tradition, something new emerges.

Tile Shown: 4x4 tiles in Moonshine with Large Diamonds in Sorbet, Morning Thaw and Basalt

What is your favorite tile moment?
2nd floor. I love that both the boys' and girls' bathrooms are yellow and pink and that there are elegant pieces of artwork on the walls by Cy Twombly. It is a reimagining of The Met...if it were for kids only and if it the Met was a bathroom. Those 2 spaces on that floor represent to me the fact color has no limitations.
Tile Shown: 2x6 tiles in Sunflower with 6" Hexagons in Sorbet
How did you go about choosing the colors and patterns?
In my process for creating rooms...it can start off with one small image, or color chip. Then it builds with texture. I wanted to make sure it played off the traditional tone of the building: high ceilings and moldings etc but felt new. Fireclay was so generous to us with the tile donated, and they really wanted to try out their slip-resistant tile. It was a perfect scenario because the tiles they had were the colors we were using!
How did the installation process go? Did you face any challenges? Did you work with a tile installer or contractor?
The installation process from Fireclay's end was flawless and they were so graceful by providing everything we needed for that room. I was not involved heavily in the installation process at all due to the building having limitations on people inside.
And there's more to come! We're so thrilled to be working with Detroit Prep's sister school, Detroit Achievement Academy, on their expansion! Follow the progress on their 30,000SF addition on their Instagram--we'll be sharing too!
Working on a commercial project? Get in touch! Or do you have a project that could use our support through donation? Tell us about it here.
Shop the Story