Celebrating Ten Years of Employee Ownership
Ten years ago, on April 13, 2013, Fireclay introduced employee ownership and gave out stock options in order to distribute equity to the people who make us, us-- our Teammates. Today, Fireclay is 30% employee-owned with an entire decade of employee ownership in the books! We've grown a lot since April 13, 2013 (~15x), but remain committed to the belief that those who help create value should receive value.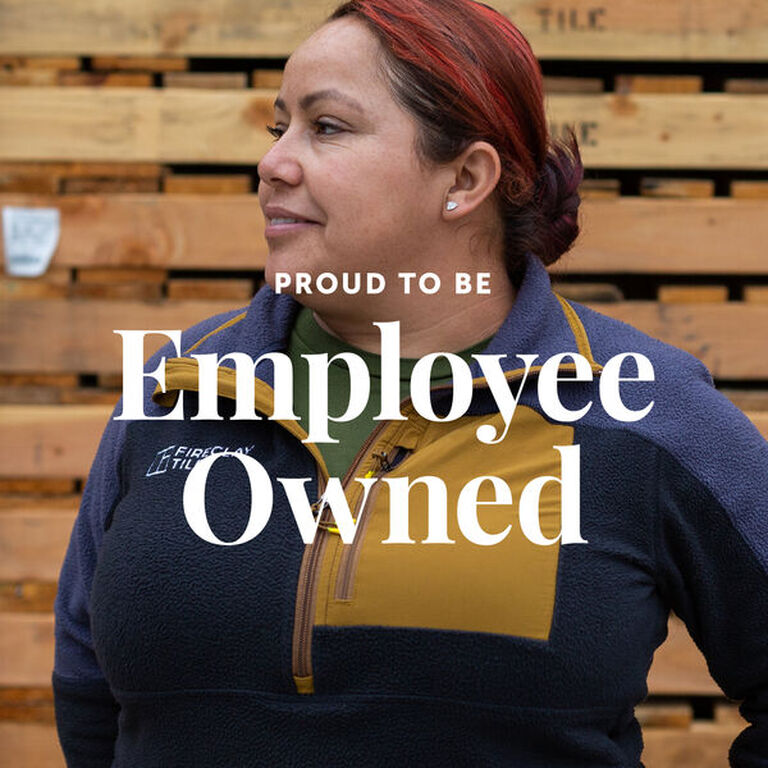 With this momentous milestone in mind, we sat down with our CEO Eric Edelson to talk about Fireclay's journey to employee ownership, how it contributes to a more sustainable and equitable business model, and more. Keep reading for the full interview!
Meet Eric Edelson, CEO of Fireclay Tile

This year Fireclay is celebrating 10 years of Teammate Ownership. Take us through the journey of this decision and why it was important to you.
Eric Edelson (EE): I've always valued equity and assumed others did as well, so it was personally critical for me to make sure this was put in place. The journey for Fireclay started with an investigation into what was possible ten years ago. At the time, Fireclay was tiny–we had 40 people and not even $3M in sales. We weren't making a profit, we owed money, and we had little cash. But employee ownership was important to our Founder, Paul Burns, and me, and I worked to create a plan that we could put into motion


While the company wasn't worth much, we truly believed in what we were building. We started small with 10% of the company via a stock option plan. It was done with pen and paper, but it was something! From there it grew and grew, and today we're proudly 30% employee-owned.
How do you think teammate ownership improves teammate morale and engagement in a company? What other positives or challenges come with teammate ownership at a company-wide level?
EE: Employee ownership makes me, our investors, and all of our Teammates aligned in our vested interests. To support our growth, Fireclay has raised money from some amazing investors, and we are fortunate they also believe in the power of employee ownership.
The positives are evident in nearly every aspect of our company. Since introducing our first stock option plan, our sales have grown by almost 1500%x. We have a highly motivated team with incredible retention, industry-leading profitability, and an authentic, mission-driven brand that deeply resonates with our clients.



Of course, there are challenges that come with employee ownership as well. It's administratively challenging and difficult to convey the value to Teammates which is something we're working on. Tax laws are confusing for many, and it costs our employees money to exercise, or purchase, their stock options. Despite the complexities, we firmly believe in distributing equity to all and encourage other companies to not let the challenges stand in their way.
How does employee ownership align with Fireclay's overall mission and values?
EE: As the first tile company to achieve B Corp certification, employee ownership fits perfectly with Fireclay's mission and values. We are a stakeholder-driven brand that strives to use business as a force for good by balancing profit with purpose. Employee ownership is a critical piece of this–it makes our success a shared success.


What is the future of employee ownership at Fireclay? Do we have plans to continue developing the program? Are there any changes or improvements you hope to make in the foreseeable future?
EE: I believe the foundation is there, and our plan is to continue building off of that. Our team has grown tremendously in the past year with the acquisition of our Washington Tile Factory, and we're continuing to focus on educating our Teammates about the value of ownership with the help of our outstanding People team.

Now it's all about growing the company and creating more value so that we can all win together!
How do you believe employee ownership can contribute to a more sustainable and equitable business model? What role do you see employee ownership playing in the future of business?
EE: It can contribute in several ways. As owners, employees have a stake in the long-term success of the company, which can encourage more sustainable business practices and a focus on social and environmental responsibility. It also leads to shared prosperity which helps reduce income inequality as employees share in the financial success of the company. We think of pay as having three pillars: base, bonus/commission, and equity. Equity can help people create real value and share in the upside of what we are all building.
Looking ahead, we believe employee ownership will play an increasingly important role in the future of business. As businesses face mounting pressure to prioritize social and environmental responsibility, employee ownership can be a powerful tool for aligning business goals with broader societal goals. Additionally, as income inequality continues to be a pressing issue, employee ownership can provide a mechanism for reducing wealth disparities. It can also help businesses remain competitive by fostering a more engaged and committed workforce.
Personally, I couldn't be more thrilled to partner with our 350+ Teammates. The company is in great hands–the very hands that help grow our success–and I can't wait to see what the next 10 years will bring.

Tile to the People!

We couldn't be more grateful to our Teammates and amazing customers for supporting Fireclay's mission and values—we're proud to be Made for Good! Learn more about our team and step inside our American Factories here.