10 Ceramic Tile Shower Questions, Answered
By Ted Ryan
Ceramic tile is a timeless choice for tiling your custom shower or tub surround and offers limitless options to match your vision. But what does that vision look like? We'll help you clear things up with answers to common questions about ceramic shower tile. Let's get started!

Remodeling your entire bathroom? Start here with our complete guide to bathroom tile.
1. Is Ceramic Tile Good for Showers?
Tile Shown: 4x4 in Sand Dune, 2x2 and 4x4 in Koi with a 6x12 in Koi to create the shower curb // Design: Anthony Roxas Architecture // Image: María del Río
Yes! Ceramic tile is well-suited for wet environments (like showers), it's durable, and is available in a range of price points to meet most budgets. With proper care, a ceramic tile shower can last for generations and with Fireclay's vast selection of shapes and colors of ceramic tile, you'll be able to design a shower you'll want to wake up to every morning for years to come.
Not settled on ceramic tile for the shower? If you're still deciding, go check out our blog on choosing between ceramic or glass shower tile.
2. What's Better: Gloss or Matte Ceramic Shower Tile?
Like a lot of the questions we'll answer here, the choice between matte and gloss ceramic shower tile is a personal one that depends on the look you want to achieve. Gloss tiles are semi-reflective and have a wet sheen that fits in such a wet environment, while matte tile gives a shower a more natural look.
But deciding between gloss and matte is a practical choice as well. If you have hard water in your home, a glossy tile will conceal water spots better than matte and require less daily upkeep to look its best.
Tile Shown: Sea Glass Picket // Design: Interior Wanderer // Image: R. Brad Knipstein Photography
3. What Color Ceramic Tile Should I Use in the Shower?
Tile Shown: Amalfi Coast, Turquoise, Neptune, Lemon Cream, Koi, Sorbet, Desert Bloom, White Wash, Glacier Bay in 3x12 // Design: Brittany Buchser // Image: Cameron Behbahany
One of the biggest advantages of choosing to tile your shower with ceramic tile is the choice of colors. We have over 100 standard colors and can create custom colors to match practically anything.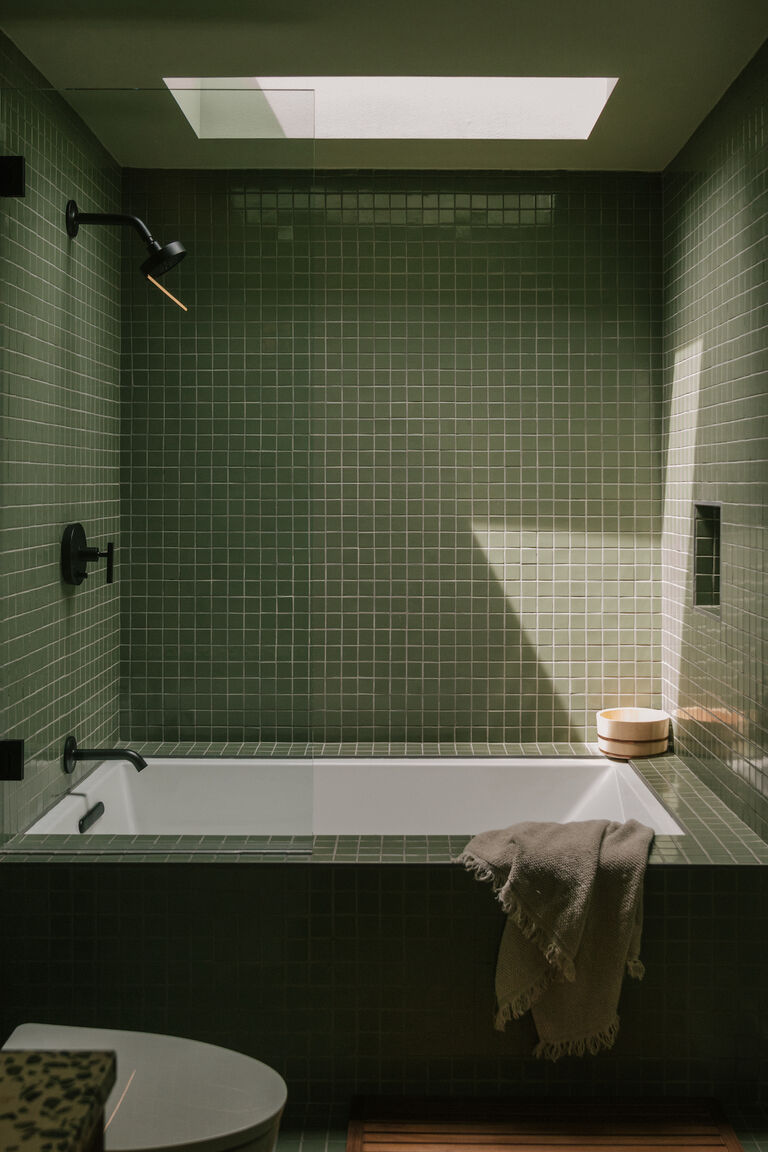 Tile Shown: 2x2 in Peabody // Design + Image: Working Holiday Studio
Go bold for a fun place to start each day or choose a more muted color if you're trying to inspire a sense of calm. Use a rich color surrounded by white bathroom walls to create a natural focal point, mix and match the colors of the floors and walls, or blend the whole bathroom together with monochrome or a tonal palette.
Tile Shown: 3x9 in Basalt // Design: Shavonda Gardner // Image: Shavonda Gardner
When in doubt, white subway tile will never go out of style. Plus, lighter colors conceal water spots better as well.
Tile shown: // Design: // Image:

4. Should I Tile a Shower to the Ceiling?
Most custom showers today feature tile all the way to the ceiling, but not all. Floor-to-ceiling shower wall tile gives a shower an enclosed look and protects your walls from the humidity of the shower.
Tile shown: 2x2 in Pumice // Design+Image: Working Holiday Studio
Tiling only partway up the wall allows you to play with the dimensions of your wall and pair tile with different surfaces like paint, wallpaper, or wood. It's a good idea to tile at least as high as your shower head and top your tile with trim like Quarter Round or Ceramic Architectural Molding.
Tile Shown: 2x6 in Evergreen // Design: Oh Joy, Project M Plus // Image: Bethany Nauert
5. Should I Tile the Shower Ceiling?
More and more contemporary designers are taking tile beyond the walls and tiling the ceilings of showers as well. Shower ceiling tile creates even more protection from humidity--especially in steam showers--and offers more area to feature the motif of your shower.
Tile Shown: Evergreen in 6" Hexagon // Design: Claire Thomas
Tiling slanted ceiling, in particular, is a natural transition to extend the tile from the floors and walls.
6. What Tile Size Should I Use on the Shower Walls?
Again, the size of tile you use on your shower wall comes down to taste. Mosaic tiles give a shower texture and intricate detail while large format tiles can make a shower feel taller or more spacious.
Tile Shown: 2x6 in Sand Dune // Design+ Image: The Fresh Exchange

Be aware that the smaller the tile you choose the more grout lines you'll have which will affect the appearance and upkeep of your shower.

7. What Ceramic Trim Should I Use in the Shower?
Tile shown: // Design: // Image:
Trim adds a finishing touch to a ceramic tile shower and there are a lot of areas you may want to include it.

Tile shown: // Design: // Image:
If you're not tiling your shower walls to the ceiling or across the whole bath, consider adding trim to the top or sides of the tile.
If you're tiling the front of a tub surround, a quarter round or radius bullnose blends the corner nicely.

If your shower will have a shower niche, a glazed edge, bullnose edge, or quarter round gives the built-in shelf a clean and consistent look.
A cove base helps to transition from the shower walls or shower curb to the shower pan or bathroom floor.
8. Is Smaller Ceramic Tile More Slip-Resistant?
Smaller tile is more slip-resistant than larger tiles because smaller tiles require more grout lines. A greater ratio of grout to tile means greater traction. We recommend choosing shower floor tile that is no bigger than 3" to mitigate the risk of slipping. If a tile is under 3", the shape, color, and finish--even glossy finish--is your choice.
If you are concerned about the possibility of slipping, choose a matte glaze.
As long as they are either under 3" or finished in a matte glaze, our specialty shapes can be used on the shower floor as well.
9. Does Ceramic Shower Tile Need to be Sealed?
Yes. Ceramic tile is suitable for wet environments like showers but you should seal your ceramic tile after installation and annually after that.
Regardless of which tile you're using, sealing is most beneficial to your grout. Sealing takes just minutes and will give your tile and grout protection to look good as new for years to come.

10. What Cleaning Products Can I Use on Ceramic Shower Tile?
To prevent damaging your tile or stripping off sealer, we recommend cleaning your tile with a clean rag, warm water, and diluted dishwashing soap or a gentle cleanser. Any cleaner with harsh chemicals is not advised to clean your shower tile. Similarly, abrasive scour pads and steel wool can damage the finish of your ceramic shower tile.
The same goes for other types of tile including porcelain tile and natural stone. Only glass tile tolerates harsher solutions. If you find it difficult to keep up with water spots forming on your tile, you may want to consider installing a water softener to head off the problem at the source.
A paste of baking soda and water will keep grout looking new as well. For more, see our Care and Maintenance Guide.

Starting to see your vision come together? Explore our extensive selection of ceramic shower tiles and order samples today!