Tinge Floral: Olympic Brick Kitchen Backsplash
By Kali
Design: Tinge Floral // Images: Kate Osborne
Offering a retreat from her luxe floral design studio, Tinge Floral, Ashley Beyer's fresh and traditional kitchen offers the perfect backdrop for her organic-inspired style.

A bit about Ashley:
Can you tell me a bit about yourself and what you do?
I am Ashley Beyer of Tinge Floral and I'm a florist based in Salt Lake City, Utah. I focus primarily on weddings, and travel for most of my work which keeps inspiring and ever changing!
My style can be described as...A compilation of many things! But at the end of the day I like design to feel intentional.
My design philosophy is...Less is more.
My find inspiration in...Seeing how colors work together in nature, fashion, design. Color provides endless inspiration.
I love tile because...It adds personality and richness to a space.
Can you tell me about your home? Was this kitchen project a part of a remodel or renovation?
We purchased our home a little over three years ago and have been doing most of the renovations ourselves with the exception of a few things. It is a small traditional home built in 1951.
What were you most wanting to change about your kitchen?
Everything! We were limited on what we could change layout wise. However there were definitely small changes we made that really impacted the overall flow and space. We wanted to omit the overhang above the cabinets and take the cabinetry to the ceilings. We also knew we wanted to carry the backsplash to the ceiling as well to help the space appear larger.
What overall aesthetic were you going for? Any points of inspiration you'd like to share?Since our home is fairly traditional, I think it's important when remodeling to consider your home as a whole and what makes the most sense. We decided to go with a traditional shaker kitchen heavily inspired by traditional English and European kitchens. Devol kitchens was a major source of inspiration for us!
How did you land on the color for your cabinetry and hardware finishes?
We decided on Benjamin Moore Coventry Gray. I knew I wanted some color without it being too much of a contrast or too vibrant for the small space. I knew I wanted to go with a gray with blue undertones, and this one was perfect. We kept the kitchen fairly tonal by doing a darker gray floor and London gray quartz. To warm up all the cool tones we chose an antiqued brass faucet and unlacquered brass hardware, and incorporated the oak open shelving in a natural finish.
On to the tile! What made you go for our Glazed Thin Brick in Olympic? Were there any other contenders?
We chose the Glazed Thin Brick because we wanted something classic but still felt special. I love that each one is slightly different and compliments the gray tones in the kitchen so nicely.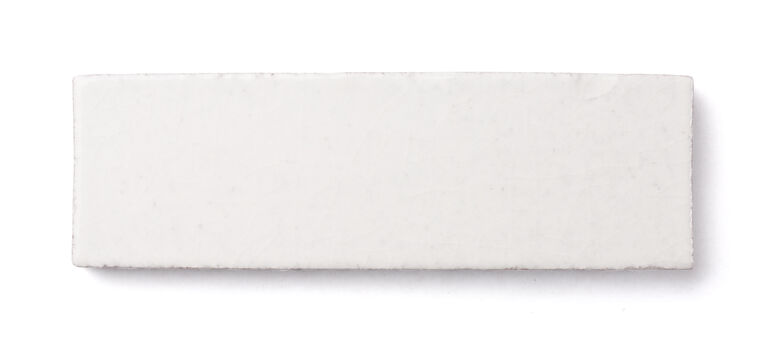 We ended up going with a light gray grout, which really emphasizes the handmade quality of the tile. Taking it up to the ceiling and around the window made such a strong visual impact!

What made you choose the classic offset pattern?
We wanted our kitchen to feel fairly traditional, so the classic offset made the most sense with our overall design.
How did the installation process go? Did you face any challenges?
No challenges, just waiting on contractors but as anyone who has done any construction or remodeling knows, it's just how it goes!
Lastly, any of our colors or shapes you'd love to use in a future project?
The glazed tiles are so beautiful and I'm especially drawn to the tile in Nutmeg or Foggy Morning with Black Patine. Our bathroom is the next project and while I still want to keep it fairly traditional, I want to push color a bit more, and the tile is always a fun way to do that.
You can see Nutmeg installed below:
Tile Shown: 1x4 Tiles in Nutmeg // Design + Image: The Modern Caravan
Inspired by this traditional kitchen? Order samples online now. Need some help? Simply call, chat or fill out our Design Assistance Form and one of our talented Design Consultants will get back to you shortly.
Shop the Story