Tile School: Grout Lines and Tile Patterns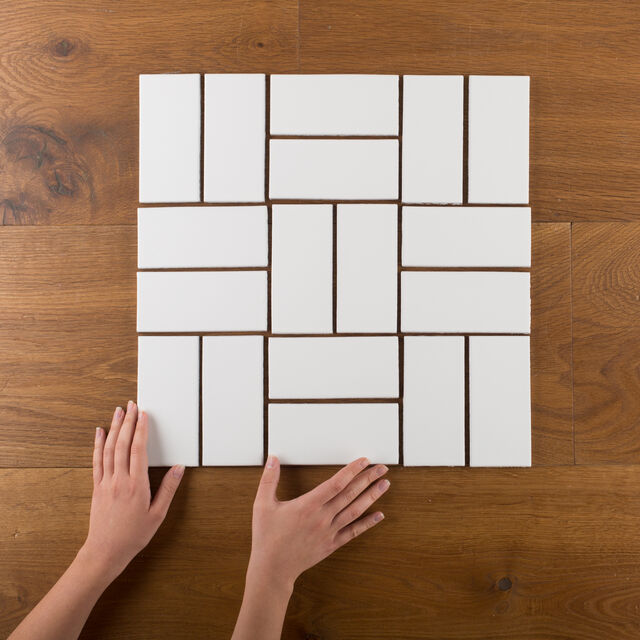 We talk a lot about grout and grout lines around here. This time to talk to you about how pattern can affect the size of your grout line. For standard patterns, like offset or straight set, we recommend 3/16 (and 1/8 is the absolute minimum). However, if you are wanting to install a parquet or herringbone pattern for example, you may have to use a larger grout line.

Tile Shown: 6x12 in Gypsum (floor); Backsplash: Glazed Thin Brick in Olympic
Important note: We recommend a minimum of 3/16" grout joint size. Our conversion factors use this recommendation to calculate the amount of tile for an order. If you are going to use smaller grout joints that we do not recommend, please consider adding an additional 2 - 3% overage to your order to the recommended 15-20% that we encourage to cover cuts and waste.
If you want leftover tile, add a little more. Tile layout circumstances vary widely, and all calculations are estimates, and cannot guarantee you will have enough tile for your unique installation.
Have a look at this parquet bathroom in our 3x12 tiles below for reference. You can see that for this size tile that the grout line is not significantly larger; the size of the grout line just gives the tile the right amount of room to create a clean, even pattern.
Tile Shown: White Wash 3x12
Another example of a parquet pattern installed, this time on a bathroom floor:
Tile Shown: White Wash 3x12
It's important to remember that our tiles are handmade with recycled materials and are not modular. With handmade tiles, sizing is a variable. A wider grout line may be required in certain patterns in order for the width of the tile to fit within the length of the tile.
Whether you are installing your tile yourself or working with an installer, it is important to review our Tile Specification and Installation Guides as grout lines vary between our materials. Read more about what grout lines we recommend for our different materials, here.
Tile Shown: White Wash 2x6, French Linen 2x2
Below is an installation of 2x6 tiles set in a herringbone pattern. If you look closely you can see that the grout line varies between roughly a 3/16 and 1/8 grout line to adjust to the tile size. The 3/16 grout line is by no means thick and leaves a perfect amount of room for the natural variation of the size of the tiles.
This is also an example of a very clean, well-done installation. When looking for a tile installer, be sure to ask if they have experience with installing handmade tile to ensure you're happy with the final result.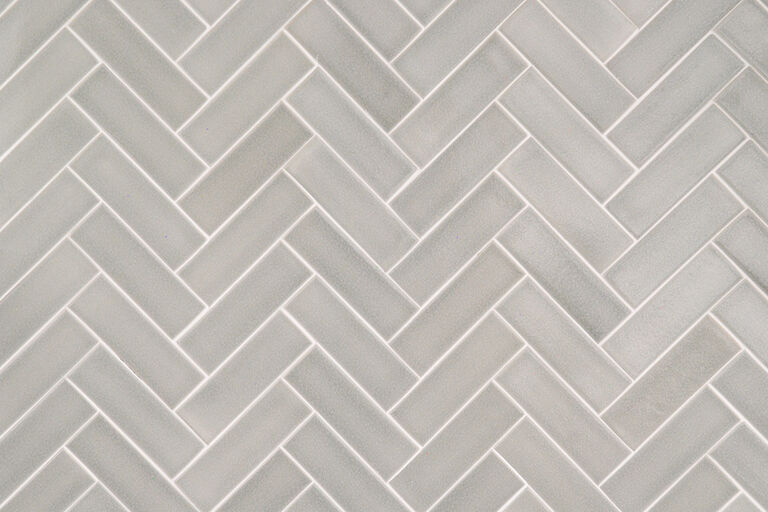 Tile Shown: Mist 2x6
You can see from the bathroom install below that grout lines had to be expanded to accommodate a 3x6 parquet pattern:
Tile Shown: White Wash 3x6
Lastly, it's also important to note how grout lines can be an elemental part of your design in the best way. Not only is it good for your tile, but it is a great way to show off the pattern of your choosing. If you've opted to go for a pattern like a herringbone, parquet or perhaps a basket weave, just keep the grout line in your mind.
Tile Shown: Glazed Thin Brick in Cascade
If you are worried about the pattern being too bold with a wider line, just go for a grout color that will most closely match the color tile you've chosen. But most importantly, know that we're here to help and advise you if you have any questions along the way!
Have more questions about grout? Check out this blog and this one too. Still not sure? Simply call, chat or fill out our Design Assistance Form and one of our talented Design Consultants will get back to you shortly.