Bathroom Wall Tile Height: How High Should You Go?
The bathroom is one of the only spaces in your home where you can pretty much tile any surface you want, and with each surface there are a number of decisions to be made. Here we'll cover the basics of bathroom wall tiles and how to choose the right height for your project.

Remodeling your entire bathroom? Start here with our complete guide to bathroom tile.
Tile Shown: 3x9 tiles in Daisy & Sea Glass // Design: Claire Thomas // Photo: Stephanie Todaro Photography
Almost to the Top
The bathroom below showcases one of our favorite unconventional tile heights with the tile covering 3/4 of the wall. We think this look works best in contemporary and modern bathrooms, where tile height is part of the design. Accentuate rooms with high ceilings by using tall, sleek shapes, like 3x12s or 3x9s stacked vertically:
Tile Shown: Tempest 3x9 // Design: West End Interiors // Photo: Sarah Wintle
We love this bath's crisp white walls, contrasting black ceiling, and handpainted floors. Everything feels cohesive without being too matchy-matchy: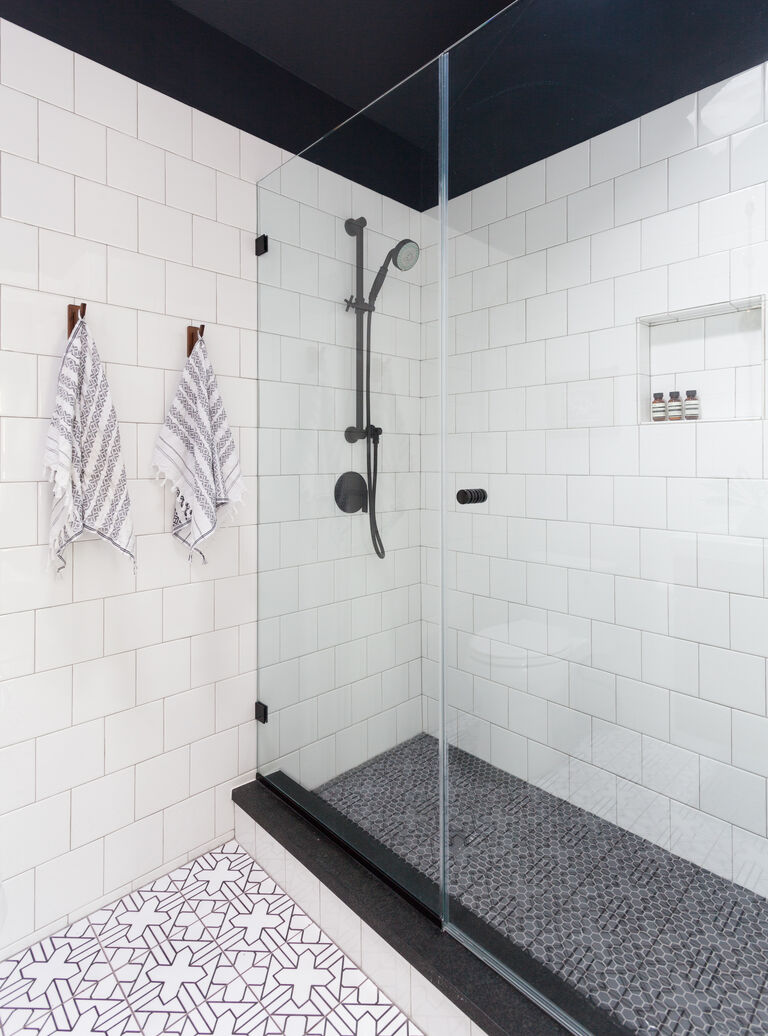 Tile Shown: Kasbah Trellis in Neutral Motif // Design & Photo: Erin Williamson Design
Floor to Ceiling
For you tile lovers, fully tiled bathroom walls are the way to go. The look is fresh and modern, and can be done in every shape, size and color there is. We love the clean look of the straight set tile in the bathrooms below.
Tile Shown: Essentials 3x9, Daisy 6" Hexagon // Design & Image: Fireclay Tile
The design feels clean and contemporary, and the floor to ceiling installation, with its soft blue hue, becomes the focal point of the space. Tiling up to your ceiling will also add the feeling of height to your space!
Tile Shown: Egret Matte 2x12 // Design: Kyla Ray Creative // Photo: Angela Price

Tile Shown: Rosemary 3x6 // Design: Sarah Sherman Samuel , Emily Farnham Architecture // Photo: Tessa Neustadt
Tile Shown: Mesa, Painted Sky & Adobe 2x8 // Design: Jen Pinkston // Photo: Katie Jameson
Floor and Ceiling

For a real wet room feel, try applying tile to the ceiling!
Tile shown: Caribbean 3x6 // Design: Kapan Shipman // Photos: Dustin Bailey

Tile Shown: Calcite 6" Hexagons // Design & Photo: Sarah Sherman Samuel
Classic Wainscotting
Wainscotting is a classic choice for bathrooms that border on the traditional side. The classic design feature is usually between 34 and 54" high, with 36" being the average height.
A classic offset or straight set pattern in a standard field size tile works best for this wall height. For a truly classic look, finish the top with a decorative trim or a bullnosed edge.
Tile shown: White Wash 3x6, Turquoise Star and Cross // Photo: Malcolm Fearon Photography
Tile Shown: Sea Foam 2x6, Daisy Star and Cross

Tile shown: Mist 3x6 // Design & Photo: Benita Cooper Design

Contemporary Wainscotting
For a more contemporary take on the traditional wainscotting style, try using a traditional material, such as our glazed thin Brick or ceramic bathroom wall tiles. Leave the border with a square, glazed edge for a clean and modern design detail.
Tile shown: Salton Sea 3x9 with Flagstone 6" Hexagons // Design & Photos: The Fresh Exchange
Brick Shown: White Mountains // Design: Anja Michals // Photo: Vivian Johnson
A Little of Both
Can't decide how high to go? Why not try a full wall and a wall with wainscotting? This look works best when your shower walls are nearly or completely covered floor to ceiling in tile, and the tile is extended to the remaining walls but only as wainscotting. This allows you to show off more tile, without overwhelming the space.
Tile Shown: Seedling, Tusk & Basalt Large Diamonds, Tusk & Daisy 4x4 // Design: Emily Vallely // Photo: Madison Kim-Poppen
Paired with a saturated glaze color, we suggest painting your walls a crisp white or other neutral hue to complement the tile.
Tile Shown: Adriatic Sea 3x6, White Wash + Navy Blue 2" Hexagons // Design & Photo: Bright Bazaar
Ready to start your bathroom tile project? Order free samples now. Need some help? Simply call, chat, or fill out our Design Assistance Form and one of our talented Design Consultants will get back to you shortly.