19 Small Tile Projects that Exude Sophistication
We'll always adore a good floor-to-ceiling tile moment, but sometimes large projects aren't in the cards. Maybe you have a small space to work with or leftover tile from another project, or maybe you've fallen in love with some of our Discounted Seconds Tile but there's a limited amount in stock (and since Seconds are one of a kind, they won't be available again!).
Whatever the reason, rest assured that even the smallest tile projects can leave an elegant lasting impression. From petite backsplashes to tiled coffee tables and more, we rounded up some of our favorite projects that prove square footage isn't everything when handmade ceramic tile is involved.
Backsplashes in Brief
When some people think of small tile projects, easy DIY projects like tiled trays or tiled vases come to mind. While those ideas have their place, we want to show you how small tile projects can just as easily mean elevated and lasting backsplash installations in your kitchen, bathroom, and even laundry room.
Cassandra LaValle's walkout basement kitchen is a beautiful example of using a contrasting color to make a striking impression with a mini backsplash. Turquoise brick lends color, character, and durable coverage to a splash-prone surface behind the stove.
Brick: San Gabriel // Design: Cassandra LaValle // Image: Ellie Lillstrom
Just four rows of our modern subway tile create an elegant bathroom backsplash that elevates the natural wood vanity in this spa-like bathroom, demonstrating that it doesn't take much to make a memorable design with artisan handmade tile.
Tile: 2x8 in Salton Sea // Design: KSDesigns LLC // Image: Madeline Harper
Want to smile when it's time to wash clothes? Take your laundry room sink from routine to serene with sunny sheeted square tiles adorning the petite backsplash, like this sweet utility room.
Tile: 3x3 in Tuolumne Meadows // Design + Image: Brit Dot Design
Step inside this sunny laundry room.
This modern kitchen cleverly uses scale in both size and color to pack a big design punch. Petite installations of glass tile, separated by open shelving, get lighter and smaller the higher the backsplash goes.
Tile: 3x12 in Grackle Matte and Magpie Matte, 2x6 in Kingfisher Matte and Dove Matte // Design + Image: Happy Hour Design Collective
When you're living the van life like Summer Ginther, every piece of tile is carefully calculated. The teeny row of 2x4 Tile behind her sink brings both beauty and function into the compact space while Summer and her husband are traveling across the country.
Tile: 2x4 in Overcast // Design + Image: Summer Ginther
Another bitty brick backsplash, but this kitchen used vertically-installed white brick the same color as the walls to add texture and interest behind the stove for an eye-catching restrained modern effect.
Brick: Lewis Range // Design: Maredi Design // Image: Jamie Kelter Davis // Installer: Antiquity General Contract Management Services
Think a miniature backsplash means you can't have fun with the design? This modern Mill Valley kitchen is here to set the record straight, using only two rows of alternating Triangle Tiles to mimic the coastal mountains outside.
Tile: 6" Triangle in Sand Dune and Adriatic Sea // Design: Bethany Fay Designs // Image: Open Homes Photography // Installer: Jorge Hernandez
Emily Vallely-Pertzborn used spare tiles from her gorgeous Art Deco bathroom project to create a sweet and cohesive small-scale backsplash in the Foxcroft Estate's laundry room.
Tile: Large Diamond in Seedling // Design: Emily Vallely // Image: Madison Kim-Poppen
Tiled Fireplaces Bring the Heat
Another great option for your small tile projects, fireplaces don't require many tiles to make a big, beautiful statement. Keep in mind that Fireclay Tile shouldn't be used in working interior fireboxes–but they're a beautiful adornment to your fireplace surround and hearth. Here are a few of our favorite fireplaces with a small but impactful amount of tile.
Designer Mallory Fletchall brightened up her Brooklyn brownstone with the sweetest home improvement project–a faux fireplace featuring pastel Ceramic Tile in a herringbone pattern.
Tile: 2x6 in Dawn // Design: Mallory Fletchall // Image: Reserve Home
Looking for an elegant way to frame your flame? A clean border of matte white tile provides a refined detail along the edges of your fireplace, demonstrated by the timeless space here.
Tile: 2x6 in Feldspar // Design: HIR A+D // Image: Kevin Scott, Willie Cole, Hannah Robertson // Installer: Tallman Segerson Builders
We love the creative use of patterns to make the small amount of floor tile go even further and add beautiful visual interest to this cozy cabin's woodstove hearth pad.
Tile: 6" Hexagon and 2x8 in Flagstone // Design + Image: AC Malloure
Another classic hearth floor option, this plaster paint fireplace is complemented by a finishing accent of our white Glazed Thin Brick.
Brick: Olympic // Design: Silk and Willow // Image + Installer: Shellie Pomeroy
The contemporary space below thinks outside the firebox with a flowing Moroccan pattern of Ogee Drop Tile in a gentle greige color on the fireplace surround, creating a sinuous and homey focal point.
Tile: Ogee Drop in Shetland Wool // Design: Collected Studio // Image: SEN Creative
Looking for more fireplaces to spark inspiration? Check out 55 of our favorites here.
Tile Tables, Wall Accents, and More
Want to get creative with your small stash? The sky's the limit with tile since it can be applied to almost any surface, so we rounded up a few out-of-the-box projects to kick-start your imagination.
First up is this standout side table at the Trixie Motel. Designer Dani Dazey chose a custom pink and green colorway on Handpainted Sensu Tiles, cut perfectly to fit the table legs and shown in their entirety on the tile table top, to make a sweet statement.
Tile: Sensu in custom colorway // Design + Image: Dani Dazey // Installer: Trixie Motel
This home stepped up its stair game with Handpainted Tile, adding intricate interest and an old-world feel to the stair risers with only three tidy rows.
Tile: Old California #8 in Cool Motif, Seville in Cool Motif, Vigo in Cool Motif // Design + Image: Sophie Johnson
Adorned with cool matte glass tiles, the coffee table below feels refreshingly modern and remarkably artisanal.
Tile: Warbler Matte // Design: Victoria Ninette Interiors // Image: Victoria Ninette
Juju Maine Boutique made their cozy retail space stand out by cladding the sales counter with eye-catching Aerial Handpainted Tile in a custom colorway.
Tile: Aerial in custom colorway // Design: Juju Maine // Image: Erin Little // Installer: Juju Maine
Slay the night with an unforgettable tiled nightstand à la the Trixie Motel, a Palm Springs hotel that renowned drag queen Trixie Mattel lavishly renovated using copious amounts of pink and green Handpainted Tile.
Tile: Sensu in custom colorway // Design + Image: Dani Dazey // Installer: Trixie Motel
Simply want to admire that beautiful handmade tile? We get it. Take a page out of Brooklinen's book and frame a ceramic art installation on your wall, as they did with this luscious blue mosaic tile.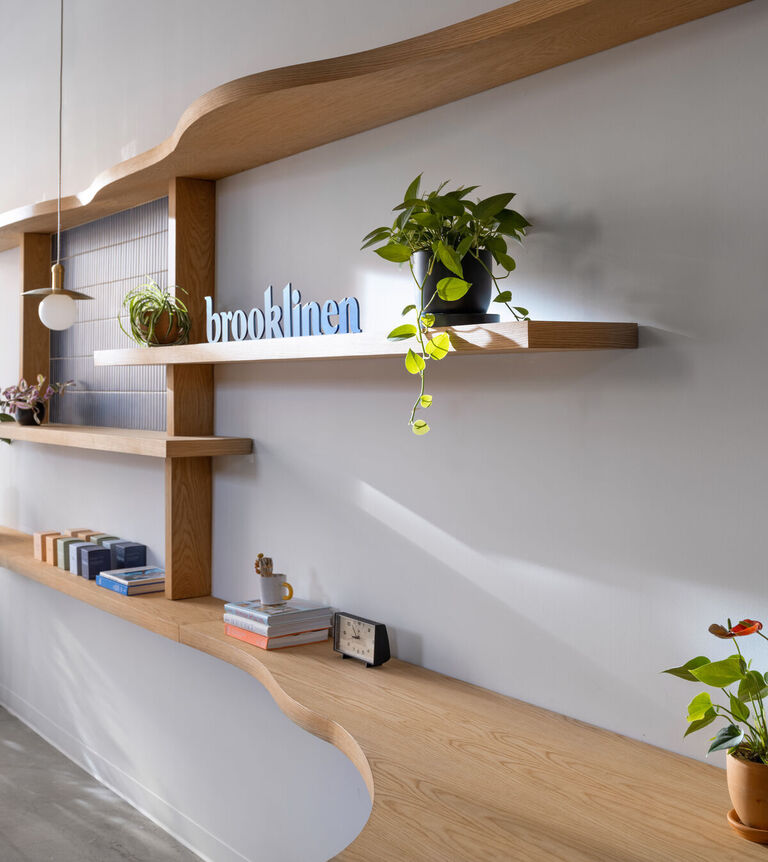 Tile: 1x6 in Blue Velvet // Design: Tangible Space // Image: Charlie Schuck // Installer: Brooklinen
Feeling inspired to start your small tile project? Find one-of-a-kind tile ready to ship in our Discounted Seconds, or bring home free samples of your favorite color to take the first step.