Shavonda Gardner's Master Bathroom Reveal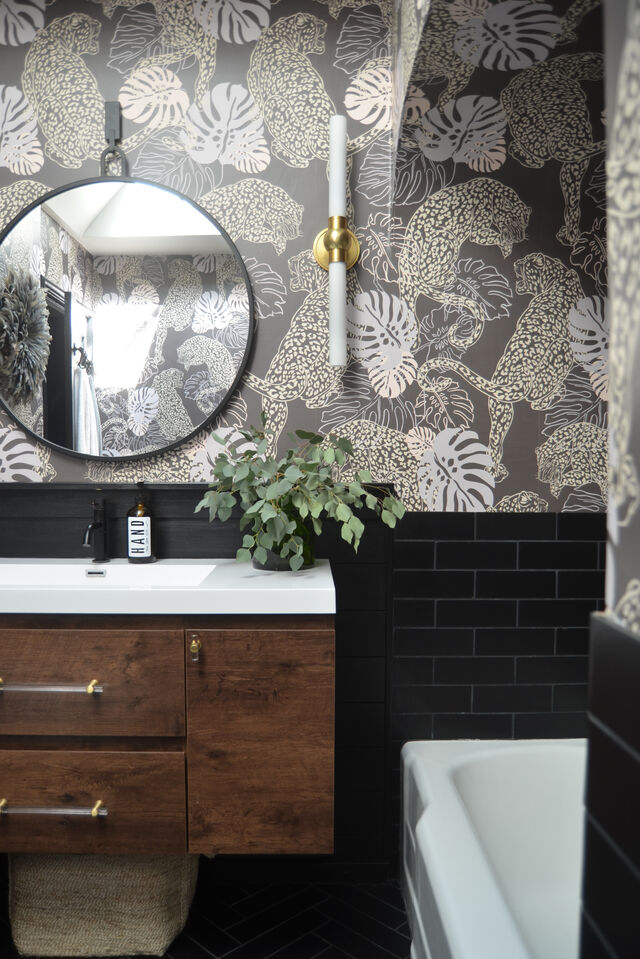 Design + Images: Shavonda Garder
With no shortage of drama, Shavonda Gardner's scene-stealing black tile bathroom sets the stage with subway tile wainscoting and a herringbone floor. Known for creating high-impact interiors in small spaces, Shavonda seeks to elevate the every day with her eclectic and one-of-a-kind style. Read up on our conversation with Shavonda and see how she took her bathroom from standard to standout with an unforgettable renovation.
Meet Shavonda!
Image: Gary Ashley of Create + Gather

Love Shavonda's style? Bring home a selection of her favorites. Featuring 2x4 Ceramic color samples in Vintage Leather, Antique, Mustard Seed, Painted Sky, Cardamom, Evergreen, Blue Velvet, and Basalt.

What made you choose these colors?
I chose this palette because it speaks to all the colors and tones I've used throughout our home so they tell the true color story of the spaces we live in. I love them all so much.
Can you tell me a bit about yourself and what you do?
My name is Shavonda Gardner and I'm an interior designer and social media content creator based in Sacramento CA.
Tiles Shown: Basalt 3x9, Basalt 3x12, and Basalt 1x6 // Design + Photos: Shavonda Gardner
How would you describe your style?
I would describe my style as Moody Eclectic meets English Maximalist.
Image: Shavonda Gardner
How did you hear about Fireclay Tile?
I heard about Fireclay through Instagram! I was so happy to learn that it was a local Northern CA based company!

What did you enjoy about the experience?
I LOVED working with the Fireclay team. Kali was wonderful! She was incredibly informative and really helped make sure my design goals would be met while she made product suggestions. Shipping was really fast and the product was so so beautiful in person. We even ran out of tile during the project and they were able to get a new batch made with color accuracy and to us within days. Just absolute superior customer service.
Why do you love tile?
How much time to ya have! Lol. There are about a million reasons why I love it, but at the forefront is how much of a massive impact it can have on a space visually. There's a tile for everyone and every situation. So many colors, finishes, textures, installation options, etc. It's the one detail that's worth the extra money and effort because it can really take a space from ultra boring and bland (ahem, my previous bathroom!) to something completely breathtaking
What are your 3 best design tips?
1. Every space needs a little tension and a bit of the unexpected.
2. Every space needs something black.
3. Don't be afraid to take risks.
Can you tell me about the space? Is there any story behind it and the project that you want to share?
Oh boy! So the space is our home's only bathroom and while it's a decent size space considering the age of our home, it was SO. INCREDIBLY. BORING.

BEFORE

It was a dingy white, had no window or source of natural light, didn't have proper exhaust or ventilation, the sink was quite small, and it just wasn't a space you wanted to be in for more than 2 minutes. The floor plan was ok, though, and we love that it's a four piece. I also love the original porcelain tub (they don't make em like that anymore!) and we kept it in place.
But other than that, everything had to go. We brought in a skylight, new vanity, lighting, faucets, added niches for extra storage, wallpaper, and of course all new tile. We downsized into this house from a home twice its size and we really need a bathroom that was much better functioning for our family, AND one that was much much prettier.
AFTER

What type of look or aesthetic were you going for?
My design goal for this space was to create a chic boutique hotel inspired bathroom!
How did you come up with your color scheme and design?
Our bathroom before was white from top to bottom and I basically wanted the complete opposite of that! I'm a huge fan of moody interiors so I knew when it came time to finally tackle the bathroom renovation I was going dark.
What made you choose Basalt in both 3x9 and 3x12?
Because I was sticking with a single color of tile throughout the space I wanted to add in visual interest by using varying sizes and installing them in multiple patterns.
How did the installation process go? Did you face any challenges? Did you work with a tile installer or contractor?
I wasn't taking any chances with my black tile bathroom so we hired out the installation. Our space is incredibly challenging because there are tight spaces within an already small footprint, not to mention that since we live in an old house there isn't a straight wall to be found and the floor is a bit crooked. Our shower is quite narrow but I also wanted the tile on the ceiling and in a small herringbone pattern for the floor. There was no way I was about to attempt that myself. Perhaps the biggest challenge of all was just the logistics of renovating the only bathroom in the house during the middle of the school year! That was all kinds of fun!
Shavonda scaled down to our 1x6 mosaic tiles in Basalt for her shower pan to continue the herringbone pattern she has on the bathroom floor:
How was designing for your own home? Lessons learned?
I love designing for my own home because I really get to stretch my creative muscles.
What Fireclay products are you hoping to use in future projects?
I'm dying to use Fireclay's glazed thin Brick tile! I'm OBSESSED with brick floors in interiors. I love the texture of brick and I LOVE that Fireclay Brick is super sustainable and that it's part of an initiative with the National Parks Conservation Association. Not only does it look amazing, but it also contributes to the environment. I really, really love that.
Brick Shown: Adirondack
What's on the horizon for 2021? Projects you're excited about?
I'm so excited for 2021!! This is the year we are finally tackling our kitchen renovation and I'm chomping at the bit to get started and share that project with the world. It's going to be such a fun project. Very bold! I'm also excited about creating a dedicated office space for me to work from here in our home, and looking forward to a much-needed refresh of our living room. I've custom designed my dream sofa which has been a long time coming so I'm just looking forward to elevating our living spaces as a whole this year.
Here's her kitchen now:
Image: Shavonda Gardner
Tell me about your kitchen? Any ideas on mood boards you could share?
Picture this: French country cottage kitchen meets Quirky British cottage kitchen and they take a trip to Africa! That's what this kitchen is going to be!! It's a very specific vibe. It's very me and I'm here for it. There will be absolutely NO white in the space. It's gonna be full-on color and will feature so many of my favorite design elements and details, including more beautiful Fireclay tile on the floor and backsplash.
Please note: We cannot wait!!
Need some help on your own project? Simply call, chat or fill out our Design Assistance Form and one of our talented Design Consultants will get back to you shortly.

Shop the Story