Project Spotlight: Noble + Proper
When Sara Simon of Handsome Salt first glimpsed this derelict property in Big Bear Lake she immediately saw the potential. A year later Noble + Proper opened, Sara's boutique lodge whose 8 cabins are filled with unapologetically bold colors and Fireclay Tile–and each named and themed after a beloved family member, including Elfriede and Orville.
We chatted with Sara about the process and inspiration behind what she deemed her "most fun project to date" which, coming from someone known for her fun designs, is saying a lot. Keep reading for the full interview!

Meet Sara Simon of Handsome Salt!

Can you tell me a bit about yourself and your firm?
I am an LA native/NY gal at heart. I love to travel and find so much inspiration from all the fun places that I have been so fortunate to visit. I am always up for an adventure and searching for the coolest design-forward places to explore. I am known for pushing the limits on my designs and definitely known for my tile. You can always expect a good bathroom moment when at my projects. I don't do boring.
Image: Jenny Siegwart // Tile Shown: Sunflower 4x4
When did you first become interested in design? How did you get your start?
It wasn't really until I was in the "real world" working after college, that I realized what I liked doing. Definitely realized what I didn't like very quickly. It took a couple of jobs to realize this, but at some point, I found my passion. I was always creative as a kid. I loved colors and anything artsy I could get my hands on. Looking back, it all makes sense how I ended up where I am.
Image: Jenny Siegwart // Tile Shown: 4x4 in Morning Thaw and 8x8 in Sorbet
Let's talk about Noble + Proper! How did you get involved in this project? Is there a story behind it you'd like to share?
It all started back in 2021 when my husband and I were looking at cabins up in Big Bear Lake. We stayed at a few places up there and just felt like there was a cool factor missing. Everything seemed to look the same and feel the same. One of my bucket list items has been to have a hospitality brand so when we stumbled on this property, we knew this was our chance.

The property was completely run down on the outside and the inside but it had so much potential. We wanted to bring something new and fresh that was missing in Big Bear. We then spent the next year turning it into what it is today, Noble + Proper. Noble + Proper is named after the Noble men and Proper women that surrounded my husband and I in our lives. It is a place that was curated with memories of times from the past with a bit of a twist. All of our cabins are named and themed after mine and my husband's grandparents. Their legacy lives on through each design.
Image: Jenny Siegwart // Tile Shown: Ivory 4x4
Can you tell me about the design process? What was your favorite part?
This was my most fun project to date because it has so much meaning behind it. It was a true passion project. Being that each cabin is represented by a family member, you will not see two cabins alike. Each cabin has a totally different feel and vibe when you walk into it. I kept them timeless and vintage with a modern twist. Obviously, the bathrooms are all super fun. I got to design 10 bathrooms and 8 powder rooms which was a highlight knowing my love for tile. They are all worthy of a good selfie.
Image: Jenny Siegwart // Tile Shown: Raven + Feldspar 6x6
Was this a remodel or a renovation? What did change about the space?
This was all a remodel/gut. In our seven - two-bedroom cabins we kept the layout pretty similar and just relocated a bathroom door and created an entrance into the bathrooms by blasting out a closet. We also combined the bedroom closets to create a powder room upstairs where the two bedrooms are.
Here is the space before:

We did the biggest overhaul on Orville, our largest cabin which is a 4BR/3.5BA and can sleep up to 14. We reconfigured the front door to the home, opened the space up for an open floorplan, and added ensuite bathrooms and a powder room. We also knocked through to the old laundry room and created a en suite and turned the attached storage room into a game room that leads out to a back deck with a cedar soaking hot tub.
Before Images
Image: Jenny Siegwart // Tile Shown: Red Rock 2x6 + Ivory 6x6
What were the goals for this space?
Like all the spaces I design, I really try to design in a way that evokes emotion when you walk through the door. I always want people to feel like they are transported somewhere else. This project was no different except I had eight spaces to design and they all feel completely different.
Image: Jenny Siegwart // Tile Shown: Vintage Leather 8x8 + Ivory 4x4
Where did you draw inspiration from?
Inspiration came from the grandparent whom each cabin is named after.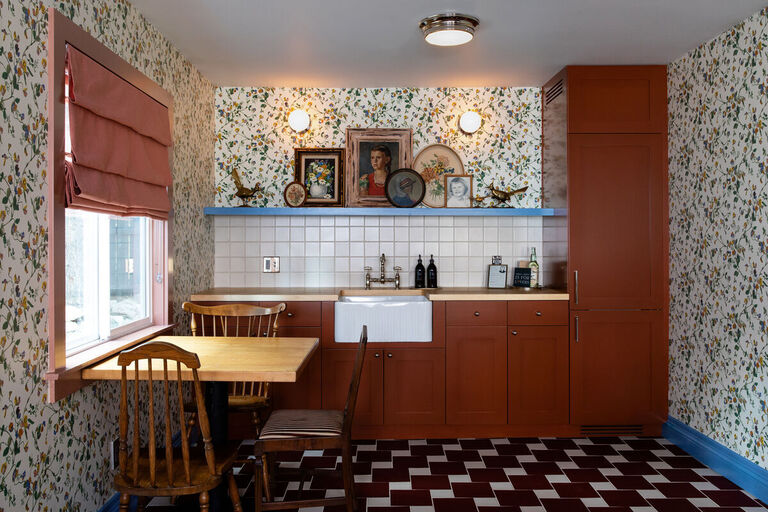 Image: Jenny Siegwart // Tile Shown: Vintage Leather 8x8 + Ivory 4x4
What sort of look were you going for?
Timeless, classy and edgy.

Image: Jenny Siegwart // Tile Shown: Ivory 6x6 + Red Rock 6x6

How did you come up with your color palette?
I think I swatched about 100 colors and just leaned into the ones that spoke to me. I love color and say all the time, "It's just paint." I wanted to throw together some fun combos that were unexpected.

Image: Jenny Siegwart // Tile Shown: Hunter Green + Feldspar 8x8
How did you go about making your tile selections?
Once I had a color palette, I just did the same with tile and grabbed the colors that spoke to me and started matching them up with cabins and designs that I had been playing around with. It all sort of fell together.
Image: Jenny Siegwart // Tile Shown: White Wash 2x6, White Wash 6x6, Dusty Blue 2x2, and Dusty Blue 1x6
How did the installation go? Had your installer worked with handmade tile before?
If you follow me on Instagram, you definitely are familiar with my tile guy. He is a hot commodity and is very popular with the ladies. He is hands down the best and the only person I trust to install my tile. And he just gets me, although he sometimes sees my designs and thinks I am insane until he finishes the installation. But let me tell you, having someone you can trust and you know every time will make your vision come to life is pretty special.


Image: Jenny Siegwart // Tile Shown: Hunter Green + Feldspar 8x8

Do you have a favorite tile moment from this project?
This is tough because there are too many good moments to pick just one. I think I like them all for so many different reasons. I love the play of color and then I love the timeless classic ones. I think what I call my Kermit Miss Piggy bath is a standout for sure.
Image: Jenny Siegwart // Tile Shown: Limon + Desert Bloom 2x8
Fallen in love with one of Noble + Proper's bold tile moments? Bring home free samples to preview the look in your own home.
Shop the Story