Project Spotlight: Coffee Dose
Designed by Jen Samson, ultra chic coffee shop Coffee Dose in Southern California features pops of pink, splashes of gold, and a bar decked out in our Mushroom 6" Triangles to pull it all together.
Tile Shown: Mushroom 6" Triangles // Design: Jen Samson Design // Photo: Chad Mellon
We caught up with Jen to learn more about her firm, her design process, and the Coffee Dose project. Keep reading for Jen's full interview!
Quick Facts About Jen:
My design philosophy is... Every client home or business has it own unique story to be told. No two projects should ever look the same.
I got my start... I have always been the business of discovering and creating beautiful things. After working in television at E! Entertainment and helping to launch The Style Network, I went on to work for luxury fashion brand, Salvatore Ferragamo before I decided to go full force with interior design. From a very young age, I always loved everything about both fashion and interior design. Friends have always taken notice of my style and many began to ask if I would help them with their own homes. I realized that this was more than just a passion but also a way to share and do what I love, so I jumped in head first and started JSD.
I can't live without… Anything my grandmother passed down to me (she was a style goddess) and art! Lots and lots of ART.
My best design advice would be... Push your boundaries (or let your designer push them for you ☺) I'm also a big believer in mixing old and new, splurge and steals.
I love tile because... The options are endless! Tile adds dimension, it tells a story, it creates a mood and it is beautiful and durable.
Photo: Chad Mellon
How did you get involved on the Coffee Dose Project? What was your role?
Coffee Dose is the brainchild of two super cool humans; Megan Kiefer, owner of East Eighteenth (the hair salon that Coffee Dose operates out of) and Jeni Castro, owner of Coffee Dose. As the designer, it was my job to come up with a design that fit both of their needs and styles while seamlessly blending these two unique businesses into one cohesive space.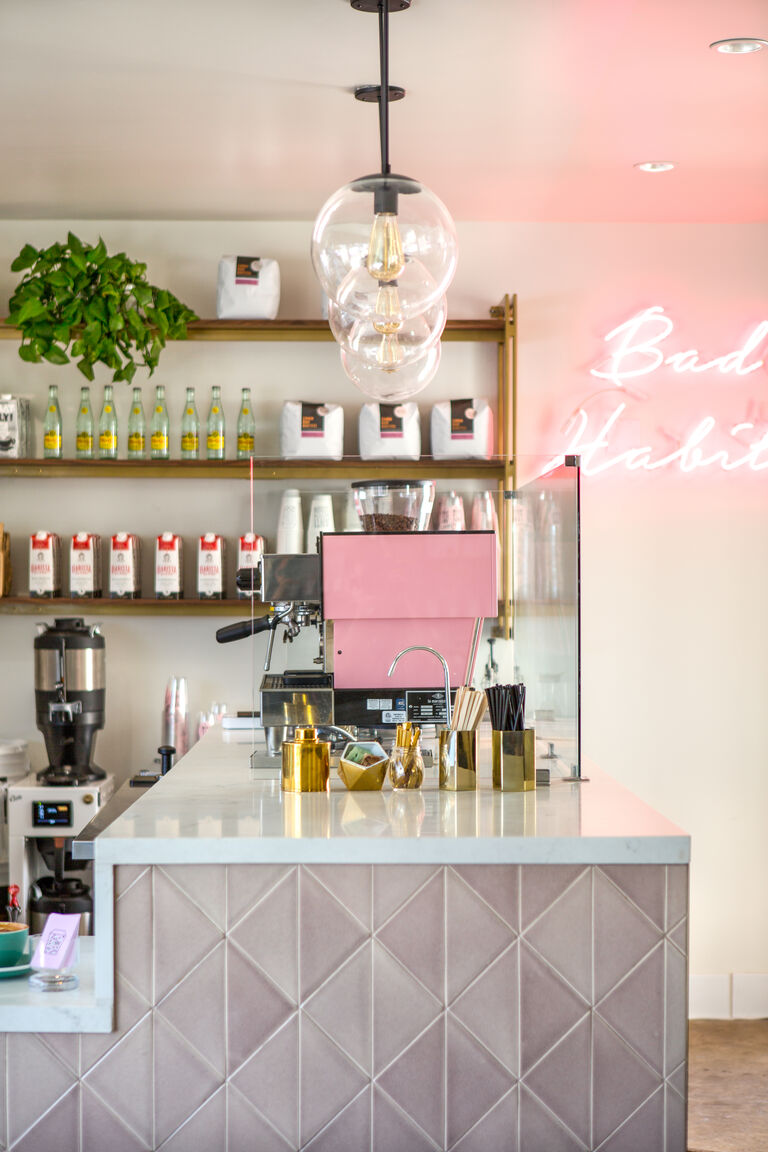 Photo: Chad Mellon
Is there a story behind this project?
When I began to work with Megan on designing her dream salon, East Eighteenth, she was committed to finding a partner to come in and open a coffee shop, where her clients and the surrounding community could come, gather, get beautified and drink delicious coffee. She found the perfect partner in Jeni and from there, Coffee Dose, and their infamous tag line - #badhabitsgoodhair - was born.
Photo: Chad Mellon
What was the overall aesthetic you were going for in the space? What were your design goals?
In designing the space, we all agreed that it needed to be chic, bold and yet still very comfortable and inviting. My goal was to elevate this space out of your average salon or coffee shop and create something that felt completely fresh in both the vibe and the overall design.
Photo: Jen Samson
What made you choose the 6" Triangle shape in the glaze Mushroom?
The COLOR – which is much more of a muted lavender than a Mushroom. The name on this tile is actually somewhat deceiving. It has soft pink undertones that we absolutely could not resist. It was pretty much love at first sight. As far as the shape, we knew we wanted to do something fun that would draw added attention the coffee bar. The 6" Right Triangle turned out to be perfect.
Photo: Chad Mellon
How involved were your clients in the design process?
Both women had a vision from the get–go. They knew the type of vibe they were hoping to create. JSD took their initial vision and ran with it, pushing the boundaries in all aspects of design from concept to installation.
Photo: Jen Samson
Speaking of installation, how was that process? Did you face any challenges? Lessons learned?
In this case, the design of the coffee bar changed after we had ordered the tile so we were short! We had to place a second order, but needed it to match or original tile, so the Fireclay team recommended that we send a sampling of the tiles back to the Fireclay Factory to be matched during production. When the second batch arrived, we laid it out to get the color variations just right, and from there the install was easy!
Photo: Jen Samson
How was your experience working with Fireclay?
Working with Fireclay is always great. The samples arrived quickly and once we decided on the tile, the rendering team at Fireclay mocked it up for me in a few different layouts before we finally decided on the 6" triangle, laid vertically.
Photo: Chad Mellon
Complimentary digital renderings are available for projects 75 sq/ft and above.

What other Fireclay shapes, colors or hand painted patterns would you love to use in future projects?
We just used the handpainted Starburst tile in a modern, mid century kitchen. It is a showstopper! The glazed thin bricks are also a favorite. I love the texture and natural variations. Definitely planning to use the brick in a future project.
Tile shown: Handpainted Starburst in Neutral Motif
About Jen Samson Design:
JSD works across a range of projects both residential and boutique commercial. We pride ourselves on working closely with clients to inspire their unique aesthetic while speaking directly to their lifestyle and business needs. Our goal is to create spaces that are all together modern, eclectic and unique.
Check out more of JSD's work on her website, and if you're in the Costa Mesa area, don't forget to visit Coffee Dose!
Need help on your own project? Simply call, chat or fill out our Design Assistance Form and one of our talented Design Consultants will get back to you shortly.