Project Spotlight: 388 Fulton Street
Using Brick to its fullest potential, David Baker Architects outfitted the exterior of this San Francisco apartment building with a blend of our darkest shades. The recently completed 388 Fulton St. (a market-rate micro-housing development) truly stands out in a city where new housing is abundant. Just blocks from the iconic City Hall and in the heart of bustling Hayes Valley, it is certainly a new star of the neighborhood.
Image: Patricia Chang
Our crew worked closely with the team at David Baker to maximize the reflective quality of the black glazes.
Brick Shown: Bitterroot
Brick Shown: Black Hills
These varying finishes were chosen to best play with reflective light. You can see the blend up close below:
Image: David Baker Architects
They also opted for a Norman-sized Brick (2 1/1 x 11 1/2). Glazed Thin Brick has become a very popular option for commercial projects due to its lower installation costs compared to cavity wall brick construction.
The image below really highlights the texture and color variation of the exterior. San Francisco's Planning Commission initially had some objections to the dark color but was allowed because it acts as such an accent to the surrounding white buildings and the recently refreshed Boys and Girls Club across the street.
Image: Patricia Chang
Our Glazed Thin Brick is made with recycled materials, making it a durable choice for both interior and exterior use. Our brick has passed freeze/thaw testing (test certification available), making installation in colder regions possible.
Image: Patricia Chang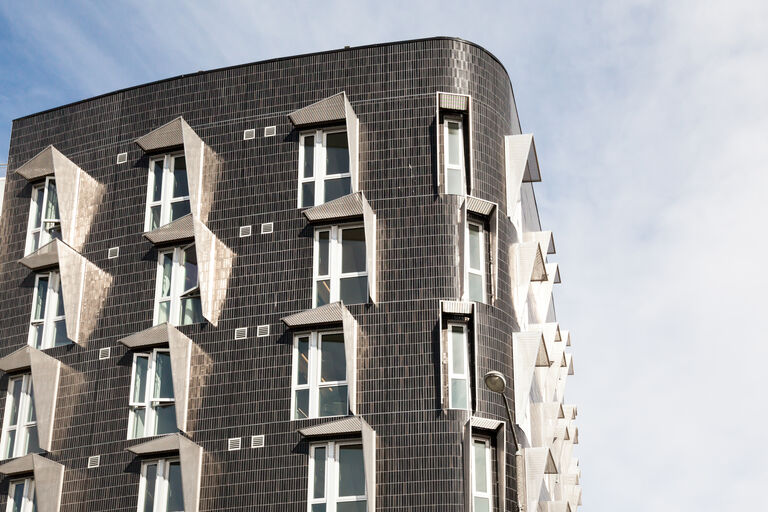 Image: Patricia Chang
Image: Patricia Chang
Inspired to use Glazed Thin Brick for your project? Order color samples online now. Working on a commercial-sized project and need some help? Contact us for details about our trade program and volume pricing.
Shop the Story