Meet Our Diversity Advancement Scholar, Oni Thornell
At Fireclay, we believe that architecture should reflect the diverse society it serves, which is why we're honored to partner with the Architects Foundation to sponsor a Diversity Advancement Scholarship for Black women pursuing architecture. The inaugural recipient of our funds is a talented, inquisitive, and compassionate future architect, and we couldn't be more excited to introduce you to her.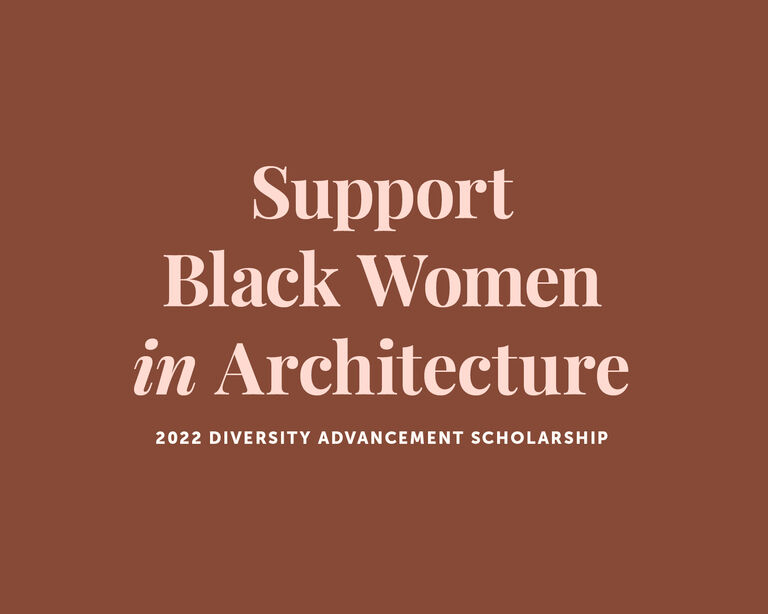 Meet Oni Thornell!

Oni Thornell of Brooklyn, NY will receive $4,000 per year towards tuition for up to five years to attend Syracuse University.
Her dedication to making meaningful change, her desire to lean into sustainable practices, and most importantly, her advocacy for equal access to the rights inherent in architecture resonated strongly with our team at Fireclay and aligns with our ethos of continuous improvement in building an inclusive world.

We're eager to support Oni as she pursues architecture school, and we'll let her tell you why she's chosen this field of study in her own beautifully written words. Keep reading for her scholarship application essay.
Oni in Her Own Words
Ever since I was a young girl, I have been drawn to artistic pursuits. My first of many notebooks were filled with drawings of imaginary worlds, where I could control the environments and people within them. It was a way to express my creativity while gaining some control of the chaotic world around me. While I understand the very natural instinct to simply avoid the problems I encounter and live in a sort of blissful ignorance, this kind of escapism is merely a temporary solution.
As I matured and learned more about myself in the world through educational experiences, I realized art can be a tool to highlight life's struggles as well as solutions. Through my summer programs at Massachusetts College of Art and Pratt Institute, I was introduced to architecture. I loved the idea of marrying creative designs with technology while creating ways to solve environmental and social problems.
In the last few years, I realized that architecture is extremely impactful on how we live and engage with the world around us. While art can be incredibly therapeutic, architecture has taught me a new use of art as a tool for engaging with my environment. I studied biomimicry a couple of years ago in my science class and my interest immediately peaked. I was fascinated by the idea of using nature to influence architectural design, instead of trying to reinvent sustainable ways of building and living.
I researched and came across an architect by the name of Frank Llyod Wright. I was fascinated with his work as he coined the term "organic architecture". He thought of his creations as "not a shield, but rather a bridge to nature, and strived 'to make the landscape more beautiful than before the building was built.'" He sought to learn from the world around him to create his over 800 buildings.
Initially, I was amazed that this information was not widely taught in school or shared with the public when discussing ways to tackle climate change. Why reinvent the wheel when nature has been flourishing sustainably long before we ever thought to consider sustainable living? Lloyd said it best "Although our practice for centuries has been for the most part to turn from [nature], seeking inspiration in books and adhering slavishly to dead formulae, her wealth of suggestion is inexhaustible; her riches greater than any man's desire." His approach was an ingenious way to work with our surroundings while also a way to incorporate ourselves more into our planet rather than just passively inhabiting it.
During the process of conducting my class research project on biomimicry, I realized that scholar after scholar looked nothing like me. As a person of color, I learned that I was different in terms of race, culture, and socioeconomic at an early age. As I entered the school and interacted with other students and their families, I quickly learned of my differences and how differences shape life opportunities and chances. I learned that race and gender identity is an assigned minority status, and so are my values and viewpoints. As I delved deeper into my research, it was clear that the dominant values held by some architects in commercial architectural firms stand to benefit monetarily from the demands of convenience and luxury buildings, trumping ethical obligations to take care of the environment and marginalized people of color who are often negatively impacted due to lack of political influence and representation in local government.
Although greed can be found in almost any career path, it is frustrating to see professionals that I hold in high regard and consider role models for younger generations, ignoring the importance of their role and responsibilities in considering the environmental and community impact when planning, designing, and constructing projects.
While participating in the architecture program at Massachusetts College of Art, I began to think deeply about the usage of architecture in communities. Although frustrating at the time, we were often asked "why" at every decision. Every time we chose to build a wall in one spot or put a window in another we were met with the question of "why." It seemed so simple but it made me think deeper about my decisions. It has led me to question every one of my actions and decisions and why something is the way it is. Change starts when we allow each other to ask important questions and allow for new and challenging ideas. Making sure that the change not only serves the community well but also advances the quality of life.
During this recent pandemic, I have contemplated how our society has had to change to remain vital and healthy, and how architecture is central to our survival as we navigate the environment around us. The textbook manual for building no longer applies given how we now interact in private and public spaces. I began to read about how at this very moment architecture had to adapt and influence how we deal with this Pandemic.
I read a line that resonated with me "As weeks of isolation turned into months, and as the fear of a rise in infections grew with the approach of summer, these inadequacies seemed to forge a new consensus, not fully articulated but widely felt: Architecture is about rights, about air, about equal access to the necessities of life." It made me realize that at this very moment change was happening with or without our cooperation. We always knew that we all had rights to air and the necessities of life but we never felt how important they were until it was threatened. We had to rethink our homes, and other spaces to stay safe and healthy and throughout it, all continue to meet expectations that were already set.
This pandemic, current political, and climate have brought the need to analyze, evaluate and move forward in a new and innovative way. The old ways of operating no longer hold for most industries and this is even more true for architecture.
I look forward to being considered for this prestigious scholarship and the privilege that such a program exists to give a financial opportunity to under representative candidates in the field of architecture. I understand visibility is an integral part of diversity. I look forward to becoming an architect with the right to advocate, express my ideas, be respected, and be valued as an equal partner or member of any institution I choose to join. Representation and visibility are necessary in any profession to make an impactful contribution to our profession and the changing world.
Learn More About Our Scholarship Fund

With inspiring change-makers like Oni, we know a brighter, more inclusive future for all is possible. If you're feeling inspired, we invite you to donate and learn more about our open scholarship fund here. To date, we've raised over $120k for Black women pursuing architecture school!
Embracing diverse viewpoints and cultures in architecture is an asset to the profession, and Diversity Advancement Scholarships offer students with a passion for studying the discipline of architecture an opportunity to successfully complete their studies no matter their race or where they come from.
The first Diversity Advancement Scholarship was created in 1970 with an initial grant from the Ford Foundation, after civil rights leader Whitney Young Jr. challenged architects in 1968 to create a more responsible and equitable field. The Architects Foundation has been managing the program since 2009 and has expanded the program size thanks to the support of sponsors like us.
As we enter our third year of partnering with the Architects Foundation on scholarships for Black women pursuing architecture, we're eager to cheer Oni on, as well as other future architects like her.
Oni's Portfolio
Not only does Oni have a thoughtful and intentional approach to architecture, but she's also a talented artist. Keep reading to view her impressive artistic portfolio:

Self Portrait: During the summer of 2020, I painted this self-portrait. It was a time of endless hours that seemed to hold a lot of self-reflection and internal examination. I painted this self-portrait at the height of the pandemic. I used it as an outlet to understand who I was although it was constantly changing. I also painted this portrait not from an image but from a mirror that sat on my desk. It challenged me to be able to recognize change but also understand the basics of my own features. While painting it allowed for thought and emotion to be analyzed and I find this piece in small ways encapsulated how I felt in those moments. Materials include Watercolor paper, watercolors, and pencil.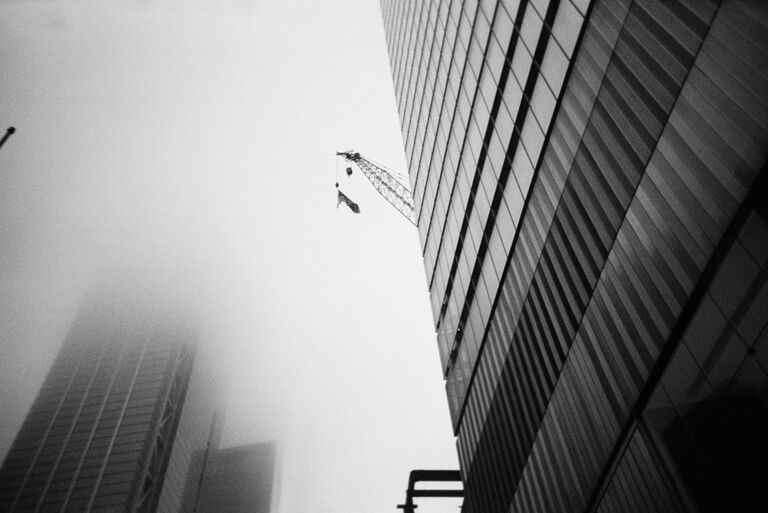 Impenetrable: This photo was taken at the oculus and right next to the 9/11 memorial site. The buildings fade into the fog that has settled while a construction crane cuts to the middle with an American flag hanging. The fog settles, reminiscent of how the dust did on the day of the attack while the flag remains clear and crisp. I shot it in this way to create the stark contrast of not only a city rebuilding itself but at its heart is the eerie image of the flag of a country that was supposed to be impenetrable. Materials include k1000 camera and black and white 35mm film.

Youth: My cousin in this shot is seen with her blue beach towel wrapped around her head and chapstick in hand. She stands curiously over me as she dries off from swimming and squints from the sun. I named this piece Youth because it felt reminiscent of the days of endless swimming, curiosity, and energy that never seemed to run out. Running between the sand, ocean, and ziplock sandwiches. I received an honorable mention from Scholastic Art and Writing awards. Materials include k1000 camera.

Illustration by Oni

The Red Dress: This photo was shot of a moment between two girls who were getting ready. The one closest to the mirror twists around the other's arm to help her reach the other strap. Unintentionally she hides from the camera creating an illusion of two people becoming one and two dresses becoming one. The patterns twist with the shaking camera and contrast the greenwash of the bathroom behind. It plays with the idea of human connection and likeness as previous to this photo being taken both girls were furiously rifling through clothes trying to find something individual and different, before both settling on two dresses that were remarkably similar. Materials include k1000 camera and 35mm color film.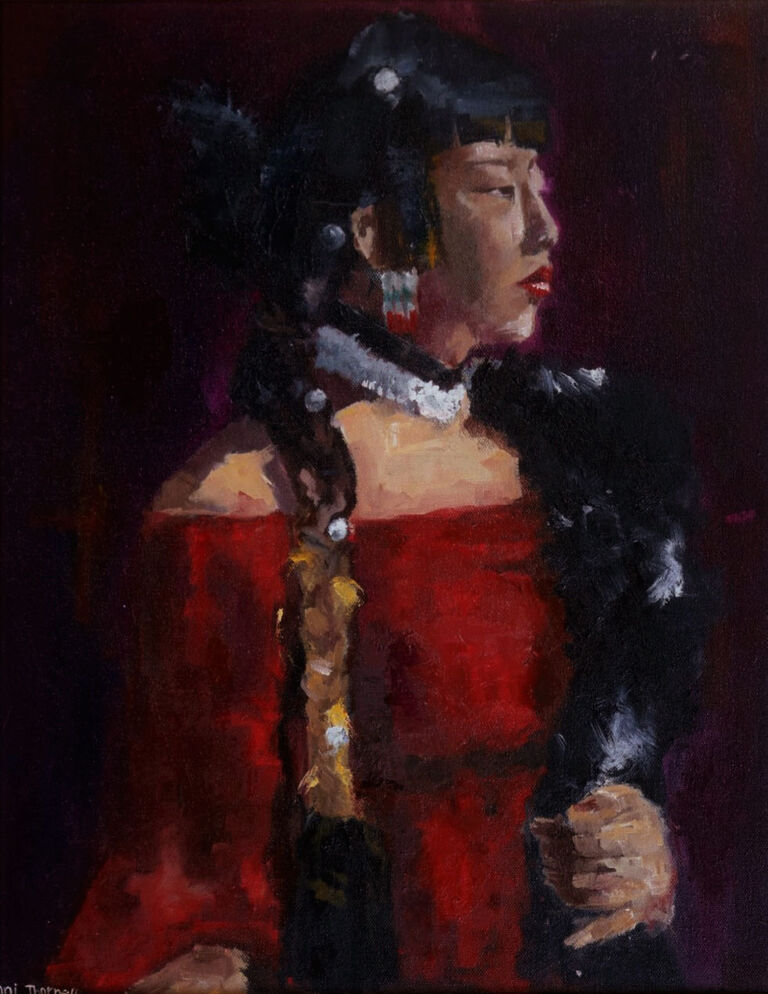 Woman in Red: I painted this piece from a live model while taking classes at the Student Art League at 59th. I, over the course of several weeks, studied and painted while learning how to manipulate highlights and shadows to show what's hidden in each brush stroke. This painting received a silver key from the Scholastic Art and Writing Awards. Materials include Stretched canvas (white, gesso) and oil paint.
Women Study: This painting was a face study that I did to engage with how paint can be manipulated and used to not tell but suggest shapes and features. I ended up with a piece that felt dynamic and suggestive in the right ways and was able to express character better than a technical piece may. Materials include Oil paint and canvas mounted on board panel.
Paintings by Oni

Extra Credit

You can learn more about our Diversity Scholarship Recipient, Oni here. If you're feeling inspired, we invite you to donate and learn more about our open scholarship fund here.