Meet our Partner with Purpose: Allies in Arts
Our newest collaboration with Block Shop is inspired by the creative spirits of women artists who helped pave the way for today's modern visual culture and to honor them we wanted to give back and support the artists of tomorrow.
We began our search for a partner with purpose and discovered Allies in Arts, a national non-profit based in LA dedicated to supporting underrepresented individuals in creative industries. We greatly admire the mission of Allies in Arts, how harmoniously they align with the inspiration of this collection and the values our companies believe in. 5% of proceeds from the entire Block Shop x Fireclay Tile handpainted collection will be donated to help fund their diverse portfolio of projects.
We connected with Allies in Arts Co-Founder, Activist, and Filmmaker, Drew Denny along with their Director of Communications, Kyle Lasky, and Photographer and Content Creator, Jasmin Porter to learn more about their organization and the projects they're able to support from funding like the Block Shop x Fireclay Tile collection. Keep reading for our full interview with their team!

Meet the Team! Drew Denny, Kyle Lasky, and Jasmin Porter

Who is Allies in Arts?
Kyle Lasky (KL): Allies in Arts is a 501c3 non-profit organization that supports artists of all mediums who are women, BIPOC, and LGBTQQIA2S+ through exhibitions, screenings, grants, and paid partnerships with our donors.

How did this organization come about? What motivated its creation?
Drew Denny (DD): I was working at a major media company when I found out that I was being paid less than half the amount my male colleague was being paid even though I had been required to finish seven documentaries within the same time he hadn't even been required to finish one. So I was getting paid less than half to do more than 7x the work. I had struggled with gender-based discrimination, homophobia, and sexual assault in the workplace already, but that experience motivated me to take action in a new way. The process of forming the organization would take another year of paperwork and grant applications but that's the day the idea was born.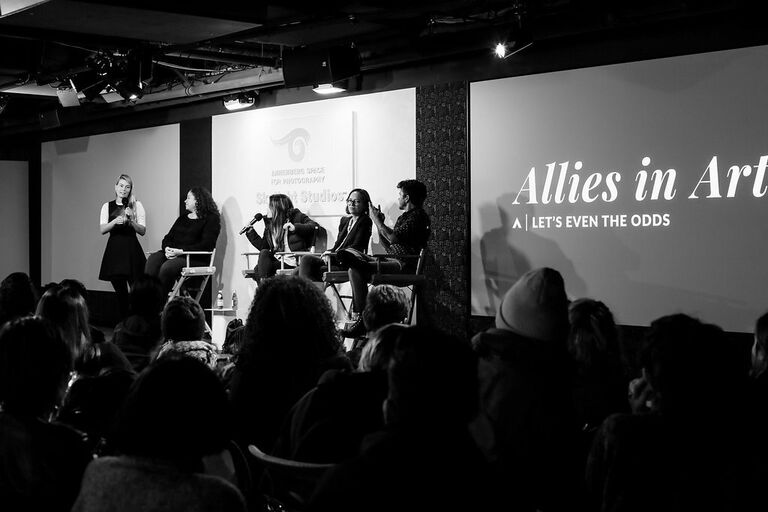 How do you choose the projects you work on?
KL: Oftentimes donors and partners approach us wanting to do something that directly benefits a specific group of underrepresented people, and we work together to come up with projects that will provide paid opportunities for artists in that community. It's part of our mandate that every project is spearheaded by a person who is a member of the community the project seeks to support. For example, I am a trans person and I run the TranSanta project which is fiscally sponsored by Allies in Arts.

Jasmin Porter (JP): I curate the Queer Black Futures Collection. I think it is so important to showcase queer and Black artists in our society's current climate.

Who's an example of a recent grant recipient?
KL: Recently, Ariana Grande made a very generous donation to @transanta through Allies in Arts. She approached us wanting to send love and support to trans youth living in the states that have recently introduced horrendous anti-trans legislation. With her donation, we fulfilled about 300 wishlists, sending computers, clothes, and sports equipment to trans youth during Pride month. We also made donations to smaller trans-led organizations working directly with those youth in the battleground states.
DD: In the last year, we granted over a hundred queer BIPOC artists with the SOS grant program and curated 13 artists for Santa Monica Pride 2021 including Annie Hong, Parisa Parinian, and Ricky Sencion.

We hired filmmaker Emily Jampel to produce our annual SONY screening for BIPOC and LGBTQ+ female and trans filmmakers, commissioned musician Eddington Again to curate a playlist by queer BIPOC artists, and fiscally sponsored Kase Pena's incredible new film Trans Los Angeles as well as the amazing project @Transanta that Kyle mentioned earlier. Jasmin Porter is curating the ongoing Queer Black Futures Collection which features an artist every week, and we are about to announce a new mural project this fall. It's hard to pick a specific grantee when there are so many amazing artists we are so honored to support - can't wait to find out who we get to work with next!


Why is representation in the arts important?
JP: Representation in the arts is extremely important because a lot of great and underrepresented artists' work has been stolen or claimed as something other than original, stripping artists of their legacies.
DD: Have you heard the expression "It's hard to be what you cannot see?" I can remember the first time I saw a woman represented as a director, and the first time I saw a major museum curate a collection of LGBTQ artists. Seeing them allowed me to see myself in those roles.
What are you working on for the upcoming year?
JP: I'm working on the Queer Black Futures Collection.
KL: We've been wanting to do a community/public art project that supports both small business owners and local artists struggling due to the pandemic. Our idea is to pair them up, use a donation to "rent" storefront space from a temporarily shuttered business, and pay an artist to create an installation or mural for the space. We've been looking for a partner to sponsor this, so we can feed two birds with one seed. We're really excited to have an incoming donor that we'll work with to do a version of this project! I'm also gearing up for the holiday season with @transanta *sweating*

What does it mean to be an ally?
JP: Being an ally means that you speak up for, uplift, and make room for those who face any societal hardships that you do not experience...
DD: At Allies in Arts, I feel lucky to support artists who are women, BIPOC, and LGBTQQIA2S+ by connecting them with donors and partners who want to exhibit or screen their work, award them a grant, or hire them— at the end of the day, we are hoping for sustainable, respectful, and fairly paid employment for our artists. So if you have the power to hire— hire women, BIPOC, and LGBTQQIA2S+ folks and treat them right!


What continues to inspire Allies in Arts?
JP: Uplifting, giving a platform to, and valuing queer, Black, Indigenous, POC, and womxn artists fuels the reason Allies in Arts began and continues to exist.
KL: Allies was born of and operates from a fundamental need for support and funding for queer, BIPOC, and female artists, but the joy of partnering with artists and donors to fund really cool and unique projects and opportunities is what inspires us. The folks we work with and the determination and persistence of the artists we are privileged to support inspire us!

Thanks so much to the amazing team at Allies in Arts for sharing about themselves and their organization. You can donate to support them directly or explore our collaboration with Block Shop where 5% of the proceeds will be donated to help fund their ongoing work!