Jessica Davis' Midcentury Modern Home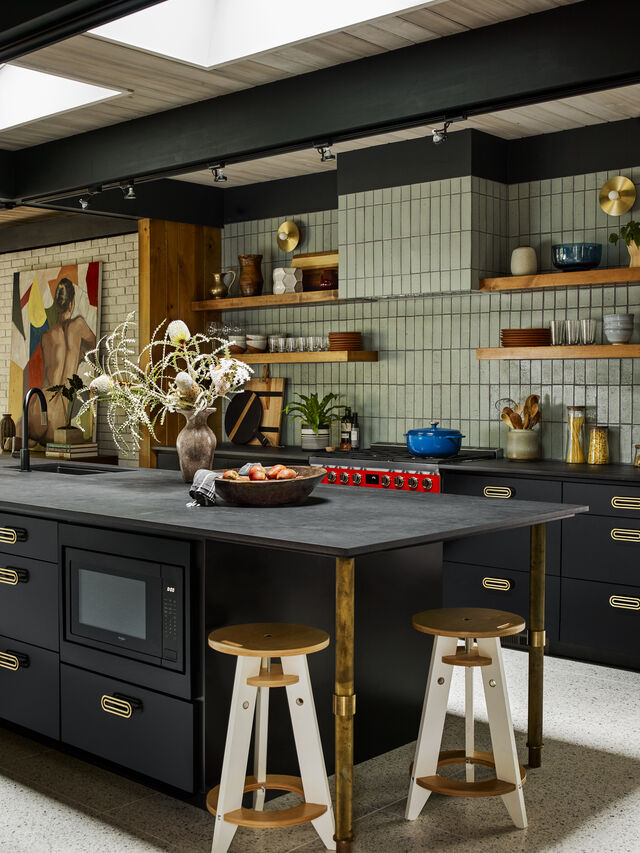 Design: Jessica Davis// Images: Emily Followill Photography
Interior designer Jessica Davis' Midcentury Modern home features an eclectic mix of art and decor. Tying it all together? Minty greens anchored by our handmade Brick and Tile. Step inside her space on today's blog!
First, meet Jessica!
First, can you tell me a bit about yourself and Nest Studio Collection? Where are you based?
I'm the owner and creative director of Nest Studio Collection and Atelier Davis. We recently moved to Atlanta from South Orange New Jersey. I now maintain offices in both locations with the hardware side, Nest Studio being located in New Jersey and my design practice, Atelier Davis in Atlanta.
How did you hear about Fireclay Tile? What did you enjoy about the experience? What are your favorite products?
I initially heard about Fireclay via some design bloggers / influencers. I loved working with Fireclay because you can get so many samples to test out and the sky is literally the limit when it comes to their designs and creating a custom colored version of what they have. I think my favorite product is the Glazed Thin Brick. It's just the perfect brick tile. Lots of texture and depth and variation. It can work in both traditional and modern settings.

Brick Shown: San Gabriel
Why do you love tile?
I love tile for it's durability and cleanability and for the fact that there are an endless number of design variations that can be created just by changing the color or combination or colors the way you run it.
Now, onto your home! Can you tell me about it? Was this a remodel or a renovation of the entire house or just a few rooms?
The home is a mid-century modern post and beam in Atlanta.
We are the third owners. It had gone through several renovations and add-ons in the past and still had much more traditional closed layout especially in the kitchen and dining areas. We touched almost every room in the house, so that we could improve the layout, create a much needed fourth bedroom and open everything up visually.

What type of look or aesthetic were you going for?
I wanted to respect the mid century modern bones but I personally have a mix of furnishings from more traditional tables to oriental rugs and the like. So I would say I was aiming for a modern collected mix with a strong mid century base.
How did you come up with your color scheme and design?
It has become pretty clear to me as I've designed my homes and collected furniture and art and even done my branding for Atelier Davis that I gravitate toward certain colors - teals, minty celadon greens, black, red, salmon, so I really let those carry through in the finishes as well.
Let's talk about the kitchen first, what was your point of inspiration for this room?
I wanted to play off the mid century bones of the house and re-use the salvaged magnolia paneling from some of the demo. And I knew I wanted my hardware to stand out as well. So we went black on all of the cabinets except for the pantry and fridge area which is the magnolia. Then to balance that out we did the fireclay brick in a sage green on the opposite wall. The vertical orientation echoes the vertical lines in the paneling opposite.
What made you choose our Glazed Brick in San Gabriel? Why did you opt for the vertical straight set pattern?
The San Gabriel color is so rich. It can read, grey or green and even has a touch of blue. As I mentioned I have a minty color that carries through my home - from the dining table, to the tile to my bedside table hardware so I love that the tile brings this into the kitchen.
Brick Shown: San Gabriel
Now, onto the bathroom! What were your goals for this space?
It's a very small space. I wanted to make it interesting and functional without being too busy.
Tile Shown: 3x12 in Rosemary with Small Diamonds in Rosemary, Sand Dune + Carbon
What made you choose the color Rosemary in the 3x12 size?
The size was perfect for the shower and the longer rectangle really feels very mid century to me. I love the Rosemary color. It's different than the San Gabriel in the kitchen but still in keeping with the house.
Tile Shown: 3x12 in Rosemary
How about the Small Diamond Escher Floor in Rosemary, Sand Dune and Carbon?
The kids call this the stair step floor and like to point it out to all of our guests. This is the real moment in the bathroom. The walls kind of retreat but the floor gives us the wow factor in a small space. And because the tiles are smaller it provides the necessary slip resistance on the shower floor.
Tile Shown: Small Diamonds in Rosemary, Sand Dune + Carbon
How did the installation process go? Did you face any challenges? Did you work with a tile installer or contractor?
I worked with my GC who had a great tile installer. There were definitely some challenges along the way but having a good installer is key!
How was designing for your own home? Lessons learned?
Designing your own home is the best and worst project. You never have a big enough budget and as a designer you always want the best of the best. But it's also so fun to see your ideas come to fruition and live in them. I don't have too many things I would have done differently. I would have tiled the window wall behind the toilet to keep the room more cohesive in the guest bath. And I am realizing that when I get to adding on to our house (something I plan to do down the road) I would like a "back of house" prep area where we can stage kitchen stuff for entertaining. I love having an open kitchen but you can't hide anything - which means we really only have casual get togethers.
What are your 3 best design tips?

First, Don't be afraid of color.
I know a lot of people are scared to use color when it comes to something that is so permanent like tile. My advice, is to go for it but first make sure you're doing something that you love and that you will continue to love. If it seems trendy (millennial pink) you might want to double check that it's something you'll want next year and the year after.
Second, rethink pattern.
You can make something old new again just by changing it's orientation. A standard subway tile can look very traditional in a running bond pattern. But if you do a stair step or a vertical grid or even horizontal grid you start to get something way more modern.
Third, don't forget the grout.
Grout can sometimes be an afterthought. You want it to blend in with the tile and not get dirty. But now people are doing colored grouts and I think there are so many opportunities there!
What Fireclay products are you dying to use in future projects?
I totally want to use one of the custom hand painted patterns - or dare I say, design my own pattern! Our master and kids baths are coming up next in line and I am planning to do a wet room in the master which I think will have lots of fun tile opportunities.
Inspired by this home? Order color samples online now. Need help? Simply call, chat or fill out our Design Assistance Form and one of our talented Design Consultants will get back to you shortly.
Shop the Story