East Fork's Journey to Becoming a B-Corp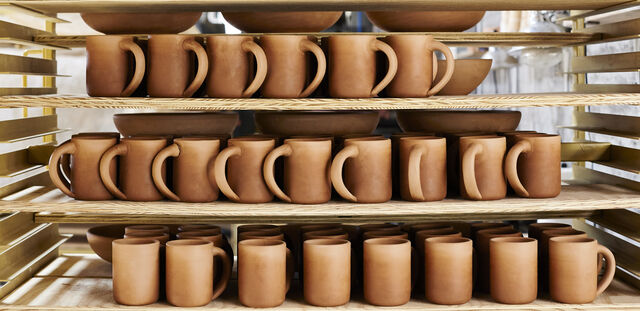 Meet East Fork Pottery

Our friends at East Fork Pottery share our passion for ceramics and using business as a force for good. In honor of B Corp Month we checked in with John Vigeland, CFO of East Fork to find out how their values-centered business model has benefited from becoming an official Benefit Corporation. Continue on for our full interview!
All Images via East Fork Pottery


You mention that you've been a values-centered business since day one. What was the driving force behind the decision to lead with your values?
John Vigeland (JV): Speaking for myself, my motivation was coming from our roots in the studio pottery world. In the early days, Alex and I were looking around and seeing that studio pottery seemed to be living in this curious eddy in the larger river of our modern economy, requiring specific, somewhat fragile conditions to sustain itself. Broadly speaking, sales were dependent on a shrinking group of collectors, and production relied on low or no-pay interns and apprentices--not a particularly sustainable or just formula.
Furthermore, it's a space largely filled with white makers who either have the privilege of independent means to support themselves while starting (myself included) and/or the inheritance of a family studio and customer base. It also suffers from the "starving artist" narrative--the story that the work itself is the reward, (and therefore the low to no pay is justified) which serves to maintain the less than satisfactory status quo.
From that perspective, I wanted to prove that it could be otherwise. The hypothesis then was that we could scale a business that could pay real middle-class wages, support economic justice in our community, and create a platform for racial equity and healing. It's a tall order, and to some extent, everything since has felt like an experiment to prove (or disprove) that hypothesis, but we've undeniably come a long way in that pursuit.

So, the whole thing was born, not out of a shrewd assessment of a market opportunity by a group of recent MBAs, but from a vision (perhaps naive) for how business could be different if animated by clear values. The values really were the seed for the rest of the growth, not a scaffolding that was put up over the business itself after the fact.
How did you first come to learn about B Corps and why did you decide it was a path worth pursuing? What was the two-year process like for you?
To be honest, I don't remember how it came on my radar in the first place. But, as I recall, our decision to pursue certification was animated by 2 main points:
We say we are committed to building East Fork into a tool for social good but are we actually doing that? How do we even measure that? How do we stack up? BCorp cert would allow us to answer these questions from a 3rd party unbiased perspective.
It became apparent that in working to certify, we would uncover a wealth of best practices that other like-minded businesses are applying and be able to quickly up our game. There's a ton of value in just going through the assessment and noting every time a question prompts, "you say you're a business for social good, but are you doing this thing?" and the answer is "no, but we could/should be". You can come away with a clear playbook of actionable items that will help you get to where you want to go, in areas where you might currently have blindspots.
Was there anything you needed to change about your business in order to qualify?
A lot of the "change" was documenting and/or making official many unwritten policies or understandings. But the assessment also drove us to focus on our entry-level wages, carbon footprint assessment, and supplier relations, specifically. Though it has been a main focus throughout our company history, the specific calculations and metrics BCorp uses for living wages in the assessment gave us both a tool and a push to prioritize increasing our entry wage up to $22/hr--the living wage rate for a 2 working adult/2 child household in Asheville.
Can you share what challenges you've encountered and any lessons learned on your journey to becoming a B Corp?
The assessment process is a big deal and should be run as a proper project, with your best project mgmt tools, and clearly defined responsibilities to support the cascading to do's and decision-making around what is a priority and what is not. We spun our wheels a bit for lack of these things--getting across the finish line was more of a slog than it needed to be.
What has been a highlight of officially becoming B Corp certified?
I'm embarrassed to say one highlight was being able to cross certification off my to-do list, but it's true--it was a lot of work.
More generously, I think becoming part of the network of other B-certified companies has been huge. I'm really inspired by the thought of future collaboration with our local network of BCorps to bring about larger scaled change in WNC than we could achieve alone.


As a fellow B Corp, we know that taking the assessment shines a light on so many areas of our business where we can improve. For East Fork, how do you prioritize which initiatives you want to focus on first? What goals do you have for 2022?
Now that we are certified, and have internalized key points from the first assessment, my thinking is that we'll do best to organically pursue the initiatives that make the most sense for EF's current needs and skillsets, and not to guide our mission work solely by points on the BCorps assessment. I guess the logic here is that by going after initiatives around which we already have organizational buy-in and momentum, we'll get farther faster than if we were assigning to do's out of the assessment. There will still be the co-benefit of increasing our BCorps score if we pull off the projects we have going around equitable hiring models and community partnership for example, but we'll get there in a way that makes more sense to our business. Like I said, the BCorps assessment is hugely valuable as a source for best practices, however, I would caution folks against simply "teaching to the test" and checking boxes for the assessment if it means real organizational buy-in and culture setting is getting glossed over.

What advice would you give other businesses that are considering becoming a B Corp?
Get started--even if you don't end up getting fully certified, running through the assessment once will give you plenty of ideas, and push you into new spaces you weren't thinking about.
Learn more about B Corps and how Fireclay Tile stacks up on our B Corp page.