Dreaming of A White Fireplace? Here Are 17 Stunning Ideas
There's something about a fireplace that makes a space feel ten times homier. Curling up by the glowing embers at the end of the day is one of life's simple pleasures, and combining that coziness with the timelessness of a white color palette makes for a fireplace you'll love to feel and see–forever.
The beauty of white fireplaces is that they're at home in any design style, from starkly modern to laid-back bohemian. White fireplaces have range, baby! We've rounded up 17 of our favorite white fireplace designs that are sure to light your fire–keep reading to see them all.
1. Handpainted Just White
We're kicking things off with a slightly unexpected, but absolutely stunning, fireplace application: handpainted tile. This inviting living room is instantly elevated with the addition of our artisanal Handpainted Sintra Tile on the decorative fireplace and hearth, creating the perfect neutral pop between the original built-ins.
Tile Shown: Sintra in Neutral Motif // Design: JL Interior Design // Image: Kuoh Photography
Want to see how our tile is painted by hand? Take an inside look at our Aromas, CA factory here!

2. Fresh & Clean
Sometimes less really is more. Case in point: this minimalist white fireplace that makes a big impact thanks to a simple, cleverly-laid tile border. The dark firebox framed by the tile mirrors the wall-mounted TV hung above the fireplace for an overall soothing and cohesive effect that invites you to curl up and stay a while.
Tile Shown: 2x6 in Feldspar // Design: HIR A+D // Image: Kevin Scott, Willie Cole, Hannah Robertson // Installer: Tallman Segerson Builders
3. Floor to Ceiling
Now this is modern rustic design in its purest form–no remote control or color-changing flames here, only classic, natural elements. From the white thin brick that stretches from floor to vaulted ceiling to the marble bench to the oversize geode decoration, every inch of this white fireplace is beautifully appointed.
Brick Shown: Olympic // Design + Image: Caitlyn Shoemaker
4. Reach for the Stars
Turn up the heat on your patio with a white outdoor fireplace. The eye-catching gas fireplace below will make every night a starry night thanks to specialty-shaped Star & Cross Tile featuring cool white Daisy glaze.
Tile Shown: Star & Cross in Daisy, Norman Brick in Saguaro // Design: BEX Studios // Image: Brittany Anne Jarman // Installer: ProPacific Builders
5. 45 Degrees Fireside
Framed by a matching wood mantel, the installation of alternating triangles gives this white fireplace plenty of visual interest. We love how the bright white color allows the pattern to shine, drawing the eye up and down the grout lines so that this fireplace is just as mesmerizing even without a real flame.
Tile Shown: 6" Triangle in Frost // Design: Gina Rachelle Design // Image: Max Maloney
6. Glammed Up Brick
Just because your fireplace is brick doesn't mean it needs to be full-on rustic. Take a cue from the luxe living room below, where the floor-to-ceiling column fireplace is clad with white brick that adds the perfect hint of texture balanced out by gold accents, pillowy white sofas, and a glamorous chandelier.
Brick Shown: White Mountains // Design: Meagan Cooperman, ADJ Interiors // Image: Alie O'Brien Photography
7. Plaster Perfect
Here's a white fireplace that will have you craving winter nights in front of the flickering flame with your coziest blanket and a warm drink. The off-white plaster paint adds an elegant and tastefully aged feel, finished off with a textured accent of white brick for the hearth floor.
Brick Shown: Olympic // Design: Silk and Willow // Image + Installer: Shellie Pomeroy
8. Sleek & Streamlined
While many of the fireplaces we've showcased have been installed vertically, this one bucked the trend and went horizontal! Clad with thin brick showcasing our white glaze's beautiful variation, the modern fireplace runs along the lower part of the dining room wall with the fireplace insert cleverly tucked into a built-in alcove.
Brick Shown: White Mountains // Design + Image: Ramsey McDaniel
9. Cottage Charm
The electric fireplace below infuses this cottage with cozy charm, while the white brick keeps the small space feeling light and breezy. Pretty accessories on the mantel and a glowing realistic flame effect in the electric firebox add to the modern yet timeless design.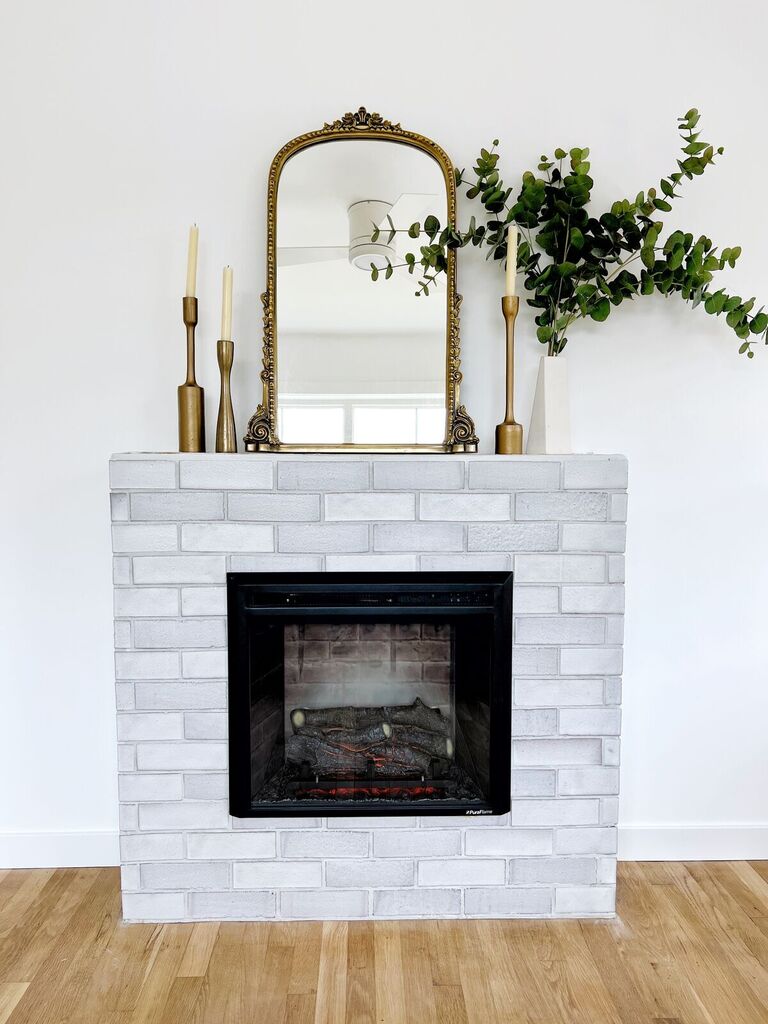 Brick Shown: White Mountains // Design + Image: Cottage & Sea
10. Handpainted Centerpiece
This stunning fireplace brings the heat even when it's not in use thanks to a graphic configuration of handpainted tile. With a white base and endless possibilities, our Block Shop x Fireclay Tile collection creates an unforgettable installation–even when placed between windows with an unforgettable view.
Tile Shown: Roundabout 2 & Roundabout 4 in Gesso Motif, Dot Dash 7 in Charcoal Motif
11. A Modern Classic
If you lean toward new traditional or transitional design, white brick fireplaces fit perfectly into your aesthetic. Tucked neatly into the home's built-ins below (including a built-in fireplace TV stand), white brick in a classic offset pattern offers timeless design with a subtle modern twist.
Tile Shown: 2x6 in Calcite // Design: Anja Michals Design
12. Midcentury Motifs
You've heard of a stone surround, but how about a starburst surround? The midcentury-style fireplace below features artisanally handpainted white tile with a light grey dryline in a starburst pattern, fitting perfectly into this Mad Men-approved space.
Tile Shown: Starburst in Neutral Motif // Design + Image: Destination Eichler
13. Playing It Cool
Cool white thin brick gives off a nearly faux stone appearance on the floor-to-ceiling 50s style fireplace below. The classic offset pattern is highlighted by luminous white grout that gives the white brick a grey cast by comparison, with a result that's the epitome of neutral perfection.
Brick Shown: White Mountains // Design: K Interiors
14. Toned Down Texture
With low color variation and tight grout joints, the white brick on this fireplace gives off an artisan textured look that fits beautifully into the calm, minimalist living room where it's located.
Brick Shown: Lewis Range // Design: Amanda Jane Jones // Image: Stoffer Photography
15. Turn Back Time
In generations past, fireplaces were placed prominently in the kitchen-dining area of a home rather than the living space. The herringbone-accented fireplace in the modern farmhouse below is ready to bring that trend back with classic white subway tile, a prominent fireplace mantel, and even a built-in oven.
Tile Shown: 3x6 in White Wash
16. Moroccan-Inspired Surround
When you think of Moroccan style, rich colors and desert decadence may come to mind but the fireplace below proves you don't need either to pull Moroccan inspiration into your home. With geometric Kashbah Trellis Tile featuring white handpainted glaze, this fireplace gives a nod to Morocco while remaining decidedly color-free.
Tile Shown: Kasbah Trellis in Neutral Motif // Design: Oak & Ivy Collection // Image: Liz Rodriguez
17. Floating Fireplace
Set atop a built-in bench in this cozy cottage living area, the white brick-clad fireplace offers flames at eye level along with hand storage on either side–and above!
Brick Shown: Olympic // Design: Claire Thomas
Want to brighten up your fireplace with white tile or brick? Bring home up to five free samples to find your favorite shade. If you'd like some help from the pros, fill out this simple form and our friendly tile experts will be in touch with free (really, free!) design services including renderings, cost estimates, and step-by-step support.