Design Trends: Hardworking Laundry Room Tile
The key to great laundry room design is simple, functionality. A laundry room needs to be easy to clean and easy to keep clean. But when so much effort goes into the interior design of your kitchen, living room, and bathrooms, why would the humble laundry room get left out of the ensemble?

Below are our favorite tile ideas for a hardworking laundry room that will make your life a little easier and your laundry room a little easier on the eyes.
What Kind of Tile is Best for a Laundry Room?
Among the best surface materials to use in a laundry room are ceramic, brick, natural stone, or porcelain tile. Tile is durable, water-resistant, easy to clean, and gives your space a clean and fresh look.
Tile Shown: Calcite Ogee Drop // Design: Studio DIY // Image: Jeff Mindell
You can tile almost any surface in the laundry room-- walls, backsplashes, floors, countertops, you name it. The more surface area you tile, the easier your laundry room is to maintain. Not to mention tile in the laundry room looks beautiful and can add an element of fun!
Do you Tile Under the Washer and Dryer?
Yes. Plan on tiling the entire floor of your laundry room, including underneath appliances. Doing so will make it easier to move appliances if needed as well as protect your subfloor from moisture if any spills occur.
Laundry Room Floor Tile
The laundry room floor is the first place to consider installing tile since floors get the most wear and tear. They're also the perfect surface for showcasing a decorative tile design.
This ceramic tile laundry room floor features Star and Cross patterned tile with alternating green and white tiles to enhance the design and show of the shape of the tiles.
Tile Shown: Mini Star and Cross in Daisy and Salton Sea // Design & Image: Tiffany Weiss Interior Design
Brick is known for its strength and durability and Glazed Thin Brick makes brick an object of beauty too.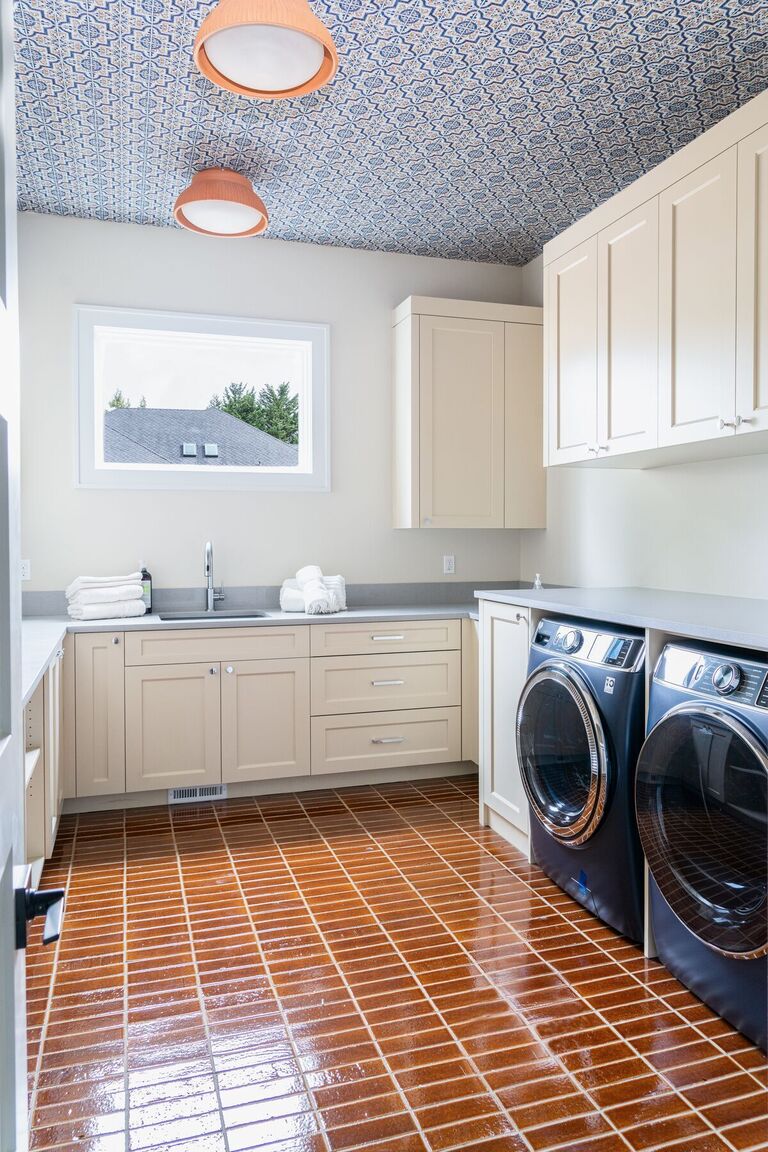 Tile Shown: Columbia Plateau Brick // Design: Tiffany Thompson, Duett Interiors // Image: Marni Mervis
This laundry room features black Glazed Thin Brick with black grout for a hardworking floor that won't show dirt in between cleanings.
Tile Shown: Black Hills Brick // Design & Image: Valeria Jacobs
Laundry Room Backsplash Tile
Having a sink and counter space in your laundry room makes things much easier and makes the space even more functional. And where there's a sink and counter space, a backsplash is a must.
Just like in the kitchen, a backsplash in the laundry room does double duty as a protective barrier and a showstopping design element.
This simple sink is elevated with a sunny yellow backsplash of 3x3 mosaic tiles.
Tile Shown: Tuolumne Meadows 3x3 Sheeted // Design & Image: Brit Dot Design
This spacious laundry room gets the luxury treatment with interlocking Chaine Homme tile in clean white Calcite.
Tile Shown: Calcite Chaine Homme // Design: Brasstacks Design + Build // Image: Adam Albright Photography
Laundry Room Countertop Tile
Counters are a clever way to incorporate more tile into your design and bring cohesion to the room.
This laundry room features a matching counter and backsplash of handpainted tile to offer artistic detail in a virtually seamless look.
Tile Shown: Custom Kabuki Sphere // Image: Marty Crosley Photography
Speaking of seams, if you wish to tile your counters, consider using a narrow grout joint since dirt and bacteria can accumulate in the grout lines of counters. A tight grout joint will make your counters more sanitary and easier to clean.
Laundry Room Wall Tile
If you feel like going bigger than a backsplash, there are lots of ways to extend the tile across your laundry room walls.
Tile Shown: Ogee Drops in Calcite, Caspian Sea, and Waikiki // Design & Image: Kristen Pena

You can choose a tile wainscot, tile ¾ of the way up your wall or tile the wall all the way to the ceiling.
For a deeper dive on how high to tile your walls, check out our guide to Bathroom Wall Tile Height.
This laundry and powder room combo features fish scale Ogee Drop in a collection of colors, plus a cove base trim along the floor to make cleaning even easier.
Tile Shown: Adriatic Sea, Cardamom, Chateau and Ivory Ogee Drop // Design: Wraith Design // Image: Sen Creative
While white subway tile would work wonderfully for this wall, Scalene Triangles take the design detail up a notch to mimic the look of subway tile with a grout line angling across the rectangles.
Tile Shown: Calcite Scalene Triangles // Design: Dani Boyd // Image: Michelle Drewes
Where Should you put the Laundry Room?
If your home doesn't currently have a dedicated laundry room, you're not out of luck. It's common to install a washer and dryer in a mudroom or guest bathroom (which are both perfect places for tile as well). It's also easy to convert a closet into a laundry room, especially if you use a stackable washer and dryer.
This cozy closet turned laundry area features fun laundry room tile to bring visual interest that matches the rest of the home decor, plus protection from water to the retrofitted space.
Tile Shown: Custom Grange // Design & Image: Claire Thomas
This spacious hallway closet still leaves room for storage while floor tile and wallpaper transform an easily overlooked closet into a memorable design that's both functional and adorable.
Tile Shown: Sea Glass 6x12 // Design & Image: Sugar and Cloth
Modern washer and dryers made for city living and small spaces can fit virtually anywhere, including in the kitchen. We love how this combined kitchen and laundry room work together for optimal functionality. The handpainted black and white tiles maximize the design impact in a small footprint.
Tile Shown: Custom Fallow and Grange // Design: Taylor + Taylor and Anne Sage // Image: Monica Wang Photography
This mudroom room/laundry room combo features Picket Tile, elongated hexagon tiles, in a stunning glossy green, for a fabulous first impression you may not expect from a conventional laundry room.
Tile Shown: Evergreen Picket // Design: HIR A+D // Image: Hannah Robertson
Ready to start your laundry room project? Order free samples now. Need some help? Simply call, chat, or fill out our Design Assistance Form and one of our talented Design Consultants will get back to you shortly.
Shop the Story