15 Commercial Interiors That Elevate Brand Experience
Design is a form of storytelling, and today's leading brands are seeking out and specifying premium materials to delight their customers and teams while sharing their stories of identity, values and experience.

Bringing those stories to life requires not just beautiful building products and design, but also building a supply chain that matches the environmental and social values that your brand evangelists expect.
Our commercial team links it all together, partnering with like-minded companies and setting the bar for the best experiences in retail, hospitality, housing, work, transportation, and more. We're rounding up a collection of commercial interiors across a variety of sectors to see the role sustainable handmade tile can play in your brand story.
What are commercial interiors?
Commercial interiors are the indoor spaces of commercial buildings. These can include offices, retail stores, restaurants, hotels, manufacturing facilities and warehouses, schools, museums hospitals, gyms, places of worship, and apartment complexes.
What is the difference between commercial and residential buildings?
Residential buildings are single-family homes and multi-family properties of four or fewer units used for either short or long-term occupancy. These spaces are private and designed to address the specific needs of the people who live or stay there.
Commercial buildings are designed to address the needs of the public and therefore must take into consideration access, durability, diversity, and specific laws and standards.
Grocery
Tile: Sierra Nevada Brick // Design: Studio One Eleven // Image: Fireclay Tile
California-based luxury grocer Erewhon Market caters to customers with local sustainable foods and a shopping and dining experience unlike any other grocery store. Those propositions are backed by sustainable California-made tile decorating their interior.
Coffee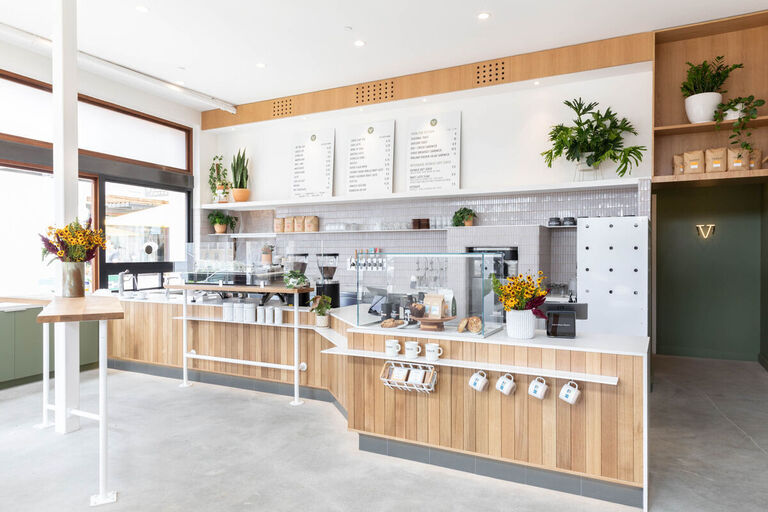 Tile: Dust Storm 1x6 Sheeted, Magnetite 6x12, White Wash 2x6 // Design: YAC // Image: Sen Creative
The coffee industry was early to the idea of tracked and responsible supply chains. Companies like Verve Coffee Roasters keep that tradition roaring with B Corp Certified handmade tile that also encourages customers to enjoy the experience of enjoying their coffee in an uplifting space.
Retail
Tile: Eucalyptus 1x4 Sheeted // Design: Joanna Harrison for Avocado // Image: Troy Nebeker
Brick-and-mortar retailers thrive in a world of e-commerce choices because of the tactile, personal, and curated experience customers can expect. Fellow B Corp and Climate Neutral Certified brand, Avocado, create a retail environment as soothing as their sustainable, organic mattresses.
Restaurant
Tile: Cascade & Ozark Brick // Design: AECOM // Image: Wonho Lee Photography
From seating through dessert, a guest's dining experience is a carefully orchestrated performance. No small part of that is the setting, where ambiance can elevate a meal to an unforgettable memory. Wolfgang Puck's Merois wows visitors of West Hollywood's Pendry Hotel with a dreamy deco design and a vacation-worthy vibe.
Bar
Tile: Blue Ridge Brick // Design: ISLYN STUDIO // Image: Read Mckendree
From cocktail menus to craft beer, bar patrons' expectations for a happy hour or evening out are higher than ever. Bar design is following suit, like Albuquerque's Paxton's Taproom, which turned this historic sawmill space into a rustic yet refined place to enjoy a beer.
Hotel
Tile: San Gabriel Norman Brick // Design: Maria Haidamus, Loczi Design // Image: R. Brad Knipstein
A world-class hotel experience shouldn't just feel like home, it should feel like what home aspires to be. With all the comforts of home, Sonoma's Jordan Vineyard and Winery appoints their rooms with design that's inviting, luxurious and leaves guests with a souvenir of inspiration to take home.
Fast Casual
Tile: Columbia Plateau Brick // Design: Summer Williams // Image: Marc Mauldin
America is in the midst of a renaissance of fast-casual dining options. New franchises and independent restaurants open new doors daily, with unique menus and interiors that offer discerning guests an elevated casual dining experience like the swank interior of Blossom Hill BBQ & Burgers.
Office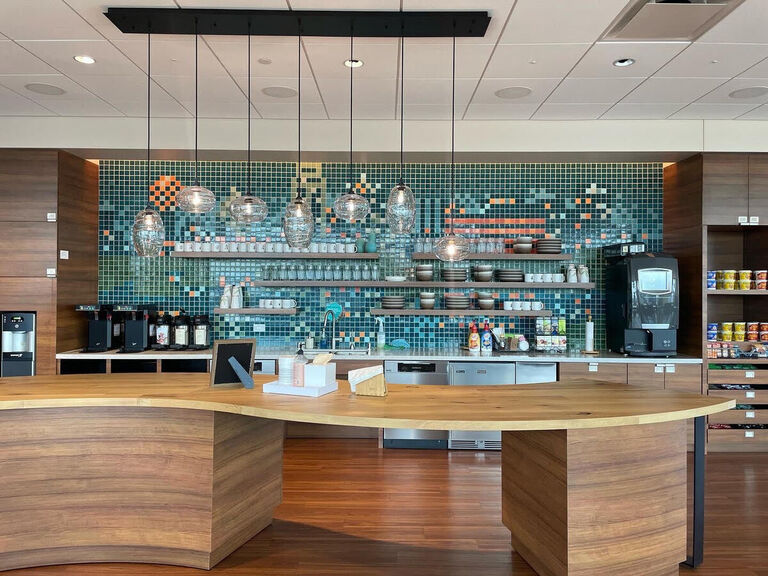 Design: Shinji Murakami, Exposed Design Group // Image: Fireclay Tile
Attracting top talent, building a strong culture, and producing the best results increasingly means adapting workspaces to be more livable, attractive, and collaborative. Salesforce infuses its office spaces with a sense of place and style with custom tile mosaics created by artist Shinji Murakami that reflect the sites of each campus location.
Transportation
Design: Laura Owens // Image: Tom Powel Imaging
An airport or train station is often a traveler's first (and last) impression of a destination. As states and municipalities bring their infrastructure up to speed, nailing that introduction is top of mind.
Case in point, New York's LaGuardia Airport, where Terminal B greets arrivals with a 25,000 square foot tile mosaic designed by critically acclaimed painter Laura Owens featuring 80 iconic references that capture the spirit of NYC.
Museum
Tile: Spruce Gloss, Ember & Tusk 4" Triangle // Design: 64North // Image: Jude Garcia
Beyond the precious works they curate, museums themselves are living works of art. Los Angeles's LA Plaza Cocina educates visitors about the Mexican culinary tradition in an atmosphere that celebrates the vibrant culture that created it.
Education
Tile: Sunflower 2x6 // Design: Hudson & Sterling // Image: Stylish Detroit
The interiors we exist in, we internalize. So for a child to receive an enriching education, they must be given a space to learn in that enriches them as well. For Detriot Prep it was important for every experience the children have in the school to be fun, colorful, and full of inspiration to help them reach their full potential.
Healthcare
Tile: Peacock, Blue Velvet, Mesa, Lichen, Neptune & Red Rock Scalene Triangle, Mesa & Neptune 1x6 Sheeted // Design: Erin Elizabeth Curtis, Sixth River // Image: Tre Dunham
Design has a direct impact on how we feel, and the positive attributes of great design may be nowhere more important than in a healthcare setting. Putting patients at ease, hosting them in comfort, and leaving them with a positive experience is advantageous for both patient and provider.
Austin Skin wows visitors with bold design that makes an appointment a positive experience from the moment they enter.
Senior Living
Tile: Columbia Plateau Brick // Design: StudioSix5 // Image: Michael Lowry
How one spends their final years depends much on where they spend it, and senior care facilities seek to provide residents with dignity and comfort in a potentially unfamiliar home. Modeled in a midcentury tradition that many of its residents grew up with, Hilltop Reserve's dining room is an elegant example of senior living that enriches.
Manufacturing
Tile: Flycatcher Matte 2x12 // Design & Image: SIN
Artisan manufacturers offer not just quality and craftsmanship that mass producers cannot achieve, but often their goods are infused with mission-driven values and made through a supply chain that reflects those values. For Brooklyn-based ceramicist SIN, the space she works in features sustainable products that aren't just made for good but are also impervious to stains and water.
Housing
Tile: Bitterroot Brick // Design: Basile Studio // Image: Adrian Tiemens
Drawing tenants to a commercial apartment complex requires best-in-class private accommodations as well as welcoming public spaces. San Diego's luxury apartments Broadstone Makers Quarter features communal spaces that rival the interior design of the best hotels in the city.
Have a commercial project that requires tile? Reach out to our Commercial Team for design assistance, samples, and estimates as well as information on LEED credits, HPDs, EPDs, Life Cycle Assessments, and more.