Rosemary: The Sage Green You've Been Looking For
Rosemary, by any other name, would still look as chic. With its painterly sage coloring, grey undertones, and distinctive crackled detailing, this alluring glaze steals the spotlight and sets a soothing scene anywhere it's placed. Don't be fooled by the subtle hue–this multi-tasking sage green tile beautifully complements any room and style.
Tile Shown: Rosemary
That said, Rosemary's calming effect makes it a natural choice for the bathroom. If you want your bathroom to feel like your own personal spa (and who doesn't?), Rosemary will elevate your space to new levels of serenity. Take Mandy Moore's bathroom below, designed by Sarah Sherman Samuel–a wall of Rosemary lends the space a luxuriously organic allure, as tonal grout lets the noticeable variation of our hand-crafted glaze shine.
Tile Shown: 3x6 in Rosemary // Design: Sarah Sherman Samuel, Emily Farnham Architecture // Image: Tessa Neustadt // Installer: Bronstruction
Rosemary is just as stunning when outlined with contrasting grout. The walk-in shower below showcases a similar vertical straight-set installation as Mandy Moore's bathroom, but the lighter grout creates an entirely different vibe. We also love how the soft green of Rosemary plays with the earthy hexagon tile on the floor, bringing an outdoor-inspired color palette inside for an overall organic feel.
Tile Shown: 3x9 in Rosemary, 6" Hexagon in Sand Dune // Design + Image: Elana Jadallah
The dynamic subway tile is elevated with Rosemary glaze, beautifully demonstrated in the bathroom below. Cladding the bathtub surround and built-in niche in a classic offset pattern, 3x6 Ceramic Tile in Rosemary invites you in for a soothing soak with its soft hue and gloss finish.
Tile Shown: 3x6 in Rosemary // Design: Sarah Montgomery Design // Image: Margaret Rajic
If you don't think Rosemary could work as a neutral, the bathroom below would like a word. The clean Rosemary backsplash acts as a neutral foundation, subtly highlighting the bold accents in the space while elegantly complementing the patterned floor. White who?
Tile Shown: 3x12 in Rosemary, Small Diamond in Rosemary, Sand Dune, Carbon // Design: Jessica Davis // Image: Emily Followill Photography
Try pairing Rosemary with another green for a cool two-toned effect. We love how the bathroom below used 3x6 in Rosemary with 3x3 in Peabody to create an elevated contemporary spa bathroom. Not sure which color combo to go with? Our tile experts would be happy to help you with that (for free!).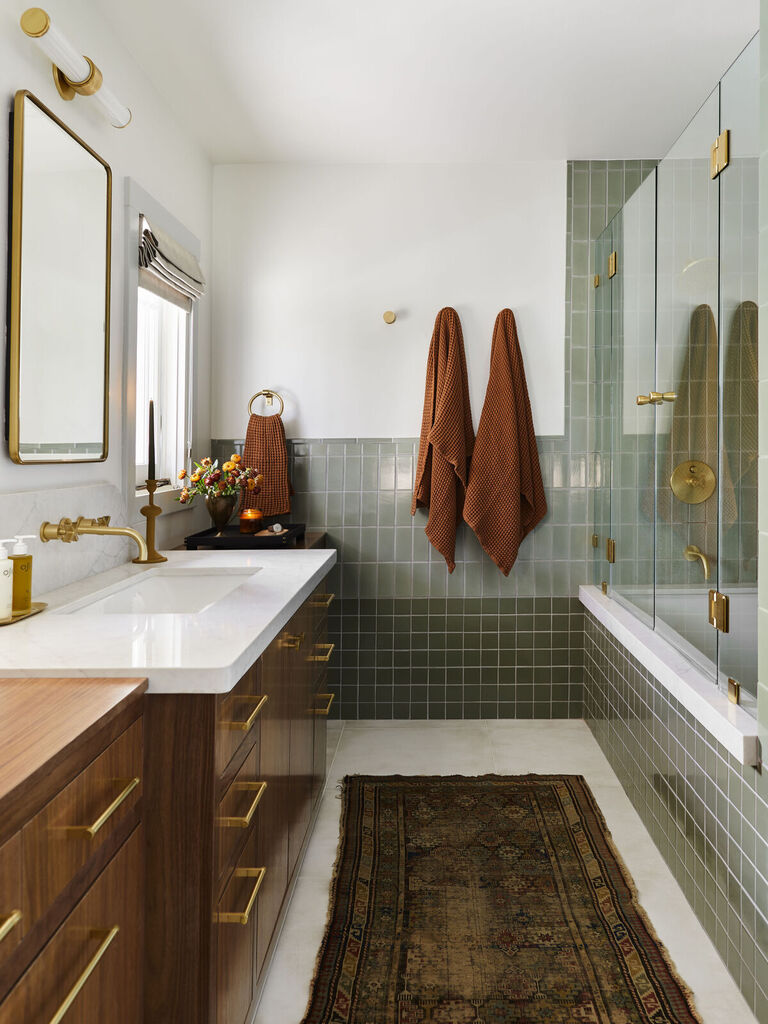 Tile Shown: 3x6 in Rosemary, 3x3 in Peabody // Design: Velinda Hellen Design // Image: Sara Ligorria-Tramp
Alternatively, Rosemary wainscoting looks fantastic with coordinating wallpaper. Try a botanical or nature-inspired print to pull out the variation of Rosemary's glaze, like the modern traditional guest bathroom below–and don't forget the trim! A border of Round Liner gracefully finishes off the 2x8 tile wainscot in the same classic shade.
Tile Shown: 2x8 in Rosemary // Design + Image: Erin Kestenbaum
Rosemary isn't just for the bathroom, of course! Soft green kitchens are always in style, and what better way to infuse your kitchen with elegant color than Rosemary? In the traditional kitchen below, Rosemary is used for an eye-catching backsplash with a built-in range niche, coordinating with the cabinets to create a warm and welcoming space ready for entertaining.
Tile Shown: 3x6 in Rosemary // Design + Image: Rejuvenation
Remember when we said Rosemary could act as a neutral? It also pairs beautifully with neutrals, softly standing out in a minimalist interior. We love how the earthy green 2x4 Sheeted Tile backsplash complements the creamy white cabinets and classic details of the kitchen below, adding a nourishing pop of color to the otherwise neutral space.
Tile Shown: 2x4 Sheeted in Rosemary // Design: Of Prairies // Image: George Barberis Photography
Rosemary is right at home in any design style, but it fits particularly well in Craftsman style. The Craftsman kitchen below is a great example, with a Rosemary green backsplash showcasing the glaze's rippling color variation. The soft green expertly ties together the warm white cabinetry above with the chocolate brown base cabinets below for a result that's as inviting as it is iconic.
Tile Shown: 3x9 in Rosemary // Design: Next Stage Design // Image: Scott DuBose
If you're feeling whimsical, Rosemary's happy to play. The glossy finish and crackled detailing are beautifully displayed on any of our specialty shapes, like the scalloped Ogee Drop Tile shown in the bathroom below. Installed in a teardrop pattern, the accent wall of Rosemary offers an understated coastal look that transitions well into any season.
Tile Shown: Ogee Drop in Rosemary, 3x12 in White Wash // Design + Image: EFE Creative Lab
Rosemary takes on a leafy quality on our popular Picket Tile, as demonstrated in this modern shower. Climbing up the wall in a braided pattern, Rosemary's earthy hue adds an organic feel along with plenty of visual interest to this soothing space.
Tile Shown: Picket in Rosemary // Design: Michael Hilal // Image: Lauren Andersen
We love this shower's two sizes of hexagon floor and wall tile in Rosemary, which beautifully captures the potential color variation of the glaze (not to mention that stunning shower curb!). Hexagon is such a timeless tile shape, and pairing it with classic grey-green Rosemary makes for an installation that's guaranteed to stand the test of time.
Tile Shown: 6" Hexagon in Rosemary, 2" Hexagon Sheeted in Rosemary // Design + Image: Danielle & Ely Franko
Rosemary loves a good contemporary look, too! This green bathroom tile installed in a stylish parquet pattern adds just the right touch of eclecticism to the modern details like matte black hardware and sleek wood cabinetry.
Tile Shown: 3x9 in Rosemary // Design: Lauren Ramirez Interior Design, Nana Kim of 9 Square Studio // Image: Molly Culver Photography
Have you fallen in love with the subtle sage of Rosemary? Bring home up to 5 free samples to preview how Rosemary looks in the comfort of your home. Not sure where to start? Fill out our simple form to receive free design help, including sampling, renderings, step-by-step support, and more.