20 Black and White Backsplash Ideas for a Bold Focal Point
Black and white tile is a classic look with loads of contemporary interior design appeal. From the timeless checkerboard to a more sophisticated handpainted tile, this high contrast combination can turn your bathroom vanity or kitchen backsplash into a main attraction, with no color required.
Read on as we walk you through 20 of our favorite black and white backsplashes.
Q&A
Should a backsplash be light or dark?
The choice to go light or dark with your backsplash depends on a bunch of variables, first and foremost being your personal tastes. Even if you've never thought about designing a backsplash until this very moment, the colors of your decor, wardrobe, car, or bicycle are all evidence of your preferences.
Other design elements of your kitchen also dictate which direction to take in the debate between light and dark. What color are your countertops, cabinets, appliances, wall decor and paint–or what would you like them to be? A dark backsplash can add depth and contrast to light-colored cabinets. Alternatively, a light backsplash with light cabinets and counters gives a kitchen a bright and refreshing look.
All this is to say that there is no correct answer or rules to abide by which leads us to the indecisive designer's ultimate solution: make it light and dark using black and white.
20 Black and White Backsplashes
1. Escher Diamonds
Tile Shown: Daisy Small Diamond Sheeted // Design: Jen Pinkston // Image: Katie Jameson
Famous for his black and white illustrations, M.C. Escher is a fitting inspiration for this black and white backsplash by Jen Pinkston. The Escher pattern of white small diamond mosaic tiles pops with a high contrast black grout. The white cabinets and black counters marry the color scheme and the geometric wire pendant lights echo the pattern perfectly.
2. High Contrast Herringbone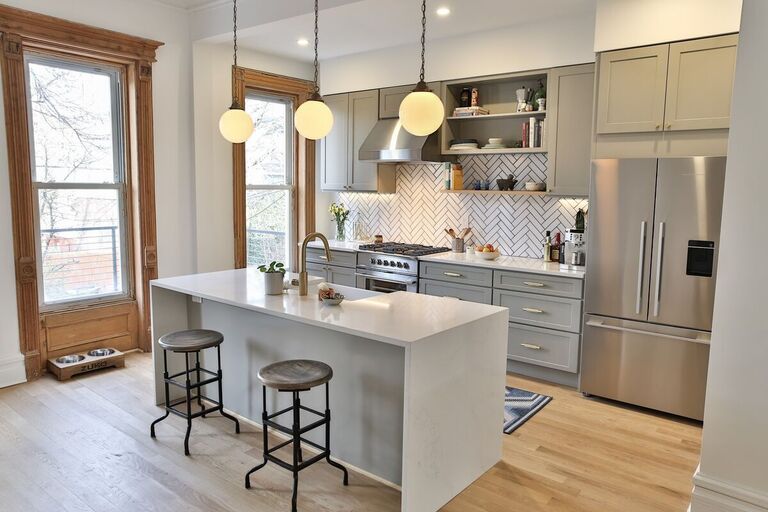 Tile Shown: White Wash 2x8 // Design: Brownstone Boys // Image: Brownstone Boys, Bridget Badore
Herringbone is a classic pattern that's well served by a high contrast black and white look. This 45-degree herringbone backsplash by the Brownstone Boys deconstructs the grey and stainless elements of the kitchen with a focal point that both blends in and stands out.

3. Light Interlocking
Tile Shown: Calcite Chaine Homme // Design: R. Apple Co. // Image: Rhionnon Apple
Granite counters set the tone with their black and white speckles for a backsplash of white Chaine Homme tile with black grout outlines. With a backsplash that leans light, white cabinets are an excellent choice to keep the white kitchen looking bright.
4. H on the Other Hand
Tile Shown: Basalt Chaine Homme // Design: Maureen Stevens // Image: Kayla Stark
Alternatively, the same tile in black adds a deep sophistication to this kitchen. Black cabinets follow suit while white countertops and white walls above complement the white grout lines.
5. Braided Black
Tile Shown: Akoya Picket // Design: 328 Design Group // Image: Chayce Lanphear Photography
High-contrast tile and grout combos are a perfect way to accentuate a specialty shape or pattern, and this Picket Braid pattern is no exception with white grout joints bringing out the inventive design of the glossy black tiles.
6. Rustic Brick
Tile Shown: Black Hills Brick // Design: Vaught Frye Larson Aronson Architects // Image: James Maynard
Black Brick Tile gives a backsplash rustic personality while saving weight and emissions compared to using standard bricks. That refined rustic quality is right at home in this luxurious wine cellar with white grout drawing out the tasteful lines of the straight set pattern.
7. 2 Material 2 Tone
Tile Shown: Black Hills Brick // Design: Paula Oblen, Bobby Berk // Image: Sara Tramp
The contrast between black and white doesn't have to come only from tiles and grout. Wallpaper, wall paint, and other decorative accents can all create the light-to-dark design you're after. This bathroom vanity does just that with a black backsplash of black brick and black grout underneath a wall of white painted plaster for a dramatic two-tone backsplash.
8. Black and White Wall Art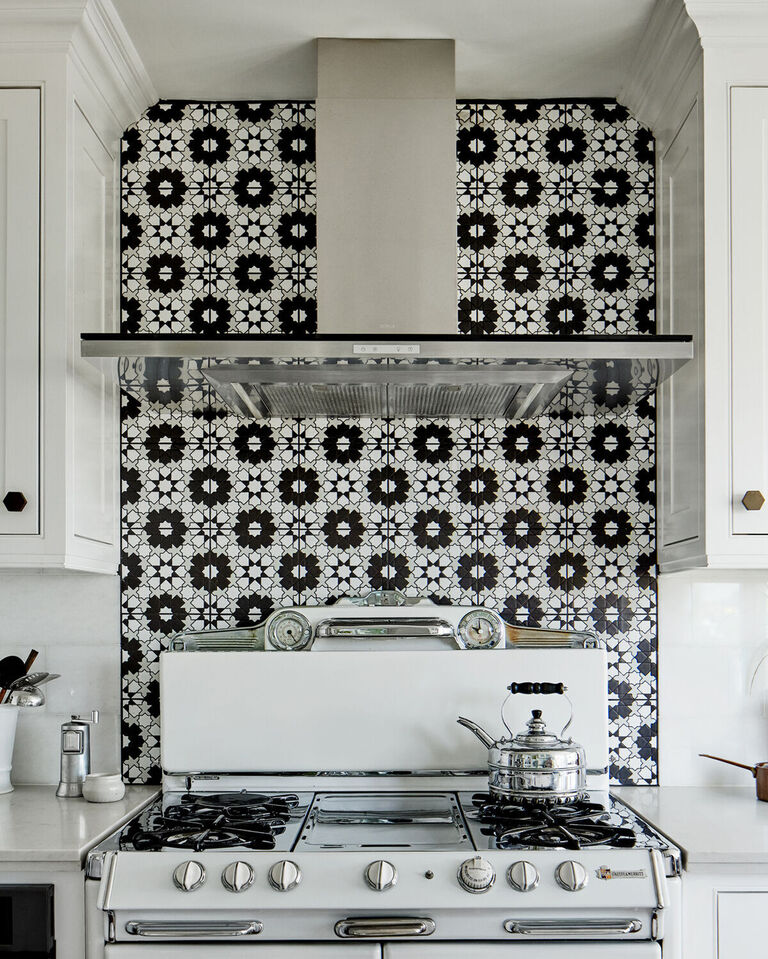 Tile Shown: Elephant Star Black and White Motif // Design & Image: David Tsay
Every piece of handpainted tile we sell is painted by one of our expert artists, each with a one-of-a-kind style and signature making no two pieces exactly alike. This Elephant Star backsplash is like a wall of high fashion granny squares in a bold black and white motif.
9. Dark Domes
Tile Shown: Fallow Cool Motif & White Wash 3x6
Our Fallow Tile is simple, modern, and highly configurable. The bold black and white tiles sit handsomely between the white wall tile, framing the range with a dramatic focal point.
10. Maximalist Moods
Tile Shown: Fallow Custom Motif // Design: Me & General Design // Image: David Patterson
Same tile but very different styles, Fallow flips the script in this bar with a custom reverse motif and a maximalist mezcal serving surround.
11. Contemporary Creativity
Tile Shown: Fallow Cool Motif // Design: AC Martin // Image: Lawrence Anderson Architectural Photographer
Fallow once again shows off its versatility in this contemporary lounge with an assorted configuration of circles, squiggles, and half domes that look decidedly decadent against the red room accents.
12. Moroccan Magic
Tile Shown: Kasbah Trellis Neutral Motif // Design: Mokume Design Studio // Image: Christopher Stark
This classic Moroccan motif is our most popular handpainted tile and for good reason. The black dryline matched with the simple white hand-painted glaze gives this tile a clean look with high contrast lines. And a little goes a long way, as you can see here in this simple column above the range in this bright white kitchen.
13. Bar Back
Tile Shown: Kasbah Trellis Neutral Motif // Design & Image: Destination Eichler
As with the previous example, Kasbah can make a big impact with only a handful of tiles. This midcentury Eichler kitchen is awash with character, but the tiled bar backsplash is what catches your eye, inviting you to enjoy a beverage and take in the beautiful kitchen.
14. More is More
Tile Shown: Kasbah Trellis Black and White Motif // Design: Gingerwood Design // Image: Jerry Hayes
If you're of the more is more mindset, Kasbah can cover ground too. This kitchen features full walls of hand-painted black and white tiles. Among the black cabinets and white countertops, the graphic pattern is intricate and enticing but never overpowering. It's perfection!
15. Kindred Spirits
Tile Shown: Kasbah Trellis Neutral Motif, Daisy Mini Star and Cross // Design: TVL Creative // Image: Jess Blackwell Photography
As we've seen, a black and white backsplash can come together in a number of ways. This kitchen employs two of those, pairing white tile with black grout on one side of the kitchen and handpainted black and white Kasbah Trellis tile on the other. Both the color combo and the pattern coordinate to create a modern Moroccan kitchen.
16. Star Power
Tile Shown: Padma Black and White Motif // Design: Karen Tsay // Image: David Tsay
This hand-painted backsplash tile features a Moorish star punctuated with a bold black and white motif. Together, the stars draw a decorative lattice to liven up the clean white kitchen.
17. Tehran to Taos
Tile Shown: Old Cairo Black and White Motif // Design: Laure Joilet // Image: Kirsten Grove
Evoking styles of both the Middle East and the American Southwest, Old Cairo is a bold pattern for this kitchen backsplash. We think the black and white motif is an excellent pairing for such a sharp pattern.
18. Drawn In
Tile Shown: Malta Custom Motif // Design: Kristen Peña
This pattern looks like an intricate pen and ink drawing with Mediterranean shapes decorating this backsplash from counter to ceiling.
19. Depth and Detail
Tile Shown: Kabuki Sphere Dark Motif // Design: Kristin Reisinger & Space Craft, LLC // Image: Benjamin Hale
Lacey geometric tile in a bold black glaze and web-like drylines make for one impactful handpainted tile backsplash. Hexagons, circles, triangles, and stars all jump from the pattern with a bold finish to give this backsplash depth and detail.
20. Block Shop Beauty
Tile Shown: Roundabout Gesso Motif // Design & Image: GLAM Studio
Delicate parallel lines of dark dryline course through these white tiles collaborated on with Block Shop Textiles to evoke the tradition of block printing in backsplash form.

Ready to start your black and white backsplash design? Get in touch with our Design Consultants for free personalized design assistance including sampling, estimating, renderings and ordering.