Top 10 Residential Tile Projects of 2018
As we countdown to 2019, we're looking back on the best of 2018. With so many inspiring residential installations to choose from, it was quite the challenge to pick just ten! The year's tile trends have been defined by bold blues and greens, geometric patterns, and a whole lot of beautiful design that we're so proud to be a part of. We're recapping some of our favorites here but for more, head to our Pinterest Board that has even more highlights from this past year.
Ps. We love to see your projects! If you share on social, make sure to tag us and use #Fireclaytile
Here's our top 10:
10. A Family Affair: Master Bath:
Sister act Justina and Faith Blakeney infuse their parent's master bath with their signature global flair. Ogee Drop in Nutmeg warmly contrasts with handpainted Summit in Green Motif, outfitting the space in earthy luxury. To see the whole renovation (including a kitchen and guest bath) click here!
Tile Shown: Ogee Drop in Nutmeg with Handpainted Summit in Green Motif // Design & Photos: Faith Blakeney & Justina Blakeney
9. Pattern Play with Prussian Blue:
Prussian Blue makes waves in this eclectic, family-friendly kitchen. Island tile in the same vibrant hue divides the kitchen and dining areas.
Tile Shown: Boundary Waters Wave & 1x4 // Design: Andria Fromm Interiors // Photos: Ruby and Peach Photography
8. Jen's Retro-Modern Retreat:
Lifestyle guru Jen Pinkston of The Effortless Chic infuses her master bath with refreshed midcentury-modern flair. To see Jen's equally amazing kitchen, click here!
Tile shown: Flagstone and Sugar 2x8 // Design: Jen Pinkston // Photos: Katie Jameson
7. Taylor + Taylor Kitchen Floor Tile:
Designer duo Taylor + Taylor partnered up with friend and blogger Anne Sage to give their cozy rustic kitchen a bold burst of pattern, featuring our handpainted Agrarian floor tile in custom colorways.
Tile shown: Handpainted Fallow and Grange in custom colorways created with our
Color-It Tool // Design: Taylor + Taylor with Anne Sage // Photos: Monica Wang Photography
6. Floor-to-Ceiling Fireplace Tile Surround:
Looking for a fresh take on the hearth of the home, Maggie Remington went floor-to-ceiling with her 3x3 Sea Foam tile fireplace surround for her rental property.
Tile Shown: Sea Foam 3x3 // Design: Joan Ffolliott
5. The Fresh Exchange Master Bath:
Thanks to the floor and shower tiles' moody blue-green tones and modern patterns, Megan Gilger's soothing master bathroom is steeped in spa-like serenity. To see the rest of the Fresh Exchange home, click here!
Tile shown: 3x9 in Salton Sea with 6" Hexagons in Flagstone // Design + photos: The Fresh Exchange
4. Backsplash Gone Plaid:
Masterfully coordinated with shades of blue and 2x8 and 4x8 tiles, this eclectic kitchen backsplash takes a beloved textile pattern to a whole new level.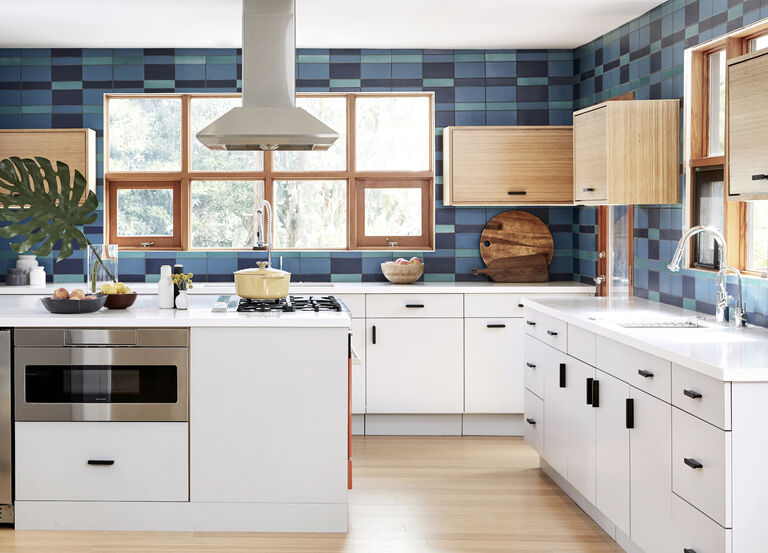 Tile shown: 2x8 and 4x8 in Blue Velvet, Peacock, and Fluorite // Design: The Niche Home // Photos: Jenna Peffley
3. Maine Mainstays:
This cool Maine kitchen's bright blue cabinetry may be the main attraction, but our glazed thin Brick in Olympic makes for a versatile backdrop that's made to last.
Brick shown: Olympic // Design: Heidi Lachapelle Interiors// Photos: Erin Little Photography
2. Starry Bathroom:
Using our Color-It! Tool to create a fresh take on our Starburst pattern, Anna Liesemeyer's bathroom leaves us positively starry-eyed.
Tile shown: Tusk Mini Star and Cross & Handpainted Starburst in a custom colorway// Design: In Honor of Design // Photos: Rustic White Photography
1. Mandy Moore's Rosemary Bathroom:
Midcentury modern details make Mandy Moore's Jack & Jill bathroom sleek and streamlined, but it's Rosemary's high variation and crackled detailing that lend it a luxuriously organic allure. For more on Mandy's project, click here!
Tile shown: Rosemary 3x6 // Design: Sarah Sherman Samuel & Emily Farnham Architecture // Photos: Tessa Neustadt
Inspired by all these stand out projects? Order color samples online now. Need some help? Simply call, chat or fill out our Design Assistance Form and one of our talented Design Consultants will get back to you shortly.

Thanks so much for inviting us into your homes, we look forward to seeing what you create in 2019!
Shop the Story