Tile School: Which Sheen is Right For You?
When you are choosing which tile to install, people generally think of color first, but it is important to consider the finish too. Do you want your tiles to be light reflective? Have a softer look? Do you want some texture? You should also consider where you are installing as well, as some finishes are better suited for certain applications. Also, not all of our finishes are available in all of our materials. Below, we'll break down the four finishes that we offer.

Matte:
You can find matte glazes in both our White Clay and Recycled Clay tiles. Matte glazes have a non-reflective surface and we offer them in several neutrals, a few whites and colors too. The subtle texture of a matte glaze has a softer effect that adds something special to any installation.
Tile Shown: Pickets in Sea Glass
Mattes work wonderfully for flooring as they offer more grip and slip resistance.
Tile Shown: Daisy Matte in Star and Cross and Mini Star and Cross
Satin:
We have only a few Satin finished Tile colors: Flagstone, Sorbet and Sunflower. A Satin Finish is a matte surface with light sheen differences and is suitable for any installation.
Tile Shown: Flagstone, Sorbet and Sunflower
You can see the touch of sheen this finish offers in the installation below:
Tile Shown: Flagstone
Gloss:
Gloss finishes have a shiny, semi-reflective sheen. Gloss finishes are seen most frequently, as this sheen offers a classic feel. You will find some variety within our gloss finishes, many of our White Clay body glazes have a crackled texture and our Recycled Clay Body also comes in a glossy, engobe glazes (more on that a bit later).
This glaze, Foggy Morning, is on our White Clay Body and you can see the shine, variation and crackle that can exist within finishes like this.
Tile Shown: 2x6 in Foggy Morning
While are White Clay Body glazes typically have more variation than those on our Recycled Clay Body, there are colors like Navy Blue that have noticeable variation. You'll also notice how the light plays off the glossy surface of the saturated shade: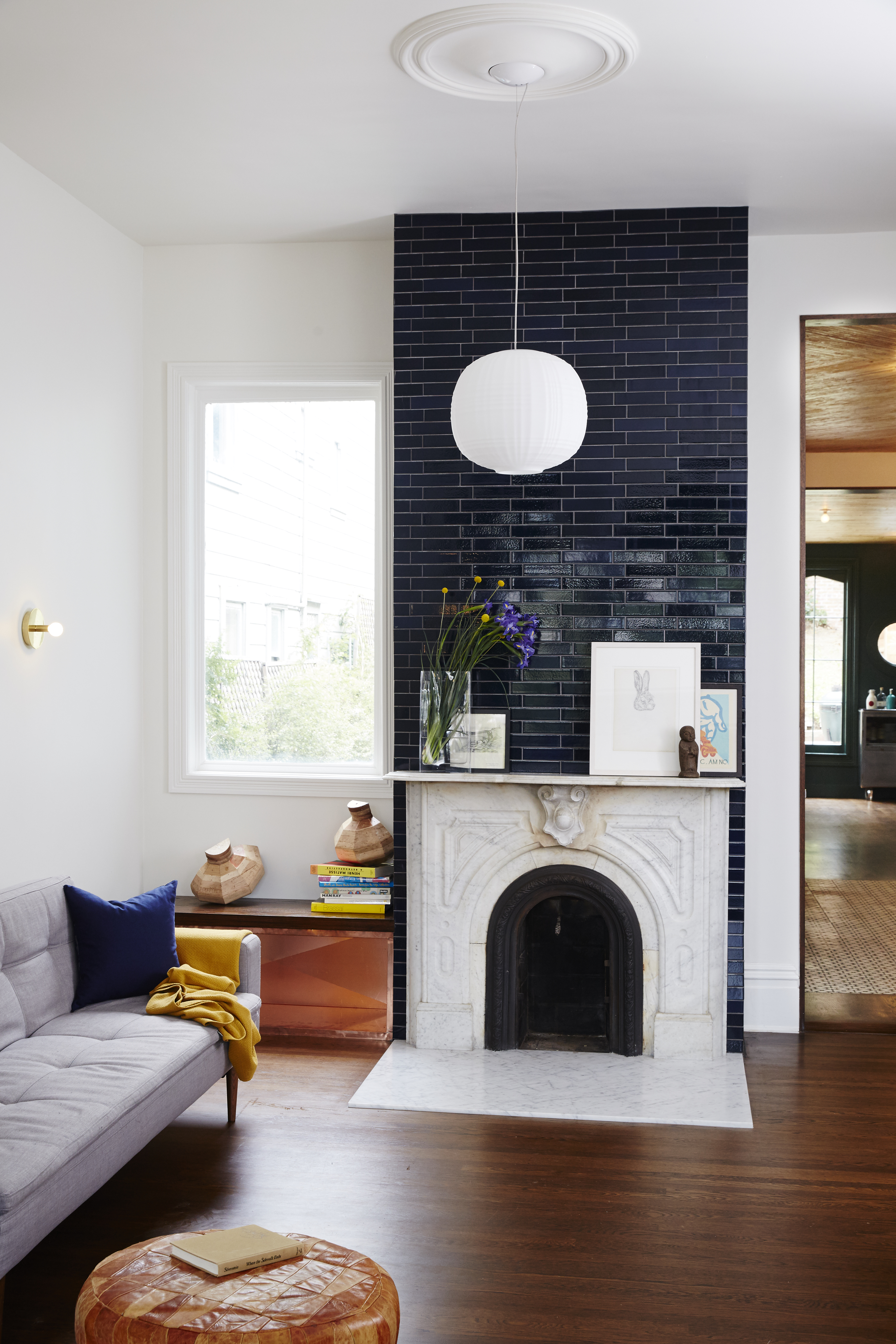 Tile Shown: 2x8s in Navy Blue
You will also find Gloss finishes like Turquoise (shown below) where there is very little variation. Just be sure to check the variation level on each color page!
Tile Shown: Turquoise
Gloss with Engobe:
Engobe is where we place a white primer on our Recycled Clay Body and then the colored glazed on the top. This finish accentuates the color and makes for a watercolor-like appearance. Engobe finishes will typically have a higher variation level, along with a bit of crazing. This sheen is a great choice if you like the variation of our White Clay Body glazes but would like to or need to use recycled materials for your project.
You can see how this finish has a lot of color variation:
Tile Shown: Nautical
You can use enjobe glazes for both wall and floor applications:
Tile Shown: 8" Hexagons in Slate Blue
You can see how an Engobe glaze can really showcase color variation in the bathroom below:
Tile Shown: Kelp (an engobed finish) in 3x6 Subway Tile in an Offset Pattern
Patine:
Patine is an antiquing process applied to a gloss glaze to accentuate the crackled nature of the glaze. You will only find patine finishes in our White Clay Body. Thus, while this is fine for flooring, backsplashes, shower and fireplace applications, it cannot be used in a pool or steam shower setting. Below are the three colors where you can find this striking sheen.
Tile Shown: Basil with Black Patine
Tile Shown: Foggy Morning with Black Patine
Tile Shown: Foggy Morning with Black Patine in a fireplace application. Image: Michael Fearon Bliss Photography.
Tile Shown: Ultra Cream with Black Patine
Do you love our finishes? Order color samples online now. Still not sure which sheen is right for you? Simply call, chat, or fill out our Design Assistance Form and one of our talented Design Consultants will get back to you shortly.
Shop the Story