A Complete Guide to Corner Tile
Does your tile project have a niche? A window that needs trimming? A pony wall or shower bench? Then you'll likely need a trim piece for finishing the corners. Turning a corner can seem like a challenge, but not to worry, we'll walk you through the options you have.
We have a post dedicated to trim, but we thought we ought to dedicate one solely to corners. Here's what to reach for when your tile takes a turn.
Glazed Edge
A glazed edge is the simplest way to turn a corner. This is where you simply glaze the short edges of your tile or brick and have them form the corner with a regular piece of tile. Like their trim counterparts, glazed edges are also priced by the linear foot.
Justina Blakeney's bathroom utilizes a lot of glazed edge pieces to both turn a corner on walls, along with the trim along her arched shower niches.
Here's a closer look at those glazed edges.
Tile Shown: 2x8 in Tidewater with custom Elephant Star // Design & Image: Justina Blakeney
We can glaze the edges of our Brick too.
Tile Shown: Lewis Range Brick
But guess what? We also make Corner pieces for our Brick as well. Please let us know if you need us to glaze any of the top edges if they will be exposed!
Tile Shown: San Gabriel Brick Corner
Unglazed Edge
Some may actually love the look of unfinished edges and featuring them in a design is an interesting way of accentuating the one-of-a-kind look of handmade tile. This shower niche celebrates the imperfections of unfinished edges.
Tile Shown: Salton Sea 3x6 // Design: Kimberly Pinola // Image: John Park
If you do choose this style, you or your installer must take extra care to ensure the tile is sealed properly. Also, note that grout can stain the unglazed portions of the tile.
Mitering
You can choose to miter the edges of your tile too. Mitering is where a joint is created by two pieces of tile at a 90° angle to create a corner.
This brick-clad fireplace features super crisp outside corners thanks to well-executed miter joints.
Tile Shown: Columbia Plateau Brick // Design & Image: Claire Thomas

You may also want to use miter joints on inside corners as well.
Quarter Round
Quarter Rounds are a clean, finished way of going around a corner. This method is seen often in kitchens, showers, and shower niches as well. We price these 6" pieces by linear foot, so you can determine how much you need by measuring the length or height of the area you need them for.

You can see Quarter Rounds in action trimming a decorative arch here.
Tile Shown: Custom 2x4, 2x8 & 1x6 // Design: Wendi Ellen Sue Architecture // Image: Sen Creative
Quarter rounds can be especially useful for installations that use specialty shapes as they nicely frame, while also closing off any cut edges. Like this niche.
Tile Shown: Daisy 3x6 // Design & Image: Meg Garret

Quarter Rounds can also come in handy if you need to trim out a window where a corner is involved.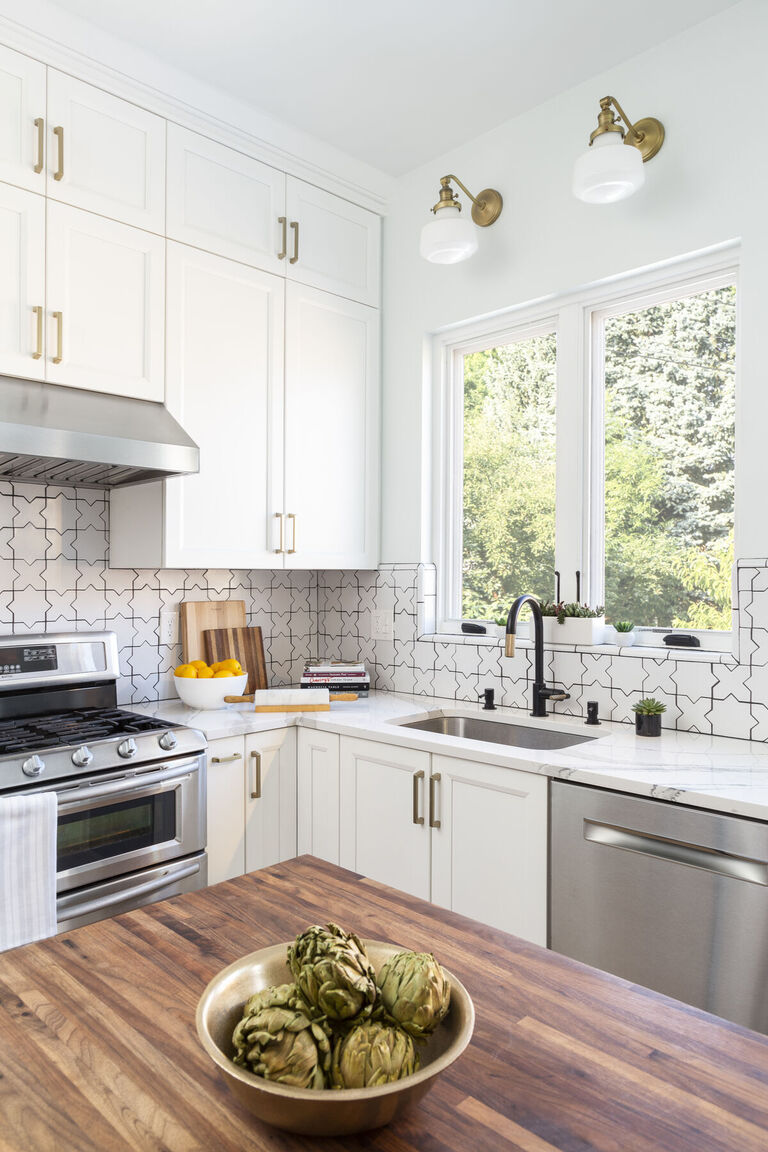 Tile Shown: Daisy Mini Star & Cross // Design: TVL Creative // Image: Jess Blackwell Photography
Flat Liner
Like the Quarter Round, a Flat Liner is a glazed ceramic piece of trim. But as the name suggests, instead of being rounded, it is flat and squared on all sides. These trim pieces work similarly to a glazed edge tile to turn a corner with glaze on all exposed sides.
You'll see how flat liner forms the 90-degree edge of this shower bench, blending well with the tile on the horizontal and vertical planes.
Tile Shown: Cardamom Chaine Homme & 3x9 // Design: Design 4 Corners // Image: Nader Essa
Another example of flat liner's cleaning up corner transitions, this kitchen backsplash features a tiled window casing for an interesting design detail.
Tile Shown: Navy Blue Hexagon // Design: John Gioffre // Image: Leonid Furmansky
Bullnose
Using bullnose tiles is a simple way to go around a corner. This is where a bullnose tile meets with a regular tile to form a corner. Like this.
Tile Shown: White Wash in 3x6 Subway tiles forming a corner.
Tile Shown: Dawn 2x6 // Design & Image: Heather Hunsinger
Parallel Bullnose
Parallel Bullnose is where we bullnose both sides of the tile. You will see this often in a bathroom application, on either a narrow wall or along the lip of a shower pan surround.
Tile Shown: Daisy Star & Cross, Amalfi Coast 2x6
Schluter Trim
An easy and affordable way to finish a corner is by using Schluter profiles. These profiles are strips of metal or PVC trim. The profiles provide a clean appearance by covering unglazed or unfinished tile edges, like corners!
This shower features brass Schluter trim on the corners of both the shower niche and the shower curb.
Tile Shown: Sand Dune & Koi 4x4, Koi 6x12 // Design: Anthony Roxas Architecture // Image: María del Río
Do you have more questions about corners? Simply call, chat, or fill out our Design Assistance Form and one of our talented Design Consultants will get back to you shortly.
Shop the Story