The Return of the Jungalow
All Images: Justina Blakeney
Designer Justina Blakeney takes on a second bathroom remodel with her signature Jungalicious flair. You might remember her last bathroom, where she went bold and blue with Adriatic Sea (see below), but this time, "We wanted a watery color-scheme that felt light and soothing. Our other bathroom is a bit darker and moodier and we wanted this one to be more bright. The design was very much dictated by how we wanted to feel in the space," says Blakeney. Keep scrolling to see more of this project and the inspiration behind it.
Here's Justina's Master bath:
Tile Shown: 8" Hexagons in Adriatic Sea
Love Justina's style? Check out her Story and shop her top tile picks (you can also head to our Jungalow-inspired Pinterest Board). Each of her Sample packs comes with a color sample Adriatic Sea, Venetian Green, Spruce Gloss, Tidewater, Mustard Seed, Nutmeg, Antique and Claypot: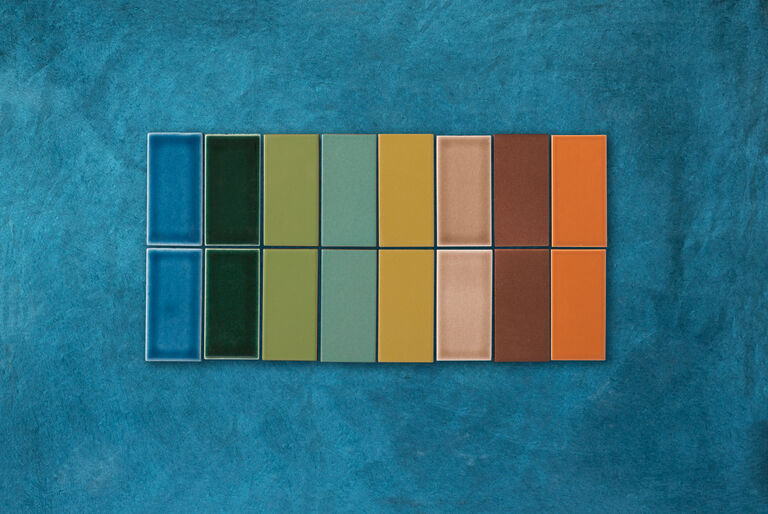 This is Justina:
Can you tell me about this bathroom? What did it look like before? What did you want to change?
Before, the bathroom was just beige and boring. Everything felt dingy and outdated, a little bit moldy and a little bit dark. We wanted to change everything, but the footprint needed to stay the same. The biggest change that we made besides (obviously!) all the tile and fixtures, was to move the tub to the opposite wall in the bathroom and put in a ginormous window. I wanted the space to feel bigger, brighter and to make the tub experience fun and relaxing. (Fun for my 4-year-old and relaxing for me and the hubby).
For your last bathroom, you were going for a Hammam-like feel, what was your inspiration for this one?
I often gravitate towards the Hammam vibe for a bathroom, but this time I had an additional point of inspiration which was Tulum. The way that natural materials are used in Tulum was very inspiring to me. I kept on referring back to all of the live-edge wood, the watery color schemes, and recycled materials (like recycled glass).
How did you come up with your color scheme and design?
We wanted a watery color-scheme that felt light and soothing. Our other bathroom is a bit darker and moodier and we wanted this one to be more bright. The design was very much dictated by how we wanted to feel in the space. I wanted to bathe under a big window. Once that was decided on, the floor-plan fell into place in a kind of domino effect.
Now for the tile! How did you land on the Tidewater in 2x8s? And how about the herringbone pattern?
While leaning on inspiration from Morocco and Tulum for this bathroom, I also wanted it to feel modern. The Herringbone pattern feels very 'now' to me but also very timeless. The Tidewater color was a unanimous vote between my husband, daughter, and I. We did a silent vote once all the samples came in and we all gravitated towards that color. I also had the thought that the herringbone pattern on the floors and all the way up the shower/bath wall would help the room feel larger.
Tile Shown: 2x8s in Tidewater
What about the Handpainted Elephant Star?
I've had my eye on that Elephant Star for a long time! I was so excited to have a chance to use it in one of my design projects. I love how when it's tiled together it reads as one large pattern (almost like wallpaper) and that was the effect I wanted in this space. The elephant star feels timeless and energetic, but the colors calm it down and make it feel very soothing.


How was about your experience with creating your own handpainted colorway?

I love seeing how changing one color in the tile can seriously change the whole vibe! Having the opportunity to color your own tile really makes the whole space feel custom to us -- one of a kind. It's really pretty great.
Below, you can see one of the options Justina played around with:
Below is the winning combination. Justina made Elephant Star all her own with a blend of Clover, Flagstone, Sea Glass and Tidewater
Please note the glazed edges used to finish off this gorgeous arched niche. If you're going to have a niche, you'll probably need trim, more on that here!
How did the installation go? Did you face any challenges?
We always face challenges during installation -- but overall the process was very smooth. One of the biggest hiccups this time around was that a couple of the tiles were installed upside-down and we had to have them rotated. Ha!
Lastly, any of our colors, shapes or patterns that you're hoping to use one day?
Fallow, Grange, Old Cairo.
Mushroom, Mustard seed, Bora Bora.
So obsessed.
Tile Shown: Fallow in Warm Motif
Tile Shown: Grange in Warm Motif
Tile Shown: Old Cairo in Cool Motif
Inspired by The Jungalow? Order color samples online now. Need some help? Simply call, chat or fill out our Design Assistance Form and one of our talented Design Consultants will get back to you shortly.