The Essential Guide to Midcentury Design
By Ted Ryan
Midcentury modern design is a style with staying power. Revolutionizing the design world in the middle of the 20th century and revived with new energy in the last decade with the help of Mad Men and a new generation descending on the midcentury mecca of Palm Springs, this sleek style isn't letting up.
Learn the history of midcentury and how to use it in your home as we dive into the essential guide to midcentury modern design.
Sample Midcentury-Inspired Colors
Our Midcentury favorites include Ceramic color samples in Antique, Desert Bloom, Palm Tree, Naples Blue, Bryce Canyon, Tusk, Azul, and Lichen. Choose your favorites here.
What is Midcentury Design?
Tile Shown: Mustard Seed 2x8 // Design & Image: High and Tight Design
Midcentury modern design was all about minimalism, clean lines, and simple forms while incorporating more color and pattern compared to its Modern predecessor. Functionality and utility are highly prized, and homes built during the period were connected to nature via large windows and minimal window treatments. There was minimal ornamentation in midcentury modern homes, something that has made them versatile templates for interior design through the decades.
Tile Shown: Tempest 2x8 // Design + Photo: Destination Eichler
Midcentury furniture designs feature curves, flares, tapers, sharp angles, and asymmetrical shapes. Poul Jensen's Z chair, the Eames' lounge chair, Arne Jacobsen's egg chair, and the Isamu Noguchi coffee table are all classic examples of midcentury home decor.
Tile Shown: Aleutian Standard Brick Tile // Design: Destination Eichler // Image: Christopher Dibble
When it comes to architecture, Richard Neutra's Kaufman House, Pierre Koenig's Stahl House, the Eame's Houe, and John Lautner's Sheats–Goldstein Residence and out of this world Chemosphere are legendary midcentury modern homes that redefined what a residential real estate could look like.
Tile Shown: Azul Small Diamond Sheeted // Design: Destination Eichler // Image: John Shum, Destination Eichler
These buildings were open, airy, featured an abundance of glass, exposed beams, flat or low pitched roofs, and were thoughtful about flow inside and fitting in with their environment outside.
Tile Shown: Padma Custom Motif // Design: Destination Eichler // Image: Destination Eichler
The Los Angeles area remains a living museum of some of the most famous examples of midcentury architecture.
Since midcentury design spanned a few decades–approximately the 1940s-60s–popular color palettes evolved throughout this design trend. In the 1950s, bright colors like aqua, sunny yellow, lime, and pink were most common in midcentury interiors.
Tile Shown: Dafodil Hexite // Design: Method Homes // Image: Alex Farrell
In the 60s, richer earth tones like burnt orange, olive green, and mustard yellow were typical. The common colors found throughout the trend were neutrals: lots of wood veneers, chocolate brown, black, grey, and white.
Tile Shown: Palm Tree 2x4 Sheeted // Design: MODtage Design // Image: MODTAGE Design, Christopher Stark
History of Midcentury Design
Tile Shown: Tempest 2x8 // Design & Image: Destination Eichler
Midcentury design didn't just reinterpret the look and feel of home furnishings, it invented new ways of creating them as well.
In the post-war era following World War II, modern industrial manufacturing techniques, as well as materials–like steel, molded plywood, and plastics–cracked open new ways of producing goods. In turn, designers took this license to recreate what furniture could look like entirely.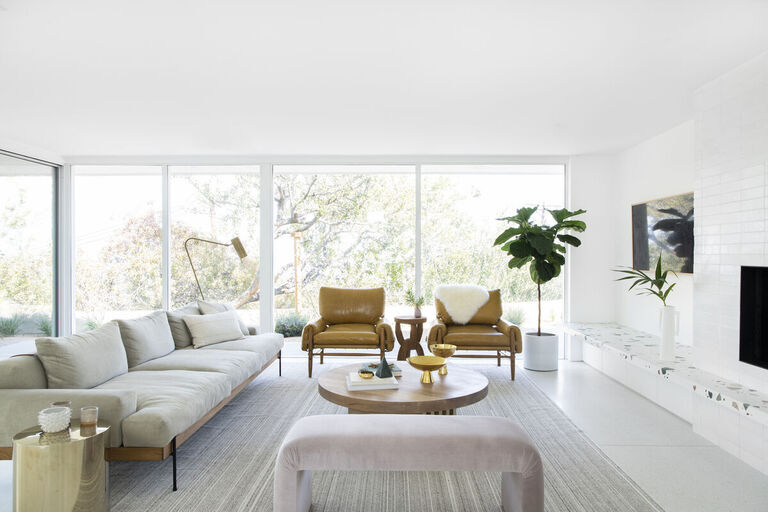 Tile Shown: Lewis Range Standard Brick Tile // Design: Sarah Sherman Samuel, Emily Farnham Architecture for Mandy Moore // Image: Tessa Neustadt
Efficiency was key in modern design, with homes and objects created thoughtfully to function practically for as many people as possible for an accessible price. The first Eichler homes, for instance, 1,500 square foot 3 bed/1 bath designs, sold for just $10,000 in 1949, just over $120,000 by today's dollar value.
Tile Shown: Diamond Stitch in White Wash, Chartreuse, Dolomite, and Akoya // Design: Destination Eichler // Photos: John Shum
Micentury design is actually a sort of Venn diagram of several loosely connected design styles created from the 1940s through the mid-1960s that followed the early Modern design of the 1930s. Scandinavian design from this early Modern era, for instance, played an extremely influential role in the midcentury modern movement to follow.
Tile Shown: River Rock Neutral Motif // Install: Amie Neff - Capable Design
It wasn't until 1984 when journalist Cara Greenberg published the book Mid-Century Modern: Furniture of the 1950s that these related movements coalesced under the shorthand midcentury modern.

Tile Shown: Daffodil and Tuolumne Meadows 3x12 // Design: Studios Architecture // Image: Magda Biernat
Midcentury Kitchen Design
Tile Shown: Haystack 3x3 Sheeted // Design & Image: Claire Thomas
A midcentury kitchen features sleek lines and bold pops of color and pattern. A colorful tile backsplash, geometric or plaid window dressings, decorative laminate countertops, natural wood cabinets and futuristic lighting are all definitive features of a midcentury modern kitchen.
Tile Shown: Glacier Bay Hexite // Design: Lindsey Engler Interiors // Image: Kelly Ann Photography
During its evolution, the midcentury modern kitchen was filled with state-of-the-art conveniences that today would be considered retro and nostalgic. To recreate the midcentury modern style kitchen, companies like Smeg have recreated classic midcentury appliances to suit the style with today's technology.
Tile Shown: Tidewater 3x9 & Maze Custom Motif // Design: Ashley Christensen, TVL // Image: Jess Blackwell
Midcentury Bathroom Design
Tile Shown: Fallow Custom Motif // Design & Image: Claire Thomas
Like kitchens, midcentury modern bathrooms benefit from clean lines and occasional bold pops of bright colors and patterns.
Tile Shown: Evergreen 2x6 // Design & Image: Claire Thomas
With its predilection for tile surfaces, the bathroom offers an abundance of ways to incorporate pattern and color into a design, as well as ways to draw lines throughout the layout with high contrast grout.
Tile Shown: Glacier Bay 4x8 // Design & Image: Destination Eichler
Fixtures and cabinetry can also capture the style with wood accents, retro lighting, and hardware to accurately match the period.
Tile Shown: Antique Hexite // Design: Jared Zimmerman & Shannon Badiee // Image: Aerial Canvas
Midcentury Living Room Design
Tile Shown: Columbia Plateau Standard Brick Tile // Design & Image: Claire Thomas
A living room is where many interior designers can really let loose with midcentury style. There are so many furniture pieces that showcase the aesthetic and loads of retailers that cater to the style with either vintage or replica offerings.
Tile Shown: San Gabriel Standard Brick Tile // Design: Atelier Ma // Image: Margaret Austin
For permanent installs, a fireplace is the quintessential focal point in a midcentury modern home. Bold central column fireplaces clad in colored brick or decorative tile, as well as classic prefabricated Malm fireplaces, bring unbeatable ambiance.
Tile Shown: Harvest Custom Motif // Design: Claire Thomas // Image: Stephanie Todaro Photography
Add wood panel walls, wood floors, earth-tone or patterned carpet, and floor-to-ceiling windows to let in natural light and you've got a living room fit for the pages of Architectural Digest.
Tile Shown: Jade Ogee Drop // Design: Jared Zimmerman & Shannon Badiee // Image: Aerial Canvas
Styles come and go but it's clear, judging by the retailers that cater to it, the designers who embrace it, and the culture that surrounds it, midcentury design isn't going anywhere. Whether you're starting with a simple accent chair or are diving headfirst into a midcentury restoration, there's a good chance you'll be hooked on this sleek style.
Want the perfect tile to match this style? Our design consultants can help bring your midcentury vision to life with our free design services. Reach out to be connected with your personal consultant today!