Installation Stories: Reviving a Victorian Kitchen
Mandy Lozano is a homeowner from Seattle, WA sustainably restoring her 1900 Victorian home. When she got to the kitchen, she knew neither a trendy design nor a cookie-cutter tile would bring it back to its original glory. Honoring the history of her home, the legacy of her parents, and the values she believes in, Mandy chose Fireclay to tile the backsplash of this truly exceptional kitchen.
This is her story in her own words.
A Brief Background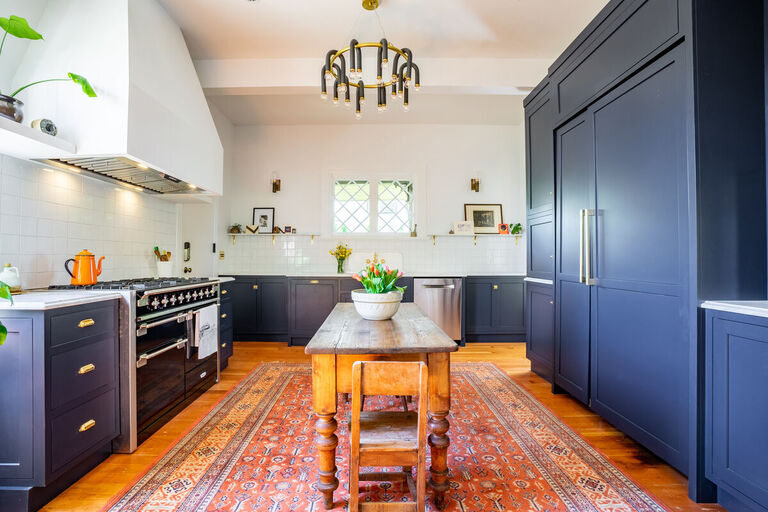 For the past 3 years I have been restoring my home to her original grandeur, lovingly saving every stick of wood and uncovering amazing architectural details in the process. The kitchen was the last stop, and the most expensive. I had a vision, yet I couldn't find a single photograph on any website that captured it. So I created it myself.

I am only the third owner of my 1900 Victorian. I bought it from a lovely family who lived there for 60 years. They did some aesthetic modifications, including adding paneling, wallpaper, a bathroom, full carpet (that protected the original fir! yay!) etc. They installed a kitchen in the early 2000s with the standard "contractor special" cabinetry, granite countertops (impossible to keep clean), Pergo laminate flooring, and stainless appliances. It did not fit the grandeur of the house's bones but fit their needs just fine.
My home is one of the oldest in my neighborhood in Seattle, which is called "Squire Park" (also known as the Central District, a formerly redlined neighborhood). Knowledgeable tradespeople who've been a part of my remodeling efforts have confirmed that my Victorian home was built by a wealthy person, as evidenced by the 10-foot ceilings, large rooms, and fine craftsmanship using old-growth Douglas Fir wood throughout.
Honoring the History
I grew up on a cattle ranch off the grid in Oregon. As the child of two art teachers-turned-cattle-ranchers, I am a huge fan of John Ruskin. He helped me with my kitchen:
". . . Old buildings are not ours. They belong, partly to those who built them, and partly to the generations of mankind who are to follow us. The dead still have their right in them: That which they labored for . . . we have no right to obliterate."
"What we ourselves have built, we are at liberty to throw down. But what other men gave their strength, and wealth, and life to accomplish, their right over it does not pass away with their death . . ."

I researched the heck out of my kitchen, trying to keep with the style of the 1900s. I could do a long Ted Talk about it. I pored over sites and videos of older British kitchens because my beautiful Aga stove needed to feel at home. I looked up Dutch and Parisian kitchens and early American sculleries.
I was especially inspired by Dutch kitchens with Delft tiles. My parents lived in Europe for a year when they were first married, and some of the treasures they brought home were a few Delft tiles. They mounted one in our range backsplash at the ranch, and I have loved them ever since.
Since the "Victorian kitchen circa 1900" isn't exactly a major trend, there is not a lot of information out there.
Trademarks of "Victorian kitchens" at that time were:
Multiple hutches (versus banks of cabinetry)
A large stove that not only did the hard work of cooking but also heated the home
A large sink integrated into a drainboard, harnessing the novel feature of running water
Walls with paneling or tile partway up, to avoid the messy work of cleaning plaster from cooking spills
A large wooden table in the center (we call these "islands" today) for prep work and the occasional quick meal for the house staff
Simple gas-powered light fixtures, since electricity in homes was still emergent. In fact, when I remodeled another section of my home, we found gas lines in the walls for wall sconces, right alongside the knob & tube. Perhaps the builder was hedging his bets on which would catch on.
Unlike the more modern, streamlined kitchens of today, Victorian kitchens had varying counter heights & compositions. I did extensive internet research on the materials, hardware, and styles of the appointments.
I chose unlacquered brass hardware, latches that matched the era, and a wall-mount sink (of course!). You can imagine my delight when I uncovered the magnificent original Fir beneath ugly Pergo, and had them refinished with a Swedish finish to bring out their luster.
I was even so specific as to state how I wanted the cabinet fronts to look, which is called an inset box. These don't have the more modern "fronts" that overlap on the cabinet frame. This would have been a waste of time & materials in 1900. They would have just stuck with a simple rectangle with dovetail joinery.
I sought an authentic feel for what an older, urban kitchen would be, which isn't a popular theme. So, I created my own, and augmented the older styles with modern (enough) appliances, a gorgeous set of antique Stuart Barnes for Robert Long sconces, an 1840s washing table for an island, and a beautiful old family heirloom rug that "really ties the room together".
The Tile
The tile treatment I saw consistently in my research was either subway tile or square tile.
Since I abhor mindless adherence to trends, I was hesitant to slap subway tile in my kitchen without a lot of thought. Even though it very well may have been there originally.
I also didn't want to do a Carrara marble backsplash, though I chose Carrara for the countertops. While I doubt there was Carrara anywhere in the kitchen when it was built, I thought it a nice Victorian touch.
So, after watching an old British movie about the staff of Queen Elizabeth's kitchen, I was struck by the practical, no-fuss look of the Queen's square-tiled kitchen. I even took screenshots of the movie while watching, I was that focused on getting it right.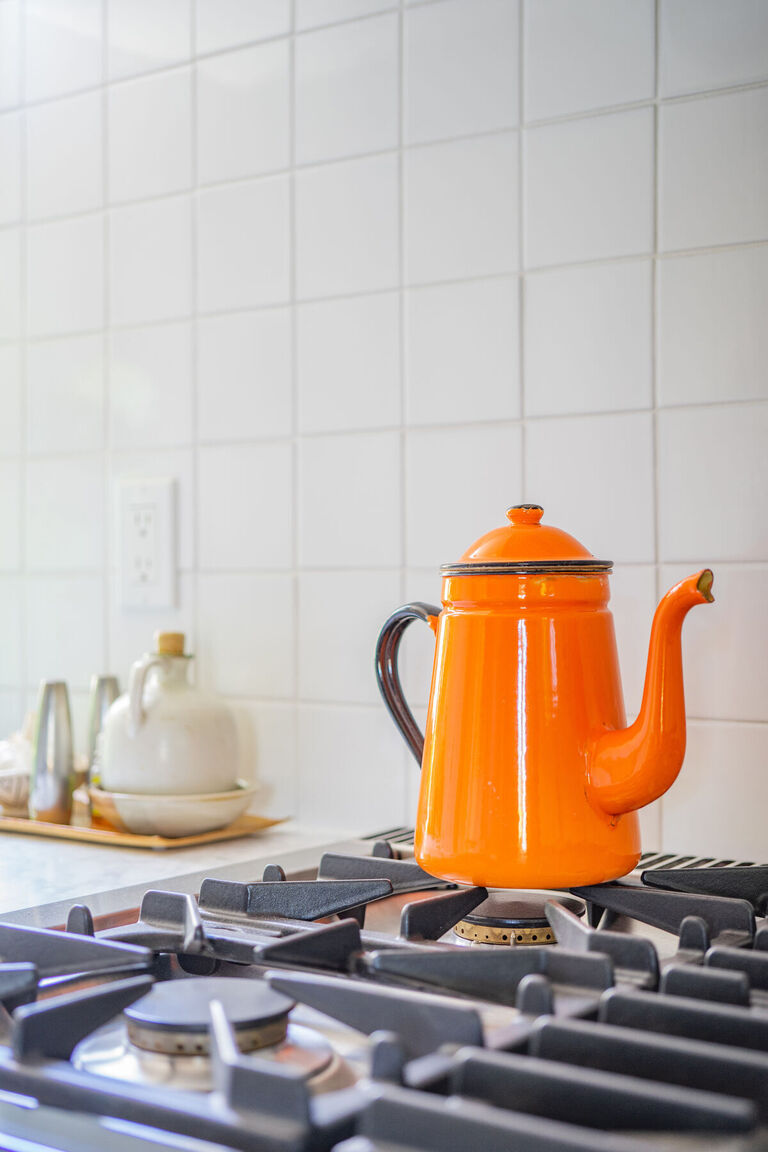 I decided that I liked the practicality of square tiles laid in a stacked formation as a nice contrast to my luxurious marble countertops and deep blue cabinets.
I debated between 6x6 and 4x4 and eventually chose 4x4 in White Wash for the scale it would add behind my beautiful Aga stove and gorgeous wall-mount sink. The built-in vent hood and marble shelves, respectively, created a natural end to the tile, and the 4x4 harmonized the entire look.
I wanted my kitchen to be a mix of practical and luxurious, but not adhere to any one design aesthetic. I have traveled to a lot of places and always bring inspiration back. I love the meat markets of Peru and Argentina, and their simple white tiled walls above bloody cutting boards. My family is Spanish, and our love of beautifully authentic things and delicious cooking, yet hatred of fussiness, is imbued in the way I designed my kitchen.
Similarly, Victorian kitchens were very functional and not showpieces. So I wanted to strike that balance yet blend it with the way we use our kitchens today (including that I, "the lady of the house", gleefully do all the cooking!).
I didn't want the tile to be 100% perfect porcelain like the kind you get at any hardware store, so I sought out the slightest variances in the shape and glazing because that is probably how it was made in 1900!
Also, a color other than white seemed like a bridge too far for circa-1900 practicality, so I never considered anything other than white. Same went for the grout. It's less practical to be light, but that is how it would have been. Today's higher contrast grout and wider grout lines are fine, but unlikely to have been in a Victorian kitchen.
I wanted an ethically-made tile and discovered Fireclay through internet searches. I am a passionate environmentalist due to my off-the-grid-on-a-cattle-ranch upbringing, and always seek to reuse materials versus create new, or at least engage in more sustainable business practices.
Fireclay is a B-Corp like my builder, and I wanted to show support for the concept with where I invested my money. I also used to work for a B-Corp, and appreciate the way they operate.
In all, Fireclay had everything that I needed, and the company also aligns with my values. I always tell visitors about the tile, and how proud I am to support USA-made products whenever possible.

Do you have a project calling for the finest sustainable handmade tile? Our design consultants can help bring your unique vision to life with our free design services. Reach out to be connected with your personal consultant today!